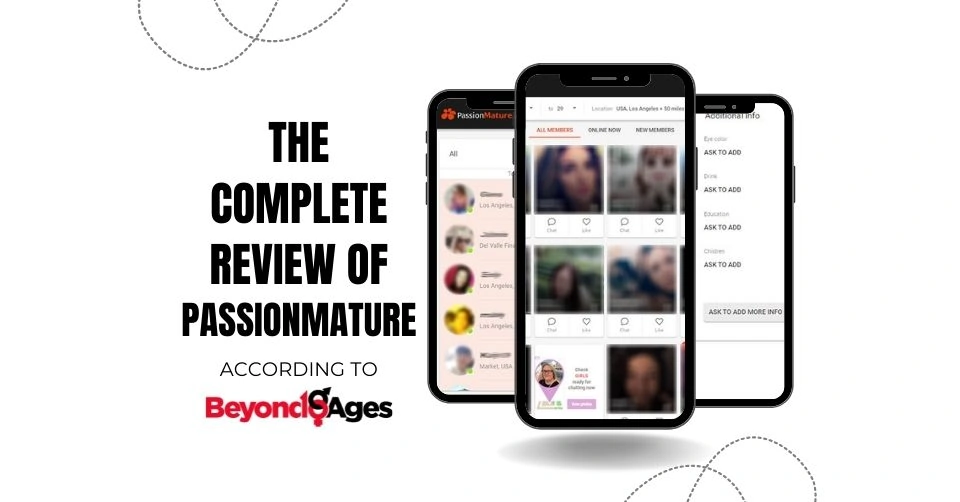 PassionMature.com markets itself as the online home for beautiful mature and single women. Whether you're searching for a cougar, sugar momma or a delightful older woman to settle down with, Passion Mature claims to have it. You can supposedly meet and connect with all the older women you've ever dreamed of. I say "supposedly" because I've come across plenty of cougar dating websites that have made similar claims in the past, only to let me down when I come to review them. So this is why I created this PassionMature review.
Finding a solid cougar dating site is incredibly important right now. Many older women are still socially distancing and that makes it REALLY tough to meet them in public. So many are only meeting guys online right now that I seriously doubt most guys are going to have a lot of luck with only that approach.
You need to be on at least one solid cougar dating site but it can be tricky figuring out which one is best for you.
Here at Beyond Ages, we pride ourselves on delivering the truth about what dating websites are worth spending time and money on. Read on to discover whether or not that's the case with Passion Mature.
How I reviewed Passion Mature
I put PassionMature.com through the same set of tests we use for all of our online dating reviews. First, I left my bio and photos blank for 24 hours and monitored how many responses that profile would attract. With scam websites, it's common that blank profiles still receive a host of messages. After that test, I filled out my profile with the same photos, bios and location that we always use and sent standardized messages to 50 women.
Our review is based on how responsive women were to our messages. How many would reply? How many would share contact details with the intention of going out on a date?
So, was this website a paradise of single older women or a waste of time? Read on to find out…
PassionMature review: The Home Of Passionate Older Women?
My basic overview of Passion Mature is in the table below. It includes ratings out of 10 for the most important elements of online dating services. For additional context, these are put alongside our ratings for AFF (which has a solid free trial), the best hookup app right now for meeting older women that we've tried.
Overall

Our team rates each site objectively based on many hours of independent research, the features each site offers, and how it compares with other sites. The ratings are the opinion of our editors and their extensive experience.

2
9.5
Quality of Women

Our opinion of how attractive the typical woman is that uses this site and how easy they are to connect with compared to other sites.

2
9
Popular

How many people are using this site to actually meet people compared to other sites.

2
9
Usability

How easy is this site to use and how quickly can an average person begin meeting people compared to other sites.

7
10
Privacy & Safety

Does this site take proper precautions to safeguard its members, their identity, and their data.

7
10
Effective

Our opinion of how easily an average person will be able to achieve their dating goals with this site compared to other sites.

1
9
Value

Will the time and money spent using this site pay off for an average person based on the opinions and experience of our editors.

1
10
Our Recommendation
Put simply, this website is up there with the worst websites we've ever tested. There are few if any real women, lots of sketchy things, and overall it's a complete waste of time. Below, I have listed the parts of the testing process, which highlight what an awful website this turned out to be.
It's always tough being compared to AFF but they scored incredibly low even considering that.
What's the point of the "Mature" in the name if there are so many younger women?
With a name like PassionMature, you'd at least imagine that the women you'll meet are mature. Maybe some are in their late 30s, as that's also considered "mature" by some men. But when you keep running into women in their early 20s, you have to wonder what they're doing on a site like this. Just take a look at this row of users who are in their 20s. Even their photos suggest they're still young enough to use TikTok!
PassionMature will spam you with automated messages to tempt you into buying a premium membership
My blank profile received several messages from female profiles within minutes of creating an account. As I mentioned, scam websites often use bots to message new members and trick them into paying for a premium account.
This is most often used on websites that force members to pay to send messages, and Passion Mature is pretty much one of those websites. In fact, it won't even let you read the messages being sent until you cough up for a premium account.
You can send 5 messages for free, but you can't read the replies (if there are any)
You can send five free messages with a free account. I sent these messages to five suitable accounts but got zero replies. Naturally, it would have been hard to have a conversation with just 5 messages and the fact that you can't even read messages unless you pay for an upgrade.
I found it impossible to get a reply on PassionMature.com
I had no doubt that these were bots messaging me. After all, what legitimate beautiful woman would reach out to a completely anonymous male dating account? Still, to find out for sure, I paid for a premium account, replied to these messages and sent my own to other accounts until I'd reached out to 50 profiles in total. Out of 50 messages, I received zero replies.
Even the accounts that messaged me when I had a free account when stone-dead as soon as I'd paid up. These opening messages had been tested to attract replies on legitimate dating websites, but there was not even a sniff of a human response on this website.
Just check out how many women viewed and matched with me a few seconds ago. None of these women responded after I sent them a message. On any other site, it might be harder to get a response if you send a super generic message. But ZERO replies to all 50 messages?! Now that's hard to believe.
Passionmature.com looks like the real deal but is nothing but a waste of your money
I like the design of PassionMature.com. It's easy to navigate, is stacked with photos of attractive women and has lots of prompts for people to create detailed profiles. Honestly, I wish legitimate websites would opt for this design. Still, all the evidence suggests that most of these are not real accounts and the chances of finding a real woman on this website are slim to none.
Why bother with Passion Mature when you can use AFF instead?
If you're hoping to hook up with passionate and mature women, your best bet is to head over to AFF. This website has been one of the best out there, ever since launching back in the early 2000s. Having been around so long, it has built up and maintained a huge user base around the globe, including a huge amount of older female users.
AFF makes no qualms about being a hook-up website. This clear marketing has mostly attracted open-minded and adventurous female members. So you can expect to meet up without wasting too much time sending messages back and forth. It's currently running a free trial as well. So, now would appear to be the perfect time to test it out. Create an account, message a few women in your local area and you could be hooking up tonight!
Pros and cons of Passion Mature
As you can imagine, it wasn't easy to find a lot of advantages of using this site. But here is my list of pros and cons anyway.
The website is easy to navigate and has a modern design
No messaging available with a free account
Upon opening a new account, you'll be spammed messages by accounts that will never reply to you
There's no evidence of any real users on this website. I messaged 50 women and got no replies
So many empty profiles
There are endless profiles to view and they are mostly very attractive women (of all ages). This is the case no matter what city you search in. The women listed on this website are aged between 29 and 78.
The profiles give plenty of prompts for you to add details about yourself. You're given 140 characters to create a status, plus you can answer various multiple-choice questions about who you are and what you enjoy. It is possible to upload photos and videos of yourself. However, the female profiles I checked on this website had barely filled out their profile at all.
The Best Apps to Meet Older Women For Regular Guys According To Dating Coaches
If you've been struggling to meet cougars, there is a very good chance you're just using the wrong app. These are the best apps right now to meet them for regular guys that our team of dating experts recommends. Try them first if you want to find quick success:
Site
Our Experience
Our Rating
Free Trial Link

Best Hookup Site Cougars

Experience Highlights

The best way to meet cougars for hookups by far
Best results for regular guys
Over 60 million active members
Not good for long-term relationships

Try AFF For Free

Best For Relationships

Experience Highlights

Easily the best option for long-term relationships
75% of all online marriages start here
70% of users meet their spouse within a year
In-depth signup and matching process

Try eHarmony

2nd Best For Hookups

Experience Highlights

2nd best option to find hookups
Attracts an older crowd than most hookup apps
Pretty popular
Great free trial

Try Passion
Passionmature.com looks great, functions terribly
PassionMature looks great and you should be able to find your way around with no problems. The main dashboard is particularly inviting. It acts as your "search" feature and is packed with photos of attractive women you might want to speak to.
You can message people without navigating to a new web page. Instead, a pop-up window appears whenever you click a member's "Chat" button. This is a feature that most online dating websites are sadly lacking.
You'll get so many messages but then they stop replying
You'll be overwhelmed with messages when you register for a free account, but you'll only be gifted five messages without paying for a premium account. You also won't be able to read any messages or reply until you've paid for a premium account. You'll only be able to send five messages in total. At this point, every profile you try to message will go silent (in my experience, anyway).
The pop-up window system creates a satisfying user experience, but it's a highly unsatisfying experience feeling like you're talking to yourself.
What can you do with a free membership on Passionmature.com?
With a free account, you can view other profiles, and that's about it. You'll receive a ton of messages that you won't be able to read or reply to. And you won't be able to send messages until you've paid for a premium account. The free account is pretty useless, but the paid account is equally useless.
Pricing of PassionMature.com
You're given four choices of membership length. These are one day, one week, one month or three months. The longer memberships cost less per day, but more overall.
Hopefully, anyone who comes across this website is smart enough to test out the website with the $0.99 one day membership first. That way, it'll only cost them a dollar to discover they've been duped. The prices of all the memberships are listed below.
One day: $0.99
One week: $7.00 ($1 a day)
One month: $28.80 ($0.96 a day)
Three months: $48.60 ($0.54 a day)
On top of these memberships, you can buy an add-on pack for an extra $0.95 per day. This offers incognito browsing, read receipts, HTTPS encryption and auto history cleaning. I can't imagine this will do anything to boost your chances of getting even one reply on this website. These memberships could be ten times cheaper and they still wouldn't be worth your money.
PassionMature Review: Frequently Asked Questions
Here the useful facts you might want to know about PassionMature. If you have any questions we haven't answered below, please leave a comment!
What is PassionMature?
PassionMature may look like a well-designed dating site. However, it's one of many low-quality identical sites that aren't useful if you want to meet women.
Who actually owns PassionMature.com?
PassionMature.com is run by Ariemgroup Limited. They also operate a variety of "dating apps" that won't actually help you meet anyone.
How can I contact Passion Mature?
Passion Mature's number is +18008654158. You can also email them at [email protected].
Is PassionMature real?
While PassionMature is a real site that you can access and make an account on, it's not a real dating site.
Is PassionMature.com legit?
No, I couldn't find one hint of it being possible to chat with a woman or meet one using PassionMature.com. You get tons of spam messages but no replies. Sounds like a NOT legit website to me.
Is Passion Mature a scam or fake?
Passion Mature uses various strategies to convince you to pay for a premium membership that delivers zero conversations. That's pretty sketchy. Yes, you should be worried about the same thing happening to you. Even better, avoid this website completely and spend your money elsewhere.
Is PassionMature safe?
No, PassionMature had so many red flags that it's definitely not safe.
What are PassionMature.com alternatives?
For our comprehensive list of alternatives to PassionMature.com, see our post on the best hookup apps and websites.
How does Passion Mature work?
If you want to create a Passion Mature account, it's completely free to do so. But if you want to read or receive messages, you need a paid account.
Is there a PassionMature app?
PassionMature doesn't have an app.
How much does PassionMature.com cost?
Here are the PassionMature.com subscription costs:
One day: $0.99
One week: $7.00 ($1 a day)
One month: $28.80 ($0.96 a day)
Three months: $48.60 ($0.54 a day)
How can you use Passion Mature for free?
In short, you can't. Passion Mature requires you to pay for a membership if you want to do more than just browse through profiles.
Can you send messages for free on PassionMature?
You can only send messages on PassionMature if you pay for a membership.
How do you cancel your PassionMature.com account?
Click your profile picture in the top-right corner of the screen.
Click "My Settings."
Click the "Remove Account" button near the bottom of the page.
Enter your password.
Check the box that says: "Remove my profile, contacts and personal information completely."
State your reason for canceling.
Confirm that you wish to cancel.
Click the link that will be sent to your email address to finalize your cancellation.
Your billing will automatically recur at the same rate until you complete this process. So, don't forget!