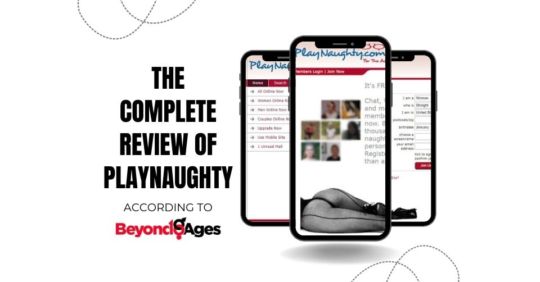 PlayNaughty is a free dating website, which promises to let you chat with naughty singles from across the world. The website itself looks like it hasn't been updated since the mid-2000s, but I'm sure you won't mind this if it can help you connect with hot babes in your local area. The question is: can it? That's what we'll find out in our PlayNaughty review.
A lot of online dating websites make huge claims as far as how many beautiful singles it can connect you to, only to disappoint you once you create an account and try to message people. Many of them – especially the older-looking websites – are packed with fake and inactive accounts.
I don't want you wasting your precious time trying to meet women on a dead website. That's why I was keen to review PlayNaughty.com for you.
In this review, you'll discover how this website compares to our favorite online dating services. You'll discover what features this website includes, plus how easy it is to land a date.
How I reviewed PlayNaughty
My PlayNaughty review is primarily based on how easy it is to meet a beautiful woman. I measured this by messaging 50 women and taking note of how responsive they are.
First off, I checked to see if this website is a scam by leaving my profile blank for 24 hours. No picture. No bio. If my profile still attracts messages in this state, that's a clear sign of a scam. After all, what woman in her right mind would send a provocative message to a completely anonymous profile?
After this check, I filled out my profile using the same pictures and bio that we use for every review. This allows for a fair comparison with other websites.
Then, I blasted out messages to 50+ women (from our list of approved opening lines), then noted down how many viewed my profile, how many replied to my messages and how many were willing to swap contact details.
So, is it worth signing up to this site? Read on find out…
The Full PlayNaughty Review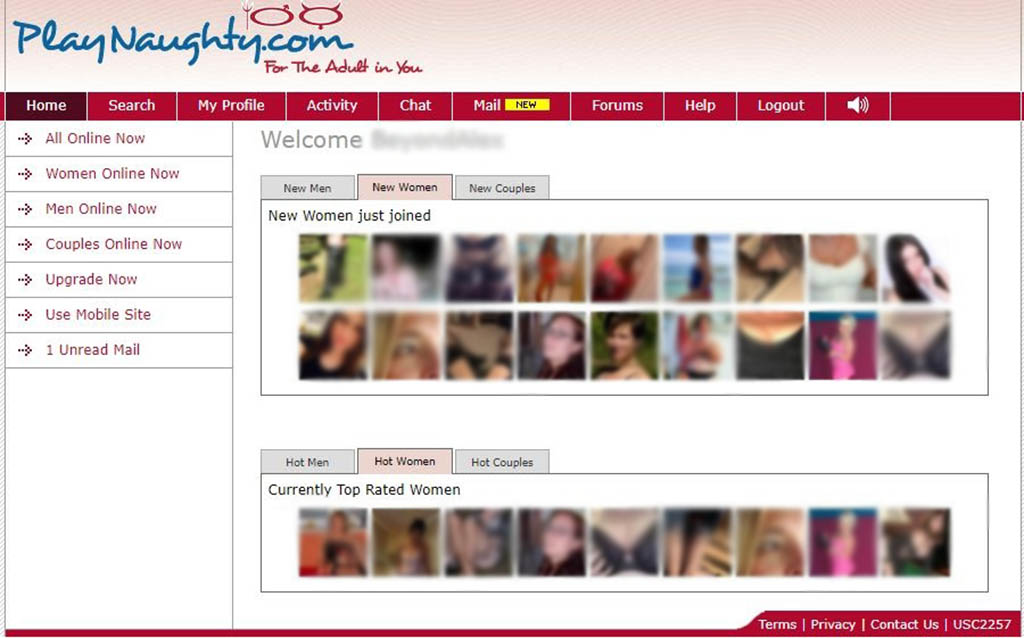 This PlayNaughty review details my experience trying to connect with women in Columbus, Ohio. We use this city whenever we can to ensure a fair comparison with other websites.
Below is a basic summary of PlayNaughty. It rates the website out of 10 for the most important aspects of online dating. For context, these ratings are compared to AFF, which we rate as the best online dating website for organizing casual meetups.
Overall

Our team rates each site objectively based on many hours of independent research, the features each site offers, and how it compares with other sites. The ratings are the opinion of our editors and their extensive experience.

1
9.5
Quality of Women

Our opinion of how attractive the typical woman is that uses this site and how easy they are to connect with compared to other sites.

1
9
Popular

How many people are using this site to actually meet people compared to other sites.

1
9
Usability

How easy is this site to use and how quickly can an average person begin meeting people compared to other sites.

2
10
Privacy & Safety

Does this site take proper precautions to safeguard its members, their identity, and their data.

10
10
Effective

Our opinion of how easily an average person will be able to achieve their dating goals with this site compared to other sites.

1
9
Value

Will the time and money spent using this site pay off for an average person based on the opinions and experience of our editors.

1
10
Our Recommendation
PlayNaughty might be free, but you shouldn't expect to connect with many women on this website. It resembles nothing more than a digital graveyard. Below are the key facts about this website that you need to know before creating an account.
PlayNaughty has a small user base
My blank profile received no messages, so that was a good start to the testing process. No sign of a scam so far.
However, when I created my profile and searched for women within 25 miles of Columbus, only 33 profiles popped up. What's more, only eight of them had pictures.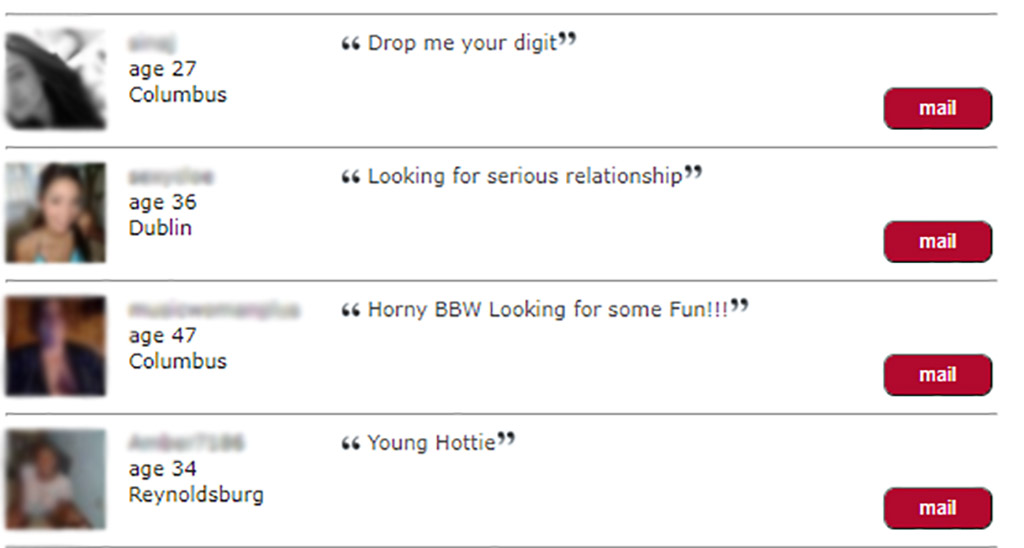 I had to broaden my search to within 100 miles of Columbus to find 50 female profiles with pictures to message. This should give you an idea of the size of the site's user base. Not very large at all compared to mainstream online dating services.
Already it appeared as if the numbers were against me in my bid to find naughty women to message and hopefully meet up with.
PlayNaughty.com is one of the clunkiest websites I have tested
Messaging these women was a real pain in the ass.
I had to find a profile on the search page, which only allowed eight pictures per page, and click the "mail" button. This would take me to a separate page to type my message and press "Send." Then, the website would take me to my inbox. To send another message, I'd have to click "Search" in the main navigation to be taken back to Page 1 of my most recent search.
This is a dreadful user experience, especially when you consider that some websites allow you to message matches without even leaving the search page.   
I received zero replies on PlayNaughty.com
After messaging 50 women of all ages with pictures, I received zero replies. The whole process was a waste of time. 

Most guys measure the worth of an online dating website by how easy it is to meet up with beautiful women. So my test suggests that this site is useless. Even after broadening my search for hundreds of miles and staying patient with the clunky design of the website, I couldn't even get a "hi."
I beg you that you don't make the same mistake. Don't waste your time trying to meet women here. There are far dozens of far better websites out there.
There is no reason to use this site when you can use AFF instead
If you're looking for a naughty connection with a beautiful stranger, I recommond using AFF.
This website is everything PlayNaughty wants to be. AFF is currently the #1 online hub for singles that want quick easy hook-ups or casual relationships. We have tested it in several cities and were always overwhelmed with the number of women we found. Better yet, we always found that these women were keen to respond, meet up and get down to business without having to message them too much.
AFF is currently offering a free trial too, so there really is no reason for you not  to create an account. You could easily be hooking up tonight if you do 😉
Pros and cons of PlayNaughty
We try to include pros and cons of every website we test, but it really was a struggle to find any advantages of using PlayNaughty. Even though it's a free website, don't be fooled into using this website.
It's free to use
There are no signs of scammers or fake accounts
User profiles show when they were last online
The user base is far too small
Most users don't have pictures
I couldn't find anyone to message me back
This is one of the clunkiest, most unintuitive websites I have ever tested
The profiles look legit at least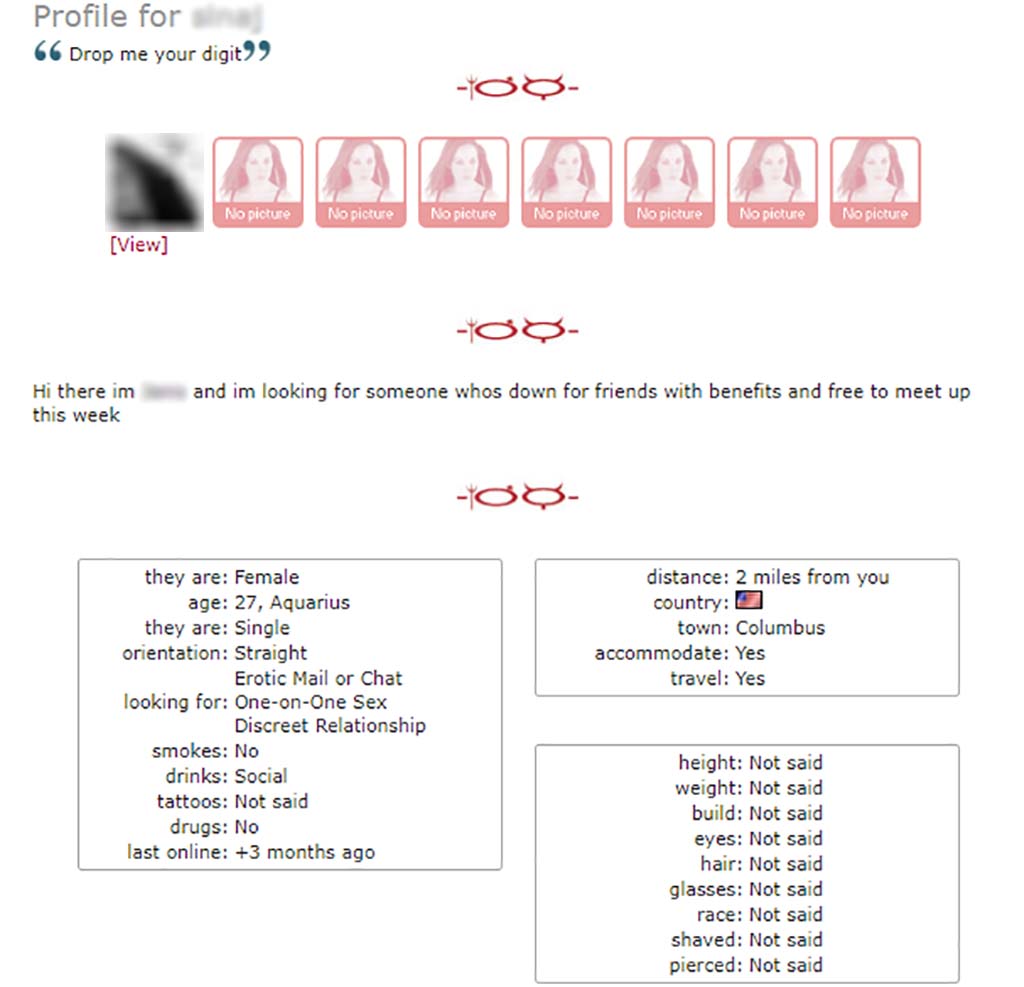 The profiles on PlayNaughty aren't designed with aesthetics in mind. The pictures are available as tiny thumbnails, which you have to click to view at a slightly bigger (but still too small) size.
It is possible to upload up to eight photos of yourself. There is also space towards the bottom of your profile dedicated to your kinks and interests. The site lets you search for members with similar kinks to you, which could prove useful if the site had any active members.
The majority of profiles don't have any pictures though. Barely any are completely filled out. Most female members are aged over 35, with plenty aged 50 or above. Most profiles include a suggestive tagline, but little other information.
The profiles show when the member was last online, but it was difficult to find anyone who had logged on in the past month. PlayNaughty actually allows you to send them photos of yourself, so they scan and upload them to your profile on your behalf. This service is supposedly offered because "not everyone has access to a scanner or digital camera." This service, along with the archaic design of the site shows just how dated this website is.
Perhaps this website was a hive of activity in the days before everyone had cameras and internet access on their phones, but it certainly isn't anymore.
It's one of the most dated designs I've ever seen
This online dating website is perhaps the least pleasing to the eye, as far as its design. It's a pain to navigate too. It's characterized by tiny buttons, tiny pictures and a vibe that suggests this website was created and abandoned by its owners shortly after broadband internet was invented. Just check out this chatting guide: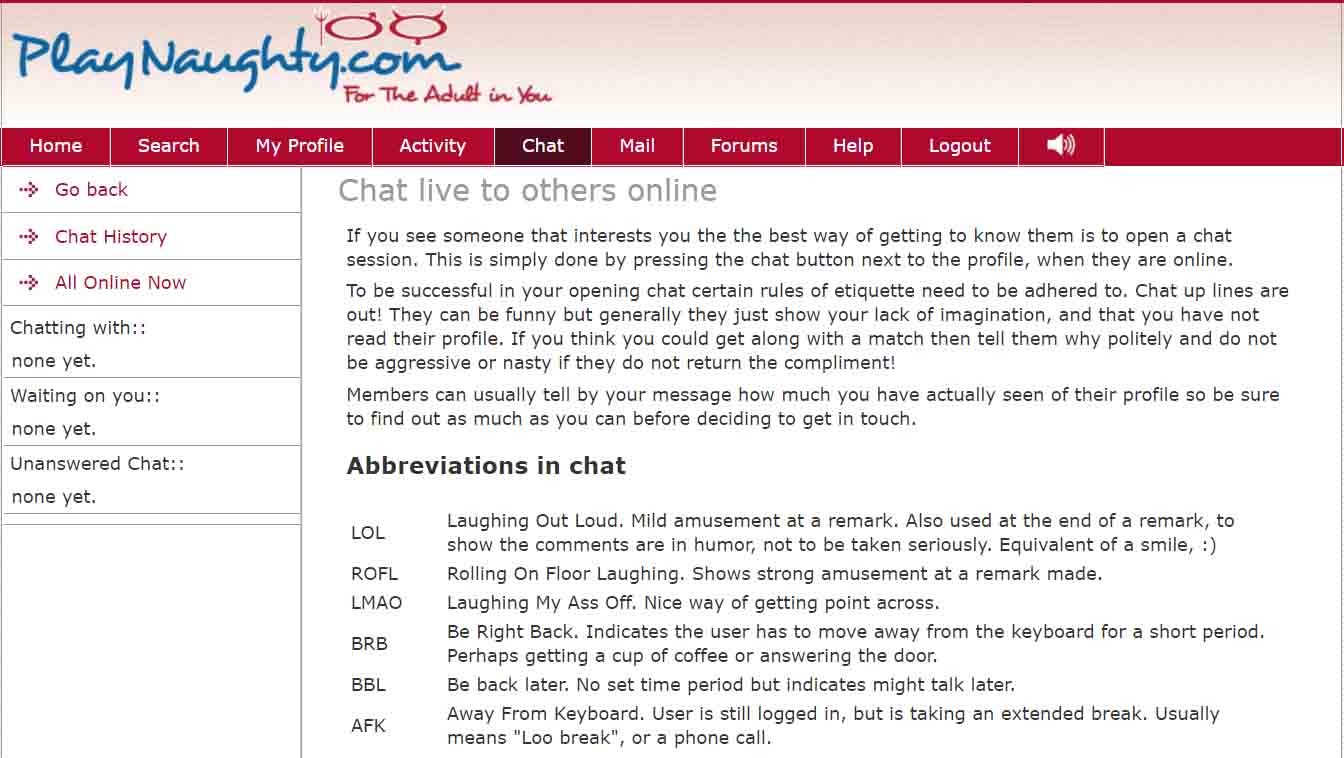 You also have to click through far too many pages just to message someone. It's even less bearable to use this website on a phone or tablet.
How to message women on Play Naughty
You can send unlimited messages to women on PlayNaughty.com. It is possible to send instant messages to members who are currently online or emails for them to read later. You can send words only. No emojis, virtual gifts or images.
Sometimes, a price list will show up to indicate that you need to buy a membership. Despite not paying for a membership, however, I was able to message women.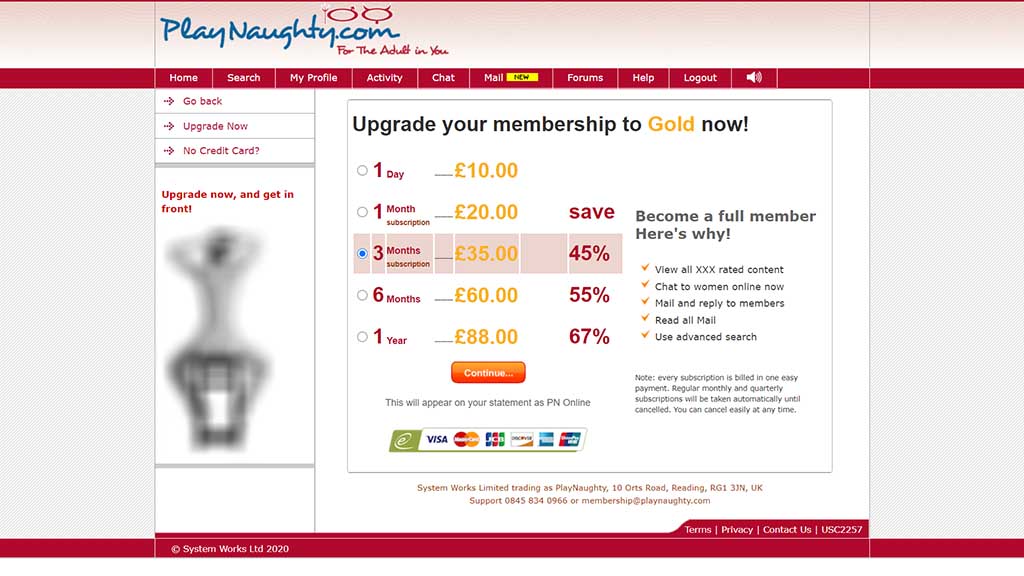 The site also has forums where you can discuss adult topics, but most of them have not received any new posts for months.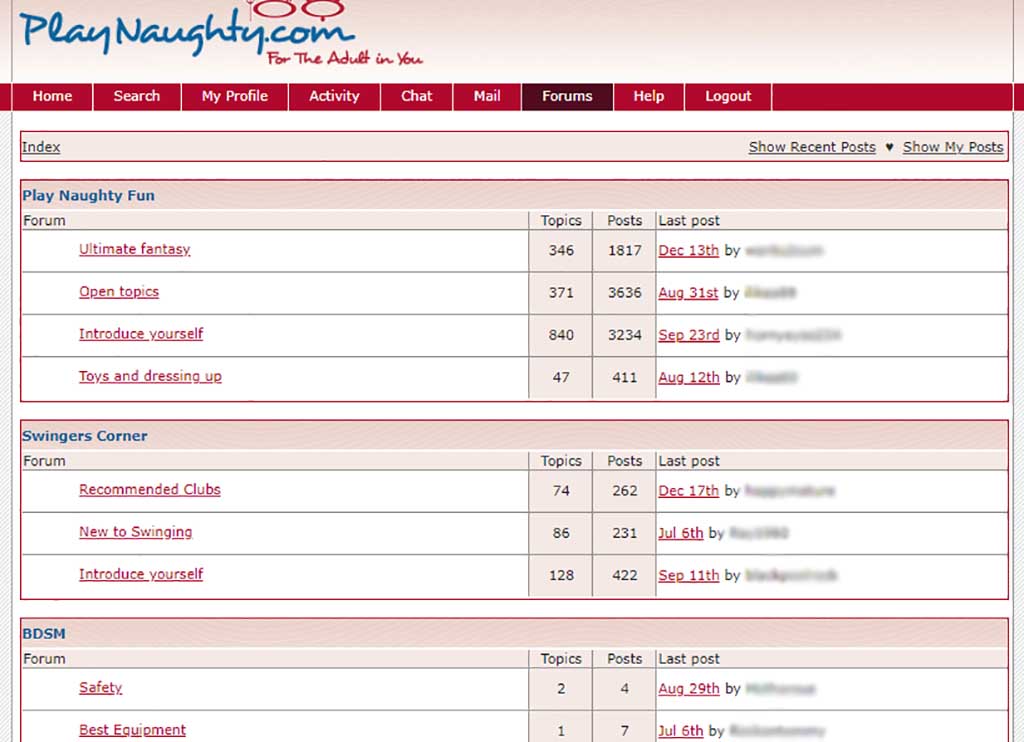 PlayNaughty Review: Frequently Asked Questions
Feel like we didn't cover everything? Here are some quick questions and answers about PlayNaughty.com
What is PlayNaughty?
PlayNaughty is a free dating site. However, despite being free, it looks like PlayNaughty has nothing to offer. There doesn't seem to be any sign of life on this outdated site.
Who actually owns Play Naughty?
Play Naughty is owned by System Works Ltd., a company registered in the UK.
How can I contact PlayNaughty.com?
You can email PlayNaughty.com at [email protected]
Is PlayNaughty real?
Yes, PlayNaughty is a real site with real users at some point in the past. However, it looks extremely outdated.
Is Play Naughty legit?
It's difficult to say! I was unable to find a single woman to message me back on Play Naughty. Even if it is a legitimate dating website, you will most likely struggle to connect with many beautiful women here.
Is PlayNaughty.com a scam or fake?
The website makes no effort to take your money, and I did not come across any members trying to lure me into buying anything. So, it would be unfair to label PlayNaughty.com as a scam.
Is PlayNaughty safe?
PlayNaughty seems safe enough since they don't charge you to message other users.
What are Play Naughty alternatives?
For our recommendations of the best alternatives to this Play Naughty, see our extensive guide on the best hookup apps and websites.
How does PlayNaughty.com work?
PlayNaughty.com is a free dating site where you can search for possible dates. You can message anyone you like and there's no limit to the number of messages you can send.
Is there a PlayNaughty app?
No, PlayNaughty doesn't have an app.
How much does Play Naughty cost?
Play Naughty is free.
How can you use PlayNaughty.com for free?
You can use all of PlayNaughty.com's features for free.
Can you send messages for free on PlayNaughty?
Yes, sending messages on PlayNaughty is free.
How do you cancel your Play Naughty account?
As there is no paid membership, there is no need to cancel your account. I couldn't find any information about how to delete my profile.
I emailed [email protected] to ask how to completely remove my account from their database, but have yet to receive a response.