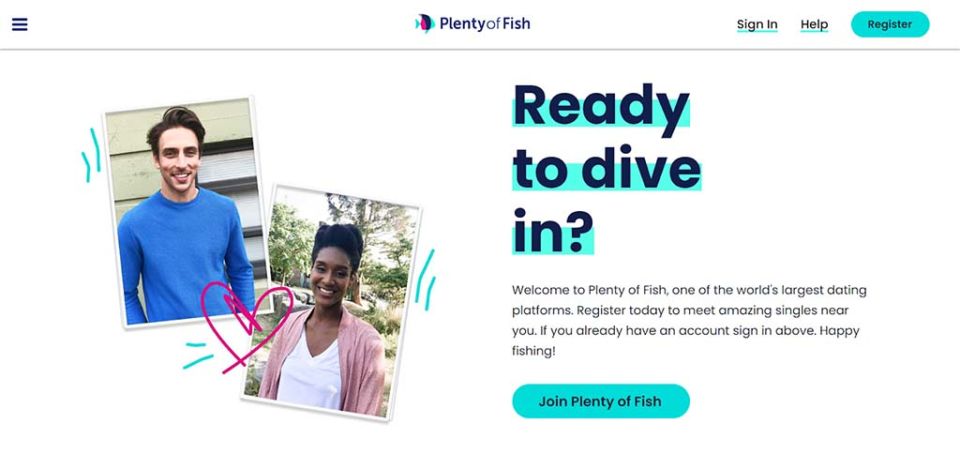 Plenty of Fish is one of the older brands in online dating but somehow, one I'd just never used before. Obviously, I was excited to dive in and try it for myself in preparation for this Plenty of Fish review.
Even if you've never had anything to do with online dating before, you're sure to have heard of this service. Certainly for me, it's what my friends first started using for online dating so many years ago. Thinking back, it's a wonder I'd never tried it for myself.
In this review, I'm going to walk you through my varied experience with it over the past few weeks. Whether you're looking to try it for the first time or just to see what the current version is like, stick around.
First, let's start by taking a look at the process I use to review these dating apps and websites to make sure they're all judged equally.
How we reviewed Plenty of Fish
The first step in this process is creating a blank profile. I'll fill out only the required information then leave it for a day or two to see what happens. What I'm looking for here is to see if I get any spam messages.
No real user would message a blank profile so I know any messages that come through are fake. It's a simple red flag and a trap so many sites fall into.
After that, I'll fill out every part of my profile. Quality photos, a legitimate bio and any other information it's looking for. My goal now is to have real conversations and set up dates in the real world. I'm looking to see how many I can get in a one- to two-week window.
Finally, it's time to move on to a paid account. Do the paid features allow me to get more dates? Do they make using the app easier? Are they worth the money? The best way to find out is trying it first hand.
By the end of this process, I have all the info I need to give you a detailed look at that service. In the case of Plenty of Fish, there was a lot going on so let's get started.
Plenty of Fish Review: The Digital Equivalent of a Dive Bar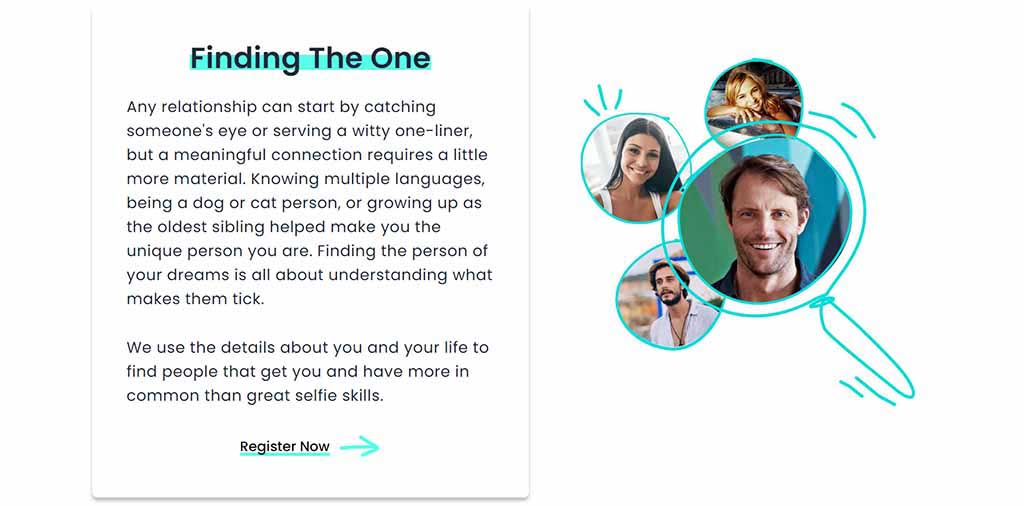 For reasons I'll get into soon, this is the best way I can describe my experience with Plenty of Fish. It didn't take long for my mindset on this review to go from interest and intrigue to "wtf?" and that's kind of where it stayed.
First, let's compare it against another big name in the dating scene, especially for hookups. AFF has almost 105 million users and a long-standing reputation. If hookups and casual dating are what you're looking for, it's an obvious option to check out.
From a simple sign-up process to active, quality members and an inclusive environment, it's an ideal control to compare against. So, let's take a look at the numbers.
Overall

Our team rates each site objectively based on many hours of independent research, the features each site offers, and how it compares with other sites. The ratings are the opinion of our editors and their extensive experience.

5
9.5
Quality of Women

Our opinion of how attractive the typical woman is that uses this site and how easy they are to connect with compared to other sites.

5
9
Popular

How many people are using this site to actually meet people compared to other sites.

8
9
Usability

How easy is this site to use and how quickly can an average person begin meeting people compared to other sites.

10
10
Privacy & Safety

Does this site take proper precautions to safeguard its members, their identity, and their data.

10
10
Effective

Our opinion of how easily an average person will be able to achieve their dating goals with this site compared to other sites.

5
9
Value

Will the time and money spent using this site pay off for an average person based on the opinions and experience of our editors.

5
10
Our Recommendation
As you can see, it was a mixed bag. Some areas are particularly terrible while others are "okay"  but they really don't do anything well. Also worth noting, they have both a website and an app. The website is marginally better than the app but not enough to influence these scores.
I honestly came into this review expecting to have a pretty good experience. What I found though was a nightmare. As someone with a background in tech and digital marketing, I like to think of myself as being particularly apt in this space.
If I had to sum up my entire POF experience in two words, they'd be "confusing" and "disappointing". Let's talk about why.
Low quality across the board
In an attempt to keep this observation objective, I've discussed it with a few friends that have tried this app. The feedback was unanimous — the quality on POF is notoriously low. In fact, the feedback was so poor, I'm not even going to share any quotes with you as they're downright demeaning.
To be completely honest, I didn't come across a single profile that I was interested in. If it weren't for this review, I wouldn't have messaged a single person.
It's not just about seeing people that I don't find attractive, it's a whole vibe. Awkward selfies from poorly dressed people, awkwardly written bios and questionable accounts. Despite having my profile set to seeking women, I even had one gentleman message me — his profile pic was a lovely close-up of his scrotum. Interesting.
So many badges that I don't know where to look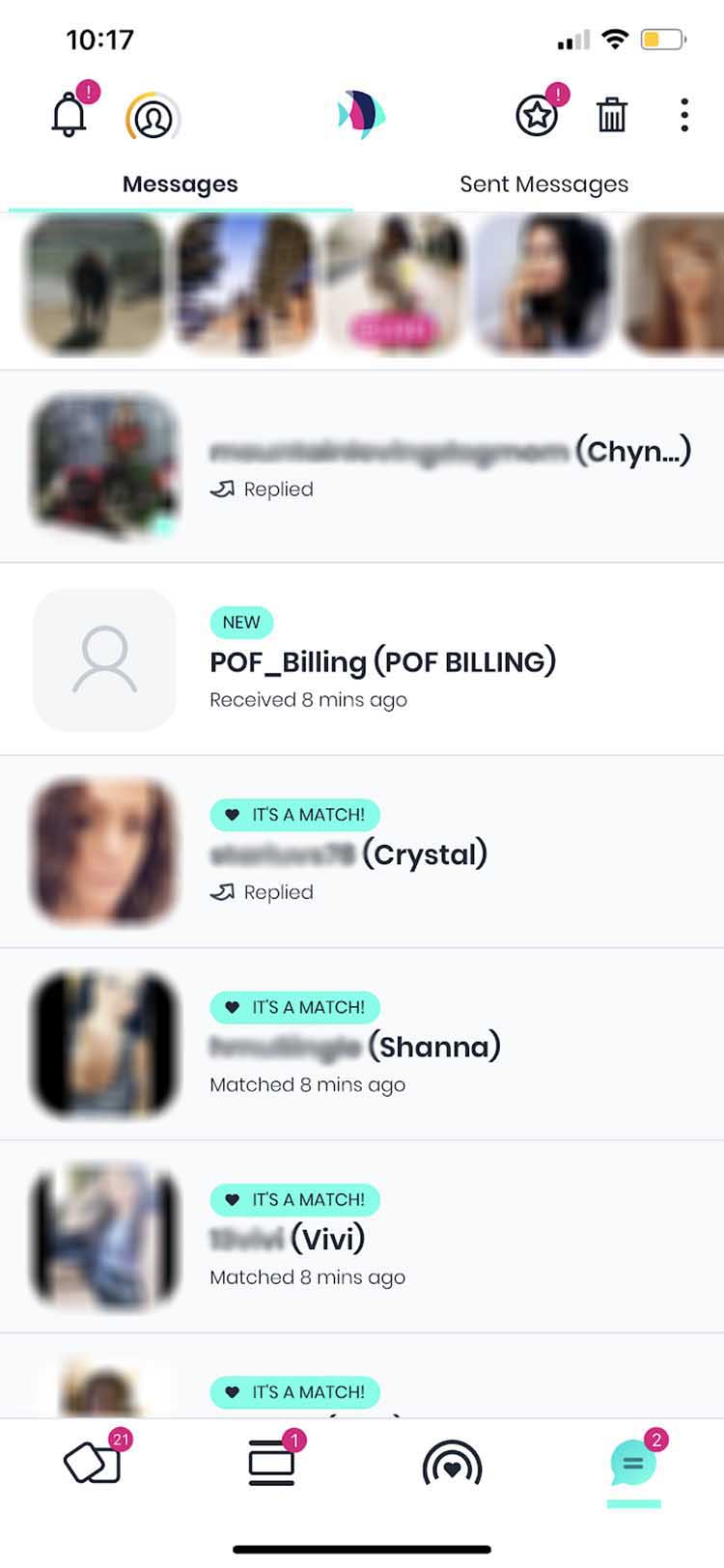 Stepping up now from mildly irritating to overwhelming, there's just so much going on in the app. Same thing with the website, only in a less cluttered format.
Just take a look at this screenshot as an example. On this one screen, I have badge notifications to say:
22 new likes
1 more person liked my profile
2 new messages (There are no new messages)
A "!" over the bell to show me all my notifications in yet another place
A "!" over the star in the top right to push me to buy tokens. Apparently paying a monthly subscription isn't enough
Here's how it looks in a web browser. The same, but more spread out for obvious reasons.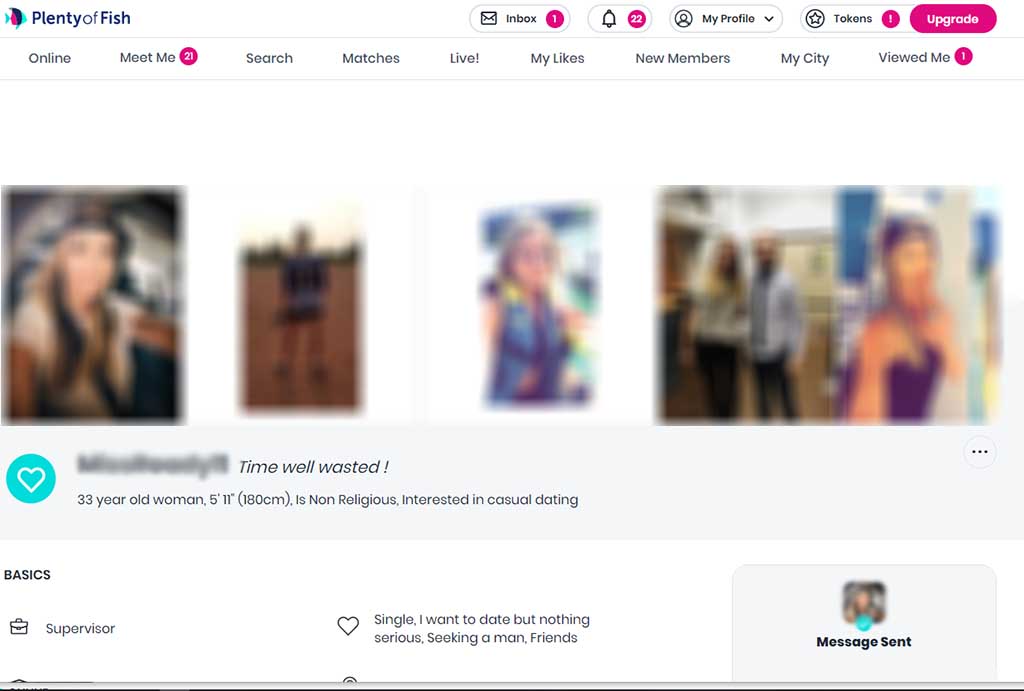 That's 5 things on one screen all desperate for my attention. Plenty of Fish, try googling "User Experience Design".
So many notifications that I had to turn them off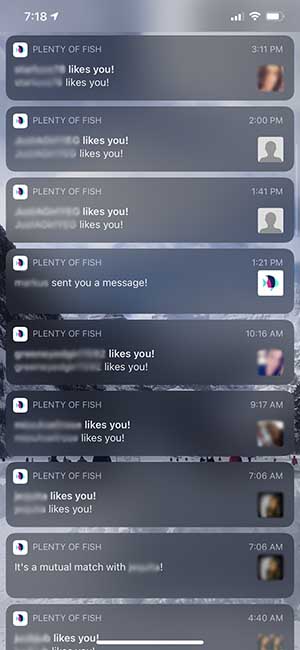 Every time someone sneezes in your state, Plenty of Fish will send you an app notification and an email.
Fellow smartwatch-wearers, be prepared to charge your watch far more than normal.
Imagine getting an email notification a minute or two after each of these. What takes it from "that's a lot of notifications" to "I need to disable these" is that most of the notifications take you to a paywall.
As a free user, so many of the notifications just took me straight to the subscription pricing page. Argh! Hinge, my favorite app right now, will send you far more notifications than this. I'm okay with it though because they're almost exclusively notifications telling you an attractive person likes you.
That, I can deal with. POF's paywall notifications? It's too much.
But not all old sites are low-quality
Plenty of Fish may have been the most popular site out there before the age of Tinder. But what it failed to do was keep up with the times. This is something many sites struggle with. That is, except for AFF.
AFF may have the familiar (and slightly dated) design that sites from the 2010s had. But what it may lack in design it more than makes up for in reliability. While many younger singles turn to trendy, new apps, those who are serious about finding flings and hookups always turn to AFF. It's the site where you can consistently find users who are just looking for a good time.
While Tinder may be the popular app for singles who can be mistaken for models, Plenty of Fish is the site where people haven't quite figured out how to create flattering online dating profiles. AFF strikes a happy balance: the users are regular people (some hotter than others) and they know how to approach other singles to set up casual dates.
So if you haven't tried AFF yet, check out their free trial. It will definitely give you more value for your time than Plenty of Fish!
What's good and what's bad about Plenty of Fish
It's an old site, sure. But I did find some positive aspects to the site.
A reasonable number of active users
Constant, mostly irrelevant notifications
Notification badges everywhere within the app
Odd, confusing integrations with other services
As a free user, a lot of notifications that just take you to a subscription page
Consistently low-quality profiles
Constantly shown profiles from hours away
In the Search section, I've set my location to just 5 miles. Still, the rest of the app shows me profiles from hours away from where I am. I'd even go so far as to say the entire MeetMe section is useless because of this.
I live downtown which is why I always set my distance filter to 5 miles. There's a small city about three hours from here and about 50% of the people I see come up in MeetMe are from that city. POF, I'm never driving three hours for a date! I've even seen a handful of profiles from more than ten hours away.
Even more unfortunate is this function seems to be their most important. It's the default tab that opens in the app and the one with the most notifications on both desktop and mobile. To render their most important function useless is really disappointing.
"Search" is the only function I found useful
When I say "useful", I don't mean I found anyone I was interested in. I mean it's the only function where I could find a way to filter results to within five miles of me.
The layout also shows me a list of profiles and the important info. You can scroll through the list quickly and tap the heart icon to "like" anyone you're interested in.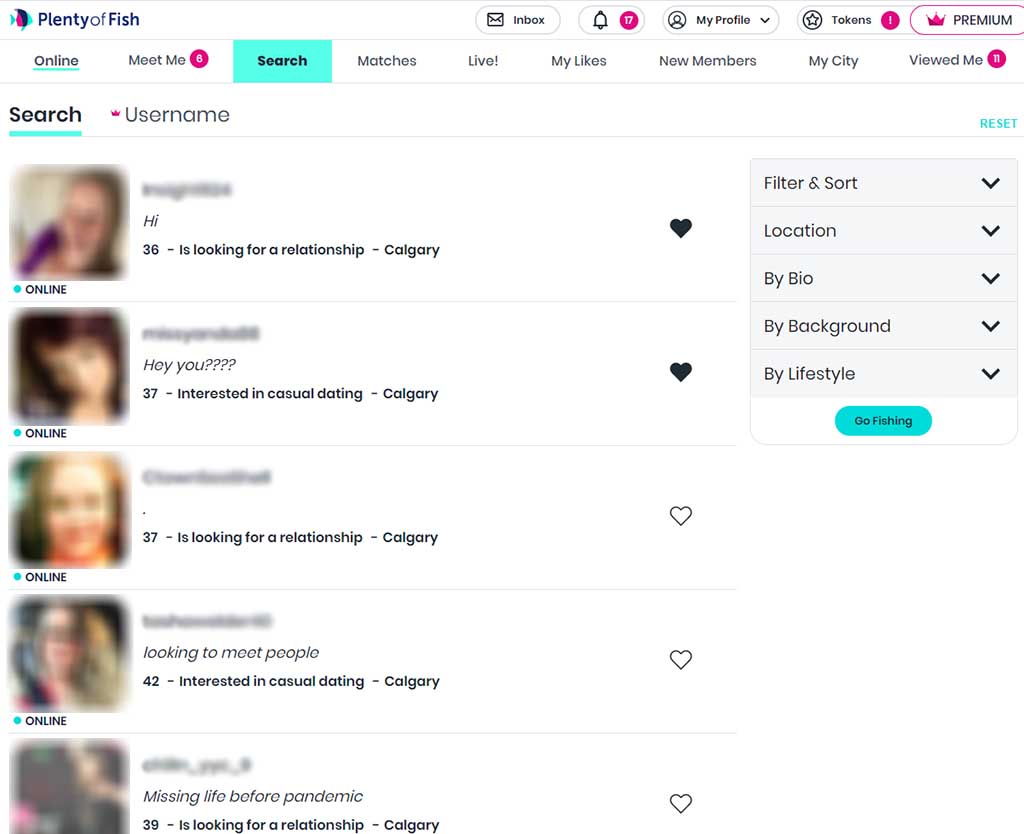 Not only is this faster than Online and Meet Me but they're people that are actually in your area. This was true both on desktop and in the app.
A camming feature promoted as a dating tool
As if the layout and constant screaming of notifications and badges weren't enough, it gets worse. They also have a "Live" section, which is non-nude camming packaged as a dating feature.
This "feature" has nothing to do with dating, it's just another revenue stream for them. I'm totally fine with apps making money, that's why they exist. Where I object is them selling us a lie. If this had anything at all to do with dating, I wouldn't be seeing streams from all over the country.
Having dated a webcam model for some time, I'm very familiar with the industry and this felt no different. It's a bunch of women seeking attention and feigning interest in their audience for money. So many of the streams I opened featured women in minimal clothing, dancing for their audience and praising gift-givers. Several I looked at even promote their Instagram and sell access to their Snapchat. This doesn't sound like women looking for a date.
Users can buy Live Credits and use these credits to buy streamers in-app "gifts" (which are nothing more than icons).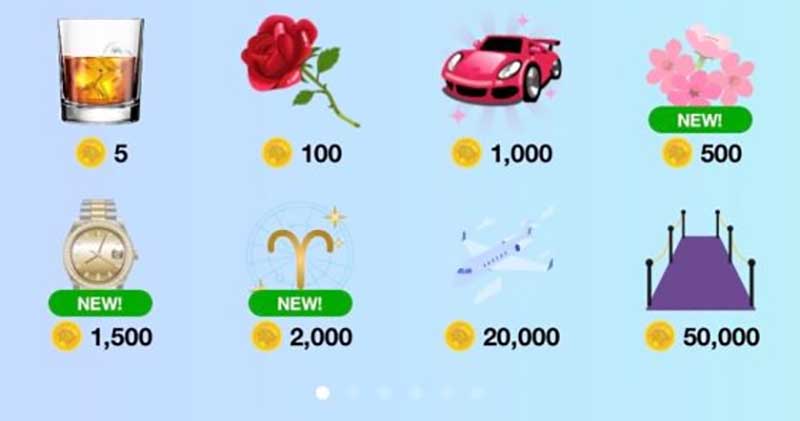 When the streamer receives a gift, they get Diamonds which they can exchange for money or Live Credits. This is essentially how any camming site works.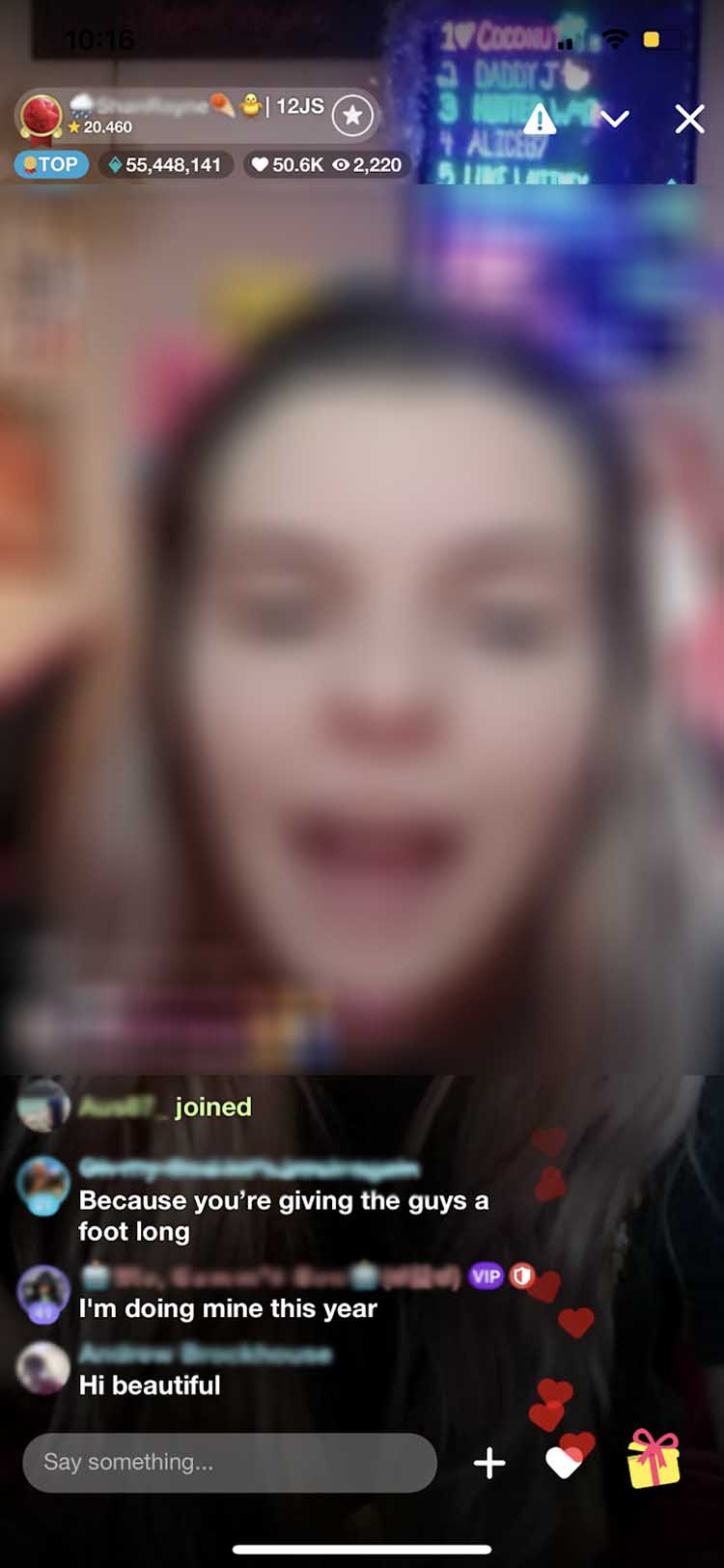 To test my theory, I even tried to have a real conversation with a couple of streamers, aiming for a date. Sure, they live thousands of miles from me but POF says it's a great feature so I should give it a try.
Expectedly, they had no interest. I was welcomed to the stream and quickly pushed to favorite them (so I get notifications every time they're online). I was also told that if I liked what they were doing I could buy them a gift to show support. No dates, just more camgirl tactics. A dating feature this is not.
Links to other dating sites
Another confusing element to this service is that from both the website and app, they link to other dating sites. On desktop, go to My Profile -> Try More Sites. In the app, tap the three dots in the top right corner and select Try Other Sites. When deleting my account, I was presented with an even larger list of alternate sites.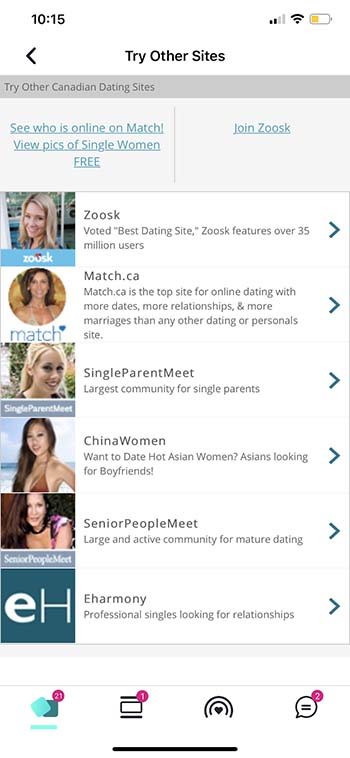 From some brief research, these don't seem to be owned by the same company so I just don't get it. I also don't understand how Zoosk, Match and eHarmony are in the same list as "ChinaWomen".
Still, if you're looking for a better service, most of this list is significantly better than Plenty of Fish. We also reviewed the best dating apps and websites to save you some time.
Does a premium subscription make it better?
They show a list of features that you unlock as a premium member but really, there's only one important thing that changed. Rather than notifications taking me to a paywall, they took me to the relevant part of the app.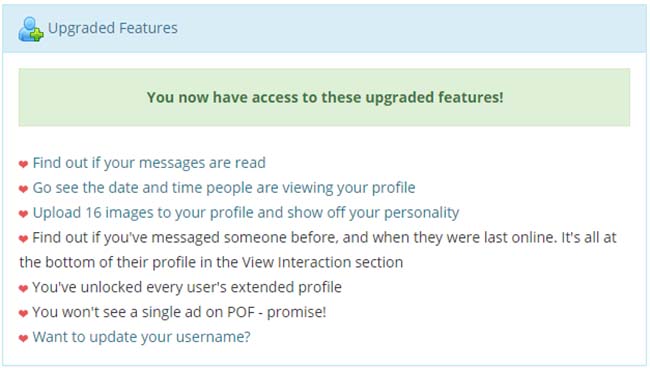 To be completely honest, none of the features offered in their Premium upgrade are of any value to me. For example, I don't care what time and date someone viewed my profile.
If they viewed my profile but didn't message me, I'm not doing anything with that information. If they viewed my profile and messaged me, I'm going to chat to them.
The same goes for read receipts. Whether someone has read my message or not, if they don't reply, they obviously don't want to talk. I'm not going to chase them so knowing when they read it means nothing.
Plenty of Fish Review: Frequently Asked Questions
Now it's time to run through the most frequently asked questions. If you still have queries after reading through the article, you might find them detailed below. If not, go ahead and reach out to us and I can get you an answer quickly.
What is Plenty of Fish?
Plenty of Fish was originally a dating website back in the early days of online dating. Since then, it's evolved and now has a smartphone app as well.
Sadly, it doesn't compare to modern services like AFF and Hinge.
How do you log into Plenty of Fish?
To log in, you first need to create an account. Just follow the very simple prompts, entering a username, email and password to sign up.
The details you enter can be used in the app and on the website to log into your account.
What are Plenty of Fish alternatives?
If you've read my review, you'll know this site isn't worth your time. Rather than subjecting yourself to the same confusion and disappointment that I did, focus your time elsewhere.
We wrote a detailed review of the best dating apps and websites so you can avoid wasting your time on the wrong services. Take a look at our list and try the ones that seem like the best fit for you.
How do you use Plenty of Fish for free?
By default, you're given a free profile when you sign up. This lets you do most of what you need to on the site, with a few limitations.
I did find that a lot of notifications would take me to the subscription pricing page which was frustrating. Other than that, I felt like the free version was perfectly acceptable.
How do you cancel your Plenty of Fish Membership?
The steps to cancelling your paid subscription will depend on how you signed up.
If you paid for it via the iOS or Android app, you'll have to cancel it on your phone using the steps below.
iOS
Open Settings
Tap your name at the top
Tap Subscriptions
Tab the subscription you want to manage
Tap Cancel Subscription
Android
Open the Google Play store
Tap Menu
Tap Subscriptions
Select the subscription you want to manager
Tap Cancel Subscription
Follow the steps from there
If you signed up via the website, follow these steps
Tap the pink Premium button in the top right corner
Find Subscription Details on the left
In that box you'll see "Click here to let your upgrade expire". Click that link.
Follow the steps from there
How do you delete your Plenty of Fish account?
Looking at their FAQ on mobile, it seems the only way to delete your account is through a web browser.
Head to this link (I can't find individual steps to this, only a direct link) then complete the short form.
How much does Plenty of Fish cost?
Plenty of Fish has a monthly subscription which unlocks a host of features. Frankly, I didn't find any of them particularly worthwhile.
Your pricing options get cheaper per month, the longer you sign up for:
3 months $38.99 $13.00 /month
6 months $64.99 $10.83 /month
12 months $89.99 $7.50 /month
Is Plenty of Fish legitimate?
It is a legitimate service, yes. That doesn't make it an effective one but it isn't a fake site.
Does Plenty of Fish really work?
Unfortunately not, no. Plenty of Fish brought me more confusion than it did interesting conversations. It just feels very low quality and the caliber of profiles really confirmed that.
How do you send messages on Plenty of Fish?
You can send messages on Plenty of Fish by visiting a user's profile. On desktop, you'll find "Send a Quick Message" in the top right corner.
Using the app, you'll see a Message button hover at the bottom of the screen.
How do you search on Plenty of Fish?
On desktop, click the Search option in the main navigation at the top. From the app, tap the second tab at the bottom then select "Search".
From here you can select your preferred gender, age, distance, etc to narrow down the results. Note that these filters don't seem to apply to any other part of POF.