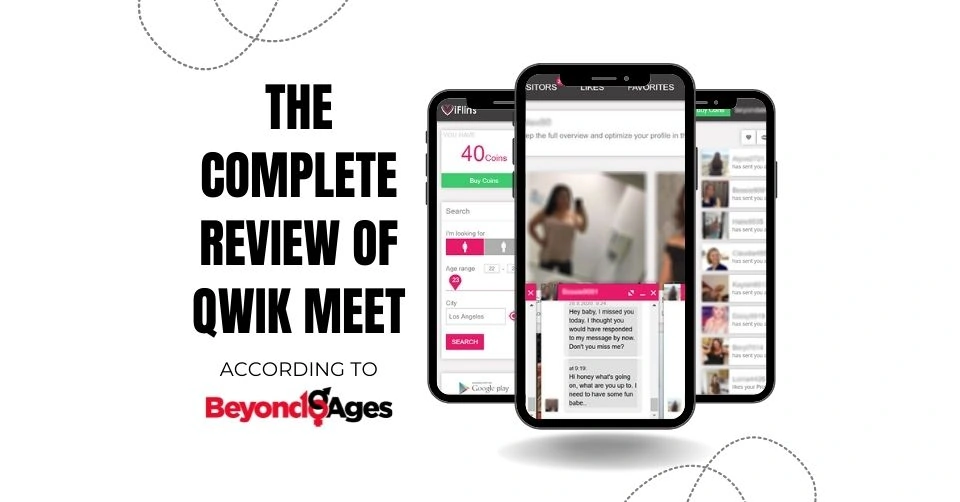 This Qwik Meet review will reveal whether this website really is the quickest way to meet a beautiful single woman. This is what they've promised after all. There are supposedly 12 million singles chatting, flirting and arranging to meet on this website but we're not convinced.
In a perfect world, you'd have no hesitation clicking the big red "Continue" button on the website's home page, create an account, and arrange to meet a single hottie before you know it!
Sadly, in reality, a lot of these relatively unknown websites fail to deliver on these ambitious promises. Instead, they lure you in with exaggerations, charge extortionate membership fees, then leave you feeling incredibly underwhelmed when no-one on the website messages you back.
Finding a quality site or app is absolutely critical right now. Social distancing has pushed a lot of the initial meetups from in-person to online. When you can't rely on meeting new women in public you have to go online or you're going to miss out!
Scam online dating websites are the ones most likely to make eye-catching guarantees of quick, easy hookups. That's why I was so keen to write this Qwik Meet review. It's difficult enough for men to meet an awesome woman online without worrying about scam websites.
How I reviewed Qwik Meet
At Beyond Ages,
we have a strict routine for reviewing online dating websites
. This process allows us to discover if the website is a scam and how it compares to other websites we have tested in the past. I followed this same process here.
After registering my details, I left my profile blank for 24 hours to see if any women would message me first. If a blank profile is bombarded with sexually suggestive messages from women, that's a key sign that the website is a scam. After all, in reality, there are few women who would throw themselves at an anonymous dating profile in this way.
After this 24-hour period, I signed up for a paid membership and messaged 50+ women, taking note of how responsive they were. How many would reply to my messages? How many would swap contact details? How many would agree to meet up?
These are the factors we use to compare to online dating websites. After all, what good is an online dating website if you can't connect with women in real life?
So, is this website the real deal or should you be warning your friends about a Quik Meet scam? Read on to find out.
Our Extensive QwikMeet Review
Here's a basic summary of Quik Meet, for those of you who are pressed for time. It rates the site out of 10 for the most important aspects of a dating website. For context, these ratings are compared to AFF (which you can try for free), which we've seen become the most effective option for arranging quick and easy hookups, especially for guys.
Overall

Our team rates each site objectively based on many hours of independent research, the features each site offers, and how it compares with other sites. The ratings are the opinion of our editors and their extensive experience.

3
9.5
Quality of Women

Our opinion of how attractive the typical woman is that uses this site and how easy they are to connect with compared to other sites.

3
9
Popular

How many people are using this site to actually meet people compared to other sites.

4
9
Usability

How easy is this site to use and how quickly can an average person begin meeting people compared to other sites.

5
10
Privacy & Safety

Does this site take proper precautions to safeguard its members, their identity, and their data.

10
10
Effective

Our opinion of how easily an average person will be able to achieve their dating goals with this site compared to other sites.

3
9
Value

Will the time and money spent using this site pay off for an average person based on the opinions and experience of our editors.

3
10
Our Recommendation
After many weeks of trying out QwikMeet and messaging tons and tons of people, we have to recommend that you avoid it. Ultimately, we found that there are far better options out there for most people, especially guys. We received a ton of fake messages, found a lot of fake profiles, and really felt like we wasted our time by the end of our time using both the free and paid versions of the site.
When you compare it to the top hookup sites and apps out there today, like AFF, there really is no reason to use Qwik Meet.
Let's get into the details:
The first thing you need to know about QwikMeet is that it'll redirect you to a third-party website, most likely also owned by the owners of QwikMeet.com. The URL of the website you're redirected to will differ depending on your location. However, they all appear to work the same way. I was redirected to iflirts.com.
Here are the key things you need to know about this website.
You'll be bombarded by messages immediately, but you won't be able to reply to anyone without paying
I received 11 messages and three "likes" after leaving my profile blank for 24 hours. That's enough to make me suspicious.
I wouldn't be able to investigate further without paying for "Coins." It costs 50 Coins to reply to a message or initiate a conversation, and you start off with only 100. These Coins aren't cheap either. It costs $9.99 for 500 coins, although you can get a discount when buying more in bulk.
It's a classic strategy for questionable sites to send automated messages into your inbox to tempt you into paying to reply. So, that's what I did.
Almost every profile will reply to you once you pay for Coins
I bought 2,640 coins for $49.99 and started sending messages to women based in Los Angeles. These messages were from BeyondAges' list of approved openers; we use this list on every website we test to ensure fair comparisons.
However, I soon began to notice that every profile was responding to me within minutes! This is unheard of in online dating.
These replies were too detailed to be automated. These profiles would actually take note of what I wrote and write a response based on that. Bots aren't intelligent enough to do this.
I was definitely communicating with humans, but I wasn't convinced they were the beautiful women in the profile pictures.
Every profile will insist that you continue communicating on QwikMeet.com
Instead of wasting my coins messaging 50 new profiles, I decided to focus my efforts on trying to swap contact details with the profiles I'd already contacted. A real person would be open to swapping phone numbers or social media details. A catfish would avoid this at all costs.
As it turned out, every single profile I spoke to was cagey about swapping contact details, yet insistent that I kept chatting on the website. This was even the case when I explained I was running out of Coins.
There's not enough evidence to say that all of these women were the website's staff in disguise. So, I'll leave you to make your own conclusions about that.
Why would you use QwikMeet when you can use AFF?
There is absolutely no reason to mess around with QwikMeet when you can use AFF. We have tested AFF extensively and found that it was simple to meet up with real sexy women for some fun.
AFF is the original hookup website, having launched in the early 2000s, and has built up a huge active worldwide user base in that time. These are legitimate women looking for one-night stands, kinky affairs and casual relationships. Best of all, it's currently running a free trial, so you won't need to spend hundreds of dollars just to message women who want to keep you on the site.
So, if you're hoping to meet gorgeous women for some no-strings action, why wouldn't you give it a go?! It's a no-brainer.
Pros and cons from our QwikMeet review
Here's a summary of the main pros and cons when using QwikMeet.
Nearly every profile replies to you
You have to pay for every message you send
It's expensive to send messages
No profile wants to swap contact details with you (or so it would seem)
Profiles, pictures and members on QwikMeet
The profiles on this website are more basic than a lot of other online dating services. As you can see above, members are prompted to reveal more about themselves by answering multiple-choice questions. There is an "About Me" section for those who want to write more about themselves, but I couldn't find one woman on this website who had chosen to do that.
Members are given the option to add multiple pictures and there are plenty who have done this. You won't run out of profiles in your local area to speak to. Just don't expect to meet up or even swap contact details with any of them.
QwikMeet design
It's a well-designed website. On the main dashboard, you'll be suggested a list of profiles that you may want to speak to. You can set a filter on this page to change the age, gender or home city of the profiles that show up.
Notifications appear on the right-hand sidebar. New messages pop up in a new tab on the bottom of the screen, so it's easy to message multiple people at the same time.
Alternatively, there is a messages tab in the main navigation. There's also a "Visitors" tab where you can see a list of members who have viewed your profile.
The buttons on a member's profile make it simple to interact with them however you see fit.
Messaging and chatting
It'll cost you 50 coins for every message you send, so make sure you get everything off your chest before you type send! Alternatively, you can pay to send a virtual gift or send a virtual kiss for free. There is no option to send photos or videos.
What can you do with a free membership?
You don't pay for a membership on this website. Instead, you buy Coins in order to interact with other members. Without any Coins, you won't be able to send messages or virtual gifts. However, you can still view other members' profiles, send kisses or add them to your favorites list.
Advertisements
There are no advertisements dotted around this website.
The pricing we paid during our review of QwikMeet
There are no membership fees. Instead, this website works on a credits system. It costs 50 Coins to send a message. It costs between 60 and 180 Coins to send a virtual gift.
Here are your options for buying Coins:
Buy 220 Coins for $4.99
Buy 500 Coins for $9.99
Buy 1270 Coins for $24.99
Buy 2640 Coins for $49.99
Buy 5500 Coins for $99.99
Frequently Asked Questions about QwikMeet
Here are some quick and easy FAQs about QwikMeet to help you decide if this is the dating site for you.
What is Qwik Meet?
Qwik Meet is a so-called dating site that's incredibly suspicious. First, they redirect you to another site (either iFlirts or CasualDating depending on your location). Then the women were too eager and responsive. That's because the site has a credits-based system where each message you send costs money.
Who actually owns QwikMeet?
QuikMeet is owned by OKMeet.com, another dating app.
How can I contact QwikMeet.com?
You can send QuikMeet.com a message via their contact form here: https://qwikmeet.com/contact-us
Is Qwik Meet real?
Yes, Quik Meet is more of a landing page that will redirect you to another site. Once on the other site, you'll find that the users were extremely suspicious as if they were getting us to send more messages and thus spend more money.
Is QwikMeet legit?
Here are all the red flags I discovered that suggested QwikMeet is not legit.
My blank profile was bombarded with suggestive messages.
Nearly every single profile quickly replied to me, but none of them would swap contact details.
Many profiles tried to convince me to continue messaging on the website, even though it costs money to do so.
Is QwikMeet.com a scam or fake?
Qwik Meet works really hard to hide its terms and conditions. So there was no real way to know for sure that the women we spoke to were real. But they were way too eager to chat, which was extremely suspicious.
Is Qwik Meet safe?
We were redirected to another site after trying to create an account on Qwik Meet. So that in itself feels extremely unsafe.
What are QwikMeet alternatives?
For a list of high-quality alternatives to QwikMeet.com, see our guide on the best hookup apps and websites.
How does QwikMeet.com work?
When you try to create a QwikMeet.com account, you're redirected to another site depending on your location. Once you're there, you're bombarded by messages from very eager women. However, you'll need to purchase credits to reply to them.
Is there a Qwik Meet app?
No, Qwik Meet doesn't have an app.
How much does QwikMeet cost?
To message other QwikMeet profiles, you have to buy Coins. It costs 50 Coins to send one message.
Here are your options for buying coins:
Buy 220 Coins for $4.99
Buy 500 Coins for $9.99
Buy 1270 Coins for $24.99
Buy 2640 Coins for $49.99
Buy 5500 Coins for $99.99
How can you use QwikMeet.com for free?
You can't really use QwikMeet.com at all because you'll be redirected before you can start creating a profile.
Can you send messages for free on Qwik Meet?
No. You need credits to send messages.
How do you cancel your QwikMeet account?
When you've been redirected from QwikMeet, navigate to your profile, click on the three grey lines adjacent to your username, then click "Delete Account." You have to respond to a confirmation email in order to confirm your account deletion.