Dating is always an interesting topic, and picking the best dating apps in Santa Ana even more so. But what may be an effective dating app for one may not be for another. Some singles may be raring to sign up on the latest dating app, while others may be too reluctant to jump on the online dating bandwagon. Whichever side you're on, you have to admit that dating apps are not completely detestable.
Even singles living in the best places for love and romance still rely on dating apps to give them a nudge in the right direction. Admittedly, online dating is not for singles who are easily discouraged. Emotions can still be hurt and hearts can still be broken just like they can when you're dating in person. But that's why you need to choose the apps that meet your needs and fit your dating style. You don't want to end up wasting precious time and suffering from all those missed connections.
You can spend all your Friday and Saturday nights at Vacation Bar, Twisted Tiki or Mission Bar. But if the person you're meant to be with does not hang out at these Santa Ana bars, you will never meet her. So trust us when we say that these are the best dating apps that will lead you right to your perfect match.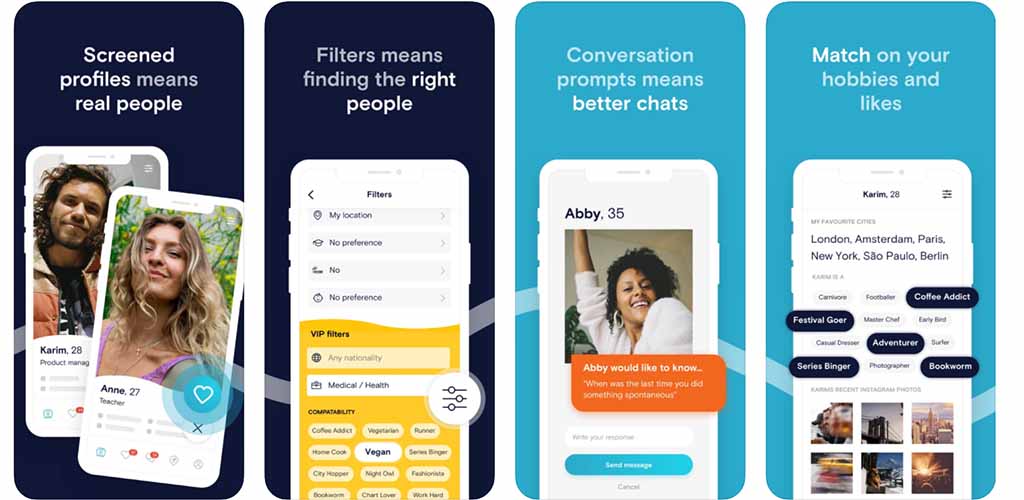 #1 - One of the best dating apps in Santa Ana is The Inner Circle (Android; iOS)
Have you ever gone on a date with someone only to discover that you don't have the same drive, goals or ambitions? The Inner Circle is a dating app for the corporate types who also wish to meet someone a lot like them. To sign up for an account, you need an active Facebook or Linkedin profile. You won't get instant access, though, because you need to go through a profile review process first. A robust profile will help you get approved faster. The Inner Circle community will review your profile. And if they find you successful and attractive, your membership will be approved.
Standards are high in The Inner Circle, But you can expect that for a dating site that's very exclusive, there are plenty of top-tier singles to match with as well.
What we like about it
You get great matches
More women than men
You can search for singles outside your location
What we don't like about it
Not available in all countries
Exclusive also means smaller dating pool
Some users are at the further end of California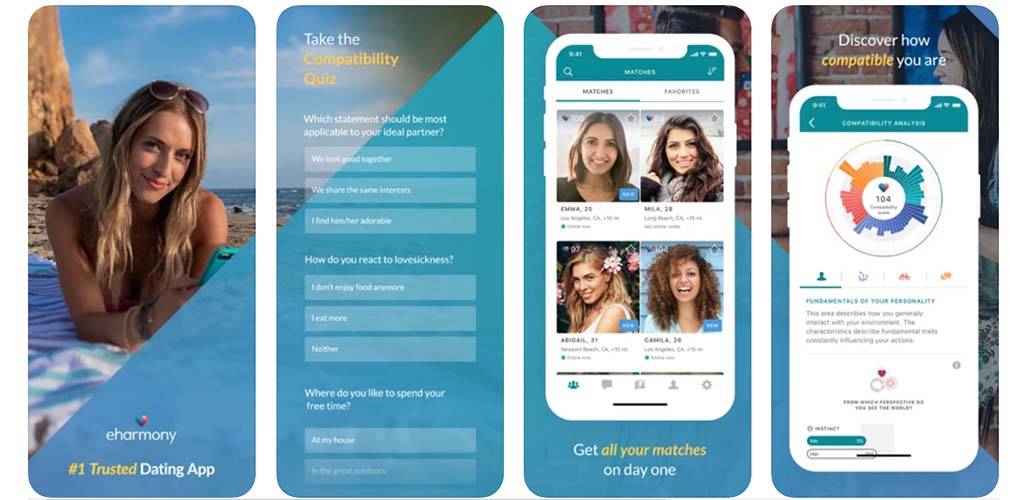 #2 - eHarmony (Android; iOS) can't be beaten for long-term relationships
eHarmony is extremely popular here and has an amazing track record of helping Santa Ana locals find long-term partners by using matching algorithms. This app does the best job of matching you up with compatible potential mates that we've seen.
You don't have to scroll for hours. The app does all of the tough work for you. Of course, you might not make a perfect connection outside of the algorithms. Usually, it works like magic. The toughest part is answering all of the questions. It's important because this is how they match you with other single people. You can build chemistry before you even meet.
If you're serious about finding long-term partners this is the site for you.

Why eHarmony is one of the best dating sites in Santa Ana
The best success rate out there for long-term relationships
70% of users find their future spouse within a year
Makes it pretty easy to form connections
What we don't like about it
It definately takes more time than most to get started
Not super popular with those 18-22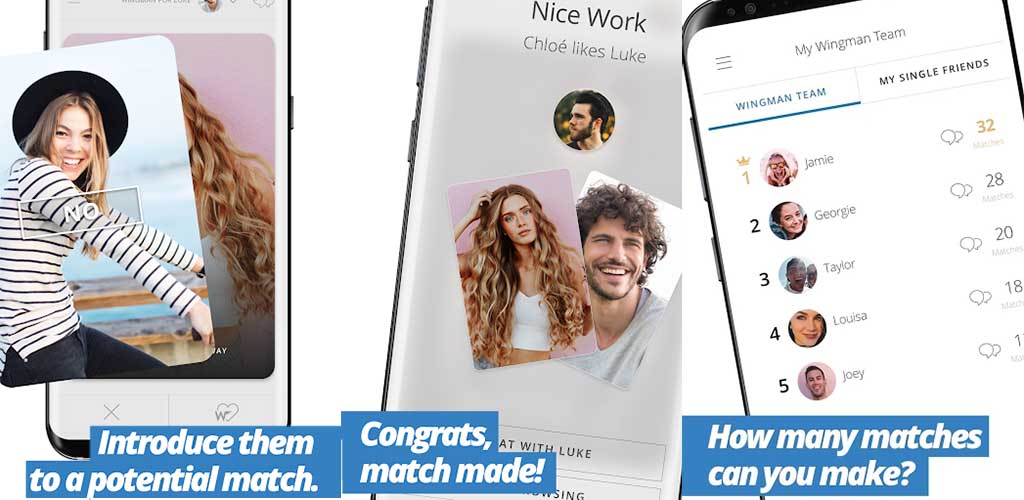 #3 - Wingman (Android; iOS) is one of the best Santa Ana dating apps that will give you good results
Dating is fun, but it can be more fun if you have your best buds to join in on the experience. With Wingman, your friends create your dating profile, and they decide whether someone is a good match for you or not. This way, swiping on profiles will not feel like a chore or even a dreaded task. This will work flawlessly if your friends know your detailed dating history. But being your best friends, they know by instinct whether a suggested match will be good for you or if she'll be just like your ex.
This app also makes online dating less lonely and scary because you know you have your friends with you throughout the whole process of matchmaking. Whether you're looking for something long-term or not, Wingman is one of the best Santa Ana dating apps to check out.
Why Wingman is worth a shot
Fun and exciting way to meet matches
User-friendly
No fake profiles
What we don't like about it
Not a lot of people are on this app
Quite buggy

#4 - AFF is the easiest way to find a fling
AFF should be your first choice when you're not looking for a relationship but still want some fun in the bedroom. We've tried a lot of different apps for this (most are awful) and only a couple have proven to work over and over. Tinder is great if you're under 25 but once you get beyond that AFF has shown the best results out of any dating site in Santa Ana we've tried, especially for guys.
One of the things we've really liked about this app is that they do a really good job of helping you find EXACTLY what you're looking for. Everyone on this site is looking for the same thing so you can save a LOT of time that you would waste on other sites. If you're 25+ and want to take someone home this is your app.
Why you should try AFF
One of the best dating sites in Santa Ana with over 50 million users
We've seen guys have the best success using it, especially those who aren't super good looking and didn't do well on Tinder
It's very straightforward and easy to use
What we don't like about it
Many users can only access via web app
The app is a little dated and not as polished as some others
Sometimes people are a little TOO upfront with what they want
You Can Try AFF Free!
If you're just looking for more short-term fun you need to
try out AFF's free trial
. We've spent months and months testing out the alternatives (more than 100 other sites) and haven't found anything that gives most guys more options and better results. Give it a shot!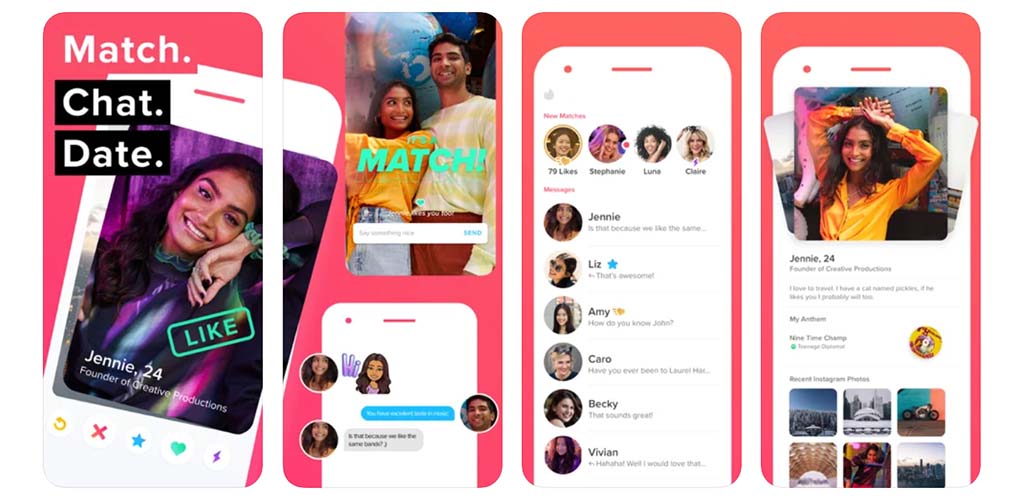 #5 - Tinder (Android; iOS) is both for casual flings and serious relationships
Tinder may have users on the younger side (18 to 34), but it really depends on what you're looking for. It will also depend on the offline chemistry you will have with your matches. But you will be pleasantly surprised that members are a mix between those who want a fling and those who want a long-term relationship. Matches that can even end up in marriage and kids and a house with a picket fence.
Creating an account is free and you also have the option to sign up with your Facebook account. Don't worry, though. It's not going to access your photos or information. All that can be updated from the Tinder app itself.
Why it's one of the best Santa Ana dating apps
Fun and easy to use
So many people use Tinder
The search filters actually work pretty well
What we don't like about it
Free accounts have limited match suggestions
You can't undo a swipe
Most users rely too much on looks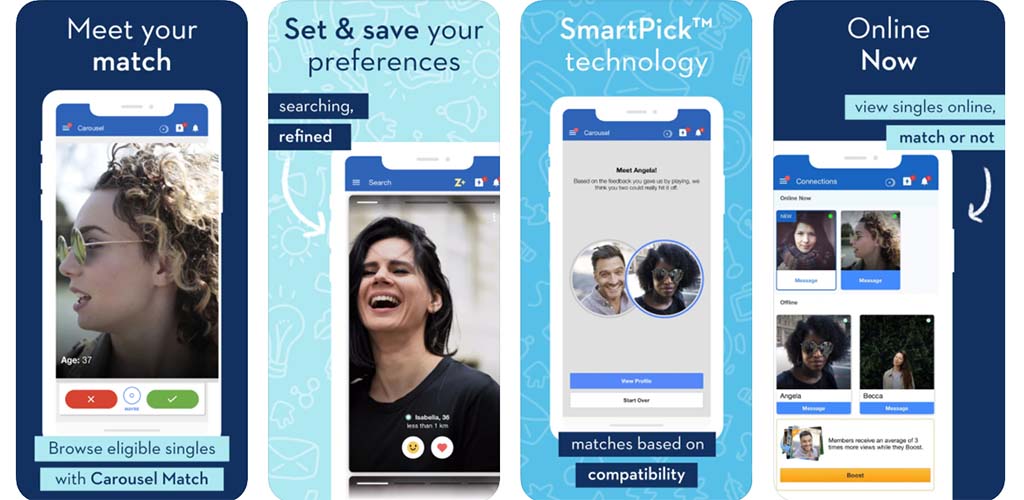 #6 - One of the best dating sites in Santa Ana for serious daters is Zoosk (Android; iOS)
If you're looking for real love and genuine connections, we recommend you stay away from apps that promote flings and short-term relationships. But you can check out Zoosk if you want to just explore your options and see where your online dating experience will take you.
Since its launch, Zoosk has helped over 40 million singles find a match. What sets this dating site apart is its Behavioral Matchmaking technology. Zoosk bases its matches on your behavior on the app. Instead of a lengthy personality questionnaire, it sends you matches based on profiles that you often like or interact with. It beats swiping on profiles of singles who just happen to be near you. The profiles on this site will also impress you, so check it out if you want to get a headstart.
Why Zoosk works in Santa Ana
The matchmaking technology is impressive
Faster sign-up process
Simple and straightforward user experience
What we don't like about it
Not as popular as other dating apps
Messaging is not free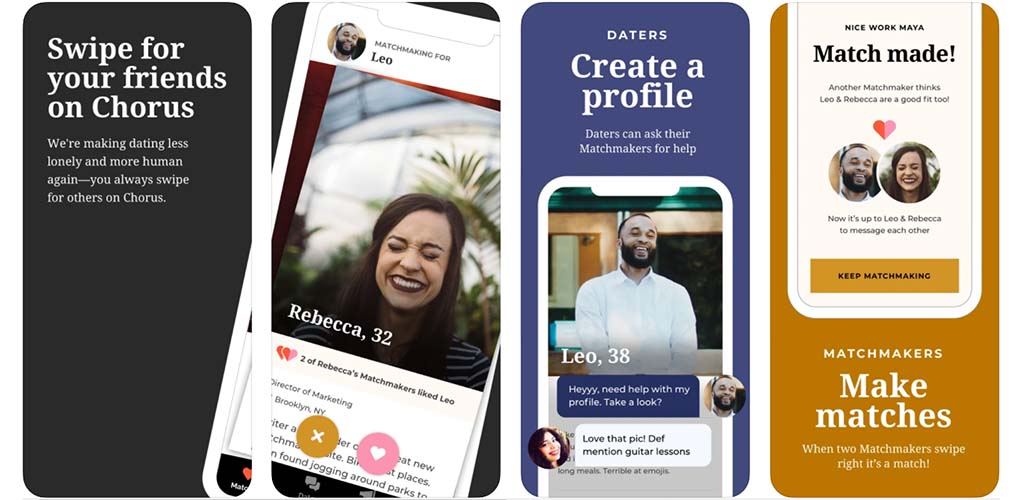 #7 - Chorus (Android; iOS) is for nervous daters
If this is your first foray into the world of online dating, where do you start? To get rid of the jitters or anxiety, you can bring your best friends on board with you. Chorus is one of the best dating apps in Santa Ana that allows your friends to be your matchmaker.
If you're not too keen on swiping on profiles, let your friends take over and handle it. But if you want more active participation, you can use the Dating Roulette and have a short video conversation with other members. This will give you an accurate idea of what your match is like in real life. Definitely much better than just instant messaging. It will also make your decision to Match or Pass a lot easier and with no lingering doubts or questions in your mind.
Try Chorus if you want the online dating experience with your supportive friends rallying behind you!
Why Chorus is one of the best dating apps in Santa Ana
Five-minute video introductions
Enjoyable dating experience
Your friends can be great matchmakers
What we don't like about it
Not for people who have social anxiety (because of the video introduction feature)
Not great if your friends don't know your tastes
Still not a lot of users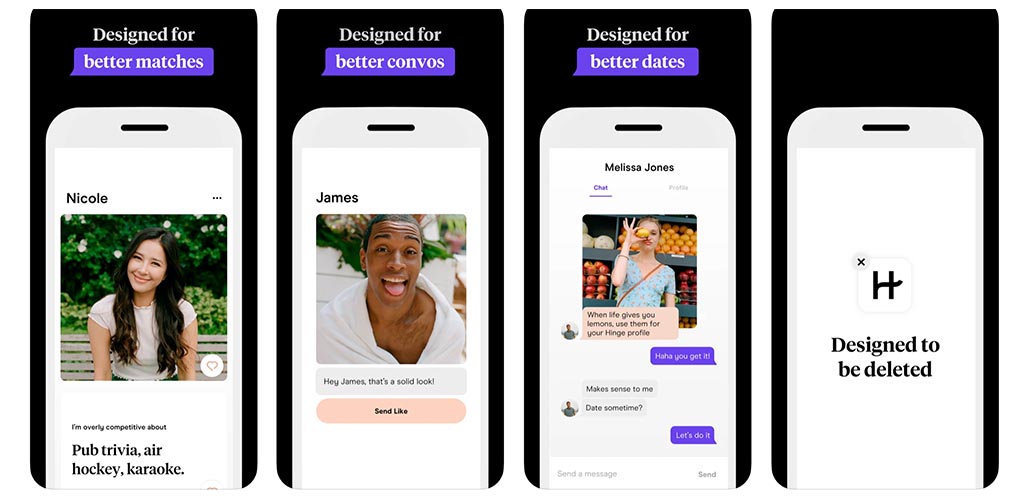 #8 - Singles often hit the jackpot when they sign up on Hinge (Android; iOS)
The best dating apps and sites should not make you feel like you're walking into the lion's den on your own. If anything, it should make you feel safe and match you with other singles who are looking for the same thing. The appeal of Hinge is that it feels like being introduced by a friend to a romantic potential at a party. It works by matching you with people you have mutual friends with. This is a helpful feature because you can actually ask someone about potential matches before meeting up with them in real life.
Hinge removes the randomness of dating apps and gives you some reassurance that you are not going out with a complete nutjob! The dating pool is also pretty impressive because most are young professionals.
What we like about it
Lots of users
Better matches
Geared for singles who are looking for serious relationships
Mutual friends feature
What we don't like about it
Not available in a lot of cities
Too many photos pulled from Facebook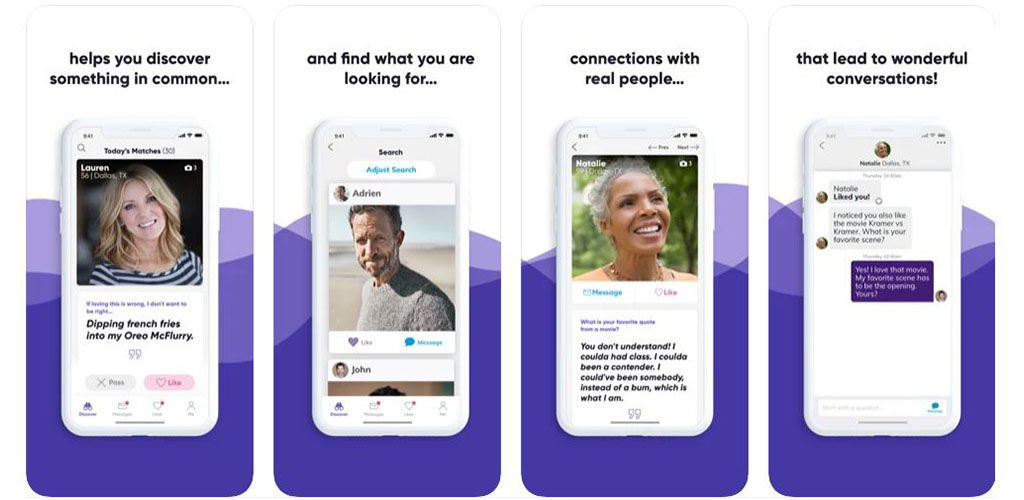 #9 - With OurTime (Android; iOS), every day is a good day to fall in love
Singles who have more laugh lines and silver hair can still find love online thanks to dating sites like OurTime. Contrary to what your jaded self may be telling you, your fifties is still an exciting time of your life, and there's still plenty of love and romance to be had.
It's so easy to join OurTime too. Just answer a few simple questions about yourself, what you're looking for and a few interesting things about you. With the OurTime Tokens, you can also unlock additional features. Some of them include notifying another user that you're interested in them, promoting your profile on search results for 1 hour and sending virtual gifts. The app is free to download, and registration is quick and easy. Try it out and meet like-minded singles in your area.
What we like about it
It's one of the best dating apps in Santa Ana for mature singles
Ability to filter search results
Easy to navigate
Live chat, call and voicemail features
What we don't like about it
Smaller user pool
Paid features