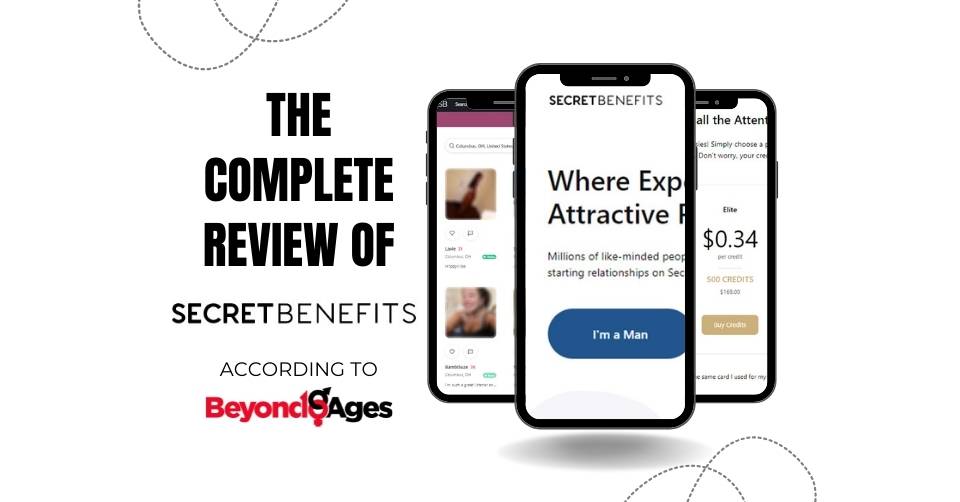 Sugar dating is becoming either more common or more visible these days. Back then, it used to be this secret arrangement that isn't talked about in polite circles. But now, people are more open to the arrangement, whether as a sugar daddy or as a sugar mommy. So is finding your sugar baby more convenient if you do it online? In this Secret Benefits review, you'll discover whether this sugar dating app is worth the money.
Upon attempting to create a Secret Benefits account as a man, the first thing you'll notice is that you'll have to pay a lot to be an active member. That's because the Secret Benefits site wants to stop dirt-poor men – and seemingly even average earners – from wasting the time of its female users. The question is: will men get a good deal from the money they spend on Secret Benefits?
It can always be a concern when you have to pay before you try an online dating service, no matter how much money you earn. After all, there are a lot of scams out there – and there are even more dating apps that have seemingly very few active users on the other side of their paywalls.
That's why I was keen to complete this Secret Benefits review for you.
Here at Beyond Ages, it's our mission to conduct the most comprehensive dating app reviews, so that you don't have to waste time or money on an online dating service that can't deliver a steady flow of new women into your life.
Our reviews are based on an extensive testing period, in which our online dating experts attempt to meet women themselves. So, you can be sure that our verdicts are unbiased and legitimate.
With that said, let's explore how it was to make connections with women using the Secret Benefits site.
How we reviewed Secret Benefits
This Secret Benefits review was based on my experience using the site to try and meet sexy women for an extended period of time.
To ensure a fair test, I used the same stock photos, bio and demographical information that we use for all of our dating app reviews. I sent opening messages to 20 women from our file of tried-and-tested online dating openers.
While you'll learn about the different features of the Secret Benefits site in this review, my ultimate verdict is based on how easy it is to meet beautiful women on this app. How many women responded to my messages? How many agreed to swap contact details?
These are the ultimate figures that we know men will care about most.
Since we use the same profile and opening messages for every review, I will compare SecretBenefits to our favorite hook-up apps, so you can discover which one is the best for your needs.
2023 Secret Benefits Review – Top Sugar Dating Site or an Absolute Drag?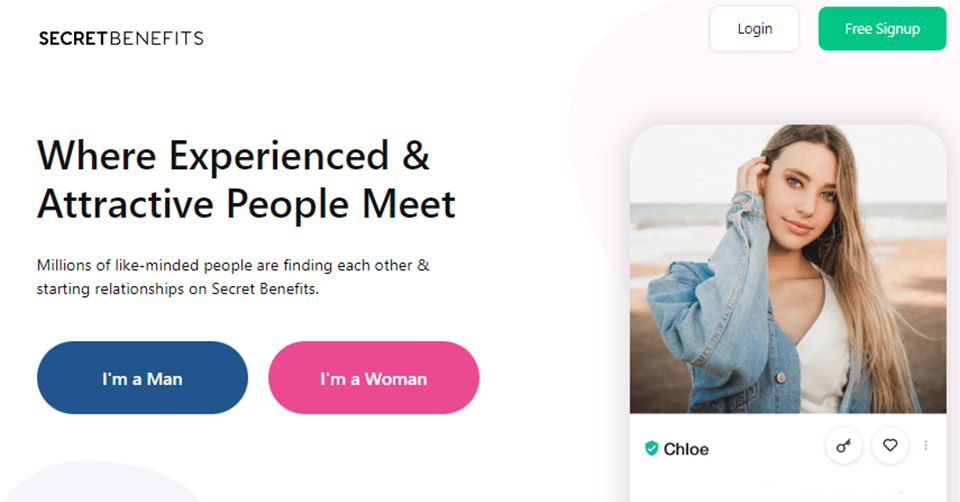 We'll begin this Secret Benefits review with a basic summary, so you can get a speedy verdict on whether it's worth using. If you don't care to hear about every detail of the Secret Benefits app, this summary is perfect for you.
Below, you'll find ratings out of 10 for the most important aspects of Secret Benefits, based on what we know is important to male online dating users. For reference, these figures have been compared to AFF, which we have consistently rated as the top hook-up website right now.
Overall

Our team rates each site objectively based on many hours of independent research, the features each site offers, and how it compares with other sites. The ratings are the opinion of our editors and their extensive experience.

1
9.5
Quality of Women

Our opinion of how attractive the typical woman is that uses this site and how easy they are to connect with compared to other sites.

8
9
Popular

How many people are using this site to actually meet people compared to other sites.

5
9
Usability

How easy is this site to use and how quickly can an average person begin meeting people compared to other sites.

5
10
Privacy & Safety

Does this site take proper precautions to safeguard its members, their identity, and their data.

10
10
Effective

Our opinion of how easily an average person will be able to achieve their dating goals with this site compared to other sites.

1
9
Value

Will the time and money spent using this site pay off for an average person based on the opinions and experience of our editors.

1
8
Our Recommendation
On the surface, Secret Benefits looks like the real deal. A dream come true, even. Its home page encourages you to sign up for free and makes no mention of sugar dating. In fact, its tagline is "where experienced and attractive people meet."
Once you create an account, your main dashboard will be packed with attractive women in your local area to message. If you wait long enough, you'll also notice that your inbox begins to flood with messages from women. That was my experience, anyway.
The catch is that you'll need to buy and spend 10 credits to reveal a message and have a conversation with this person. That'll cost you between $2.90 and $4.50 per conversation, depending on how many credits you buy at a time.
That's chump change to the type of guys who can afford a sugar baby, but it's certainly a lot more expensive than most of the other online dating websites we tested.
Still, I coughed up the cash to message these women. Here's what happened after I did…
I was flooded with messages before I even began testing the site
I received 44 messages during my first week of testing Secret Benefits. Remember, it costs 10 credits to read what these women had to say. Once you've paid that, you can continue to message each other for free.
I responded to 20 women's messages and here are some examples of what most conversations looked like.
1.

2.

3.

Remember you'll pay up to $4.50 for the pleasure of each of these conversations.
Of the 20 conversations I paid for, only two of them went past the opening exchange, but these quickly fizzled out too. Here's the first conversation:

My conversations died very quickly on Secret Benefits
Imagine paying up to $4.50 to start a conversation, only for the other participant to ignore the question.  I imagine you'd feel as ripped off as I did. This happened 90% of the time during my Secret Benefits review, even though it's established that men on this website are willing to pay for a sugar baby.
Here's the second disappointing conversation I had: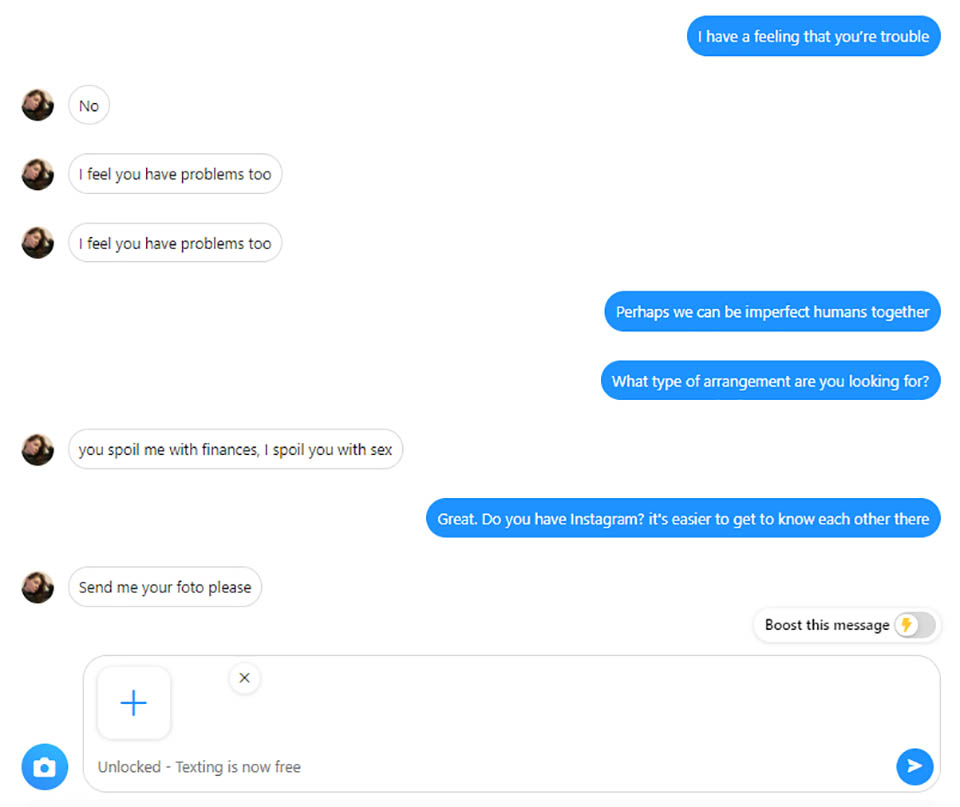 There are other ways to spend credits on Secret Benefits
It'll cost you 10 credits to start a new conversation from scratch. It'll cost you 10 credits to unlock a user's "secret photos". You can also pay to "boost" your message in their inbox or to turn on read receipts for a conversation. From my experience, it wasn't worth it. Most of the "secret photos" weren't even that interesting (at least in the profiles I decided to unlock), and my "boost" didn't get any of the women to be more engaged in the conversation.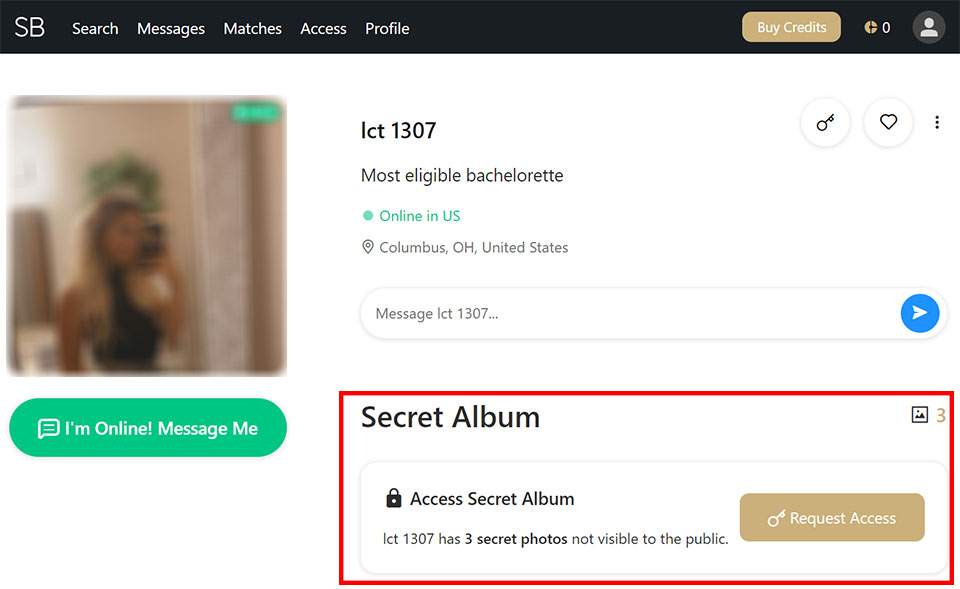 Why AFF is a better option
My experience using the Secret Benefits site was disappointing. Honestly, I feel pretty bad about it. There was no hint of even maybe meeting someone from this app. Most of the women I spoke to were barely interested in a conversation despite knowing that I spent credits to talk to them.
I couldn't honestly recommend Secret Benefits to anyone, especially when there are so many more amazing hookup sites out there like AFF.
AFF has ranked as our favorite hookup website for some time, because it's so easy to arrange a casual encounter with amazing women here. There's no need for a sugar arrangement where you pay these women for their company. Instead, the women of AFF are looking for casual dates where the enjoyment is mutually exclusive, no money involved.
In spite of that, you still don't have to pay to start individual conversations on AFF. Once you're a member, you can message as many women as you like. It won't take long before you've found someone willing to meet you though.
As if that wasn't enough, AFF is currently running a free trial, so you can see for yourself what's on offer and how easy it is to find some action.
Positives and Negatives of Secret Benefits 
There are plenty of beautiful women on Secret Benefits
Women message you first in their droves
The site doesn't bombard you with ads
You have to pay to read and respond to messages or to start your own conversations
The women on this site would appear to be mostly unresponsive
This will be one of the most expensive websites a regular user will ever pay for
Profiles, Pictures, and Members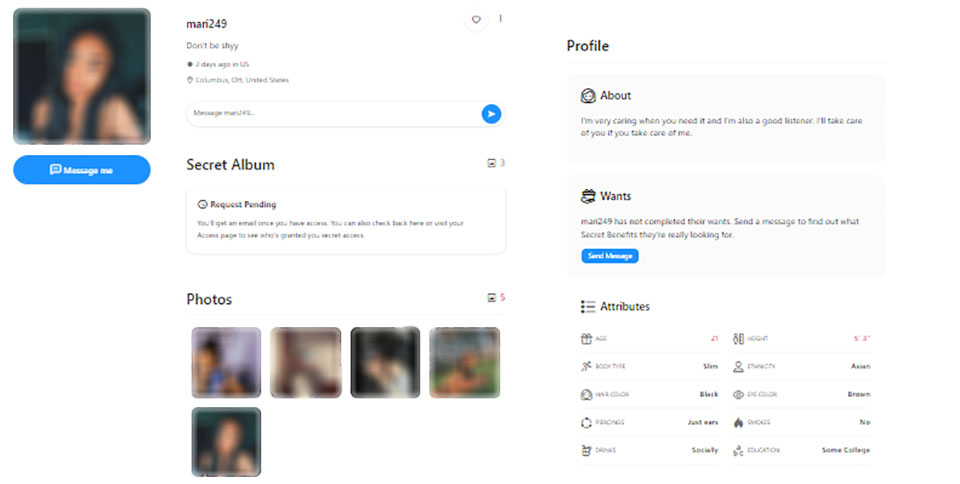 Secret Benefits encourages members to fill out a lot of information about themselves. You're given space for a bio, plus an extra space to mention what you're looking for. Among the prompts of attributes you're asked to mention are your annual income and net worth.
You can add public photos, plus private photos that other members would pay 10 credits to access, with your permission. Most of the members I browsed on Secret Benefits had multiple public and private photos.
Most women on Secret Benefits are very beautiful. Indeed, you'd surely need to be somewhat attractive to believe you could attract a sugar daddy in the first place.
Dating Coaches Recommend These Hookup Apps For Regular Guys
Instead of using Secret Benefits, there are a few hookup apps that work much better for regular guys. If you haven't had the kind of success you think you should online it's probably in large part because you're on the wrong app. These are the ones dating coaches recommend you start with:
Site
Our Experience
Our Rating
Free Trial Link

Best Hookup Site Right Now

Experience Highlights

Top option for local hookups by far
Best results for regular guys
Over 60 million active members
The design needs an update

Try AFF For Free

Great If You're Handsome

Tinder Highlights

Great if you're pretty good looking
Very popular, especially if you're 18-22
Really focused on photos
Becoming more of a dating than hookup app

Try Tinder

2nd Best For Most Guys

Experience Highlights

2nd best option to find hookups
Attracts an older crowd than most hookup apps
Pretty popular
Solid free trial

Try Passion
Design
The Secret Benefits website is well-designed. You'll see a list of recommended profiles on the main dashboard. Then, there are separate tabs for your inbox, your list of matches and your own profile. All in all, the design isn't anything new or innovative, but it gets the job done.
Messaging and chatting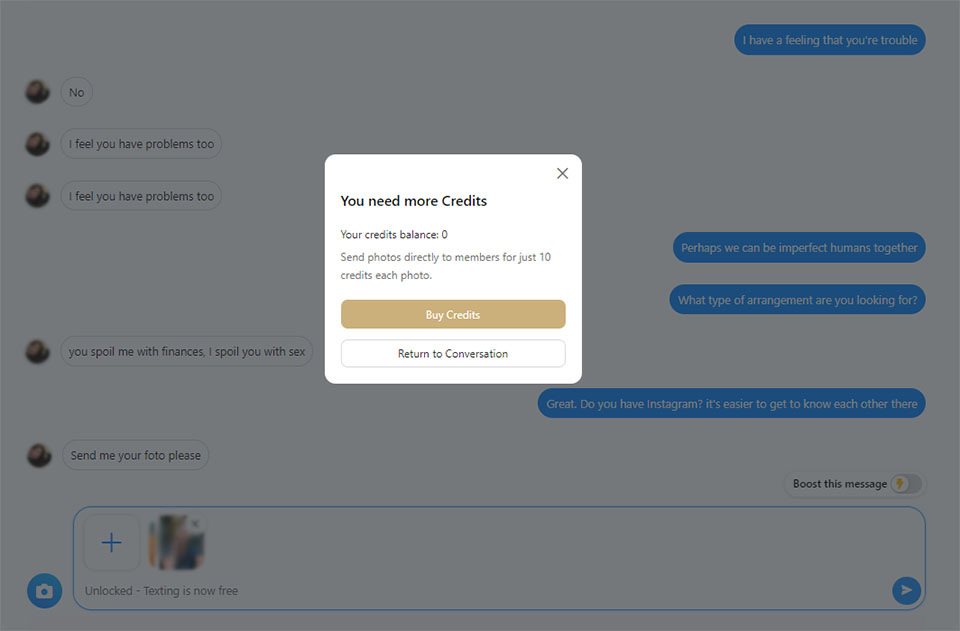 You'll pay 10 credits for each conversation you want to start or continue. You won't be able to read messages that other people send, unless you pay that 10-credit fee. You can send pictures in your chat, but that'll cost you 10 credits per photo.
Your inbox alerts you when it's "your turn" to talk to someone, and that's a useful feature to help you see which conversations you haven't responded to.  Unfortunately, that alert rarely popped up for me, because the women on this website turned out to be so incredibly unresponsive.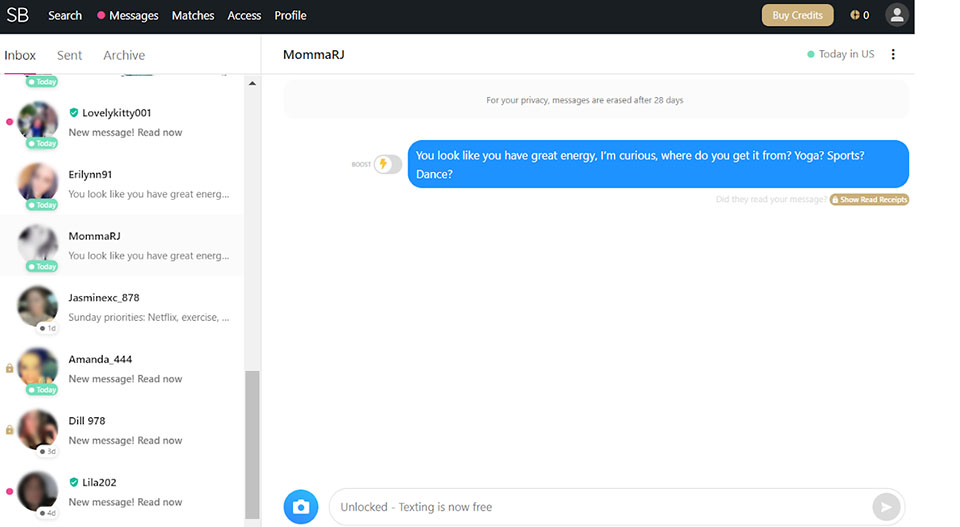 Advertisements
No advertisements popped up during my time testing SecretBenefits, which is pretty good all things considered.
Pricing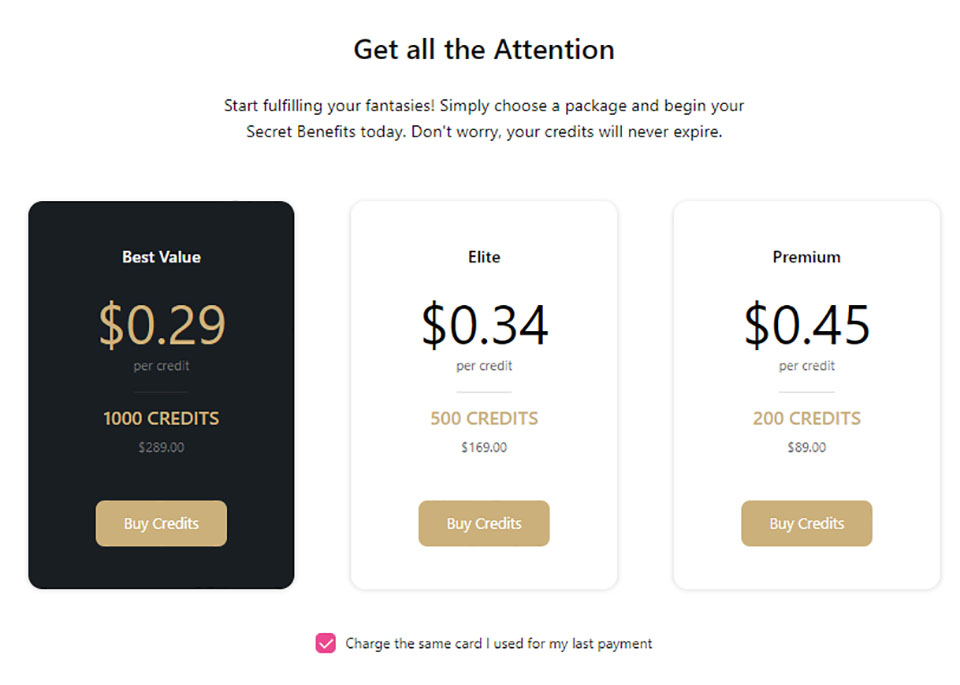 It's free to create a Secret Benefits account, but you'll need to buy and spend credits to send messages to people. It'll cost you 10 credits to start a conversation or reply to someone else's opening message.
You can buy credits in the following batches.
200 credits for $89.00 ($0.29 per credit)
500 credits for $169.00 ($0.34 per credit)
2,000 credits for $289.00 ($0.45 per credit)
As you can see, the credits are incredibly expensive. However, since Secret Benefits is a sugar dating site, that's pretty on-brand. We're not saying it's worth it, though.
Secret Benefits Frequently Asked Questions
Still unsure about Secret Benefits? Here are the answers to some frequently asked questions to help you discover more about this site.
What is Secret Benefits?
Secret Benefits markets itself as a dating site where "experienced and attractive people meet". However, once you use it, you'll quickly discover it's mostly a home for sugar babies seeking sugar daddies.
How can I contact Secret Benefits?
Once you're logged into your account, visit www.secretbenefits.com/next/contact.
Is Secret Benefits real?
Secret Benefits would appear to be a real dating website. Most of the accounts include multiple photos and the bios were usually filled out, which is always a good sign. At the same time, I found no evidence that any of the women on the website were real, as I was unable to ever swap contact details before the conversation fizzled out.
Is Secret Benefits legit?
It's possible that Secret Benefits is not a legit dating website. The technology is certainly available to create fake accounts that message you first, then quickly ghost you.
I found no concrete evidence that Secret Benefits is scamming its users in this way. But I also found no evidence that the women on this website are real, as they all ghosted shortly into the conversation before swapping contact details with me.
Is Secret Benefits a scam or fake?
The jury is still out. I couldn't gather enough evidence to confidently call this website a scam. However, I also couldn't verify whether even one real woman is using this website, and that's a good reason not to use it either way.
Is Secret Benefits safe?
Secret Benefits will take good care of your financial details, and you can hide your private photos on this site with no fear.
What are Secret Benefits alternatives?
You can see our most highly-recommended alternatives to Secret Benefits in our list of the best hookup apps and sites we've tested.
How does Secret Benefits work?
You can create a Secret Benefits account, but you'll have to buy and spend credits to message other people on the website.
You can buy credits in batches of 200, 500 or 2,000. It costs 10 credits to start a conversation or reply to someone else's opening messages. You might also spend credits on sending photos or unlocking secret photo albums.
Is there a Secret Benefits app?
No. Secret Benefits used to have an app, but it's no longer available on either the iOS or Android app store.
How much does Secret Benefits cost?
It's free to create a Secret Benefits account, but you'll have to buy and spend credits to send messages to people.
You can buy credits in the following batches.
200 credits for $89.00 ($0.29 per credit)
500 credits for $169.00 ($0.34 per credit)
2,000 credits for $289.00 ($0.45 per credit)
How can you use Secret Benefits for free?
You can browse other people's profiles on Secret Benefits for free, but you'll have to pay up if you want to send messages to anyone or read the messages sent to you.
Can you send messages for free on Secret Benefits?
Once you've paid the initial 10 credits to message someone, you can continue to send as many messages back and forth for free.
How do you cancel your Secret Benefits account?
You can hide your Secret Benefits account by clicking your profile picture in the top-right corner of the screen, navigating to "Settings" then "Hide My Profile".
To go one step further and delete your account from the Secret Benefit database, you'll need to get in touch with the customer service team at www.secretbenefits.com/next/contact