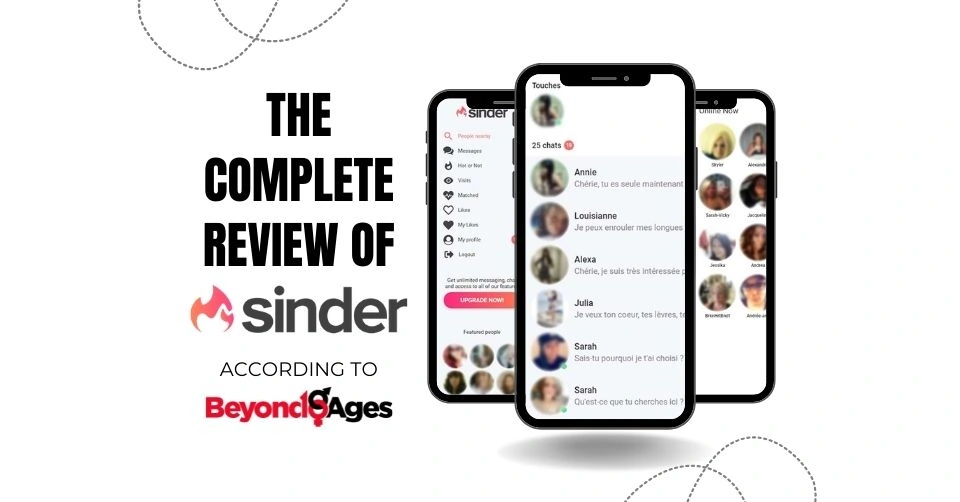 Online dating is a beautiful thing and makes dating life so much more convenient. Sadly though, there's always a group of people that come along and remind us why we can't have nice things. As we're going to cover in this Sinder review, it's always a good idea to get a little expert advice when it comes to new dating sites like MySinder.com.
As such a strong advocate for all things online dating, I love doing reviews like this. The more we can expose which sites are terrible, the more common knowledge it can be. If we can save just one person from getting ripped off, it's worth every second of the review process.
With all the changes to dating that have happened as a result of social distancing, it's even more important that you're using a quality dating app. You just can't afford not to when so many women are only meeting guys online now!
That said, I need to be sure these reviews are fair and unbiased. The best way to do that? A standardized review process that I follow for every dating site and app review.
How we reviewed Sinder
The process is simple and effective but time-consuming. It always starts with a completely blank profile. I fill in only the required information and just leave that account to sit for a day or two (spoiler: this site proved exactly why we do this).
After that, I'll use it as a free user for one to two weeks, depending on the results. For this phase, I complete every part of my profile including high-quality photos, a proper bio etc. Here, I'm looking to set up as many dates as I can without paying for anything. Most people want a site that's free and effective, so it's an important step.
After that, I'll upgrade to a paid account so I can make a direct comparison. Did a paid account give me more dates than the free one? Were the premium perks worth the money?
I send out TONS of messages that have worked for many many times on other dating apps and try to set up as many dates as I can with the women I connect with.
By running through all of this personally, I can give you the most in-depth, informative review rather than regurgitating other reviews.
Our Complete Sinder Review
Having reviewed so many fake dating sites now, MySinder.com set a lot of alarm bells ringing almost immediately. Before we get into the details though, let's take a look at a high-level comparison against a legitimate website.
For hookup-focused sites like Sinder claims to be, we always compare against AFF. AFF (which you can try for free here) has been where we've been seeing regular guys have the most success. This makes it a great comparison to the new options that pop up like Sinder.
When you have easy, effective and legit options out there like that, why would anyone bother with these cheap fakes? So, let's see how Sinder compares.
Overall

Our team rates each site objectively based on many hours of independent research, the features each site offers, and how it compares with other sites. The ratings are the opinion of our editors and their extensive experience.

2
9.5
Quality of Women

Our opinion of how attractive the typical woman is that uses this site and how easy they are to connect with compared to other sites.

2
9
Popular

How many people are using this site to actually meet people compared to other sites.

2
9
Usability

How easy is this site to use and how quickly can an average person begin meeting people compared to other sites.

10
10
Privacy & Safety

Does this site take proper precautions to safeguard its members, their identity, and their data.

4
10
Effective

Our opinion of how easily an average person will be able to achieve their dating goals with this site compared to other sites.

2
9
Value

Will the time and money spent using this site pay off for an average person based on the opinions and experience of our editors.

2
10
Our Recommendation
As usual with these sites, the numbers tell us most of what we need to know. By all means, the site is easy to use but that's about the only positive thing I can say about it.
Spam messages start seconds after creating a profile
Remember how I said there's a reason I leave a blank profile for a couple of days? This is it. I want to see if "women" are going to message a completely blank profile, claiming they're attracted to me.
No real user will ever message a profile with no photo or information. That means you know for a fact these are bots or scammers.
In prepping for this Sinder review, the spam messages were real. In the first 60 seconds, I received three of them. In the first 24hrs, I had a total of 13. Further proof that they're fake, the messages come in faster when you're actively logged in.
This is usually to promote urgency. You're online right now, so are all these women that are messaging you. If you don't upgrade to a paid account you're going to miss out on all of these women!
Of course, in reality, it's more likely to be a small team of men offshore somewhere — in this case, Prague where the company is based. By the third day, I had 37 messages but not a single successful conversation.
Almost all the messages are in French
As someone actively learning French, this was both helpful and amusing. In terms of finding a real date though, it was just strange.
My browser language is English, my location is the US and there's no way for me to change language preferences on the site. What's even more confusing is the rest of the site is in English. Navigation, privacy info, most bios, etc, all in English yet the spam messages are in French.
Payment options are in Euros and their privacy info shows they're based in Prague so honestly, I have no idea what's going on there.
In any case, I responded to the one message I received and replied to in English. "She" responded in French!
If I've got my translation right here, her response roughly translates to "I want you here with me, not a piece of clothing between us."
Very forward but not at all a response to my message. What's even more amusing is that it's exactly the same type of trash you see from other fake sites, just in French.
Some more rough translations of their first messages:
Do you think I'm sexy?
Do you like romantic women?
Want to see my hot pics?
I want you now
All very forward and certainly not the type of message real women are going to send as an icebreaker. At this point, I can only assume the people behind sites like these get their understanding of women from a site that rhymes with CornHub.
In case you're new to dating, real women don't talk like this.
So much activity for a blank profile
Before I even populated my profile, I'd already received a total of 43 notifications from MySinder.com. A mix of messages, likes, matches and so on.
See for yourself in the screenshot below. Note that My Profile is only 1% complete — completely blank.
Even after completing my profile, nothing really changed. The same level of spam happened, still in French and no real users came to the surface.
Users will often "view your profile" the moment you view theirs
To further promote the (false) idea that you're in high demand on this site, you get a lot of profile views. You'll see a small pop-up notification in the corner when this happens and the number in the "Visits" badge increases.
What gives this away as fake is that it almost always happens within seconds of viewing someone's profile. 
Also interesting about this example is that "her" name is "Moderated" and her bio is one of the few in French. I'm so confused by this site in general. I suppose that's one thing we can be thankful for with fakes like this — they're usually easy to spot, by design.
User profiles are filled with other suggested profiles
Another strange thing I noticed was the layout of user profiles. It's not uncommon to have a strip of similar users at the bottom for you to check out. On Sinder, though, about 50% of the screen is taken up with these suggestions.
If this were a real dating site, this would be terrible for "Gabbie" here. She gets a single column of screen real estate in her own profile!
A Tinderesque Hot or Not section
You'll find Hot or Not in the navigation pane that takes you to a feature that works much like Tinder. You choose the X or heart to determine if you're interested in that person or not. If you both like each other, that's a match and you can start chatting.
Of course, this is entirely redundant since, even as a free user, you can chat to any user without matching. Why they bother adding this in I'm not entirely sure. We'll add it to the long list of things that make no sense on MySinder.com.
What I did notice is that these profiles were fast to message me after we matched. I suppose it's just another way to make you feel in demand. That said, I matched with "Camille" who was quick to message me (it literally took seconds) with an odd opener. Written in French, it translates to:
"I might not be the prettiest girl on here but trust me, I know how to please a man."
Camille, do we need to have a chat about confidence levels? There's a lot to unpack there.
Stay away from Sinder
If it wasn't clear enough already, I highly recommend that you stay as far away from Sinder as you can. It's just one of the low-quality sites out there that will waste your time (and money if you bother with a paid account). Of course, swimming through a sea of awful dating sites isn't ideal, so let us lead you towards a site that actually works: AFF.
AFF is one of the top hookup sites in the world. With millions of users worldwide, it remains one of the most established and reliable sites out there for people who want to meet other singles. And by other singles, I mean real women who behave and chat like actual human beings. In case you're worried about being catfished, AFF has its own webcam service that can help you get to know your matches better.
So why bother with Sinder when you can try out the AFF free trial?
Positives and negatives of Sinder
As with any site, I do try to find some sort of silver lining. In the case of MySinder.com, it was tough.
The site loads fast and is easy to navigate
It's a fake dating site — users are fake
Constant spam message, starting just seconds after creating a profile
The messages are almost exclusively in French
No real users means no real conversations or dates
A free profile lets you do enough to see that you won't get anywhere
Where this site differs from other lazy sites like it is that you don't need to pay to see that it's clearly not worthwhile.
As a free user you can view and message profiles, receive endless spam and see for yourself that it's a waste of time. Sure, you're limited in how many messages you can send, what you can view, etc but it's still more than enough.
Most fake sites will hide the messages behind a paywall. This way, you can't know that it's fake until you've already paid them and potentially compromised your credit card.
Instead, a paid account will give you:
The ability to view full-sized profile photos
Unlimited messaging
The ability to see all users in the search results
Their "Intellectual MATCH system" (which I can find no info on)
The ability to share and view videos
A personal support assistant
The Top Alternatives To Sinder For A Hookup According To Dating Experts
When guys struggle to find success online we usually see them using the wrong apps. It makes such a huge difference and is a very easy mistake to make. These are the top hookup apps right now according to dating experts that most regular guys will do well with:
Site
Our Experience
Our Rating
Free Trial Link

Best Hookup Site Right Now

Experience Highlights

Top option for local hookups by far
Best results for regular guys
Over 60 million active members
The design needs an update

Try AFF For Free

Great If You're Handsome

Tinder Highlights

Great if you're pretty good looking
Very popular, especially if you're 18-22
Really focused on photos
Becoming more of a dating than hookup app

Try Tinder

2nd Best For Most Guys

Experience Highlights

2nd best option to find hookups
Attracts an older crowd than most hookup apps
Pretty popular
Solid free trial

Try Passion
Questionable terms and conditions
Something I like to do with terrible sites is look through their privacy policy and terms and conditions. They tend to bury ridiculous things in here for some reason, as though documenting their tactics makes it okay.
In case there was any question about the legitimacy of the profiles on Sinder, they confirm it's fake. Literally, in writing, they confirm that they use fake profiles for "…entertaining the user for promotional purposes and other reasons."
They also require unreasonable amounts of notice to cancel your paid subscription. Technically, this is in their Terms and Conditions so fighting this would be tough.
Even the fact that they deem a 1-month subscription to be just 28 days is a strange stipulation. It's not like shortening your access period by two or three days actually impacts anything.
Anyhow, the site is very clearly fake and you don't need to hand them credit card details to see that for yourself. None of this matters so long as you don't fall for their tactics.
Sinder Review: FAQ
To make sure I've covered all the frequently asked questions, here are few more answers to help you out. If I've missed anything though, be sure to let us know.
What is Sinder?
Sinder is another dating app with fake profiles (they literally say so!). Like many imitations, you'll start receiving fake messages from the second you create a free account.
In my time using the site, I wasn't able to have a single real conversation.
How do you log into Sinder?
You can create a free user account by filling out the basic form on their home page. After that, you're free to look around, message users and complete your profile.
The username and password you provide in this sign-up process is what will be used to log into the site in the future.
What are Sinder alternatives?
Clearly, Sinder.com is a fake dating site. Rather than wasting your time here, focus on sites that actually work.
To save you the legwork, we've already reviewed the best dating apps and websites. Take a look at our list and try the ones that seem like the best fit for you.
How do you use Sinder for free?
When you create an account on MySinder.com, you're given a free profile by default.
This allows you to view member profiles, send and receive messages and use almost all features of the site. The only real difference is that you're limited to how many messages you can send and how many people you can "like" in Hot or Not.
How do you cancel your Sinder Membership?
To cancel your paid subscription, follow these steps:
Click User Profile from the navigation pane on the left
Click the Settings icon on your profile photo
At the top, you'll see Membership. Click to open these options
Select Cancel Membership
How do you delete your Sinder account?
Deleting your profile is also simple, just follow these steps:
Click User Profile from the navigation pane on the left
Click the Settings icon on your profile photo
Click Delete Account
Click Delete My Account
How much does Sinder cost?
Pricing for Sinder is in Euros for some reason. Since exchange rates constantly fluctuate, be sure to check the current conversion rate if you're going to sign up (which I strongly advise against — the site is entirely fake).
Below are current conversions in USD, based on today's rates at xe.com.
3-day trial €1.35 ~$1.63
1 month €24.99 ~$30.18
3 months €13.45/month ~$16.25
6 months €9.45/month ~$11.41
By upgrading to this paid account, you're getting access to:
View full-sized profile photos
Unlimited messaging
See all users in the search results
Their "Intellectual MATCH system (which I can find no info on)
Share and view videos
A personal support assistant
Is Sinder legitimate?
No. It's another fake dating site that even confirms this in their Terms and Conditions. They'll use fake profiles for "…entertaining the user for promotional purposes and other reasons."
In my time using the site, I didn't come across a single, real user.
Does Sinder really work?
No. There are no real users on the site so the only profiles you can communicate with are bots.
Again, they confirm this in their Terms and Conditions for some reason:
"The portal may contain fake profiles created and controlled by the website with which it is not possible to arrange real encounters."
How do you send messages on Sinder?
Sending messages is as simple as click the speech bubble icon in any user profile.
Even as a free user, that's all it takes. Since the profiles are fake, the best you can hope for is an automated response, most likely in French for some reason.
How do you search on Sinder?
To filter the fake profiles on Sinder, click the gray bar at the top of the "People nearby" section (the page you see when you log in).
You'll be given a collection of filters to narrow down your search.