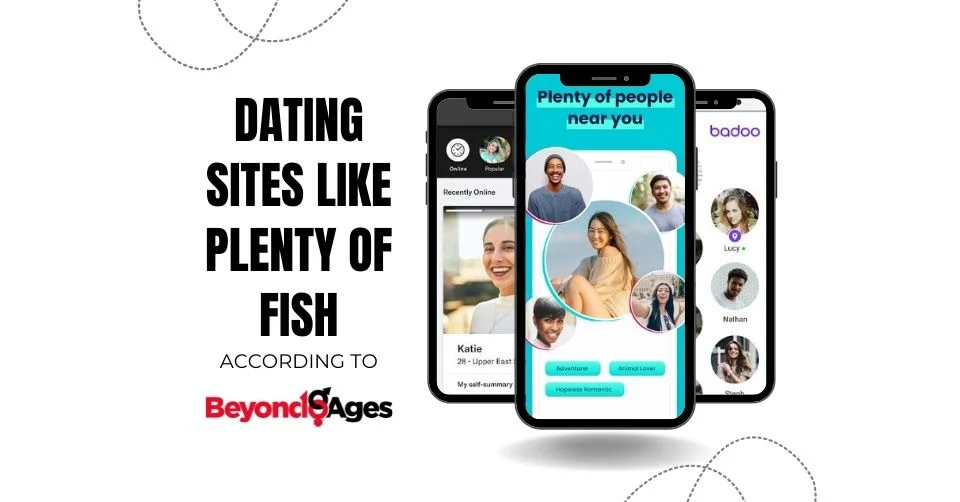 If you're looking for a comparison of the best sites like POF, you're in the right place. Plenty Of Fish (POF) is one of the oldest and most well-known dating websites out there having launched in 2003, but it does have its critics. A lot of negative reviews from men mention a lack of high-quality women using this website along with hundreds of inactive users.
We've tested out and reviewed over 200 different options for our list of the best dating apps so we know what quality looks like.
With that said, POF is a well-designed dating app that provides a good technical user experience. That's why we created this list of sites better than Plenty Of Fish that have a similar design.
These are the two best sites like POF, according to the extensive reviews we've completed of online dating websites over the years.
Below, you'll discover a comparison of dating sites like PoF, so you can find the best dating website similar to POF for your needs.
How We Compared the Best Apps Like PoF
Our online dating reviews are based on extensive tests of these apps and websites. We spend months testing the free and paid versions of online dating websites, so we can give you a comprehensive verdict on which of them are worth using.
In our tests, we keep all the determining variables the same: pictures, bios, demographic information and opening lines. That way, we can ensure a fair comparison of all the websites we review.
To find the best apps like PoF, we tested out a handful of sites with similar features. We checked if these sites had a sizeable and active userbase, reasonable paid membership prices and high-quality women who were willing to respond to our messages.
So, which is the superior alternative to POF: Hinge or eHarmony?
Read on to find out…
The Best Sites Like POF: Hinge vs eHarmony 
We rate both Hinge and eHarmony as being vastly superior to POF. However, they are vastly different from each other.
Your preference is likely to be based on what you're looking for from an online dating website. Since PoF was initially marketed towards younger adults and then became older among more mature adults, this is how we compared our two options.
Overall

Our team rates each site objectively based on many hours of independent research, the features each site offers, and how it compares with other sites. The ratings are the opinion of our editors and their extensive experience.

8
9.5
Quality of Women

Our opinion of how attractive the typical woman is that uses this site and how easy they are to connect with compared to other sites.

8
9
Popular

How many people are using this site to actually meet people compared to other sites.

8
9
Usability

How easy is this site to use and how quickly can an average person begin meeting people compared to other sites.

10
10
Privacy & Safety

Does this site take proper precautions to safeguard its members, their identity, and their data.

10
10
Effective

Our opinion of how easily an average person will be able to achieve their dating goals with this site compared to other sites.

8
9
Value

Will the time and money spent using this site pay off for an average person based on the opinions and experience of our editors.

8
10
Our Recommendation
Try Hinge if you're younger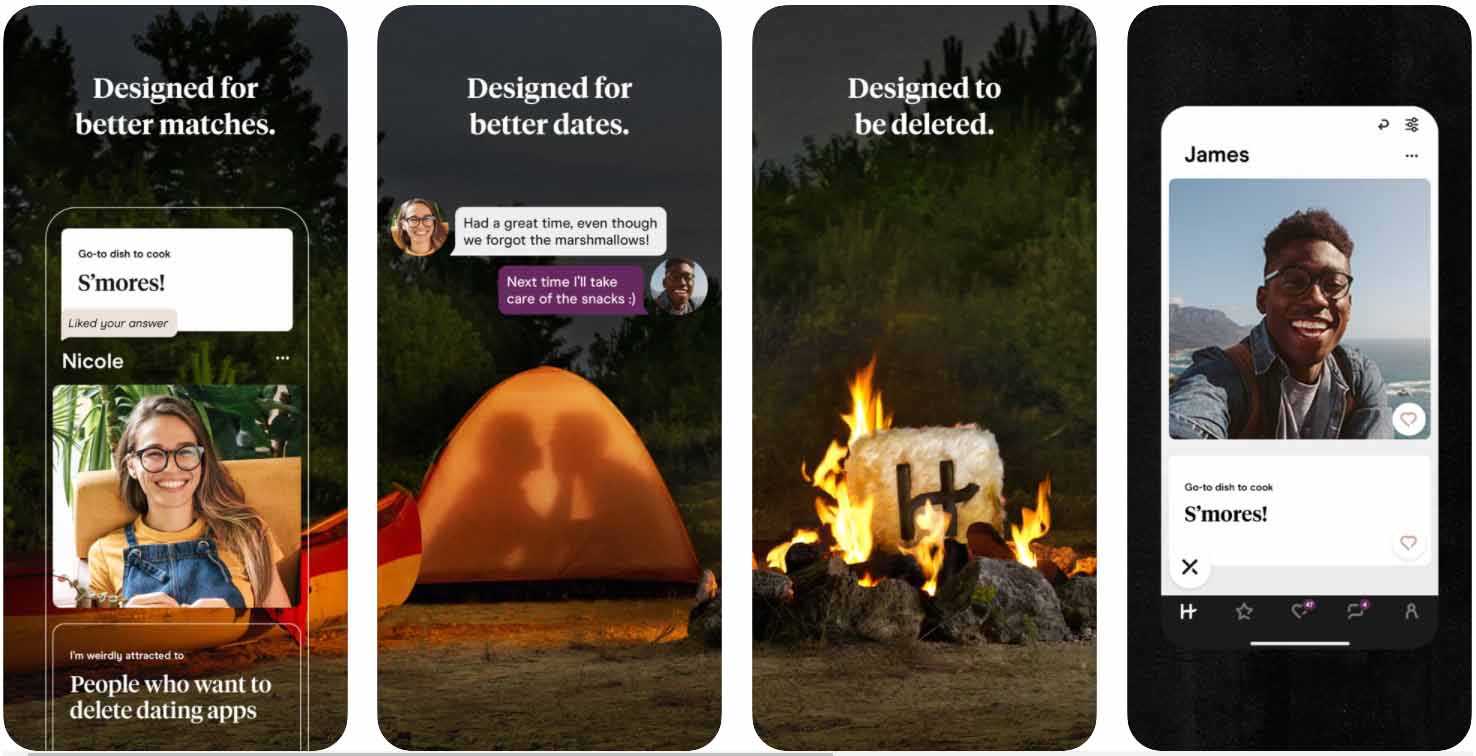 Hinge used to be the app where you could connect with people who were friends of friends on Facebook. It worked for a while, but then they changed their algorithm.
These days, Hinge focuses on making sure you have a complete and interesting profile that will entice other users to connect with you. There are various prompts and profile questions you can answer to create a more candid profile that accurately reflects who you are. They also include features such as video chat where you can get to know your matches via a video call without revealing your contact info.
Hinge's focus is now on creating genuine connections. That's vastly different from superficial, photo-based dating apps that make dating seem like a game. Of course, that's not to say that Hinge is only for relationships: you can require great chemistry with someone before hooking up too!
So why is it like PoF? For starters, Hinge focuses on matching people who have a lot in common. And the best part? It's completely free.
Try eHarmony if you're a little more mature and only want a serious relationship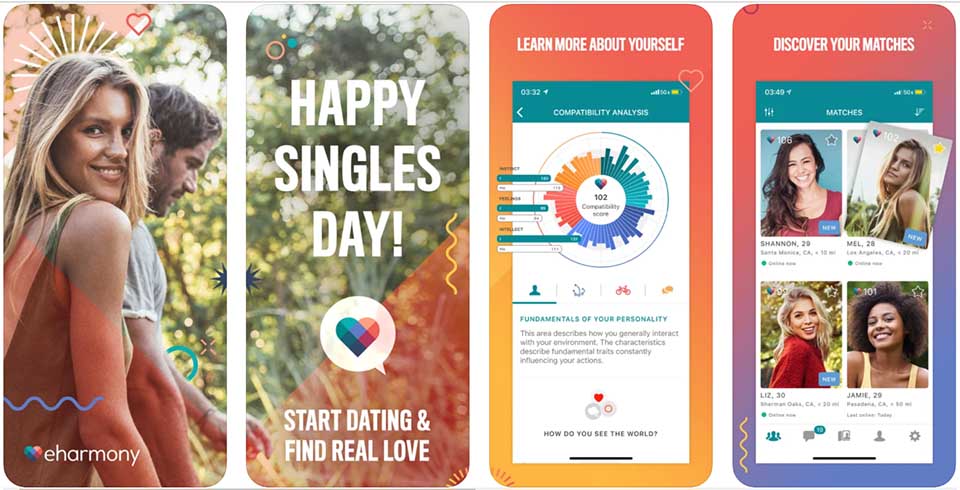 In terms of finding serious relationships, nothing tops eHarmony, not even Plenty of Fish back in its heyday.
eHarmony is an online dating website and app, which is focused on helping users find their true love. This is clear in all of its marketing. eHarmony makes you take an extensive personality test and will use the results of this test to recommend you a handful of suitable matches every day.
You can only make contact with the users that eHarmony recommends to you. This quality over quantity approach to online dating encourages users to make deeper connections based on personality.
The free edition of eHarmony doesn't let you message other users, making it ultimately useless. It's one of the more expensive dating websites out there per month, and you have to commit to at least six months when you sign up.
While this isn't great for your bank balance, it does help ensure that the eHarmony user base is only filled with singles who are serious about their quest for serious relationships. If you're committed to finding love online, we'd recommend splashing out on eHarmony for this reason.
It has won awards for being the most trusted dating app and having the highest-quality user base, so we're not the only ones who recognize the great work being done.
The Other Apps Like POF Worth Considering
Here are some alternatives to Hinge and eHarmony that didn't quite make it into our list of best apps like POF.
OKCupid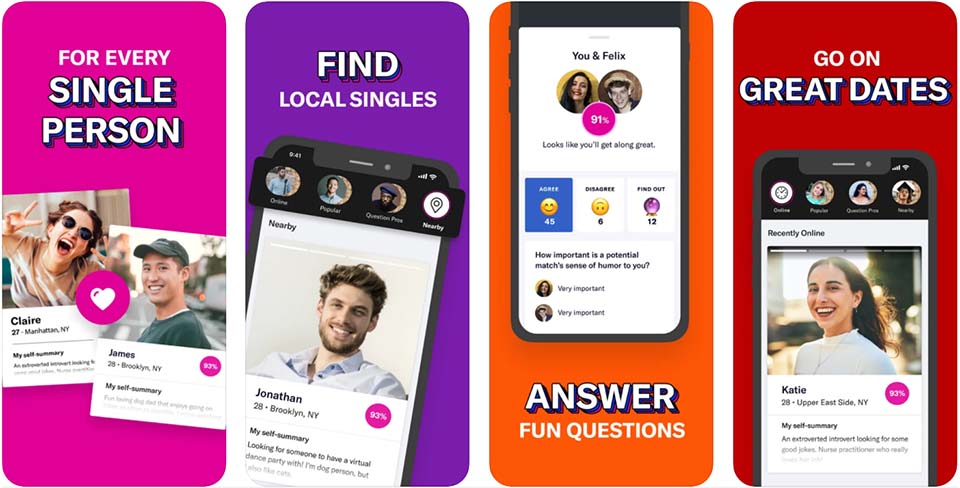 Similarly to POF, OKCupid is one of the online dating OGs. It's another free dating app that has the swipe left/swipe right system. It also has in-depth profiles and a detailed filter system to help people find the right match for them.
However, just like POF, there appears to be a lot of complaints about the quality of the user base. Many of the original dating websites struggle to attract a younger, hotter user base and OKCupid would appear to be no exception.
Match.com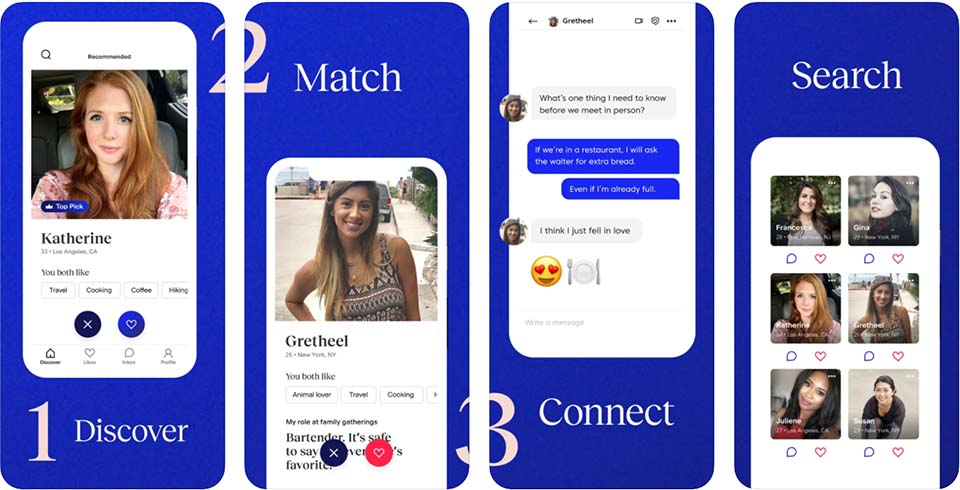 Match.com launched in 1995 and is surely the oldest dating website still going. It has also adopted the swipe left/swipe right system, albeit with longer more comprehensive profiles and a more detailed filtering system.
Match.com has a far older user base than Hinge or eHarmony though. There aren't many youngsters using the app compared to its newer competitors. It's also pretty expensive.
Badoo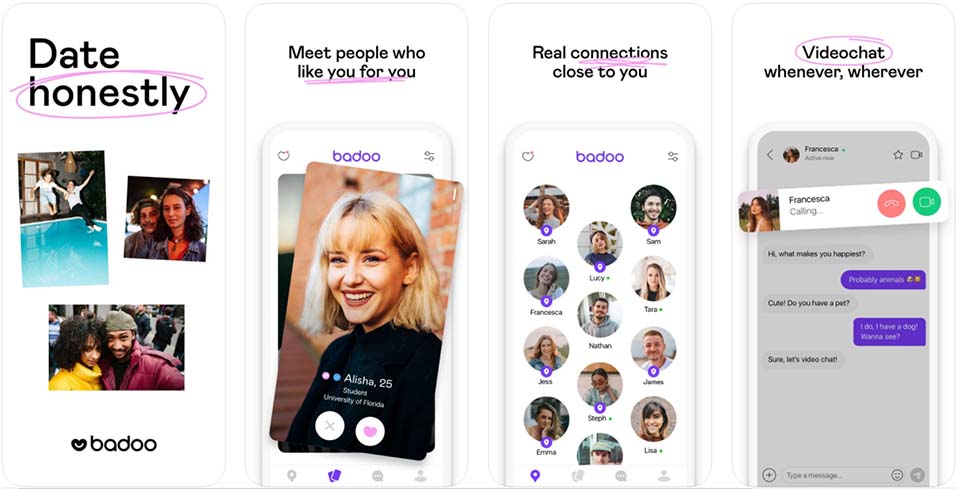 Badoo has emerged as a decent competitor to Tinder, particularly in Europe and South America, where it has built up an impressive user base. Both apps have the same swipe left/swipe right system. However, Badoo still plays second-fiddle to Tinder on a worldwise basis, at least for now.
Tinder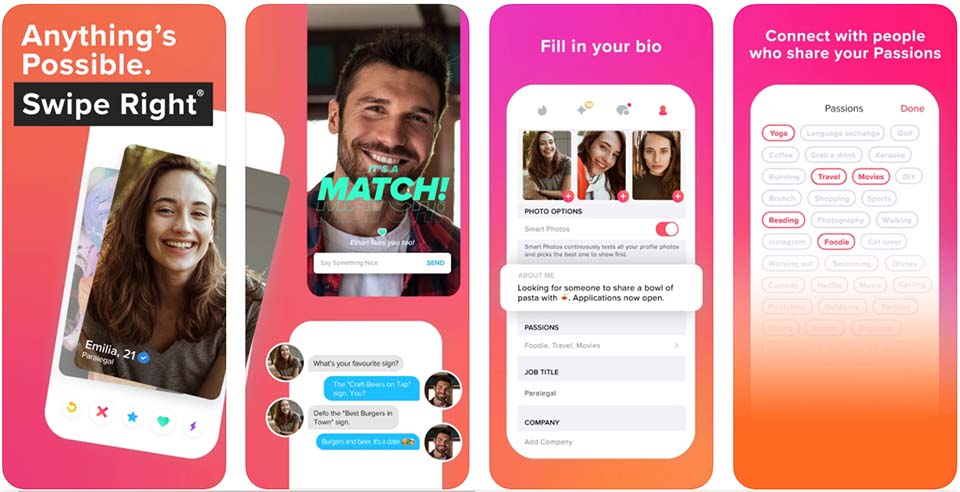 If you're a recent user of Plenty of Fish, then you know that its new swipe-right-swipe-left design was taken out of Tinder's book. So if you like that design, why not go to the original and use Tinder instead?
If you like PoF's reputation as a hookup site, then by all means, Tinder is your best bet. However, if you enjoy PoF's ability to help people find serious relationships, our top options (Hinge and eHarmony) work much better than Tinder.
The Most Important Considerations When Choosing a Dating App
Here are five factors we considered to be the most important when choosing a dating app. These were the factors we considered when deciding the sites better than POF.
How big is the user base?
This is perhaps the most important factor to consider. If a dating app doesn't have a big enough user base, your hopes of finding someone suitable are diminished. There are plenty of niche dating websites that are great in theory but fail due to not having enough users.
More importantly, you need to consider whether an app has enough users of the demographic you're searching for. PoF, sadly, doesn't have as big of a userbase as it used to. On the other hand, Hinge and eHarmony are still incredibly popular.
How old are you?
Your age usually determines the demographic of people you want to date. PoF used to be able to attract users of all different ages, from all walks of life. But these days, dating apps tend to target different age groups.
In the case of Hinge, the userbase tends to be a little younger. Maybe not college-aged, but they're generally more popular among those aged 24-35.
With eHarmony, however, the target audience tends to be those over 30. While there are lots of users under 30 on eHarmony, majority of their users are older. It's also worth noting that eHarmony tends to attract more mature users since you need to pay for a membership to even use the site.
What are you looking for in a dating app?
Plenty of Fish was started out as a site where you can find a relationship, then it started to attract users who are looking to hook up. Today, PoF isn't as popular anymore, though there are still some loyal users who swear by the site.
So if you're looking for a casual fling, we can be sure PoF isn't your first choice. Instead, you'll have better luck on apps like Tinder. Or if you're a browser-based loyalist, Adult FriendFinder might be a better choice for you.
However, if the "serious relationship" side of PoF is what drew you to the site initially, then these days you're better off with Hinge or eHarmony.
Who is allowed to message you?
Some dating apps will only let you message users you have "matched" with. In other words, you've both agreed you like each other. Other apps are more of a free-for-all, allowing you to message whoever picks your fancy.
Hinge lets you comment on profiles, which can then evolve into a conversation. eHarmony, on the other hand, has a unique model where you can only message people that the algorithm suggests for you. Not quite a free-for-all', but a conscious "match" isn't required either.
Ultimately, you'll want to consider whether being messaged by people you don't like is worth the hassle of being able to message anyone you want.
POF used to have the free-for-all model back in the day but switched to a "matching" system in recent times.
Desktop or smartphone?
What device do you prefer for your online dating?
Hinge is exclusively for smartphone users, though you can use third-party apps to emulate the Android version of the app on your desktop.
eHarmony, on the other hand, was invented before smartphones! Its desktop edition works beautifully well, although its smartphone app is also highly rated.
How much will it cost?
The cost of a dating website is likely to be of interest, no matter how much money you earn.
The free model of Hinge should be enough to land you a date, and that's part of the reason why it's so incredibly popular.
eHarmony charges a lot for membership, but that's part of why the quality of its user base is so high. And we can attest to the fact that their high premium is worth it.
Frequently Asked Questions About Sites Like POF? 
Here are some key facts you'll need to know about dating apps for college students.
What is Plenty Of Fish?
Plenty Of Fish is a dating website and app. It is often abbreviated to POF. You can match with other singles using its swipe left/swipe right system, then chat and arrange dates with your matches all within the app.
Is Plenty Of Fish legit?
Plenty Of Fish is a legitimate dating website. It's certainly not a scam. A decade or so ago, it was one of the best dating websites out there. However, in recent times, it has been overtaken by better-quality dating apps.
Is Plenty Of Fish safe?
Plenty Of Fish has taken plenty of measures to protect its users from bots and scammers. However, it's not perfect, so it's worth keeping an eye out for users who might be leading you towards a scam.
What is the best dating website similar to POF?
We rate Hinge and eHarmony among the best apps like POF. To discover more of the best alternative dating apps, see our list of the best hookup apps and websites. Likewise, if you want a serious relationship, check out our rundown of the best dating apps.