The internet is now home to a niche dating site for every kind of romantic relationship you can think of. Some sites do away with all pretense of romance and offer routes to care-free sexual escapades. ULust.com is one such site.
The increasing number of hookup sites has its upsides, but there are drawbacks too. Before jumping into a membership on one of these sites, you have to do some research. Not all dating or hookup sites have your best interests in mind. For every good site, there are half a dozen sites with little or nothing to offer.
That's why we go through the trouble of writing dating site reviews. We want our readers to have successful sex lives, and for that to happen, you need to be informed. To help with that, we are constantly updating our list of recommended hookup apps that actually work.
In this ULust review, we'll look at a site that promises a digital utopia of easy hookups. Does it deliver?
ULust Review - Is ULust.com A Hookup Site Or A Hoodwink?

Throughout the history of civilization, our species has devised all kinds of ways to find romantic and sexual partners. There is scientific evidence that thousands of years ago, nomadic tribes used complex systems to decide who could mate with whom. In ancient Egypt, they forged marriages for political purposes, not for love.
Even just a few decades ago, in the United States, people tended to meet either in church or at the workplace. In the modern era, thanks to the advent of the internet, everything has changed.
There are a million ways to find a date now. We don't have to marry someone from our small high school class, or the office, or a church. You can meet partners from all across the world and have a series of flings, or you can go steady with a single person. If you're into it, you can have a wild swinging relationship that challenges all definitions.
A saucy beginning
What struck me first when I navigated to ULust.com were all the scandalous images. Pictures of women filled the background of the sign-up page. Though a few shirtless guys were peppered in, most of the pictures featured beautiful women staring out from the screen longingly.
The site's tagline was "No Strings Attached Online Dating," and I'll admit, I could see how this presentation would be very enticing to a new visitor.
The site's logo cleverly used the outline of a busty, kneeling woman to make the L. It wasn't brilliant web design, but it certainly showed more effort than most sites I review. Furthermore, ULust's layout seemed pretty legit, at least on their sign-up page, where it claimed "Thousands of Attractive Members Have Joined ULust.Com So Far!"
All websites make bold promises, but at least this one's welcome wasn't a complete turn-off. Could they maintain the positive vibes?
U should try Adult FriendFinder if you are looking for lust
Sorry for the lame title but we couldn't resist. You have probably figured out that Ulust.com isn't worth your time but what site actually is? In our experience, Adult FriendFinder is the place where most guys should be spending their time.
When you want to find a woman to hook up with you need to be where they are looking. Adult FriendFinder has the most active users (sixty million-plus) and they have been around for over fifteen years. That's a lot of happy users.
Tinder is another option but we have not seen a lot of guys who are not pretty handsome do that well there. Having 2 seconds to make an impression on a girl is tough.
Adult FriendFinder has much more expansive profiles and really helps normal dudes actually have a fighting chance. See what you can do with their free trial offer and get out there!
U Lust is not subtle
As soon as I signed in to ULust, I faced a barrage of explicit images. There was a picture of a topless woman on each side of the site's main page where sites usually have banner advertisements. A dozen or so profiles appeared on the home page. All but one profile picture featured an undressed woman in some contorted position.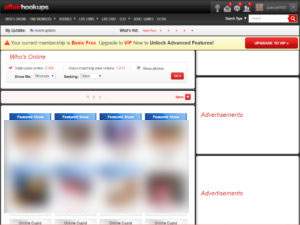 I could have been forgiven for thinking I accidentally signed into an adult website instead of a dating site. It was, frankly, too much. With a name like "ULust," I knew to expect sexual content, but this looked like a poorly arranged amateur porn page. It didn't appeal to my eyes at all.
Obviously, a lot of men visit sites like ULust.com to request pictures of naked women. If they're lucky, they might meet up in the real world to seal the deal. I'm no prude, but it does make me suspicious of a site when I see nothing but explicit photos. Who are all of these women who are willing to bear it all to a bunch of strangers?
I don't care if you know what everyone else really wants, a little subtlety is always sexy.
So many messages
"Knock, knock" read one of the messages I received right after signing into ULust. Another started off a little more intensely: "Who can guess what I'm doing with my finger?" it said. So many messages were pouring in that I started getting annoyed by all of the popup windows.
Anyone who has spent time on a dating site knows it's never easy to start a conversation with an attractive woman. Usually, you send out ten or more messages with your cleverest opening line and you're lucky to get one response. So, it was a bit suspicious that I received ten messages in the first five minutes of logging in to a site. I didn't even have a profile picture yet. What was drawing them in?
You may have already guessed what was going on, but I had to confirm. I tried to reply to one of the messages and got an alert back: "To chat with other members in your area please upgrade your membership."
U Lust comes at a price
When I first made my ULust account, the site took me to an account upgrade page before I even saw the home page. I didn't think much of it then, but after seeing that I had to pay to send a message, I realized that I needed to go back and look at their policies.
When I took a closer look, I saw they had a few available membership options, but none of them were cheap. ULust advertises "free account" options, which is technically true. The issue is that, with a free account, you can't really do anything on the site. You can't even send a message or respond to a chat. What use is a free account in that case?
The purpose was quite transparent: Offer a site that is supposedly free, and then make sure that new members get a ton of messages they can't respond to. That way, they persuade members to buy a premium membership so they don't leave all those beautiful women hanging.
Profiles of the living dead
Whenever a dating site starts sketching me out, I look closer at member profiles to see if they're legit. My tool of choice: Google reverse image search. You input any image and see if it pops up somewhere else on the web. Putting in a few profile pictures from ULust, I landed a slew of results. The pictures popped up on an assortment of Russian adult websites.
After discovering this, I decided to look at the site's terms and conditions page to see if they had any information there about their profiles. The fine print told me all I needed to know:
"THIS SITE UTILIZES FANTASY PROFILES IDENTIFIED AS FANTASY CUTIES. You comprehend, acknowledge, and accept that some of the profiles listed on the Site may be operated by our Site or third party contractors and are fictitious."
They call them "fantasy cuties," but these fake profiles were more like zombies: brainless mobs who did not have my best interests in mind.
Are you not amused?
Reading further into the terms and conditions page, I found out ULust didn't even consider itself a dating site:
"You comprehend, acknowledge, and accept that our Service, presented in the style of an online dating service, is an entertainment service. All content is provided for the entertainment and amusement of You."
This kind of language in the terms and conditions is all about protecting itself legally. On the off chance anyone is foolish enough to pay for a membership, ULust takes no responsibility for that person actually meeting anyone.
U Lust gets worse
It wasn't just the "fantasy cuties" and "amusement purposes" clauses stuff that had me running for the door.
The fine print also talks about ULust's relationship with third parties, saying, "The Service may provide, or third parties may provide, links to other World Wide Web sites or resources."
These third-party sites were right there on ULust's main page, with the menu including an item called "XXX Movies". In my experience, nothing good has ever been provided by anything labeled a "third party".
You lose with U Lust
ULust uses the trifecta of shady site tricks: they use fake profiles, fake messages and fake pictures. Then there are the third-party sites and disquieting clauses in their fine print. Even by their own admission, they aren't a dating site, so don't waste your time with them.
Whether you're looking for a one-night stand, your one true love, or something in between, the internet can help. Just stay far away from sites like ULust.com