If most people use dating apps to find a sexual partner, is there even such a thing as asexual dating apps? The internet has given rise to numerous platforms that help people connect with each other. These dating platforms have made it easier to strike up conversations with strangers and get romantically involved.
Dating apps factor in your preferences and give you access to potential prospects from the dating candidate pool available in your area. For example, if you plan to hook up, the apps will show you users who are willing to do the same.
But what if you are looking for an asexual partner? While popular dating apps do a great job at matching you with people of the same vibe, only a few are specifically tailored to cater to asexual dating requirements. However, you'll be happy to know that it is possible to find like-minded people on asexual dating apps easily. There are multiple dating apps for asexuals which you can use to get a personalized experience.
Processing Your Feelings
Switching to a new platform and interacting with new people can be daunting. It is normal to feel self-conscious about your emotions if you feel overwhelmed or nervous about meeting new asexual people. Remember that your experiences and feelings are just as valid and genuine as anybody else's.
If you lack self-assurance, try to be patient and tell yourself that it's normal to need time to determine what you want from a new relationship. Using asexual dating apps can be a fantastic opportunity to meet with like-minded people who have experienced similar things and can relate. You might discover a feeling of community and support by using these platforms and putting yourself out there, which can help you feel more confident and safe in your identity.
Intimacy Outside of Sex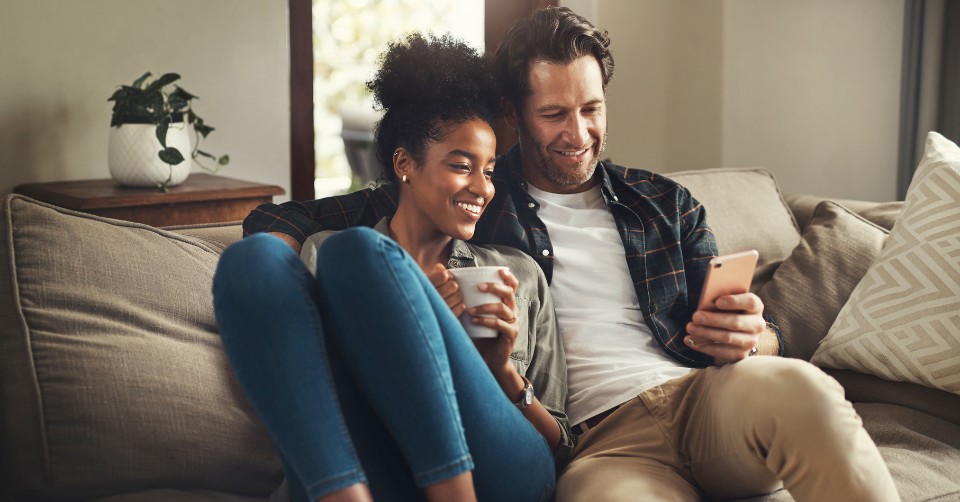 There's a common misconception that romance is restricted to sexual intimacy only. Whereas in reality, humans have two types of orientations: sexual orientation and romantic orientation.
Being asexual does not dictate how your romantic attractions should be or any partnerships you want to form based on it. Generally, asexual couples tend to share bonds outside of sexual intimacy. These bonds or intimacies enable them to form fruitful relationships while remaining within their comfort zones. Some common types of intimacies include:
Emotional intimacy
The term "emotional intimacy" describes people's emotional proximity and kinship with one another. This may entail expressing private ideas and sentiments, offering consolation and support, and developing rapport.
Spiritual intimacy
Refers to establishing more profound, transcendent connections with people. This includes routines like meditation, prayer, or ritual and shared moments of awe, wonder, or spiritual revelation.
Sharing thoughts, concepts, and experiences in a way that fosters in-depth comprehension and participation is what intellectual intimacy stands for. This entails sharing interests and passions, engaging in deep dialogues, and exchanging viewpoints about intellectually stimulating concepts that intrigue both partners. For example, tech geeks could connect strongly by bonding over technology-related topics.
Companionship
The shared activity of spending time with people in a cozy, delightful, and gratifying way is referred to as companionship. This might include engaging in activities like taking walks, watching movies, going on long drives, or simply spending time together. What matters is that you enjoy doing things with each other and in each other's company.
Romantic intimacy
Although not all asexual people experience romantic attraction, those who do could look for romantic closeness through snuggling, hugs, hand-holding, or other physical displays of affection. It depends on what kind of gestures of love both partners appreciate and wants to receive from the other person. This may also include closeness on an intellectual and emotional level.
Overall, asexual individuals may engage in any combination of these types of intimacy, depending on their preferences and needs. The important thing is to find forms of intimacy that feel comfortable, fulfilling, and authentic to your own experiences and desires. Some of the best places to explore are asexual dating sites.
What Do These Asexual Dating Apps Provide?
You might be wondering what you can get from switching to new dating apps specifically for asexuals. Generally, the best dating apps for asexuals provide a holistic experience for finding a like-minded partner. These apps also offer the following in terms of value:
Value-based content
Several asexual dating apps strongly emphasize spreading knowledge and awareness. To assist users in better understanding themselves and others, these applications frequently include tools and information about asexuality. You could look at how these apps dispel myths and preconceptions regarding asexuality while educating a larger audience.
Promotes the importance of consent
Consent is important in any relationship, and asexual dating apps are no exception. These applications frequently prioritize consent and communication, assisting users in setting up clear boundaries and showing consideration for one another's needs. These applications encourage the consent culture, which reduces coercion or pressure in romantic interactions.
Community
Lastly, these asexual dating websites foster a sense of community among users. As a result, anybody who's new does not feel out of place. Moreover, a sense of belongingness leads users to form fruitful connections besides finding prospective dating partners.
How to Spot Asexual People on Dating Apps
There are some potential signs that tell you someone may be asexual or at least open to exploring asexuality or asexual relationships. Here's what you can look out for:
In their dating app profiles or interactions, some asexual people may use terminology like "ace," "asexual," "graysexual," or "demiromantic." These may indicate that they are researching or identifying as an asexual person.
Mention of asexuality or related topics in profile prompts
With the help of profile prompts, users may disclose more information about themselves and their interests on several dating apps. These questions can be used by asexual people to discuss their asexual experiences or to indicate their interest in dating other asexual people.
Interest in non-traditional relationship structures: Asexual people tend to be more accepting of unconventional relationship arrangements like polyamory, queerplatonic pairings, or platonic relationships. Check their dating app profiles for wording that indicates a desire to investigate these kinds of partnerships.
Emphasis on non-sexual or non-physical connections
In their dating app profiles or interactions, asexual people could place a higher value on emotional or intellectual connection rather than physical intimacy. Look for language that focuses on similar experiences, ideals, or interests rather than a person's physical or sexual appeal.
Active participation in asexual communities
Asexual people may participate in online or offline asexual communities, including forums, social media groups, and gatherings. Observing a member of one of these groups using a dating app can signify that they want to date or make friends with other asexual people.
Of course, none of these indicators are 100 percent reliable, so keep an open mind when approaching potential matches on dating apps. Focus on conversing, and finding out more about their unique experiences and interests.
Top 6 Asexual Dating Apps 
Here are our top six recommendations for asexual dating apps.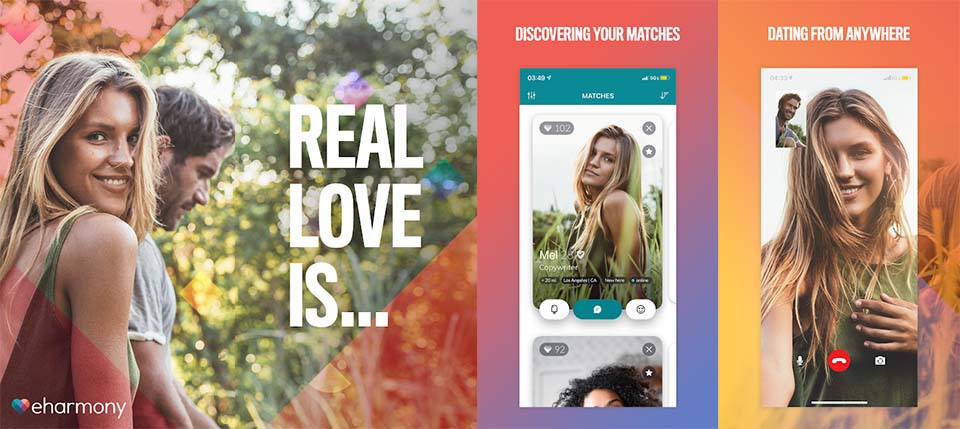 The first app on this list is eHarmony. You might think that meeting someone compatible is a matter of sheer luck. However, that's not the case with this scientific, research-backed asexual dating app. One of eHarmony's standout features is its lengthy registration questionnaire, which inquires about users' tastes, life goals, hobbies, and other critical elements that might help create a successful connection. Using this information, the algorithm then offers prospective matches based on the user's personality and values.
eHarmony can be an excellent option for asexual people since it emphasizes developing solid emotional and intellectual relationships above physical or sexual desire. This is incredibly enticing to asexual people who do not feel sexual attraction but still long for committed relationships.
Another fantastic feature of eHarmony is the Video Date. It's available to premium members and allows them to make video calls with their matches. This makes it convenient for them to interact directly with the app and form a stronger connection.

The next app on this list, AFF, is mainly made for those searching for sex and casual hookups. Although utilizing this software might not seem like a natural decision for asexual people, there are some possible advantages.
One of AFF's standout features is its vast set of search filters, which lets users look for possible hookup partners using a range of parameters. Although there isn't a filter specifically for asexuality, many users are outspoken about their sexual orientation or interest in non-sexual forms of interaction.
On AFF, individuals can list their preferences and interests on their profiles, and then look for others with similar interests. This can make it easier for asexual people to meet others who share their views and are amenable to unconventional intimacy and connection.
It's crucial to remember that AFF is primarily a hookup service and might not be the greatest option for asexual people seeking committed, long-term relationships. To ensure everyone is on the same page, exercising caution and being precise when discussing your boundaries and preferences with prospective partners is crucial.
While Ashley Madison is primarily marketed toward people seeking extramarital affairs, it has also become popular among singles looking for casual hookups.
Ashley Madison does not have a dedicated asexuality filter, but some married asexuals have found the site useful for meeting people for non-sexual kinds of closeness. The website provides a way to discover friendship, emotional connection, and even physical contact without the strain of sexual expectations in instances where one spouse wants sex but the other doesn't.
But it's crucial to remember that Ashley Madison is a hookup site, not a place for committed partnerships. If you're searching for something more meaningful, you might want to check out other dating apps emphasizing intellectual and emotional compatibility above physical appeal.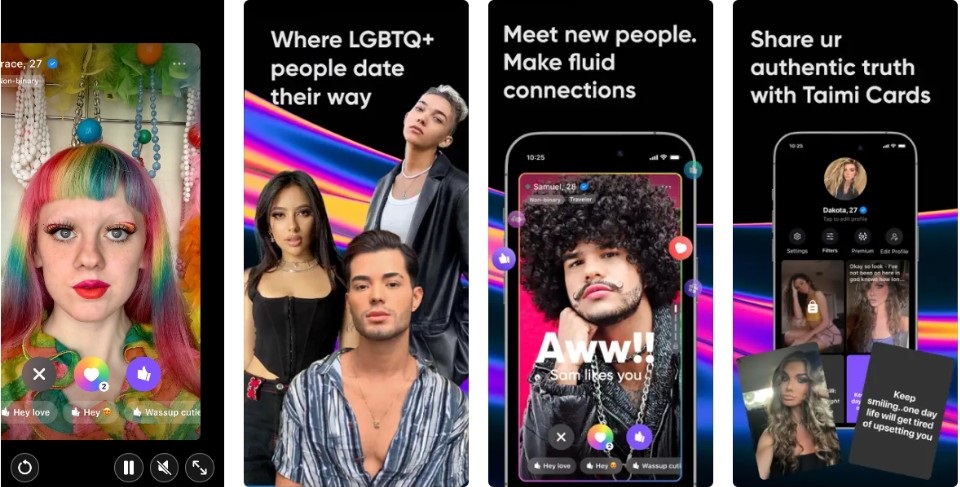 Taimi is a distinctive dating app for LGBTQ+ people. It has a number of services, including chat rooms, video calls, and a social network that enables users to interact with people who share their interests, which are especially suited to the requirements and preferences of the gay community.
Taimi offers a variety of choices for connecting with others who don't always concentrate on sex, which is one of the main advantages for asexual people. Users may search for other users based on criteria like interests, geography, and common activities. Users can also describe their preferences and interests in their profiles.
Also, Taimi includes several security measures that are crucial for asexual people since they may be more susceptible to harassment or unwelcome attention on dating apps. Some features include identity verification, a built-in video call functionality, and a reporting mechanism for detecting improper activity.
Taimi's dedication to developing a feeling of community among its members is another distinguishing quality of the platform. The app has various social features that enable users to engage with others outside of dating and hookups, such as chat rooms and gatherings. For asexual people seeking a feeling of connection and belonging within the gay community, this can be very useful.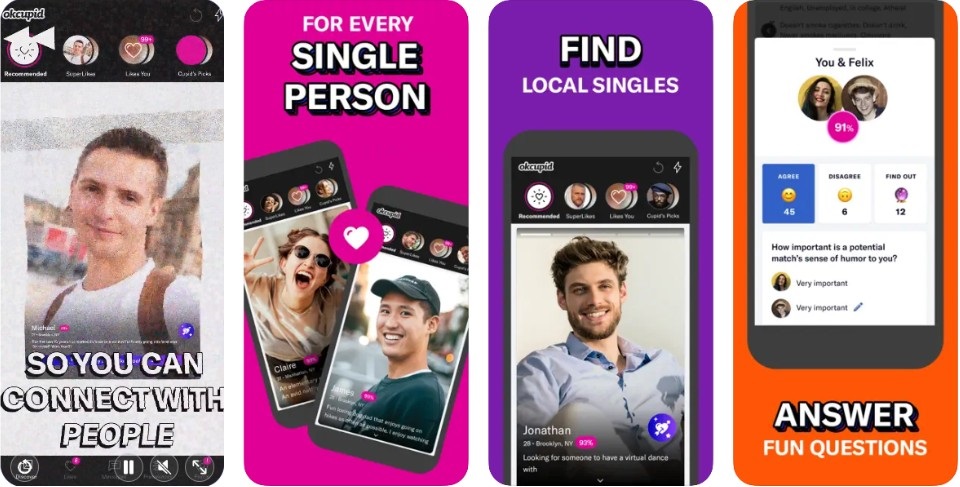 Asexual people might benefit most from using the features that OkCupid, a well-known dating app, offers. OkCupid's lengthy signup procedure, which includes a number of questions that enable users to express their tastes and beliefs in depth, is one of its main advantages.
The compatibility algorithm, which OkCupid employs to propose prospective matches based on common beliefs, hobbies, and lifestyles, is another distinctive aspect of the site. This is helpful for asexuals seeking partners who share their desire for connection without sex because it enables them to screen possible mates based on factors other than physical appeal.
Along with many messaging options, such as sending and receiving messages without initially matching, OkCupid also enables you to define your preferred pronouns in your profile. The app provides a variety of gender and orientation options, which individuals who identify as non-binary or asexual will appreciate.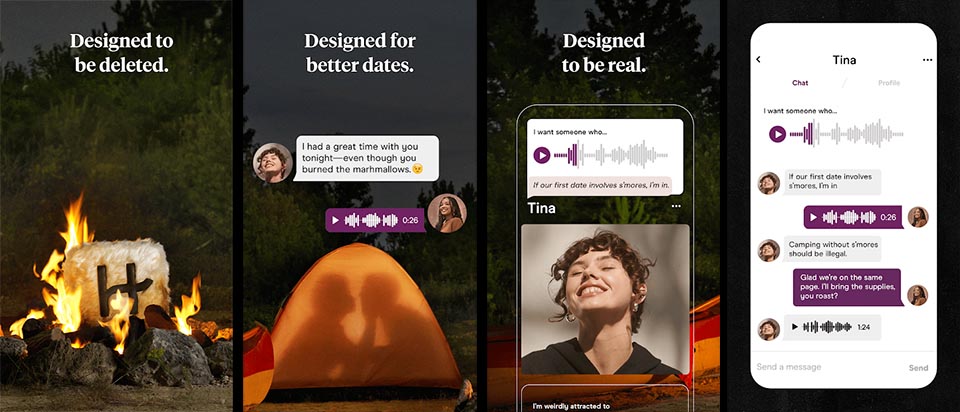 The last app on this list of best dating apps for asexuals is Hinge. Due to its distinctive features and emphasis on creating lasting connections, the dating app Hinge has become more popular in recent years. Focusing on getting to know someone beyond their looks is one of Hinge's main advantages. App users can "like" particular elements of a person's profile, such as a photo or a prompt answer, to strike up a discussion.
Hinge's emphasis on sincerity and honesty is another distinctive quality. To assist users in creating a more thorough and genuine profile, the app asks them to respond to a series of questions and prompts, such as "What are you searching for?" and "What's your favorite book?" For asexual people who wish to convey their asexuality and desire for connection without sex in a forthright manner, this can be very useful.
Asexual people may find Hinge's selection of filters and preferences useful, including the option to define whether you're searching for a "relationship" or "something casual." The app also allows users to filter potential matches based on a range of factors, such as age, location, and education level.
---
Nowadays, meeting new people is very easy, thanks to dating platforms. It's very easy for people with similar interests to hook up or find like-minded partners on these platforms. This also applies to people who are asexual.
Find people with similar interests on asexual dating websites like eHarmony. You can meet and date new people with the same values as you, and make meaningful relationships with them.