So many people go to Vegas every year to get away from their daily grind. On the one hand, that means you have more singles to meet. But on the other hand, it means you'll need to sift through the tourists to find the one for you. Let us make your search so much easier by showing you the best dating sites in Las Vegas that everyone is using, especially following the pandemic as people have become more comfortable socializing virtually first.
As one of the shining beacons of partying in all of Nevada, Las Vegas attracts people from all over the world. Whether you want to meet up with bachelorettes at The Chandelier, sing all night at Ninja Karaoke, or chill out at Flight, these dating apps and sites are where you should start.
So with our experience with hundreds of dating apps and our know-how about Sin City, these are the apps we recommend!
#1 - Hily (Android; iOS) makes online dating more exciting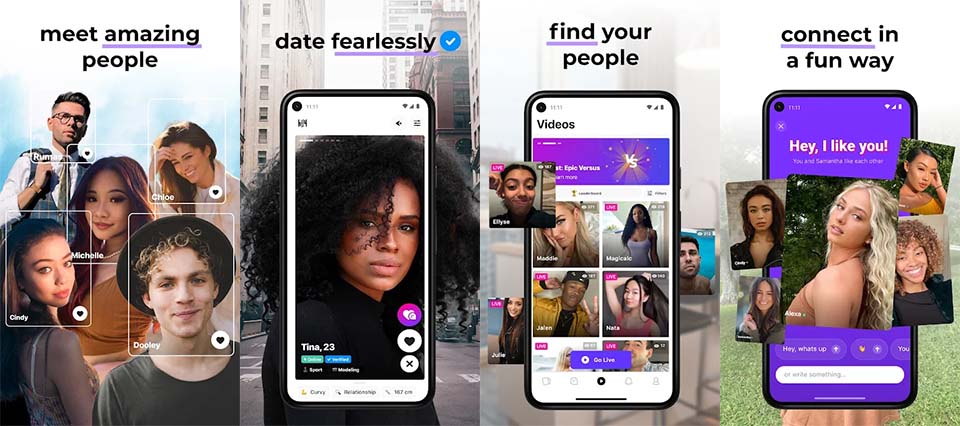 Hily is a dating app that makes online dating more exciting because instead of staring at your phone, you can stare at your matches via video chat instead. The app's goal is to help users form genuine connections as its name is an acronym that stands for, "Hey, I like you." Its video chat feature humanizes online dating and makes it more fun.
If you're hesitant to video chat with strangers, don't worry, you won't need to give out any contact information as all video chats are done through the app. You won't need to worry about any awkwardness either as Hily offers compatibility checks and ice breakers you can use throughout your video chat.
Why we love Hily
Includes conversation prompts to minimize awkwardness
All users are verified
Video chat with matches to get to know them on a more personal level
What we don't like about it
Limited free features
If you don't like video chatting, this may not be the app for you
#2 - eHarmony (Android; iOS) is one of the best dating sites in Las Vegas for long-term relationships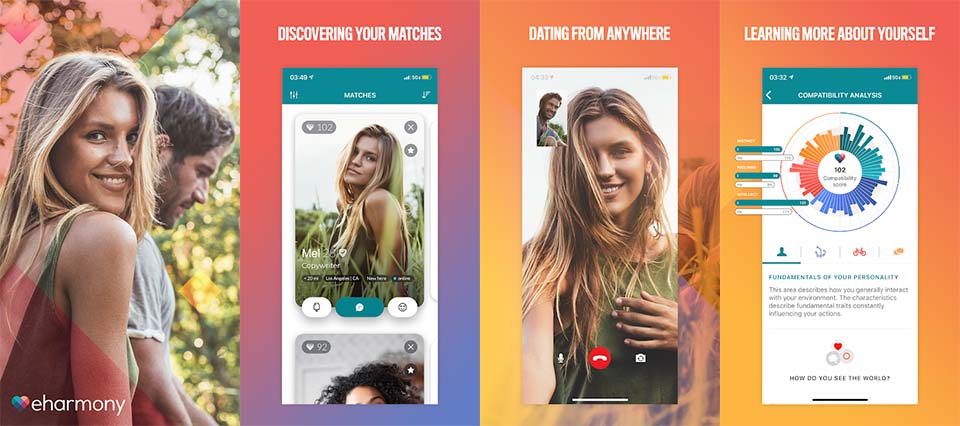 eHarmony is extremely popular here and has an amazing track record of helping Las Vegas locals find long-term partners by using matching algorithms. This app does the best job of matching you up with compatible potential mates that we've seen.
You don't have to scroll for hours. The app does all of the tough work for you. Of course, you might not make a perfect connection outside of the algorithms. Usually, it works like magic. The toughest part is answering all of the questions. It's important because this is how they match you with other single people. You can build chemistry before you even meet.
If you're serious about finding long-term partners this is the site for you.
Why eHarmony is one of the best dating sites in Las Vegas
The best success rate out there for long-term relationships
70% of users find their future spouse within a year
Makes it pretty easy to form connections
What we don't like about it
It definitely takes more time than most to get started
Not super popular with those 18-22
#3 - MeetMe (Android; iOS) is basically social media but with a dating twist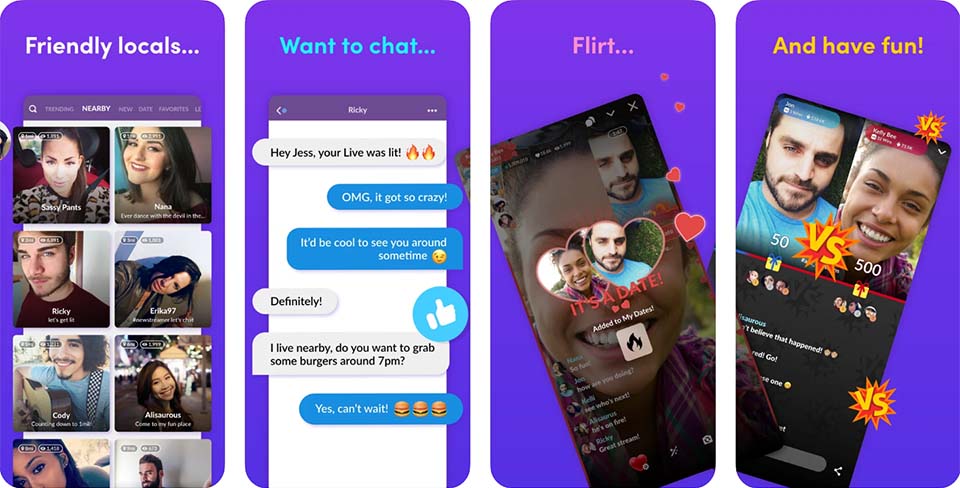 MeetMe is a great app for finding people in your area who share similar interests. No, it's not specifically only for dating, but there is a lot of emphasis on it. Although the great thing about MeetMe is that it isn't solely for dating unlike other similar apps - tons of people are also on the platform just looking for friends. There are also cool features such as live streaming, video chat, and much more!
Why MeetMe is fantastic
It's not only for dating but also for finding friends
It has over 100 million downloads
It typically has a younger user base (early 20s)
Why we don't love it
In our experience, we've seen a decent amount of bots
It's sort of confusing to navigate
Not all the people you'll meet are single
#4 - AFF is the easiest way to find a fling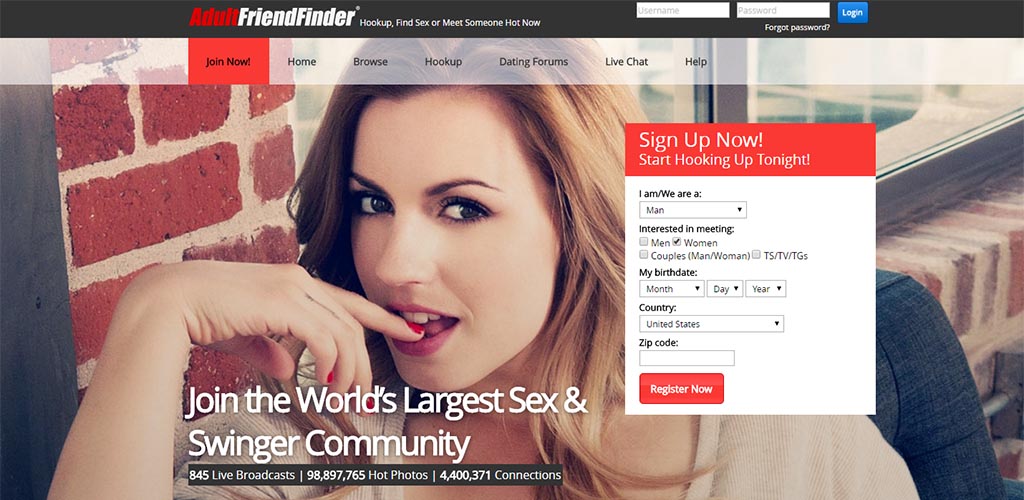 AFF (which has a great free trial) should be your first choice when you're not looking for a relationship but still want some fun in the bedroom. We've tried a lot of different apps for this (most are awful) and only a couple have proven to work over and over. Tinder is great if you're under 25 but once you get beyond that AFF has shown the best results out of any dating site in Las Vegas we've tried, especially for guys.
One of the things we've really liked about this app is that they do a really good job of helping you find EXACTLY what you're looking for. Everyone on this site is looking for the same thing so you can save a LOT of time that you would waste on other sites. If you're 25+ and want to take someone home this is your app.
Why you should try AFF
It's one of the best dating sites in Las Vegas because of its massive number of users (over 50 million)
We've seen guys have the best success using it, especially those who aren't super good-looking and didn't do well on Tinder
It's very straightforward and easy to use
What we don't like about it
Many users can only access it via the web app
The app is a little dated and not as polished as others
Sometimes people are a little TOO upfront with what they want
You Can Try AFF Free!
If you're just looking for more short-term fun you need to try out
AFF's free trial
. We've spent months and months testing out the alternatives (more than 100 other sites) and haven't found anything that gives most guys more options and better results. Give it a shot!
#5 - Tinder (Android; iOS) the most well-known and well-used Las Vegas dating site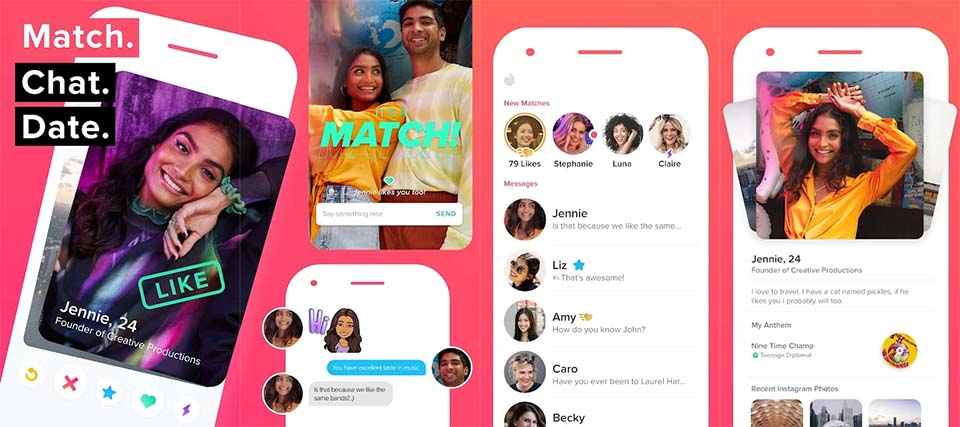 Tinder doesn't even really need an introduction to be completely honest. Everyone and their dog has heard of Tinder. If you, by some astronomically tiny chance, haven't - here's a quick breakdown: it has an absolutely massive user base, it's mainly for casual dating (although many people use it when looking for something serious), and the user base is usually early-mid 20s, it's designed very well, and the app is all about swiping through profiles to see who you're into. Tinder is just an all-around great dating platform.
Why we love it
There are so many users in Vegas
We rarely experience any app glitches
Making an account is so easy
Why it's not the absolute best
The app doesn't verify all its users
It's heavily focused on looks
#6 - Happn (Android; iOS) is one of the most unique dating sites in Las Vegas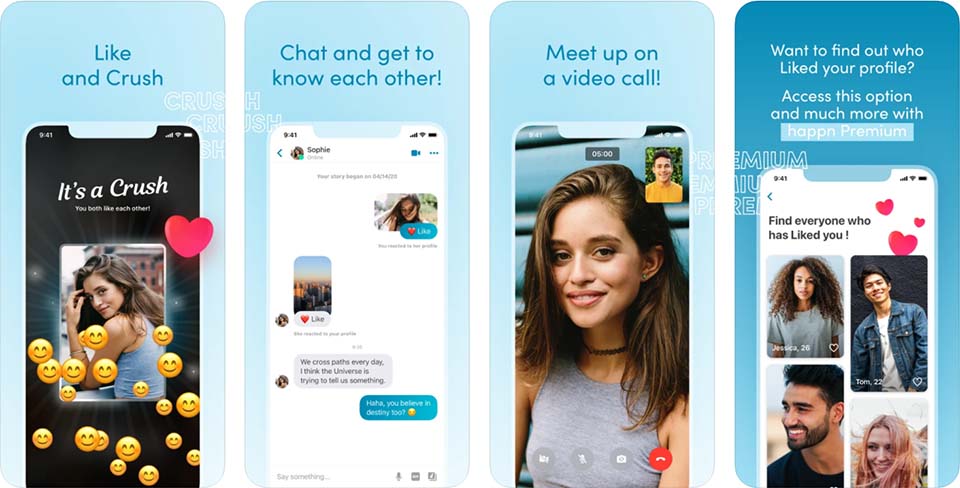 Happn may be a dating app, but it's one that's ideal for people who are out and about. The app works by scanning your surroundings for other users you've crossed paths with. This suggests that you hang out at the same spots and all you need is a nudge in the right direction. And by nudge, we mean initiating contact on the app!
Why Happn is one of the best Las Vegas dating sites
It's super unique! You see people that you've ACTUALLY crossed paths with in the real world
It has over 50 million downloads on Android alone
The app has almost zero glitches
Why Happn isn't perfect
There aren't many options for filtering people
You actually need to go out to find matches
#7 - Zoosk helps you find the right match (Android; iOS)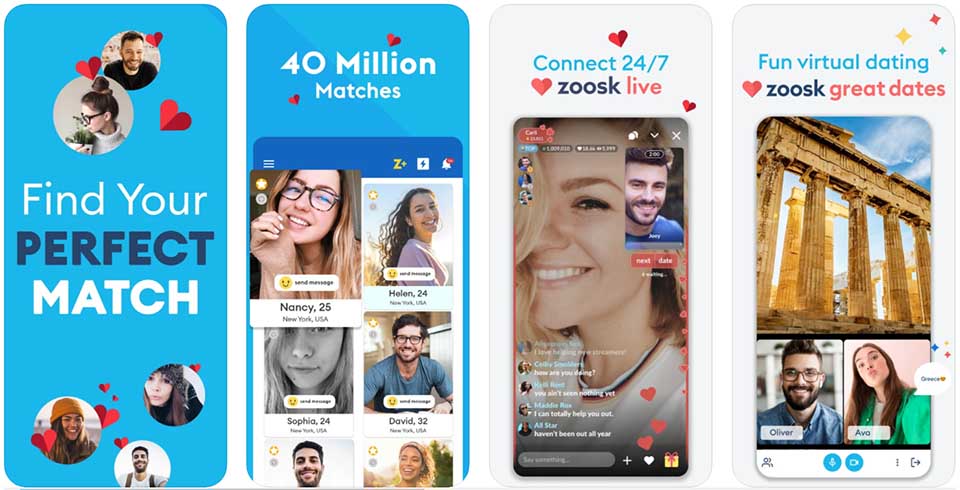 If you're looking for an easy-to-use but effective dating app, look no further than Zoosk. This is a no-frills dating app that focuses on helping people find serious connections, making it a great alternative to the many hookup apps on the market.
There are over 40 million users worldwide, many of which are ages 18 to 25, so it's a great app for young people looking for love. You can swipe through profiles yourself to find matches or use Zoosk's SmartPick feature to receive daily match recommendations.
Why Zoosk is one of the best dating sites in Las Vegas
Good balance between men and women on the app
Access Zoosk via app or desktop
A large dating pool of over 35 million users
What we don't like about it
You need a membership to send messages
No algorithm for matching users based on compatibility
#8 - Christian Mingle (Android; iOS) is one of the best Las Vegas dating sites if your faith is important to you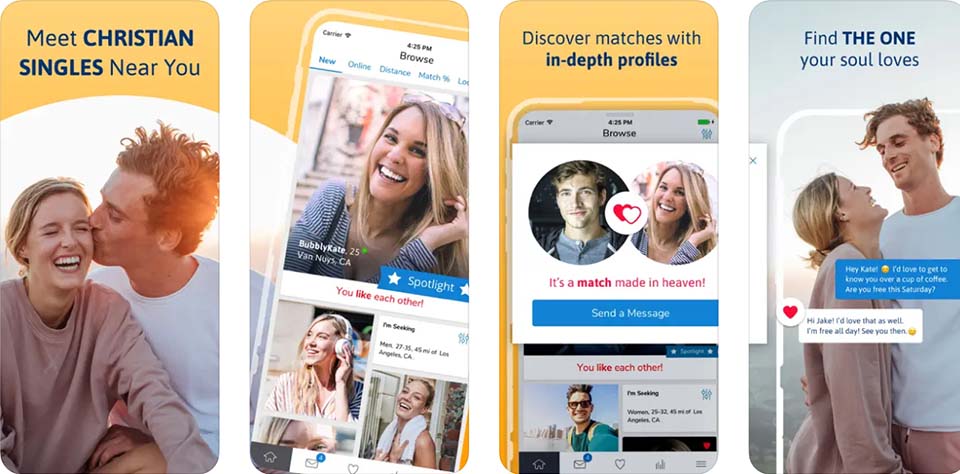 Christian Mingle aims to bring together Christians who are fed up with the other apps. On other dating apps, religion rarely comes up in conversation, let alone someone's profile. So ChristianMingle is a (pun intended) Godsend!
With so many Christians in Vegas and even Nevada, the app is actually pretty popular. So if finding singles who share your faith is important to you, this is one app that's worth a shot.
What makes it great
It's one of the best dating apps in Las Vegas for Christians
Over 15 million users worldwide
The site is easy to use
Why it's not so great
The app itself isn't great
So many sparse profiles
#9 - Hinge (Android; iOS) one of the top apps for the semi-serious dater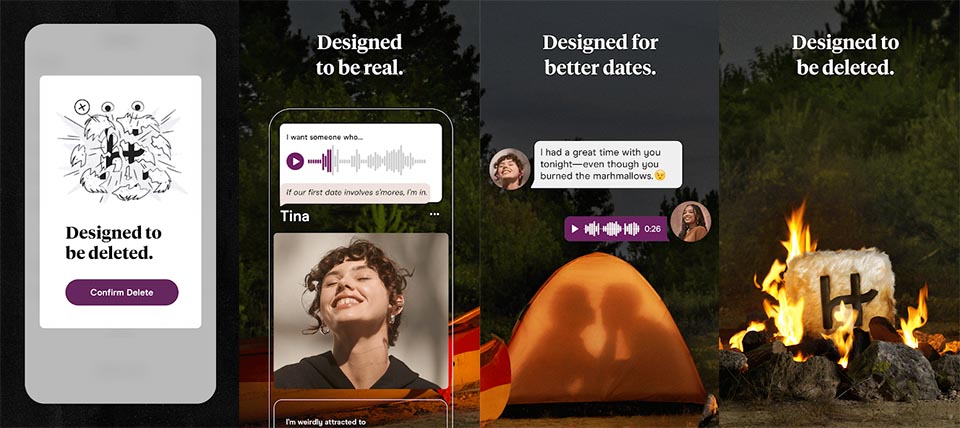 Do you ever feel as if you fall in between super-serious and casual? We have, and it can be daunting looking through all the apps that want to put you in one category. Hinge is your savior!
From our experience, they offer a perfect balance between semi-serious and super-serious. Typically users are in their mid-20s and want a partner but aren't hellbent on getting married in the next few years. They just want to live life and not stress about relationships but at the same time have something meaningful.
Why Hinge is so popular
It's for anyone who wants a relationship, casual or otherwise
Profiles are engaging, with many photos and conversation prompts
Has a high success rate among singles
Appeals to lots of younger singles (early 20s to mid-30s)
Why Hinge isn't THAT great
Their filters don't always work so well
Some features aren't free
#10 - Pure (Android; iOS) is perfect for discreet flings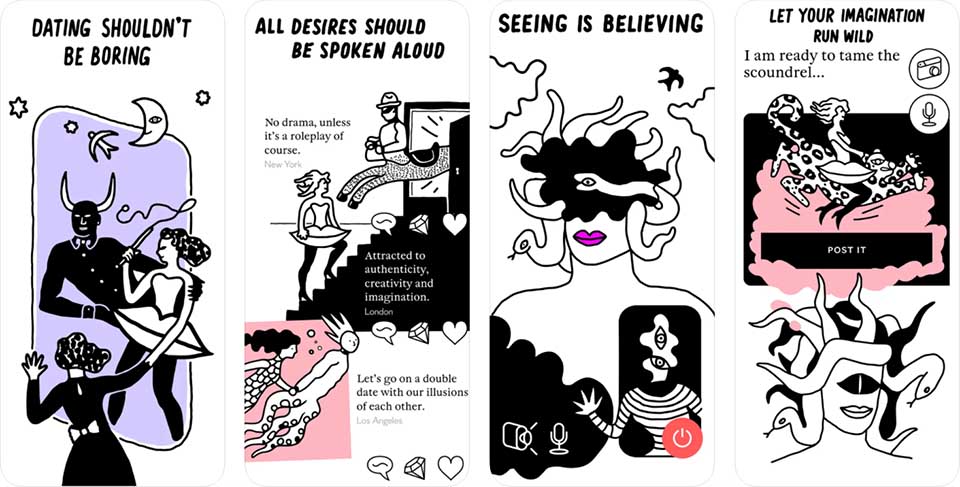 Pure ensures that all of its users have just enough privacy to remain anonymous while letting them explore their dating (or fling) options. You can sign up anonymously and only chat with users who interest you. Your conversations disappear after 24 hours and nothing gets saved on your phone. So if you want to be super discreet and your intentions are a little less than pure, then join the club!
Why Pure is amazing
One of the best Las Vegas dating apps for one-night encounters
They keep it 100% discreet
Files shared in chat cannot be saved onto the phone
You can signup 100% anonymously
Why Pure isn't one of the best dating sites in Las Vegas
There's a decent amount of scammers
The search distance can be quite far
#11 - Raya (iOS) is one of the best dating sites in Las Vegas for the social media famous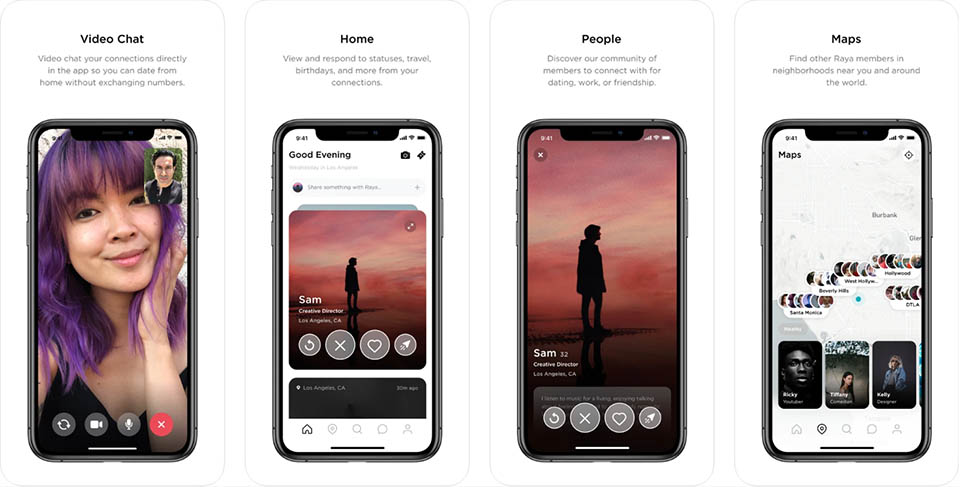 Raya is the dating app for the Insta-famous. What do we mean by famous? Typically, users have the best chance of getting accepted onto the app when they surpass 250k followers. The absolute minimum for an application is 5000 followers. Yes, it's very specific, but with the city's high count of well-known personalities, it's by far one of the best dating apps in Las Vegas.
Why Raya is awesome
It has a quickly growing user-base
The app works quite well
There's an option for networking as well: get a date and further your career at the same time
Why Raya isn't the best
It isn't available on android
It is necessary you pay a monthly fee – there isn't any free option
It's hard to get approved as no one knows the criteria
The Best Dating Sites in Las Vegas for Long-Term Relationships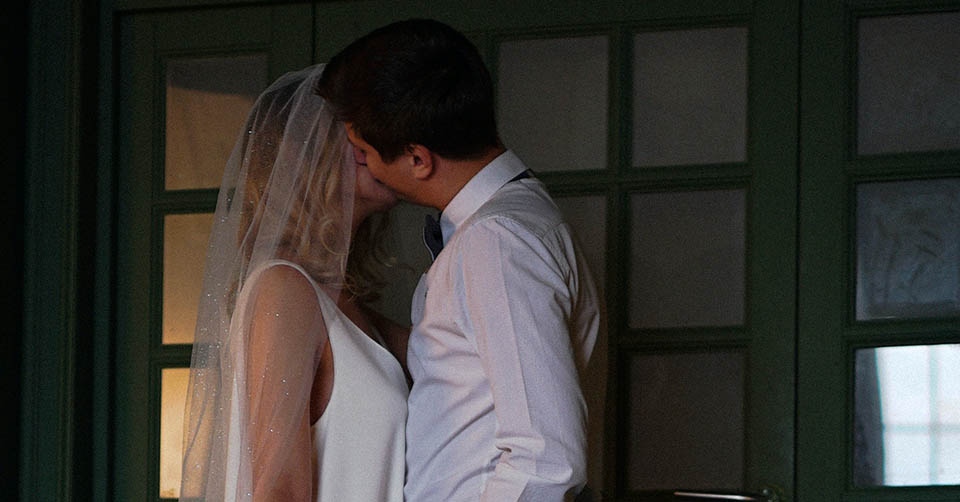 Choosing the best dating site for you typically depends on the type of relationship you're after. If you want something serious, finding dating sites targeted at that audience can improve your chances of finding true love. Here are two of our favorite long-term dating sites to use:
eHarmony is the best place to find love online
eHarmony is one of the most popular dating sites on the market, likely due to its success and the fact that it's been around since 2000. Since it was created, eHarmony has helped over 600,000 couples find love and get married, so if that's what you're looking for, this is the dating site for you.
eHarmony's success may be partly due to its in-depth questionnaire that all users complete upon signing up. The questionnaire asks you about your interests, lifestyle, and preferences in a partner to get to know you better and recommend matches based on compatibility. This can save you time and help you find someone you actually have something in common with. As there are over 37 million members on the site, you shouldn't struggle to find love in Las Vegas.
Coffee Meets Bagel helps you get to know your matches
Another great dating site for finding true love is Coffee Meets Bagel. Unlike most dating sites, you don't swipe through profiles yourself to find matches on Coffee Meets Bagel. Instead, the app sends you curated match recommendations every day at noon. You only receive a handful of recommendations, so you can focus on actually getting to know your matches and forming a genuine connection with them instead of being overwhelmed by messages.
The Best Hookup Sites in Las Vegas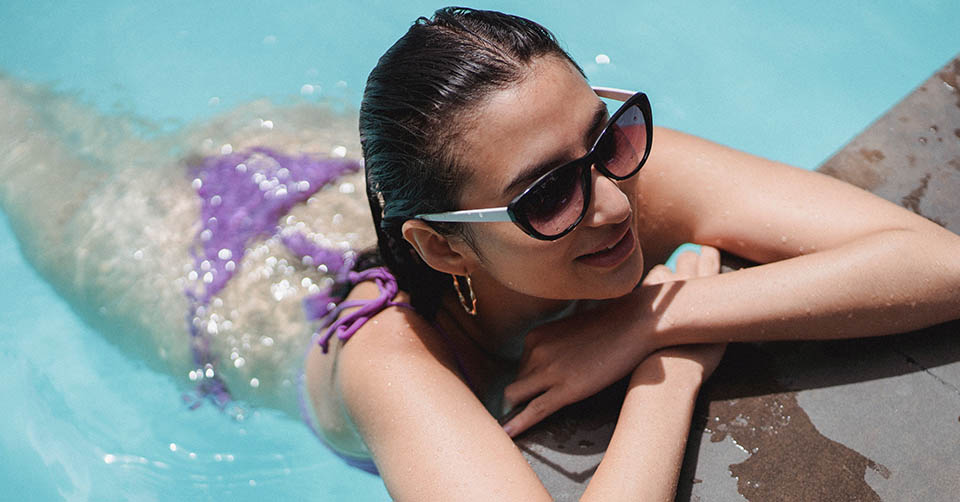 Not everyone is online to find something serious. So if you're after a hookup instead, we have the best app recommendations for you. Here are two of the best Las Vegas hookup sites we know.
AFF is one of the best Las Vegas hookup sites
One of the best casual dating sites in Las Vegas and around the United States is AFF. It's the largest hookup site on the market, so there are plenty of local Las Vegas hotties you can have a little fun with. The site is clearly advertised as a place to find hookups, so there won't be any need for awkward conversations with your matches about what you're looking for.
It's also a great site for older people as most users are over 25. Although you must pay for a membership to use AFF, we think the investment is worth it. AFF has high-quality users and fun features like adult chatrooms, live webcam shows, and erotic stories that make online dating way more exciting. You can take advantage of a free trial
Tinder is the best free hookup site in Las Vegas
Tinder is one of our favorite free hookup sites on the market, especially for younger people. It's super easy to use as you just swipe through profiles to find ones you like. This, coupled with the app's focus on appearance, led it to become more of a hookup app, but there are also some people who use it to find something serious as well. As signing up is free and easy, you've got nothing to lose.
The Best Free Dating Sites in Las Vegas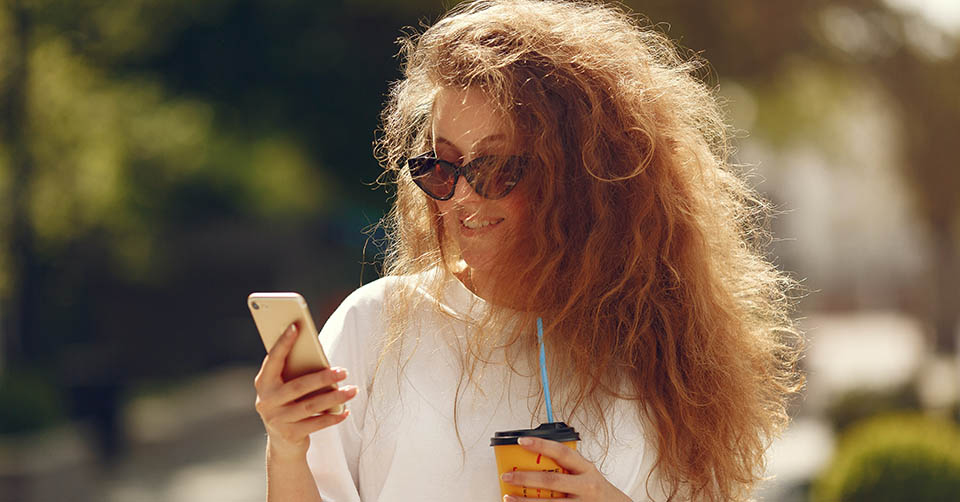 After learning about all these great dating sites in Las Vegas, you may still be unsure about which one to choose. One factor that may help you decide is whether you want to pay for a dating membership or not. It's important to remember that you get what you pay for, as free dating sites can be fun, but they don't offer the same results as paid ones.
From our experience, we've always had better results on paid dating sites than on free ones. Dating memberships give you access to high-quality matches as people who pay for memberships take the online dating experience seriously.
If you're not ready to purchase a membership just yet, take advantage of a free trial or free app first to get your feet wet. Just don't expect spectacular results.
Here are three of the best free dating sites in Las Vegas:
Frequently Asked Questions on Dating Sites in Las Vegas
Does Tinder work in Vegas?
Yes, of course! Tinder is the most widely used dating site in Las Vegas and can be pretty effective too. Most people go to Vegas for a little while, so it's the perfect place to find a hookup if you're looking for one.
Is Las Vegas a good city for singles?
Definitely! Las Vegas is one of the best places for singles because it's designed to be so. Most people visit Las Vegas for a couple of days, and they don't have the saying "What happens in Vegas, stays in Vegas" for nothing.