No other city in Tennessee has more singles than Nashville. But that doesn't mean dating in our city is easy. If you're the type of guy who has a lot going on or you can't seem to meet anyone you're into, dating apps can help. Using dating apps has made the process much easier as you can find people you are compatible with that you may not have otherwise met. So now, the main issue is finding the best dating apps in Nashville.
Our team of experts can help! We have personally tested over 150 dating apps to find the best ones. To make things easier for you, we have narrowed it down to nine of the best dating apps and sites in Nashville. Whether you're looking for love or a casual fling in East Nashville, Music Row or anywhere in the city, one of these apps will be the perfect fit for you!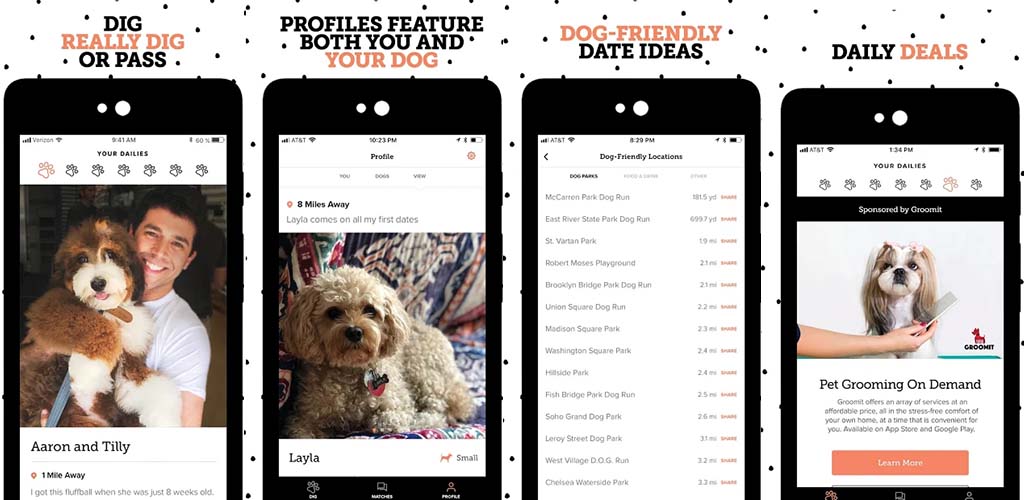 #1 -  Dig is one of the best dating apps in Nashville for dog lovers (Android; iOS)
Dig is the dating app for dog lovers. It's specifically for dog lovers and dog owners. If you have a dog, you likely don't want to date someone that hates them. If you use Dig, you won't have to worry about that!
Once you set up your profile, you can look through people in the area, and if you like someone, you can send them a dig. If you both dig each other, you will match and be able to send messages. Dig offers plenty of dog-friendly date ideas in Nashville, so you and your match can set up a date and bring our beloved pooches with you.
Why Dig is a great dating app
There is no shortage of dog-friendly date ideas on Dig
You will receive five match recommendations every day
The founders are charitable as they are part of the Pledge 1% movement
What we don't like about it
The app is still fairly new so the dating pool is limited
The Android version doesn't have the same features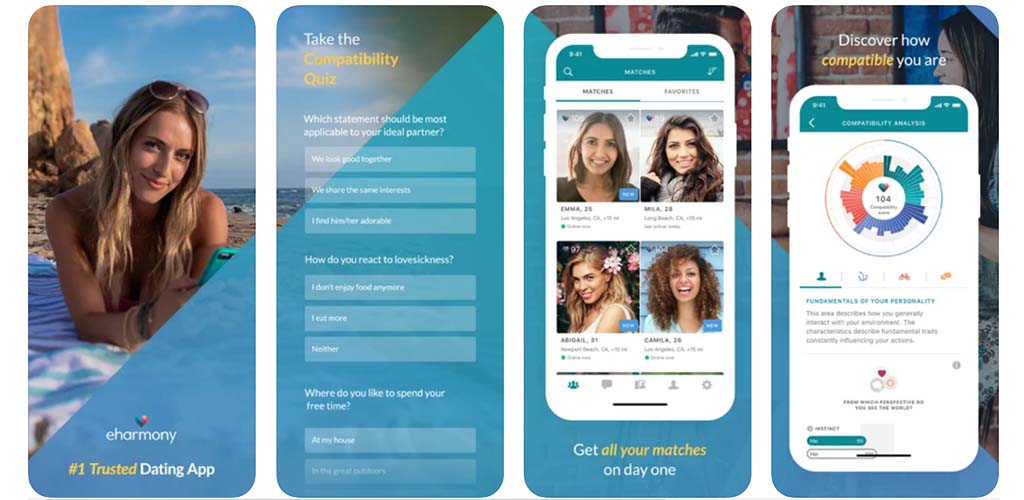 #2 - eHarmony (Android; iOS) can't be beaten for long-term relationships
eHarmony is extremely popular here and has an amazing track record of helping Nashville locals find long-term partners by using matching algorithms. This app does the best job of matching you up with compatible potential mates that we've seen.
You don't have to scroll for hours. The app does all of the tough work for you. Of course, you might not make a perfect connection outside of the algorithms. Usually, it works like magic. The toughest part is answering all of the questions. It's important because this is how they match you with other single people. You can build chemistry before you even meet.
If you're serious about finding long-term partners this is the site for you.

Why eHarmony is one of the best dating sites in Nashville
The best success rate out there for long-term relationships
70% of users find their future spouse within a year
Makes it pretty easy to form connections
What we don't like about it
It definately takes more time than most to get started
Not super popular with those 18-22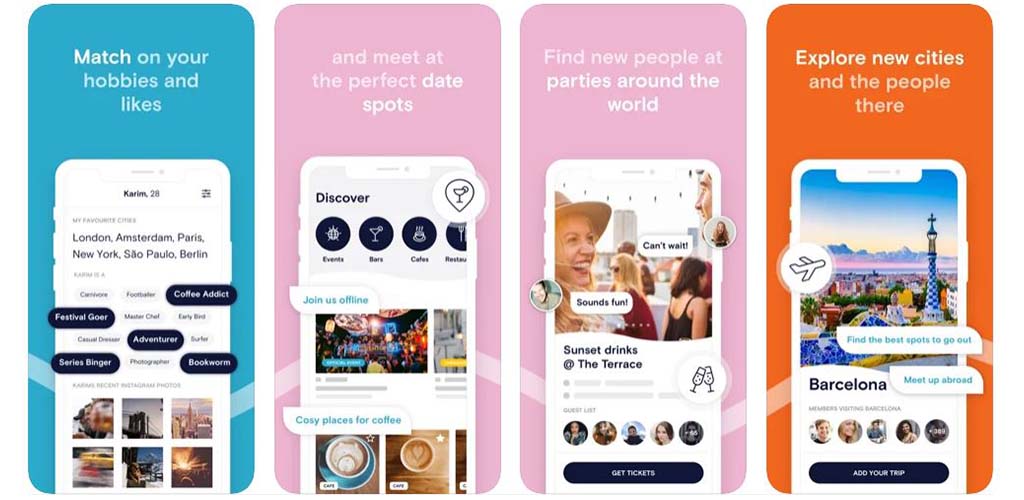 #3 -  The Inner Circle is all about quality over quantity (Android; iOS)
The Inner Circle is the perfect dating app for people who enjoy being selective. Most dating apps are all about getting tons of matches, but The Inner Circle encourages users to find quality, authentic matches instead.
The app is more exclusive than other dating apps to ensure all users are a good fit. When you sign up, you must send in an active Facebook or Linkedin account and wait to see if you get approved. The waiting list is pretty long, but if you make it onto the app, you're bound to find an authentic connection.
Why The Inner Circle is one of the best dating apps in Nashville
Everyone on the app is vetted beforehand
Search criteria is detailed to ensure you find the perfect match
The Inner Circle offers exclusive events for members
What we don't like about it
You cannot send or receive messages with the free version
Approval may take a long time as there is often up to 50,000 people on the waiting list

#4 - AFF is the easiest way to find a fling
AFF should be your first choice when you're not looking for a relationship but still want some fun in the bedroom. We've tried a lot of different apps for this (most are awful) and only a couple have proven to work over and over. Tinder is great if you're under 25 but once you get beyond that AFF has shown the best results out of any dating site in Nashville we've tried, especially for guys.
One of the things we've really liked about this app is that they do a really good job of helping you find EXACTLY what you're looking for. Everyone on this site is looking for the same thing so you can save a LOT of time that you would waste on other sites. If you're 25+ and want to take someone home this is your app.
Why you should try AFF
They have a massive number of users on their app (over 50 million)
We've seen guys have the best success using it, especially those who aren't super good looking and didn't do well on Tinder
It's very straightforward and easy to use
What we don't like about it
Many users can only access via web app
The app is a little dated and not as polished as some others
Sometimes people are a little TOO upfront with what they want
You Can Try AFF Free!
If you're just looking for short-term fun you need to
try out AFF's free trial
. We've spent months and months testing out the alternatives (more than 100 other sites) and haven't found anything that gives most guys more options and better results. Give it a shot!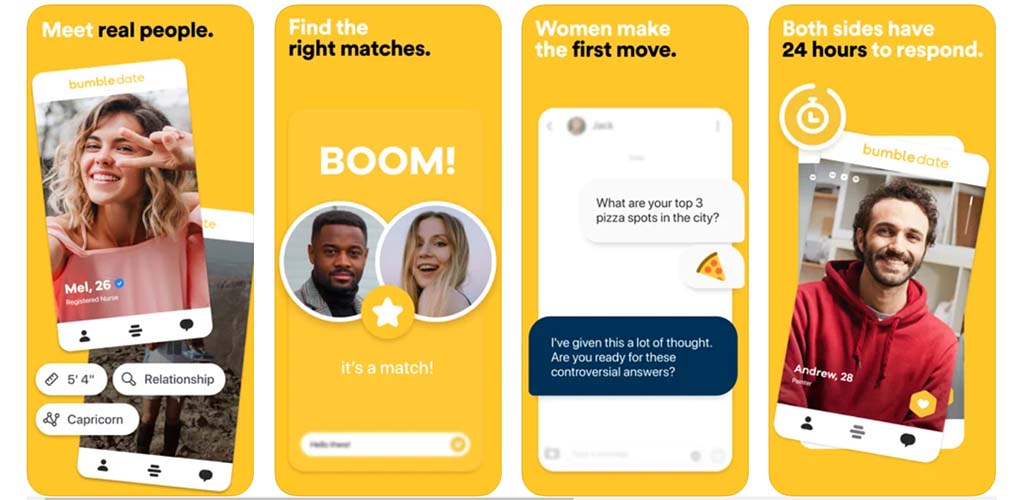 #5 - Bumble is one of the best Nashville dating apps for shy guys (Android; iOS)
Bumble is an app created by a woman for women everywhere. Bumble eliminates gender norms in dating by forcing women to make the first move. This gives women more control over their dating life and lets men sit back and relax for once. It gives shy guys a break since they're usually expected to send the first message.
Once two users like each other, they will match, and the woman will need to send an opening message within 24 hours, or the match will disappear. This keeps women from receiving a ton of messages (including obscene ones!).
Why Bumble has made our list
Women can control who messages them
72% of users are under 35 so it's a great app for the young crowd
The app is super easy to use
What we don't like about it
Men who enjoy making the first move may not like this app
Women who aren't used to making the first move may struggle at first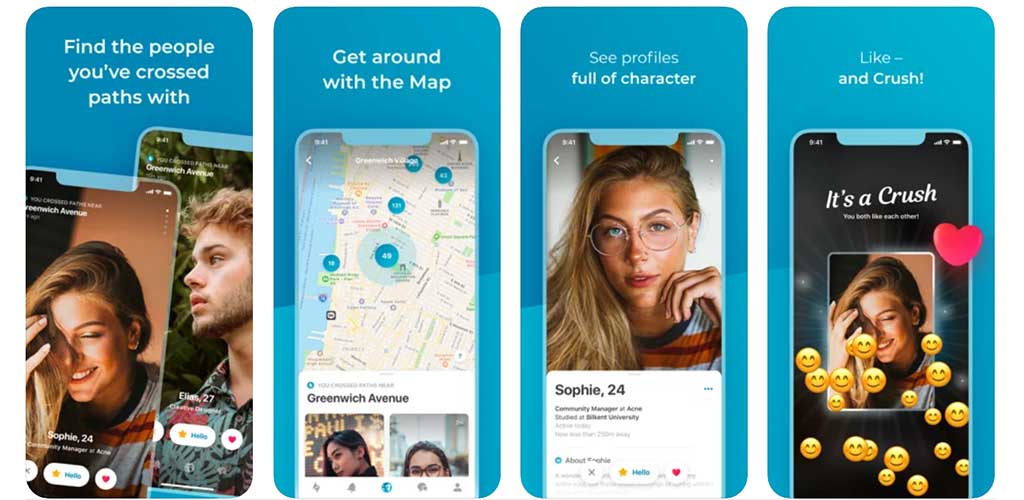 #6 - Happn is the app to meet locals (Android; iOS)
Happen is a great location-based app that helps users meet people in their area. People who are currently in your neighborhood or who have recently passed through will appear in your feed. So, if you see someone cute at your local coffee shop, you can open Happn and check if they're on the app.
Happn is thus the perfect app for people who miss in-person meetings. It is a great mix of online dating and real-life meetings.
Why Happn is one of the best Nashville dating apps
All matches will be local so you won't need to travel far to meet them
Having the same neighborhood in common is a good conversation starter
Using Happn is free with optional paid features
What we don't like about it
The dating pool in your neighborhood may be small
You could unexpectedly run into your matches since you're in the same area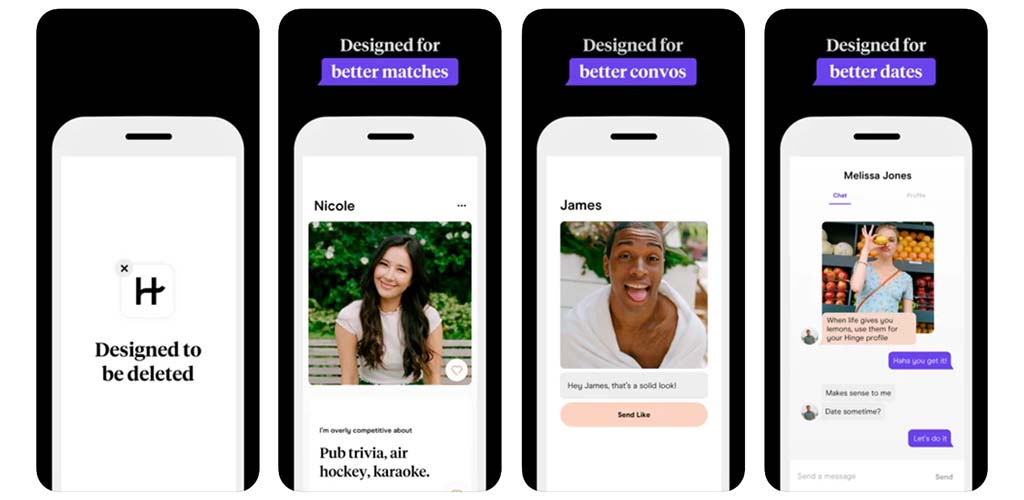 #7 - Hinge is great for people who want to get to know someone (Android; iOS)
Hinge is one of our favorite dating apps because of how well-balanced it is. Many dating apps focus too heavily on appearance or on detailed profiles, and Hinge is a great mix of both. Users upload six pictures and answer a few conversation prompts to set up their profile.
To match with someone else, you must like or comment on a specific picture or conversation prompt. This is a great way to ensure all users are taking their time and actually looking through each other's profiles. No doubt it's one of the best dating apps in Nashville if you really care about what someone has to say in their profile.
Why Hinge is a great app
There are over 6 million active users on Hinge
You receive a daily match recommendation
Users can easily show interest by liking or commenting on a person's profile
What we don't like about it
You only get ten likes a day with the free version
Hinge is not the app for people who don't enjoy reading bios or looking through profiles
#8 - Tinder is still one of the most popular dating apps in Nashville (Android; iOS)
Tinder made online dating cool. Before Tinder, you had to use your computer to try out some of the best dating apps in Nashville. But thanks to how easy it is to swipe through matches on Tinder, it's now the app of choice of over 50 million people worldwide! That being said, the app is also the go-to for finding casual flings.
If you're new to the dating scene and you have some pretty decent photos, Tinder is one of the best Nashville dating apps for you.
Why Tinder is one of our favorite apps
Tinder is a great app for young singles
The dating pool is huge with over 50 million active users
It's so easy to use
What we don't like about it
Most people on Tinder don't actually meet up
Tinder is very appearance-based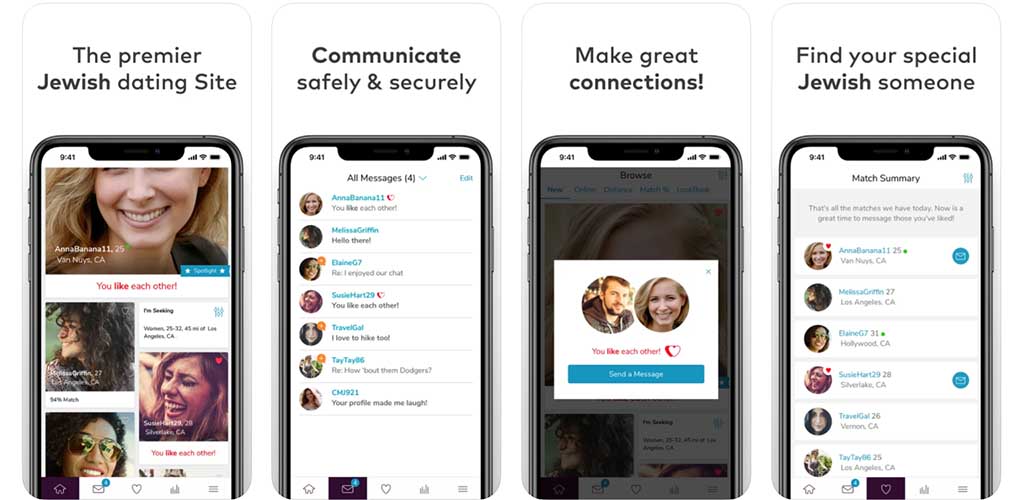 #9 - Jdate is one of the best dating sites in Nashville for Jewish singles (Android; iOS)
Jdate is a great app for Jewish people to meet one another. If your culture and religion are integral parts of your identity, you likely want to date someone who understands both. What better way to find them than on an app exclusively for Jewish singles?
Profiles are very detailed as Jdate focuses more on matching singles based on their shared interests than mutual attraction. It's one of the best dating sites in Nashville for finding long-term partners, though finding flings on Jdate isn't impossible either.
Why Jdate is great
Profiles are detailed so you can really get to know someone
One of the very few Jewish dating sites that actually work
Setting up your profile and getting started is easy
What we don't like about it
You need a paid membership to message other users
The site tends to work better than the app
If you are looking for more great guides to finding the right dating apps check these out: