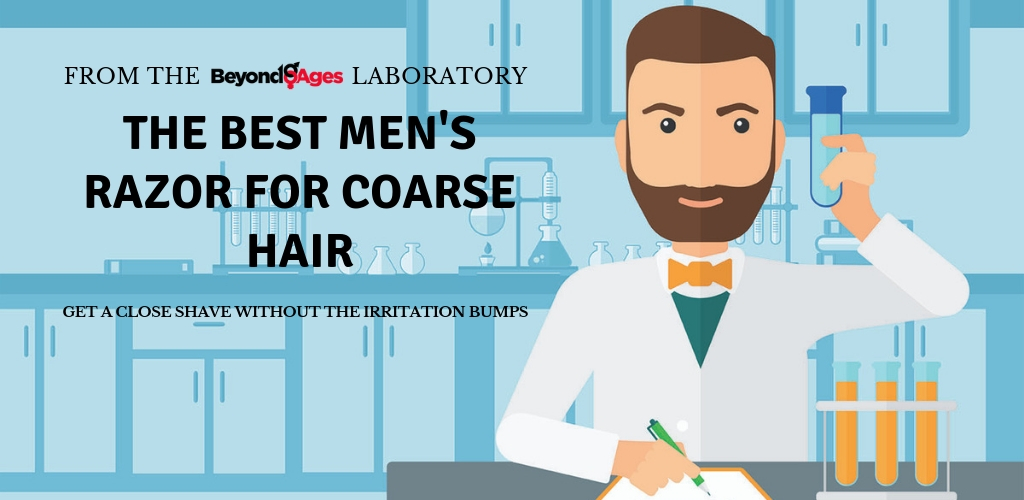 The world of dating is a difficult, intimidating space to navigate. If you're not using the best men's razor for coarse hair, you are going to have a bad time. Often, the most superficial things are rewarded — like your physical appearance or how you dress. The harder parts, however, are to impress someone with your wit and personality. So don't strike out in the easier parts just because you have a coarse beard and cannot find the right razor to tame it! That would be an unfortunate reason for your date to go poorly. With the right kind of razor, your skin will thank you and your coarse hair will cease to be of concern. You can go forward with confidence, knowing that you look great and your beard situation has been taken care of! But how do you find the right razor?
Things to consider before buying
The following are some of the factors you may want to consider before buying a razor that is perfect for your coarse hair:
Price
The budget, of course, is the first factor. While some razors out there may be expensive, others will put less pressure on your pockets.
Electric shavers are ideal for coarse hair as the blades typically have a cover that prevents them from cutting too close to the skin. This saves you from ingrown hair and razor bumps — something people with coarse hair often experience.
The next best option is a single-blade safety razor that cuts at the surface of the skin and not beneath. Both types of razors come in a range of prices. The electric shavers, though, tend to be more expensive.
Quality of Shave
When you are dealing with coarse hair, the quality of the shave is extremely important. Coarse hair requires some care. You need a razor that applies the right amount of pressure to remove the hair without irritating the skin too much. You also require something that supports a warm, wet shave as that is how the coarse hair will soften and come off more easily.
You need a close shave, sure, but not one that tugs at the hair beneath the surface and causes ingrown hairs and razor bumps. The best men's razor for coarse hair will give you the quality shave you need to be an attractive and appealing date.
Ease of Use
How easy is it to use the razor? The razor, whether manual or electric, should be simple to use. If it is intuitive and flexible, that makes your job easier. The razor also should be easy to clean and should not clog as that will make the blades dull. A good razor is one that minimizes your work and seems to predict the kind of shave you require.
Get a Look at the Best Men's Razor for Coarse Hair
The following are some of the best men's razors for coarse hair. The products have been divided into three categories — 'best bang for the buck', 'best of the best' and 'best value'.
Best Bang for the Buck: Schick Hydro 5 Sensitive Razors for Men | $42.43 | Buy Now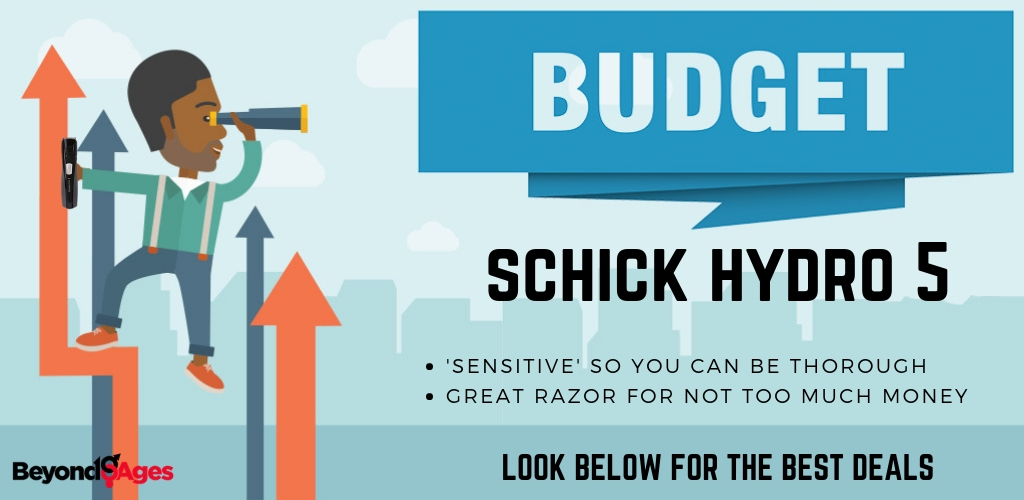 The unique Hydrating Gel Reservoir of the Schick Hydro 5 series is a great boon for those with coarse hair. When you have thick, coarse hair, it's best to indulge in a wet shave, preferably after a shower so you can soften the hair and make it come out more easily. With its Hydrating Gel, you will be lubricating your skin while shaving, therefore reducing the amount of friction the razor has with your skin. The biggest issue men with coarse hair experience is a difficult shave and potentially ingrown hair. But with the right tools, even the coarsest hair can be tackled.
This razor is dermatologically tested and is ideal for sensitive skin that needs constant lubrication. There is also a flip beard trimmer which offers great precision for areas that require more work, like the neck or near the jawline. Depending on the quality of your previous shave, the hair may also be growing back in patches and one part of your face may have thicker hair than the other. The flip beard trimmer is perfect to take care of the situation.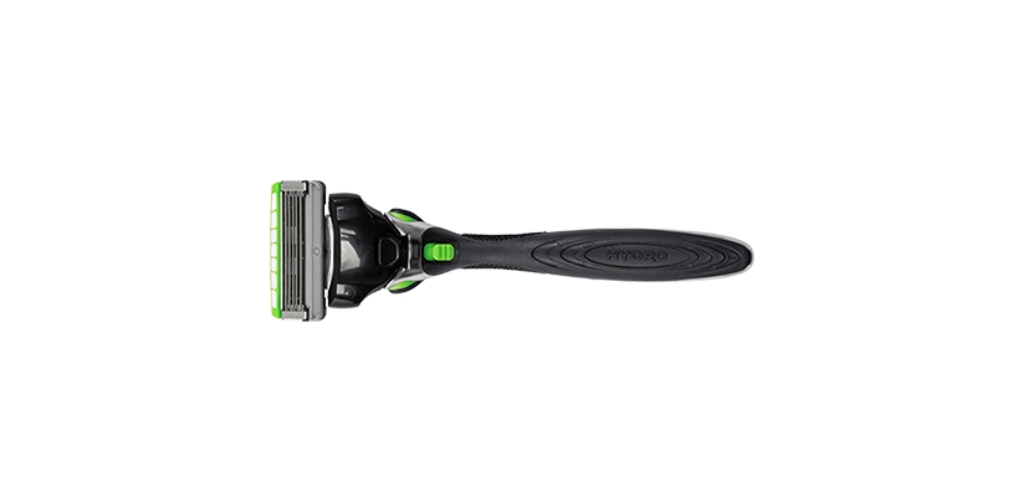 The five ultra-glide razor blades also give you a clean shave. This is one of the reasons this is the best men's razor for coarse hair. Though those prone to ingrown hair and razor bumps (as most men with coarse hair are) prefer to use single blade razors as it cuts close to the skin with less chance for irritation from multiple blades, the Schick razor, despite being multi-blade, has enough lubricating qualities to take care of your skin.
With this razor, you are sure to make a mark in the dating world. Having a coarse beard can be off-putting for some people, even for the person who is growing it! More often than not, you are forced to grow the beard out because shaving it constantly with the wrong kind of razor irritates your skin. But with the Schick Hydro 5 Sensitive, you can shave as often as you need to without worrying about breaking out or leaving hair behind.
Best of the Best: Braun Electric Shaver, Series 7 790cc Men's Electric Foil Shaver | $199.94 | Buy Now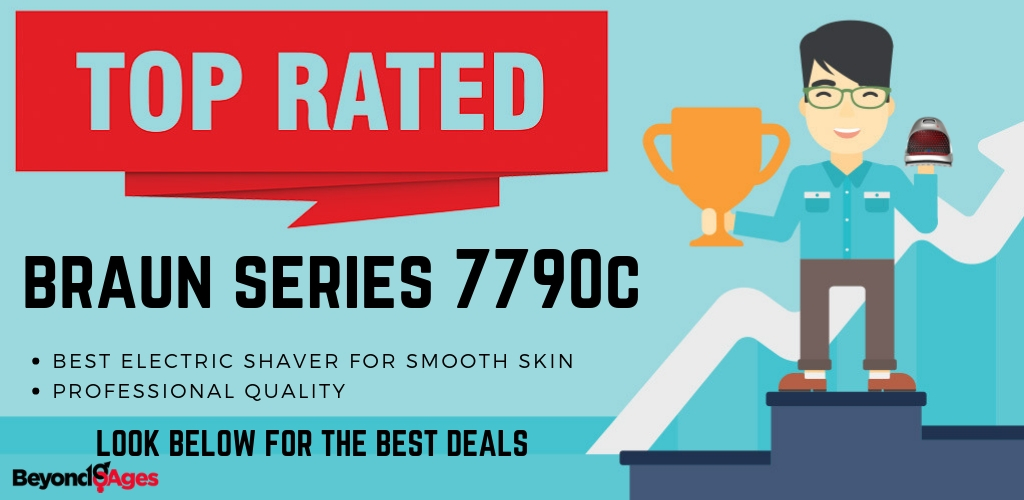 A smart shaver that knows how to treat your face, regardless of the density of the hair, the Braun Electric Shaver from the Series 7 is really the best men's razor for coarse hair. There are four synchronized elements at work — three blades and one skin guard — that ensure you get a smooth shave without irritating the skin. The 8-D flex head can understand your face well and glide along the contours with ease. This is great for those with coarse hair as often the places that are the hardest to reach have the toughest hair. With the Braun Series 7, no hair is too hard to reach.
The shaver is 100% waterproof, so you can even use it in the shower or with a hydrating gel right after. For coarse hair, this is the best technique as the hair gets softened out and comes off more easily. There is also an ActiveLift trimmer, which can capture even flat-lying hairs without cutting too close to the skin. This means that not only can you remove all the hair with ease, you will also not be causing unnecessary friction with your skin. The AutoSensing intelligent motor is great for determining when the beard is more dense and the device needs more power.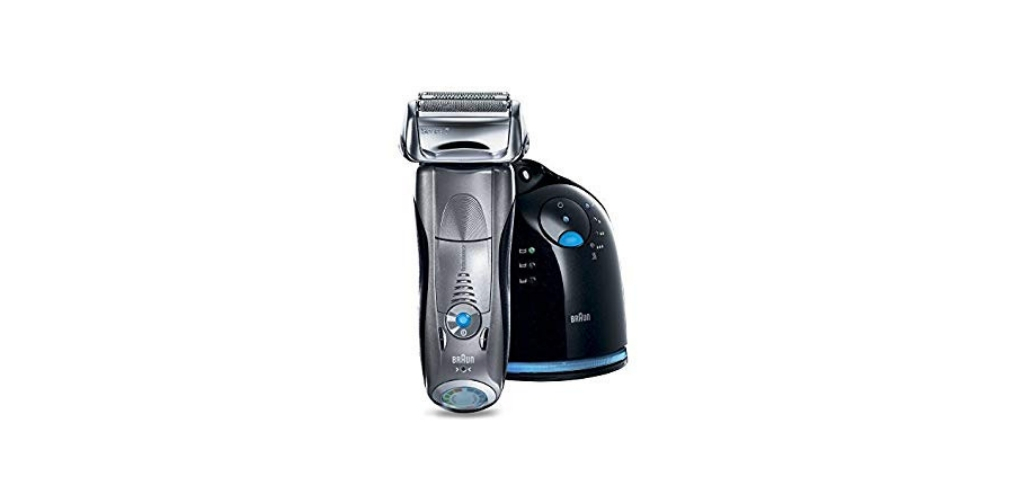 The best feature, however, is that the shaver has five modes so you can decide when you require a gentler shave and when you need to exert more pressure. Sometimes, when your skin is feeling too irritated but you still need a shave, you can opt for a more gentle shave. On days where your skin can handle a more aggressive shave, you can simply switch the button and enjoy a great shave! No manual razor can give you this kind of flexibility.
The shaver also has a unique, alcohol-based, four-action 'Clean & Charge' station where the shaver get cleaned, lubricated and charged all at the same time, ensuring the blades are always precise and as good as new!
While the Schick Hydro 5 razor and the Braun Series 7 cannot really be compared as they are both different types of razors, but at the core, they are both attempting to deliver a clean shave to those with coarse hair and sensitive skin. The Braun electric shaver is more expensive but it also has a lot more to offer and will last you for years!
Best Value: Bevel Safety Razor | $36.74 | Buy Now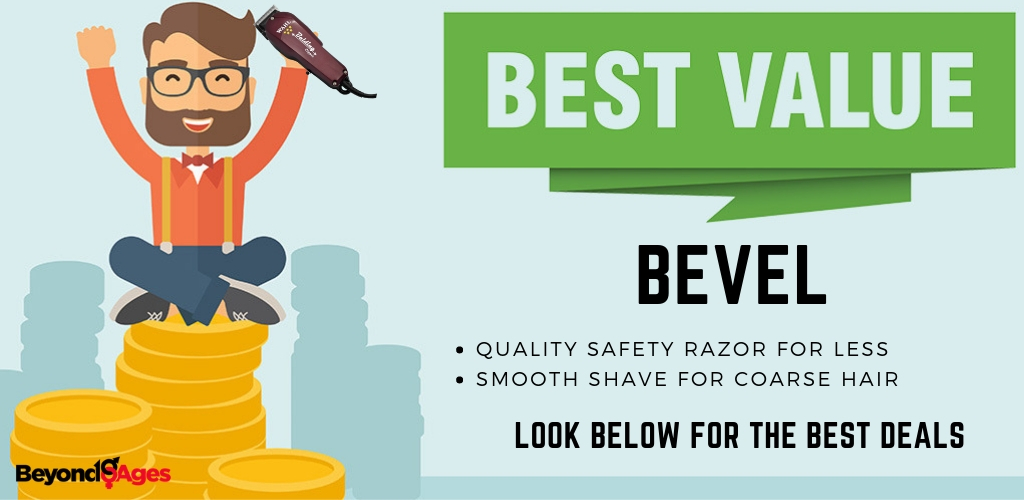 The Bevel Safety razor is one of the few in the market that is designed especially for those with thick, coarse and curly hair. The razor re-engineers older models to present a new product that caters to the needs of dense beards. It is designed to shave right at the skin level and not beneath the surface as multi-blade razors do. This means that the hair gets cut without stressing the follicle root out, therefore, preventing ingrown hair and razor bumps — something those with coarse hair are often prone to.
Let's be honest: You don't want your date recoiling from your face because of unsightly bumps! Your dating game deserves better, even on a budget.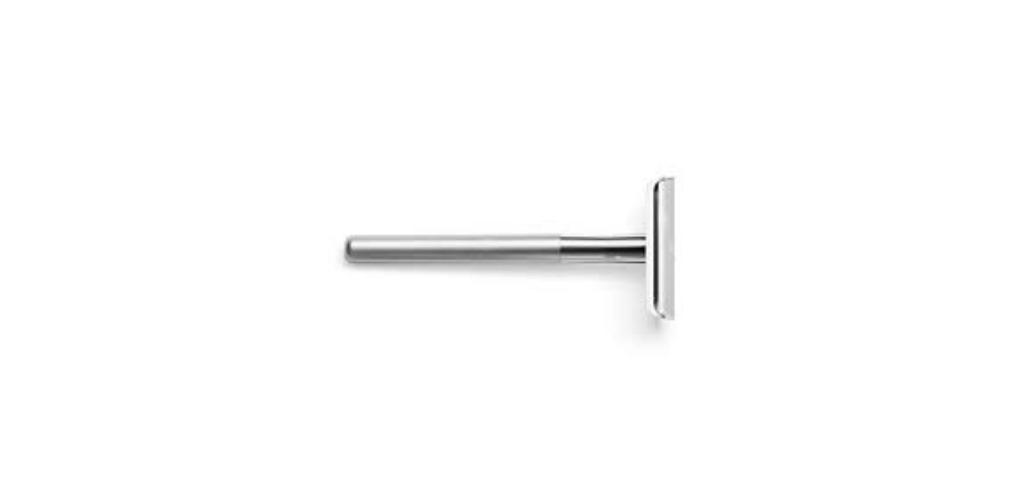 Within four weeks of using the product, you will notice visible change in your skin and the coarse hair will also begin to come off more easily. What's great is that the razor does not come at a high cost. You can enjoy a clean, irritation-free shave for a long time, without any stress about having a patchy shave or leaving coarse stubble behind.
There are, however, a few shortcomings with this product. For starters, it's not as intuitive as the other two products mentioned above. Besides, being a single blade safety razor, the technique to place the blade inside is not the most convenient. Some users complained of cutting themselves while placing the blades inside. Nevertheless, if you are operating within a budget, the Schick Hydro 5 is a great option and if that seems like a stretch too, the Bevel safety razor is a perfect candidate.
Revisiting the Best Men's Razor for Coarse Hair

When you enter the dating pool, there are a few hurdles you will need to cross. Taking care of your physical appearance is one of those hurdles but with the right tools, this should be a cakewalk. The following is a synopsis of what has been covered so far:
| | | | |
| --- | --- | --- | --- |
| Award | Product | Price | Buy Now |
| Best Bang for the Buck | Schick Hydro 5 Sensitive Razors for Men | $42.43 | Buy Now |
| Best of the Best | Braun Electric Shaver, Series 7 790cc | $199.94 | Buy Now |
| Best Value | Bevel Safety Razor | $36.74 | Buy Now |