The bigger the city, the harder it is to actually meet new people sometimes. Despite being the social hub of Kansas, Wichita isn't the easiest place to find a date. Don't get us wrong; there are lots of singles out there. But between juggling responsibilities and going to the same old bars and clubs, so many are missing out on great matches. This is why, if you're single and struggling, it's time for you to try the best dating apps and sites in Wichita.
While there are several vibrant communities in the city, not everyone is gifted with time and energy to meet new people. Nowadays, singles prefer online dating because it's so convenient! Whether your goal is to start a new relationship or something more casual, online dating is the easiest way to scout potential matches. From Sherwood Glen down to South Seneca, we tried out all these amazing apps to see what really works in Wichita.
If just the thought of a romantic night out with someone new excites you, then better get yourself in one or more of these dating apps and sites. We've taken it upon ourselves to list the best dating apps and sites that we believe will give a spark to your rather dull love life.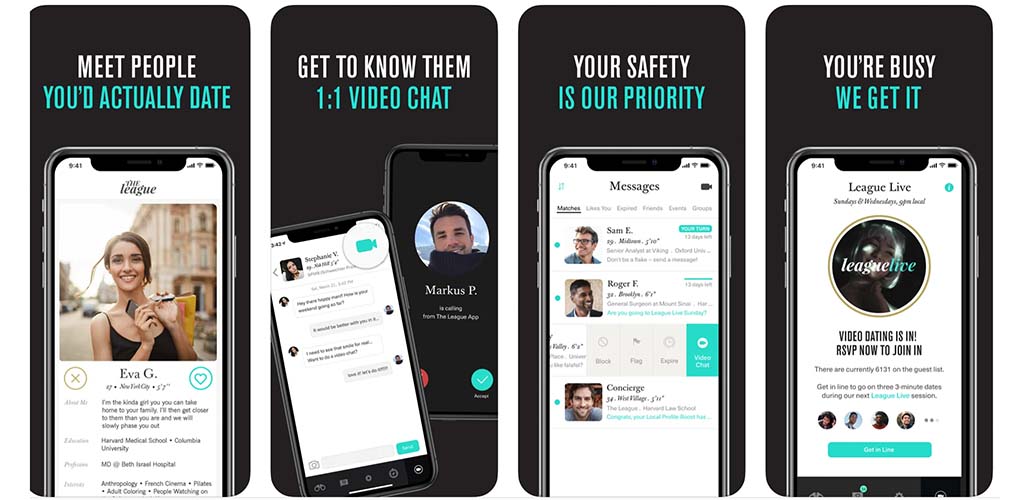 #1 - One of the best dating apps in Wichita for single professionals is The League (Android; iOS)
Is your type well-read, worldly, and motivated? Then The League is the dating app for you. The app was designed specifically for successful people who value traits like ambition and intelligence above everything else. More than 80% of the user base in the app has at least a bachelor's degree and a nice career. So you can expect educated matches that can stimulate you with intelligent conversations.
This is not the app for party animals who are just in it to find another booty call. The members of the app know what they want and are ready to settle down with the right person. If dating for you is a serious business, then The League is one of the best dating sites in Wichita for you to try.
Why The League is a great dating app
 Every member is vetted, which means each member is successful, accomplished and intelligent
 The company behind the app organizes exclusive networking events and parties
 The algorithm matches you with the most active members of the app
 The app automatically filters out your Facebook friends and Linkedin connections to secure your privacy
What we don't like about it
Limited user base
Stringent sign-up process and wait list
The app penalizes inactive and unresponsive members by eventually kicking them out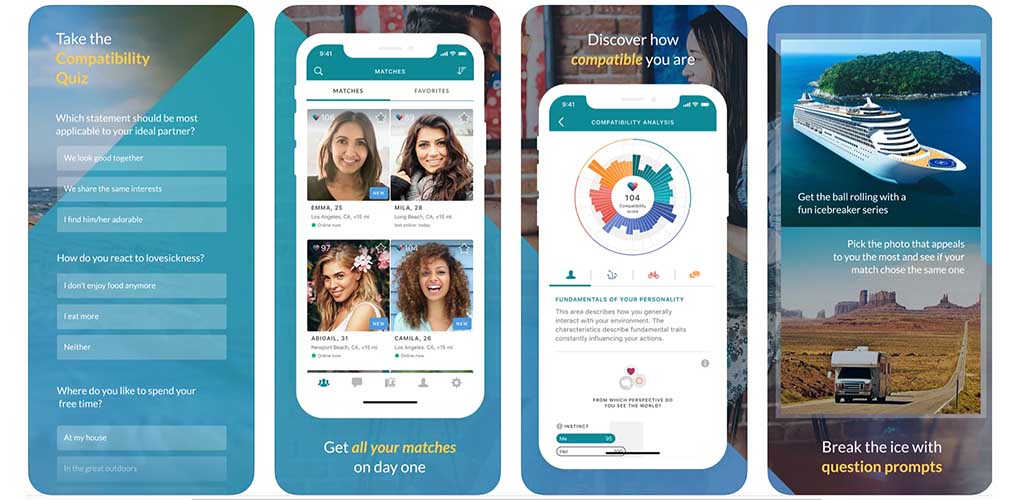 #2 - eHarmony (Android; iOS) remains one of the best dating sites in Wichita long-term relationships
eHarmony is extremely popular here and has an amazing track record of helping Wichita locals find long-term partners by using matching algorithms. This app does the best job of matching you up with compatible potential mates that we've seen.
You don't have to scroll for hours. The app does all of the tough work for you. Of course, you might not make a perfect connection outside of the algorithms. Usually, it works like magic. The toughest part is answering all of the questions. It's important because this is how they match you with other single people. You can build chemistry before you even meet.
If you're serious about finding long-term partners this is the site for you.

Why eHarmony is one of the best dating sites in Wichita
The best success rate out there for long-term relationships
70% of users find their future spouse within a year
Makes it pretty easy to form connections
What we don't like about it
It definately takes more time than most to get started
Not super popular with those 18-22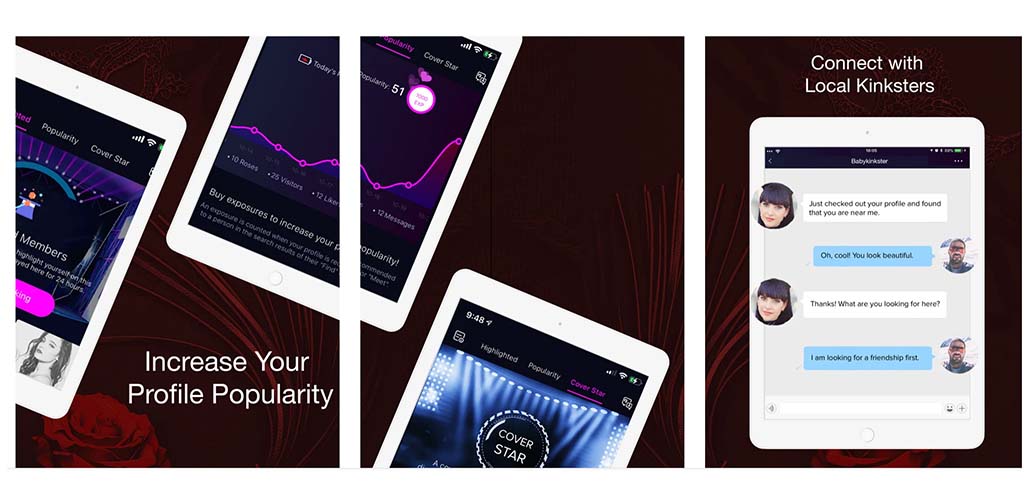 #3 - Kinkoo is the kinky app for those who like it rough and sexy (Android; iOS)
If you don't like it vanilla, Kinkoo is the app to try. We all have our kinks and it's important that you and your potential partner are both into the same thing. After all, it's hard to get intimate with someone who's not willing to try new things that will give you pleasure.
If you want to find someone who loves these sexy thrills as much as you, then you better have Kinkoo on your phone. With strict security features to ensure you're not outed, Kinkoo gives you a safe space to meet new people who are into the same things you are!
What we like about Kinkoo
The community is super open-minded
The features are designed for those with a BDSM kink to meet like-minded people
What we don't like about it
Verification is not compulsory, so you'll find a few fake profiles and bots
Some members complain about their customer support team for not being responsive

#4 - AFF is the easiest way to find a good time
AFF should be your first choice when you're not looking for a relationship but still want some fun in the bedroom. We've tried a lot of different apps for this (most are awful) and only a couple have proven to work over and over. Tinder is great if you're under 25 but once you get beyond that AFF has shown the best results out of any dating site in Wichita we've tried, especially for guys.
One of the things we've really liked about this app is that they do a really good job of helping you find EXACTLY what you're looking for. Everyone on this site is looking for the same thing so you can save a LOT of time that you would waste on other sites. If you're 25+ and want to take someone home this is your app.
Why you should try AFF
They have a massive number of users on their app (over 50 million)
We've seen guys have the best success using it, especially those who aren't super good looking and didn't do well on Tinder
It's very straightforward and easy to use
What we don't like about it
Many users can only access via web app
The app is a little dated and not as polished as some others
Sometimes people are a little TOO upfront with what they want
You Can Try AFF Free!
If you're just looking for a fling or more short-term fun you need to
try out AFF's free trial
. We've spent months and months testing out the alternatives (more than 100 other sites) and haven't found anything that gives most guys more options and better results. Give it a shot!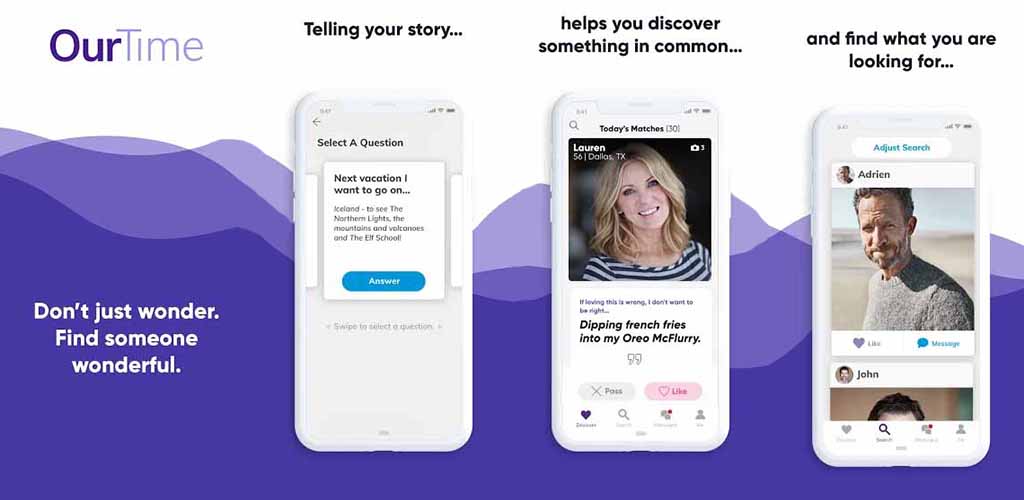 #5 - OurTime is the best Wichita dating app for people in their 50s, 60s and older. (Android; iOS)
Who said dating apps are just for the youngins? OurTime makes dating so much more accessible to mature singles. It's where you can be sure that everyone on the app is over 50, and it's not just full of singles the same age as your kids.
OurTime helps older singles meet a new pen pal, travel partners or if they're lucky — a new life partner! The app has a sleek and easy-to-use interface that makes online dating a breeze even for those who are technologically-challenged. Simply scroll through matches and connect with singles that pique your interest. It's the best dating app in Wichita for mature daters who are young at heart.
Why OurTime is one of the best dating apps in Wichita for mature singles
Scroll through curated matches based on your preference
Provides extensive information about your matches
User-friendly interface
What we don't like about it
Advanced features of the site are only available for paid members
Monthly paid subscription is pricier than most dating apps
Uploading a profile picture is mandatory (not for camera-shy folks!)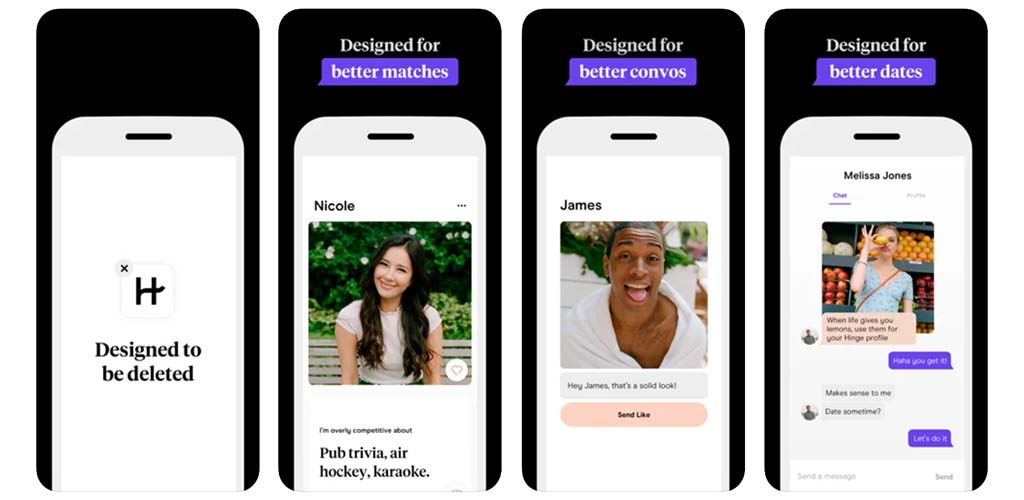 #6 - Hinge is for the serious daters looking to find the one for them (Android; iOS)
After a major rebrand in 2015, Hinge decided to shy away from being a "swiping dating game" to a "relationship app that's designed to be deleted." The app aims to become a platform that focuses on sparking a relationship by encouraging its users to delete the app once they find their right match.
If you're tired of mindless swiping users solely based on appearance and want to get serious about your love life, then you'd enjoy the features of the site. Instead of swiping, you communicate directly with the contents of a user's profile. When you see something cool in their profile, you can send a heart or message them right away to break the ice.
The best features that we like about Hinge
It's easy to get the conversation going right away
Connects you with new people based on your shared Facebook friends
Avoid casual daters and only talk to people who are as serious about finding a relationship as you
What we don't like about it
After the 14-day trial, you have to pay for the $7 monthly subscription fee
Limited features on the free version of the app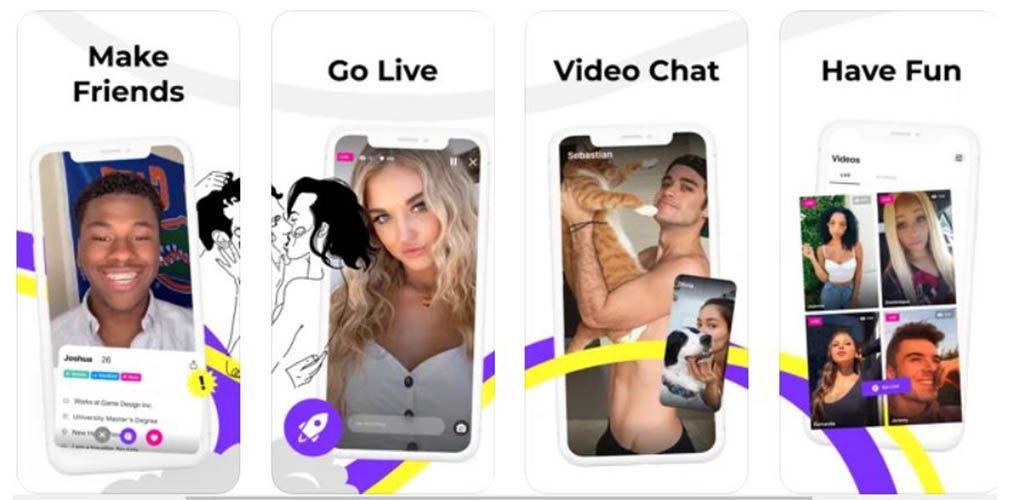 #7 - HILY is a fun dating app that puts a cool twist on online dating (Android; iOS)
HILY, which stands for 'Hey, I like you', lets you browse through short user videos (similar to Instagram or Snapchat stories) to find the right matches! The best part? You don't have to pay a dime to make the most out of the app's best features! When building your profile, you can indicate whether you're looking for casual flings or long-term relationships to find those who are in the same boat.
In addition, the app boasts a smart AI for both security and matchmaking purposes. Your matches are based on your shared interests, and not just looks. It's one of the best Wichita dating apps if you want to veer away from just swiping through photos!
Why we think HILY is worth checking out
Continuously growing user base in the US
Simple and straightforward features
Registration, messaging, and video call features are all free
One of the best dating apps in Wichita if you like taking videos
What we don't like about it
Verification process isn't quite strict so there are a few cases of catfishing and fake profiles
Users can't search for matches
#8 - Tinder is the quintessential online dating app to get instant matches (Android; iOS)
Tinder appears to be Wichita's most widely used dating app. As one of the most popular apps in the online space, almost everybody sees Tinder as the last recourse when it comes to finding a quick and easy fling. And why not? It's easy to use and creating a profile won't take you more than ten minutes to finish! It's also very addictive and instantly provides you with matches as long as you have a great profile to boost.
Guys who want to find gorgeous singles in Wichita on this dating platform better be very attractive. Otherwise, they'll have a rough time getting paired up as looks are the top basis for getting matches. Upload your most stunning selfies and watch your Tinder notification ping nonstop.
Why Tinder remains one of the best Wichita dating apps
Fast and easy sign up process
Addictive swiping mechanics to get matches
Massive user base online
What we don't like about it
Limited swipes per day for free users
Not enough verification process so there are some fake profiles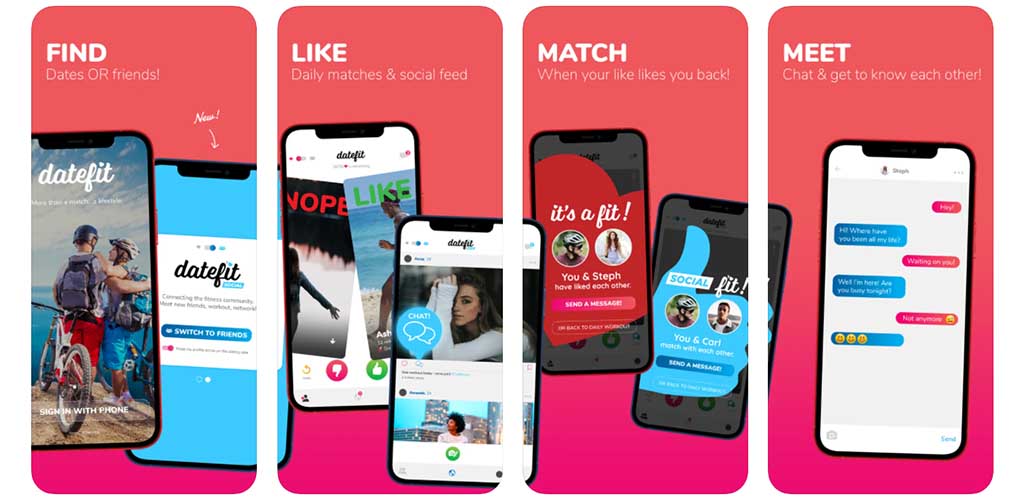 #9 - Datefit is a great app for sports nuts and gym buffs (iOS only)
Datefit is more than just a dating app for people who are into fitness, it's also a great community where you can connect with incredible people with the same passions and hobbies! You can toggle between the "singles" and "friends" mode on the app to find potential dates or gym partners.
Similar to Tinder, you can swipe left or right on 50 finely curated connections daily. Datefit also has an activity feed, where you can post, like and chat directly with people who are currently active and nearby. It's the best app in Wichita to start a relationship with other health-conscious people!
Why we think Datefit is amazing
It's more than just a dating app! It's also a community of fitness enthusiasts
Find matches that are as passionate about fitness as you
What we don't like about it
Free users can only swipe on 50 matches daily
Use base is not as huge as other major dating platforms