Clover is a real mixed bag here. It doesn't feel like a scam at all but I also wouldn't recommend using it. There are such limited profiles and the ones you will find are. . . well let's just say I didn't find a single profile I was interested in.
An interesting sign-up process
Signing up was an interesting experience and had me intrigued. Firstly, you can choose to sign up using your Apple/Google account, Facebook or Snapchat account. Personally, I like this since it pre-fills a bunch of information for me.
After that, you get four questions to answer in terms of what you're looking for: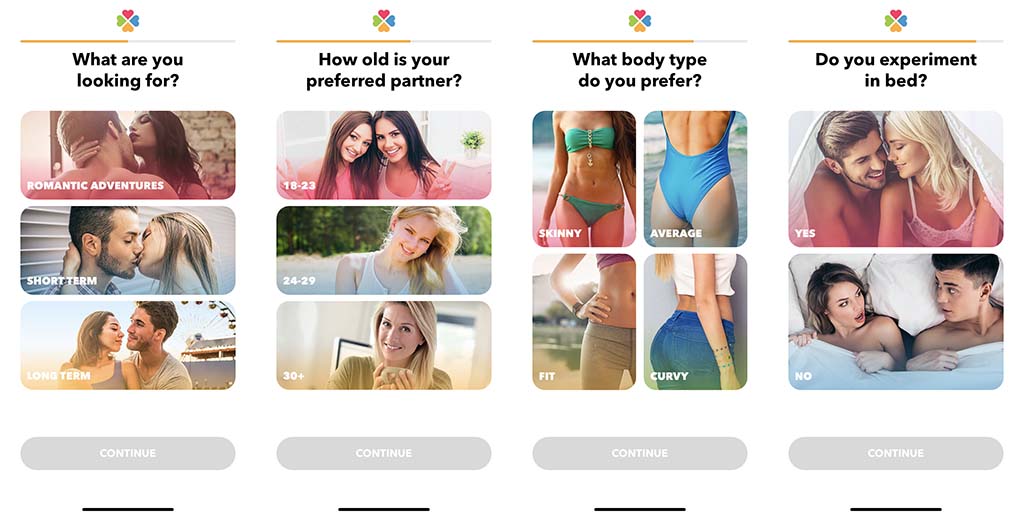 Objectively, I like this approach. It doesn't seem to alter your profile in any way but they're important questions nonetheless. They're answers we should all know before we set up a profile on any app.
Awkwardly cropped profile photos
Most dating apps are advanced enough that you can upload your photos and they come up looking good. It's very rare that you'll need to crop them.
With Clover, on the other hand, the photos are a strange aspect ratio and there's no intelligence there to autocrop.
If you upload a 16:9 photo with you standing to one side, expect to be cropped out of the photo by default. It'll just focus on the middle of the pic and crop everything else. If you add 10 photos to your profile, expect to go manually adjust each of them.
It's a minor detail and a first world problem but hey, the competing apps manage profile photos just fine.
Not many profiles to choose from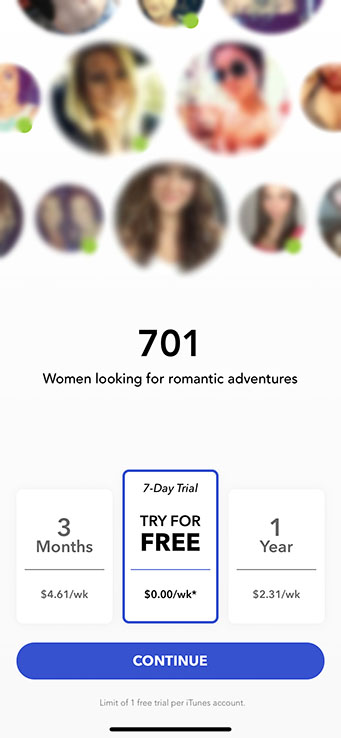 Compared to the dating apps I've been reviewing lately, Clover was definitely a quiet place. It took me maybe two minutes to make my way through everyone in my 30-mile radius and that was that.
On sign-up it tells me there were "701 women looking for romantic adventures." From my experience, it seemed more like 71. I dare say this they just give out an arbitrary number here or use a very wide radius.
Popularity is always a tough thing with these apps, admittedly. If this were the only real fault with Clover, I'd suggest using it and hoping their aggressive marketing brings more people. Unfortunately, though, this is just one of the issues they face right now.
I couldn't find anyone I'd actually date
This isn't an exaggeration by any means. It's a little shallow but at the same time, that's how online dating works in the first instance. You judge based on appearance, then get to know the person.
Actually, I'd even say that's how regular dating works. There has to be physical attraction (among other things of course) for it to turn out well. On Clover, 100% of the profiles I came across were a hard "no" from me.
I hate that it turned out this way but I'm here to give you facts. . .
A paid account is needed to chat
If you want to chat with anyone on the app, you'll need a paid account for that. Starting at $15.99 per month, it comes with a handful of boosts. The most helpful of which being that you can actually chat to others.
For that spend, you get:
An ad-free experience
Unlimited date requests and conversations
Live video chat
More advanced filters
The ability to share photos, videos and gifs
Free profile boosts for "350x more visibility!"
Quick sorting of people you're interested in
The ability to see all images and discover who visited your profile
Thankfully, you also get a free 1-week Premium trial when you first sign up. If you're thinking about using the app, sign up for that trial. I dare say seven days will be enough for you to get bored.
You're forced to send a double notification if you want to chat
Admittedly, I like that I can message someone directly from their profile without having to match first (as a Premium user). The problem is, when I message someone, I'm not taken to the next profile in the stack.
Instead, to move on to the next profile I need to either tap the "X" to say I'm not interested or "favorite" them. If I tap favorite, they get a separate notification that I've done that too.
That means any time I message someone, they get the message notification and a favorite notification. Needy much?
It seems like basic logic that if I'm choosing to message a woman, I'm interested in her. Why I have to specify this is confusing.
Icebreakers, a premium "feature" I could do without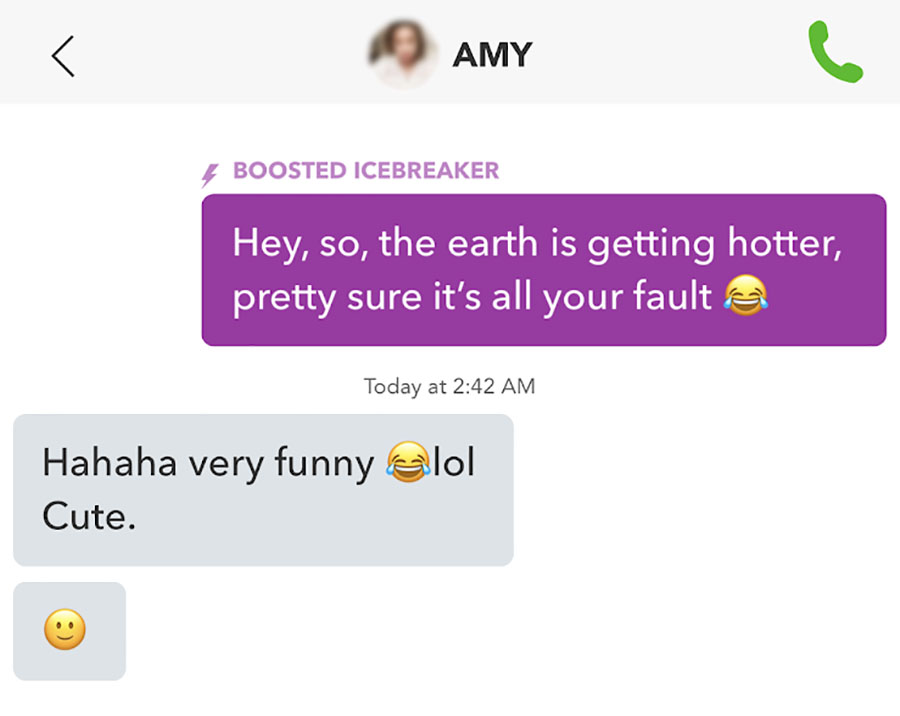 Keeping with the theme of features that make me cringe, we have automated icebreakers.
They're messages that get sent out to seemingly random women on your behalf. I'm not sure how many of these messages have been sent out from my profile but I've had a few replies. Each time, I've hated what I saw.
I mean look at this screenshot as an example. Really? A pickup line? I'm better than this! Also, how or why did Clover decide I want to talk to Amy? I didn't favorite her, she just seems to have been chosen at random.
Even Clover sets a low expectation
When you create your account, you'll have a couple of messages in your inbox from Team Clover. One of them sets out the details of their free profile boost offer.
As part of that, they mention that "It takes the average person 7-10 days to find success so be patient." From my experience on Clover, I'd say even 10 days is being generous.
Mixers — Clover's group chats
I get that they're trying to create a safe, community vibe with this concept but it just feels odd. The last thing I want to do on a dating app is be part of a group chat that seems to be predominantly guys.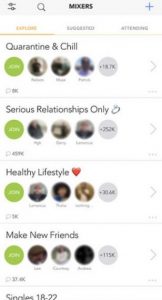 Honestly, I have to agree with Cassidy. 

As usual, the people in these chats often prove why we can't have nice things. Rather than nice, constructive discussion, it's mostly vain selfies and Insta/Snapchat handles. People desperately seeking attention and followers. #InfluencerLife.
20 questions for compatibility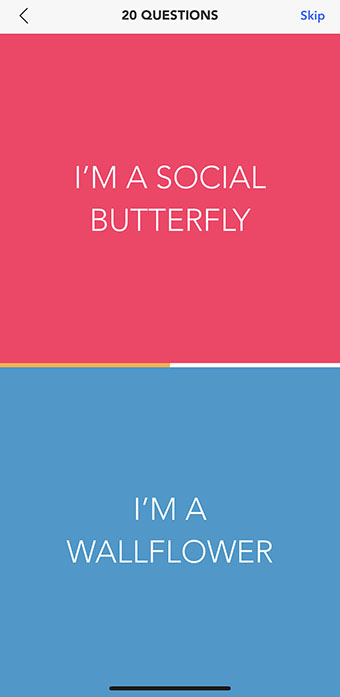 This is another feature that has some potential, yet the implementation just isn't quite there.
You can opt to run through a classic set of 20 questions. You choose one of the two multiple-choice options on each one, just like in this screenshot.
The problem is, these questions are useless unless someone scrolls to the bottom of your profile. There, they can tap "Play 20 questions" and (presumably) run through the same questions to see if they line up.
I say presumably because I couldn't find any information about it on Clover's website. I wasn't able to find a profile where someone had answered the questions either.
It could be a fun element of the app, but it's a little buried and underutilized right now.
Why I'd rather use AFF
Honestly, if hookups are what you're looking for right now just go with AFF. It's made specifically for finding hookups, has a massive user base and you'll never struggle for options. Since it has plenty of users, you can also get very specific about who you want to meet by using their search filters. Naturally, I couldn't do this with Clover because there were hardly any users to filter through!
AFF has been one of the biggest names in online dating for years now and for a reason. It's full of singles who are generally pretty responsive, which makes it so much easier to hook up. You're far better off spending your time there than Clover, I assure you.
In case you want to test the waters first, you can try the AFF free trial. That way, you won't have to spend a cent to see why it's a superior site.