Online dating is a powerful tool. Digital dating services like FreeHookups.com can help us meet a person who is just right in terms of location, interests, looks and more. We can easily navigate through potential partners without wasting time on unavailable people. Online dating is practically a miracle for the single guy.
But not all dating sites are created equal. Some of them are professionally made, fairly priced (even free), and designed to be user-friendly. Too many are slipshod operations barely even trying to hide that all they want is your money. You have to choose wisely.
That's where we come in. We've written dozens of reviews of hookup apps and sites and put together a yearly ranking of the best hookup sites to help you know what you are getting into before you sign up. If you're looking for a simple affair, read our FreeHookups review to see if that site can deliver on its name's promise.
FreeHookups Review - What Does "Free" Really Cost?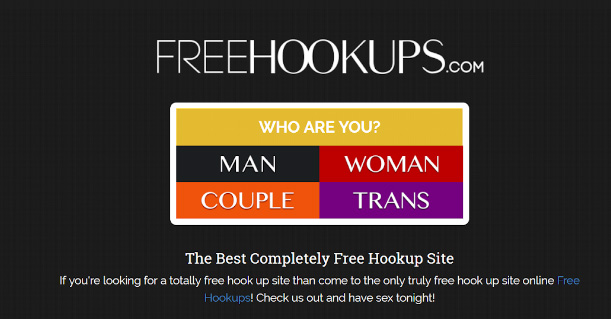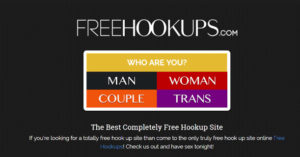 America is a free country, as they say. Consenting adults can do pretty much whatever they would like with each other, and no one has any right to stop them.
Just because we are free to flirt, date, and hookup with each other, though, that doesn't mean it's easy to make it happen. We still have to meet someone who we want to be with and then nurture that connection into a relationship. It takes a lot of work. Thankfully, there are tools to help us in this process.
Before you actually meet the person you are looking for you should also think about what you will do when it happens. Check out our detailed video series that covers how to attract and maintain attraction with women if you are not super confident in your skills.
Free Hookups makes big promises
"The best completely free hookup site" was how the site billed itself. On FreeHookups.com's sign-up page, there were plenty of other big claims to go with that one.
The site claimed a "92% closure rate," meaning that 92 percent of their members ended up hooking up. Now, I have learned a thing or two about dating sites from writing these reviews, and I can tell you that such a percentage is pretty much impossible.
They had filled their homepage with a lot of promotional text, as well. It read, in part:
"[FreeHookups.com] is strongly dedicated to finding singles completely free hook ups and casual encounters! We aren't interested in ripping off our members by having the pay just to see our site. . . We wont tease you with a little preview and than ask you for your money when you actually try and use the site."
Despite a few typos, the text made me happy. That's exactly the problem with so many dating sites, claiming to be free and then turning out to be useless unless you pay. I hoped they could live up to these big promises.
Adult FriendFinder will get you a lot more "free hookups"
Before you take the time to go through our full Free Hookups review we wanted to give you the option of saving some time. If you hooked up with every woman in your area that regularly uses freehookups.com you would still be wondering if you will ever get laid again. There just aren't any women on this site.
If you want a hookup site with millions of women (they have over 60,000,000 active members) Adult FriendFinder is it. You want the most options possible and they can give that to you.
AFF is extremely popular in most English speaking countries. Their main competition is Tinder but that is only if you want to date women in their early 20's and you happen to be a pretty handsome dude. If neither of those are the case AFF is a better option.
Fortunately, we don't have to do a complete review here because you can try them out for free yourself. In 10 minutes you should have a pretty good idea of the quality of women nearby. Check them out now.
Free Hookups can be messy
The sign-up page was simply designed, deploying a few tantalizing photos to get visitors interested in seeing more. Once I got to the main page, though, things started to look sloppy.
It started with the logo, a pixelated, boring design that looked as if it hadn't been updated since 1997. Beyond that, a bunch of profiles were displayed in a jumble. The menu bars were all basic, more like Craigslist than Facebook.
A dating site deserves to be judged on more than just its design and layout, but those things do matter. They suggest that the site has been recently and professionally designed, which in turn tells you how invested the creators are in maintaining a good site.
If the user interface of a website looks old, it probably is old, which means that it won't function as well as other sites. Older sites are more vulnerable to glitches and viruses that can compromise your computer or your personal information. Again, not a dealbreaker, but as I began searching FreeHookups.com, I felt preemptively cautious.
Are Free Hookups really free?
One of the first things I saw as I perused FreeHookups was their upgrade page. On it, a video of a beautiful blonde woman in a bikini extolled the benefits of upgrading. The audio on this page, which started automatically, was loud and annoying, and couldn't be turned off. If I'd been at work, that could have been an embarrassing moment. Chalk it up to another failure of design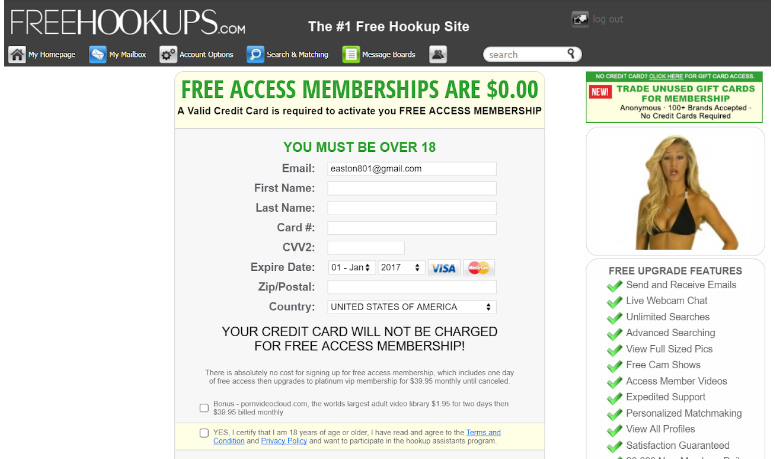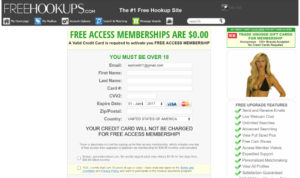 The account upgrade page said that I had to input my credit card information in order to sign up for a free account. If that sounds a little bit contradictory to you, you are not alone. Why should I give my credit card info for a free account?
I looked a bit closer at the fine print on the page, where I read this text: "There is absolutely no cost for signing up for free access membership, which includes one day of free access then upgrades to platinum vip membership for $39.95 monthly until cancelled."
Well, that genuinely surprised me. FreeHookups.com offers one day of free membership, and that's it. After that, they'll charge you forty bucks a month, which was one of the more expensive fees I've seen for a "dating" site and far from free.
Fake messages?
As I looked around the site, I kept receiving a ton of invitations to chat. One came in from a woman in London (which, needless to say, isn't where I live). It read, "Hi there! I'm diana i'm looking for some hookup or fwb and i message you coz we're at the same area right now btw im 23 years old but still look young. 🙂 Hit me up if you're interested to have some fun with me 😉 four43 3two8 33seven5."
What a strange message. Why would someone message me about hooking up when I lived a thousand miles away? Why would they give me their phone number right off the bat, when I don't even have a profile picture? Also, I don't know about you, but 23 is still quite young in my book. I don't want to date anyone who thinks 23 is old.
Also, all kinds of notifications popped to inform me that my profile had been viewed by other members. But when I tried to look at the profiles of the members, I couldn't do so without upgrading first (and after reading that upgrade page, I wasn't about to do that).
These were all bad signs: frequent messages from people far away, dozens of profile views when I don't even have a profile picture, and an inability to view other profiles. Any guy who has used an online dating service knows that legit messages almost never come that quickly from beautiful women.
It looked to me like FreeHookups wasn't keeping its promises.
Fake profile pictures
Whenever I start getting suspicious of a site like this one, I do a little investigating. My sleuthing partner of choice is Google's reverse image search engine, where I look up profile pictures to see if they come up on other websites. I got a hit right away with a profile picture from FreeHookups.com. The woman's picture appeared on an explicit Russian site.
For that matter, the site had loads of explicit pictures, another issue that had me doubting the service's quality. There's a certain expectation of forwardness on a hookup site. That doesn't mean everyone puts their business right out front for any stranger to see. It didn't sit right with me.
Free Hookups require "Hookup Assistants"
I realized I needed to look deeper into this site to see what was really going on. I sought out their Terms and Conditions page and didn't like what I found. There was a section about "Hookup Assistants":
"HOOKUP ASSISTANT may be a digital actor, an avatar or a synthespian (e.g. a computer generated "person" or "character"). HOOKUP ASSISTANTS may be employed by freehookups.com or a third party to enhance Your online experience. For example, an HOOKUP ASSISTANT may provide an electronic introduction to new or existing freehookups.com features or functionality, or discourage inappropriate behavior."
In other words: they use fake profiles. It's not just the pictures and the messages, whole profiles are nothing but elaborate fantasies, and not the fun kind. These profiles simulate the real thing to lure visitors into the site with enticing chats so they sign up for a "free" membership.
The site will steal your personal content
I found yet another terrifying blurb in the fine print:
"By posting content to any area of freehookups.com, you automatically grant, and you represent and warrant that you have the right to grant, to freehookups.com and its Members, an irrevocable, perpetual, non-exclusive, fully-paid, worldwide license to use, copy, perform, display, and distribute such information, rights of publicity, and content and to prepare derivative works of, or incorporate into other works and other media, such information and content, and to grant and authorize sublicenses of the foregoing."
To simplify: any picture, text or personal info uploaded to the site can be used by them to advertise, make a fake profile, or do anything else they dream up. Personally, I don't want to come across my picture or messages on some advertisement for a dating site.
These Free Hookups cost too much
I have written reviews for all kinds of dating sites. There are a swarm of bad ones out there, but there are few that promise so much and deliver so little. Despite the word "Free" in their name and claiming repeatedly to be the only "truly free" hookup site, FreeHookups.com was too rich for my blood. It's all a blatant lie.
If that isn't bad enough (and in my book, it is), the site will steal your personal information while spamming you with messages from fake profiles. Trust me: don't waste your time on FreeHookups, it's not worth the price of admission.