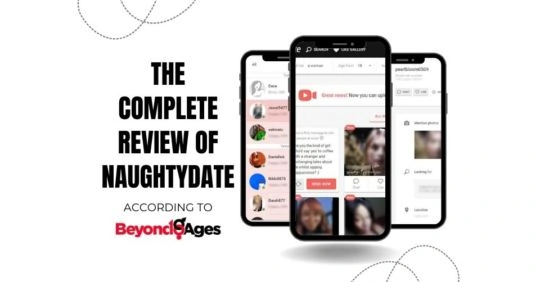 It's no secret, I'm a big fan of online dating. The trouble is, not all sites are created equal, as we're going to cover in this NaughtyDate review.
What I can't decide is whether I enjoy reviewing legitimate, useful sites or questionable ones more. On the one hand, it's interesting reviewing a legit site and delving into the finer details to give you a complete run down.
On the other hand, there's a certain joy that comes from uncovering garbage sites and exposing them for what they are.
In this review, we'll be looking at the dating site NaughtyDate, which poses as a bit of an AFF alternative.
How we reviewed NaughtyDate.com
To review all sites equally, I have a regular process that I run through. This makes for easy comparisons between sites and more helpful info for you.
To get started, I create a free, blank profile on the site and leave it that way for a few days. I want to see if I'm going to get spam emails, inbox notifications or DMs. Often the first red flag I get from a low-quality site is "women" aggressively messaging my blank profile.
After I've given the blank profile some time, I'll finish the profile setup complete with a compelling bio, profile pics and whatever else they offer. I want to use the site to its full extent as a free user and see if I can set up any actual dates.
After about a week I'll move on to a paid profile and use it heavily for another several weeks. I want to see if the paid perks are worth the money and give you a detailed breakdown.
During this time I'm reaching out to a LOT of different women trying to set up dates and meetups. I want to see if these women are motivated to actually meet or if the site is full of women who are just looking for attention and will waste your time.
Of course, if the site appears too untrustworthy we won't be handing over credit card info. Not only do we not want to risk massive fees, but we also don't want to support the people behind those sites.
Sadly, NaughtyDate was yet another site that can't be trusted (spoiler alert!), so no money was exchanged. Perhaps even more sadly for me, I recognized the template immediately and knew what I was dealing with.
Let's talk about that a little more, shall we?
Naughty Date Indeed — Don't Go Reaching for Your Credit Card
To put this site in context, I've compared it against the well-known AFF below. Since they're a legitimate and very popular dating site, they make a good basis for
Overall

Our team rates each site objectively based on many hours of independent research, the features each site offers, and how it compares with other sites. The ratings are the opinion of our editors and their extensive experience.

2
9.5
Quality of Women

Our opinion of how attractive the typical woman is that uses this site and how easy they are to connect with compared to other sites.

2
9
Popular

How many people are using this site to actually meet people compared to other sites.

2
10
Usability

How easy is this site to use and how quickly can an average person begin meeting people compared to other sites.

9
9
Privacy & Safety

Does this site take proper precautions to safeguard its members, their identity, and their data.

1
9
Effective

Our opinion of how easily an average person will be able to achieve their dating goals with this site compared to other sites.

1
10
Value

Will the time and money spent using this site pay off for an average person based on the opinions and experience of our editors.

1
10
Our Recommendation
Don't let the high usability score fool you, this site is pure garbage. It just happens to have a user-friendly interface—credit where it's due.
NaughtyDate is one of many copycat sites
As the rest of those scores might suggest though, this site is not legit in any way. The profiles are fake and the internal messages are aggressive. What's worse is NaughtyDate forms part of a network of sites posing as dating websites. When you read the rest of this review, you'll see just how similar NaughtyDate is to IAmNaughty and AffairDating.
It does make you wonder just how many sites they have in their network. I've personally reviewed three of them but I'm sure there are countless more.
You are going to get a lot of fake messages (how can you trust a site with that?)
One of the biggest problems we found in our review of NaughtyDate.com is that there seems to be a system in place where every member automatically receives messages that APPEAR to be from real women. The problem is that these are most likely just bots.
When you have a site that is automatically sending out messages to members to motivate them to signup for paid memberships it's really hard to trust it. If they're this obvious what else are they actually hiding?
There are way better sites out there
If you're looking for an actual dating site that'll bring you success, we've covered that too. Take a look through our review of the best dating apps and websites and check those out for yourself.
I was happy to see my personal favorite, AFF, make the top of that list. As websites go, this is the one I've found the most success. Their overall user experience is what a lot of their competitors are modeled after too.
I digress. . . let's get back to the NaughtyDate review.
Positives and negatives of NaughtyDate
While NaughtyDate isn't a site we'd recommend if you actually want to go on any naughty dates, the site does have a few things going for it . . .
Clean, simple user interface
Fast load time
Easy to navigate
A constant stream of instant messages you can't reply to
A constant stream of messages in my inbox
Even so much as clicking on one of these messages and you're prompted for payment
Not a single real user on the site
Profiles, pictures and members on NaughtyDate
One thing that makes this site particularly dangerous is that at first glance, it's plausible. As a first impression, the site doesn't give off any immediate red flags.
The site is well built, loads fast and gives you a grid of photos that you might actually find on legit sites. While similar sites are filled with porn photos and attempts to imitate how forward women talk, this is different.
The photos are typically the style and quality you'd find on Instagram. The bios often appear half-complete (which is common with real users, believe me). Any profile that does have bio text is very short and realistic. Take this profile as an example:
A realistic photo and sparse with information. You'll find a thousand just like it on Tinder! It's not until you dig deeper that you confirm it's all a ruse designed to get your credit card details.
Having reviewed several sites in their network, I can assure you there are no women to be found here.
NaughtyDate design
As I mentioned above, the design of this site is actually really good and that's dangerous. It feels like you're using a legitimate dating site until you try to have a conversation.
Account creation, menu navigation, user searches and profiles are all very well done. The interface is clean and so intuitive. It's almost a shame they didn't put their skills to good use making a real site but alas, here we are.
I'm being impartial here but don't let that fool you. This site is still garbage. It's just good looking garbage that's easy to use.
Messaging and chatting on NaughtyDate
I certainly had no shortage of inbound communication while I prepared this NaughtyDate review. Before I'd even added photos to my profile I'd received 73 messages in my inbox and 82 notifications in general.
As much as I'd love to take this as a compliment with 73 thirsty women after me. . . it's just spam. 73 messages to a blank profile.
If you click on any of these messages or DMs you're immediately directed to the pricing page to sign up. That's kind of how these sites operate. They prey on desperate men believing women really are trying to chat with them.
As you can see in the screenshot of my inbox below, many of the messages can even be read without paying. They're hoping curiosity will get the better of you and you'll just have to see what 'Jewel' and her friends have to say.
Since I don't have a premium membership for this site, I can't give you examples of trying to communicate. What I can tell you from reviewing so many similar sites is that it'd be garbage.
They'll do one of two things. Usually, it's some kind of AI that does a mediocre job at responding like a human. Otherwise, it'll be someone responding in broken English telling you how horny and desperate they are for you.
Their aim here is to keep this ruse going long enough to get another month's subscription out of you. Ultimately though, it's all fake and leads nowhere. There's an excellent chance you're either talking to a bot or some guy in an offshore call center.
You do get to send 5 free messages with a free account. Out of interest, I tried sending messages and the result wasn't shocking. 2 minutes later. . . "upgrade to read". Sigh.
What can you do with a free membership?
Honestly, not much. These sites rely on giving you only small amounts of functionality before you sign up. Not only does this leave you feeling like you're missing out on opportunities by not signing up. It also makes it easier for them to hide what's really going on.
The more you had access to, the easier it is to see the site for what it is and so you'd never pay.
With a free membership you can set up your own profile, look at other profiles and receive spam. That's it.
You're not going to get any dates out of this site, even if you do pay for a membership.
Advertisements on NaughtyDate
Another hallmark of dodgy dating sites is the presence of paid ads. Their primary goal is to fool you into handing over your credit card info.
Since most people are smart enough to spot the red flags, they hedge a little by making ad revenue. Even if you don't pay them, they're getting money simply by pushing ads in front of you.
These ads are tame compared to what a lot of dating sites throw at you but they're paid ads nonetheless.
Unsurprisingly, they're also the same ads I found on their other, identical dating sites.
Just take a look at these screenshots from IAmNaughty and AffairDating. The similarity to NaughtyDate is uncanny:
They even use the same trick with the text link in the footer. The text suggests by clicking it you'll be shown more matches similar to the profile you're seeing. What actually happens is you're redirected to another dating site.
In this particular case, you're redirected to CheekyLovers. While I'm sure this is another totally reputable site, I didn't bother going further than their home page. I'll leave that mess for another day.
NaughtyDate pricing
Pricing for NaughtyDate.com is much like you'd expect to see on most dating websites. It's done on a subscription basis where the longer you commit to, the more cost-effective it becomes.
Given that this website is questionable at best, they really want to push you toward the longer duration. It's actually pretty surprising they offer a 1-day subscription since that's all it would take to realize just how bad the site is!
NaughtyDate Review: Frequently Asked Questions
In case you're still not sure about what to think about Naughty Date, here are some simple FAQs.
What is NaughtyDate?
NaughtyDate is a low-quality site that poses as a legitimate dating website. In my experience doing this review and using the other sites in their network, I can assure you there's not a single real user on here.
It's all fake messages and fake profiles designed to fool you into signing up. Steer clear.
Who actually owns Naughty Date?
Naughty Date is owned and operated by Blue Vision, a company registered in Bulgaria.
How can I contact NaughtyDate.com?
You can email NaughtyDate.com at [email protected].
Is NaughtyDate real?
Yes, NaughtyDate is a real site. However, its users seem very questionable.
Is Naughty Date legit?
No, Naughty Date is not a legit site. We urge you to stay away from it.
Is NaughtyDate.com a scam or fake?
While NaughtyDate.com might not be an outright scam, its use of obviously fake profiles makes it a site you should avoid.
Is NaughtyDate safe?
NaughtyDate isn't a safe site to use if you want to find actual dates.
What are Naughty Date alternatives?
Instead of testing this site for yourself, read our review of the best hookup apps and websites. Put your time into a legit site and set up some real dates.
How does NaughtyDate.com work?
When you log into NaughtyDate.com, you're presented with profiles of women within your area. Then you can message any of them if you have a paid account.
Is there a NaughtyDate app?
No, NaughtyDate doesn't have an app.
How much does Naughty Date cost?
Below are the payment plans for Naughty Date:
One day: $0.99
One week: $7.00 ($1 a day)
One month: $28.80 ($0.96 a day)
Three months: $48.60 ($0.54 a day)
How can you use NaughtyDate.com for free?
When you set up a profile on this site you're given a free profile by default. That profile doesn't really let you do a whole lot but don't let them trick you into paying for a premium subscription.
Can you send messages for free on NaughtyDate?
No, you need a paid NaughtyDate account to send messages.
How do you cancel your Naughty Date account?
To cancel your paid NaughtyDate membership, just follow these steps:
Click your profile photo in the top right corner
Select "My Settings"
Click "Billing History" (¾ of the way down on the right) then "Deactivate Subscription"
Follow the steps in this wizard to cancel further payments
How do you delete your NaughtyDate account?
To delete your profile just follow these steps. Note that you'll have to cancel your paid subscription before you can do this.
Click your profile photo in the top right corner
Select "My Settings"
Click "Remove Account" (¾ of the way down on the right)
Follow the steps in this wizard to delete your profile
Given the nature of the site I'd suggest keeping a close eye on your bank statement in the coming weeks too.
It doesn't really seem like the type of site to sell your info but it'd be wise to confirm that your subscription is actually canceled.