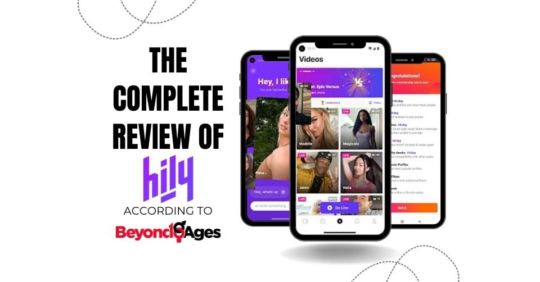 We've reviewed literally hundreds of dating sites, some of which work surprisingly well despite the lack of popularity in mainstream media. The Hily dating app is one that's been around for a while, and we've decided to give it a try. In our Hily review, you'll find out what we loved, what we hated, and how much better (or worse) it is compared to other sites.
But first, what is Hily? It's the dating app that launched in 2017, promising to help spark better conversations between singles. Indeed, the app includes many features to help you find and communicate with a potential partner. But that doesn't necessarily mean it's more effective than other dating apps to help you find that special someone.
That's why I was keen to write this Hily review for you.
Here at BeyondAges, we have made it our mission to produce the most comprehensive dating app reviews, so you don't waste time or money on a service that's unlikely to deliver a steady flow of new sexy women into your life. Our reviews are based on an extended period of testing the apps and trying to meet women ourselves.
So, read on to find out how easy it was to connect and arrange to meet with great women on Hily.
How we reviewed Hily
This Hily review was based on my real-life experience testing out the app and trying to meet attractive women for an extended period of time. I tried both the free and paid features of the Hily app to see if paying for a membership is worth it.
I used the same stock photos, bio and demographical information that we use for all of our BeyondAges reviews. I sent messages from our secret file of tried-and-tested opening lines to 50 women on the Hily app.
While you'll learn about all the key features of Hily in this review, our ultimate verdict was based on how many women responded to my messages and how many were keen to swap contact details with the intention to meet for a date.
Since we use the same profile for every review, I am able to compare Hily to other dating apps and give you a reliable verdict on the best one for your needs.
Our 2023 Hily Review – Should You Ditch the Mainstream Apps for Hily?
This Hily review begins with a basic summary, so you can get a super-quick verdict on the Hily dating app. The summary is perfect for those who don't care to hear every detail about this service.
Below, you'll find ratings out of 10 for the key aspects of Hily, based on what we know men find most important in dating apps. As a useful reference point, these ratings have been compared to AFF (it has a great free trial), which we have rated as the best hookup site on the internet for quite some time now.
Overall

Our team rates each site objectively based on many hours of independent research, the features each site offers, and how it compares with other sites. The ratings are the opinion of our editors and their extensive experience.

5
9.5
Quality of Women

Our opinion of how attractive the typical woman is that uses this site and how easy they are to connect with compared to other sites.

5
9
Popular

How many people are using this site to actually meet people compared to other sites.

4
9
Usability

How easy is this site to use and how quickly can an average person begin meeting people compared to other sites.

8
10
Privacy & Safety

Does this site take proper precautions to safeguard its members, their identity, and their data.

10
10
Effective

Our opinion of how easily an average person will be able to achieve their dating goals with this site compared to other sites.

4
9
Value

Will the time and money spent using this site pay off for an average person based on the opinions and experience of our editors.

5
10
Our Recommendation
Hily has a familiar design to most of the mainstream dating apps available on iOS and Android.
On the first tab, you'll find a pack of profiles for you to swipe on one by one (right for yes, and left for no). If that person swipes right on you, the app will make it possible for you to start messaging each other and hopefully set up a date.
The free version of the Hily app is reasonably generous
The free version of Hily allows you to swipe right on 100 people per day, and you'll be able to send an unlimited amount of messages to your matches. You can also choose to message one person per day before matching with them and reveal one person who already swiped right on you per day.
The paid version of the Hily app will help you meet someone faster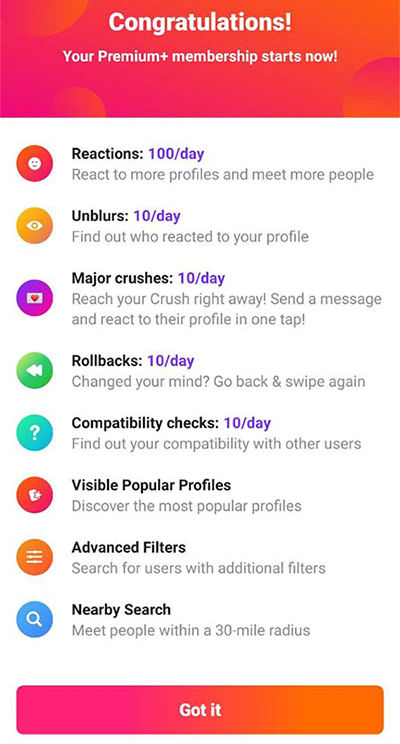 The Hily app offers new users a "free trial" of its premium edition, although this doesn't unlock as many features as paying for it. Once you pay for a monthly subscription to the premium version of the app, you'll be granted unlimited right swipes. On top of that, you can reveal up to 10 people per day who already right-swiped on you, and you can message at least 10 people per day before matching with them.
I say "at least" 10 per day, because sometimes the app will recommend compatible matches to you and allow you to message these people before matching without that counting towards your total of 10 per day.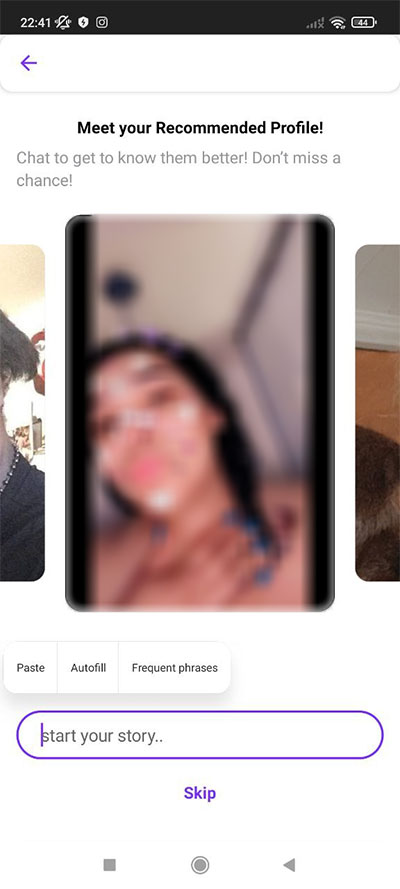 The women on Hily were reasonably keen to meet for a date
Hily offers its users ice-breaker prompts as part of its efforts to encourage better conversations. While these aren't terrible, I stuck with my own list of tried-and-tested lines and the women of Hily were reasonably responsive.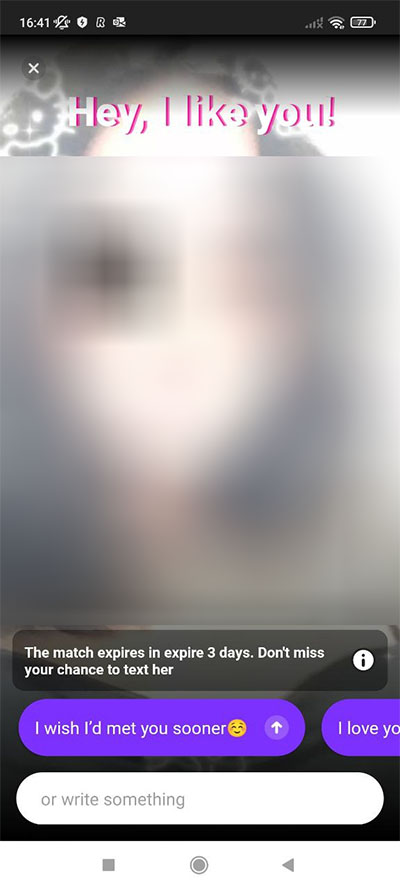 It's also possible to take a personality test and use the results to receive recommendations of members who are most compatible with you, but I stuck with the tried-and-tested method of messaging every half-decent-looking woman on the app.
I sent messages to 50 women and received 9 replies. Out of these, I managed to swap contact details with 2 of these women with the intention of meeting for a date. These are far from the best figures we've ever seen during our tests.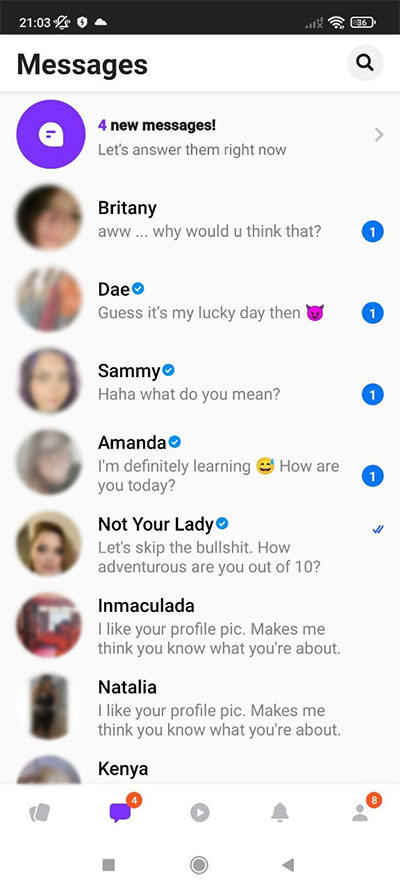 There were plenty more women to swipe on in the local area, after the test was complete, which isn't the case for some of the apps we test. So, it's conceivable that I could have landed more dates if I decided to keep using the app.
Why AFF is a better option
The Hily dating app isn't bad, but it pales in comparison to the tried and tested AFF.
AFF ranks as our number one hookup site not only because it is packed with gorgeous women, but also because of its attitude towards casual sex. This app makes it abundantly clear that it's for hookups in all of its marketing, meaning the women you find on it are undeniably ready for some bedroom action.
This typically means you'll be able to hook up in record time once you make a connection on AFF. No need to spend days messaging back and forth before actually meeting. Compare this to Hily where women are less open about what they're looking for. In their profiles, you can see if they're open to hookups. But more often than not, you'll find a description of themselves and what they're looking for in a match–not much to indicate whether they want to hook up or be in a relationship.
The AFF website is simple to use and it's running a free trial, meaning you can see for yourself just how easy it is to find some action.
Positives and Negatives of Hily
Here's what we liked and didn't like about HILY:
There are plenty of women to choose from on Hily
The free version of the Hily app is generous
Hily recommends ice-breakers, so you can send more memorable messages
You can take a personality test and the app will recommend women with compatible personalities to yours
You can potentially connect with others using its live-stream video service
The women on Hily aren't as responsive as those on other apps
The premium edition of the app still has limits
Profiles, Pictures, and Members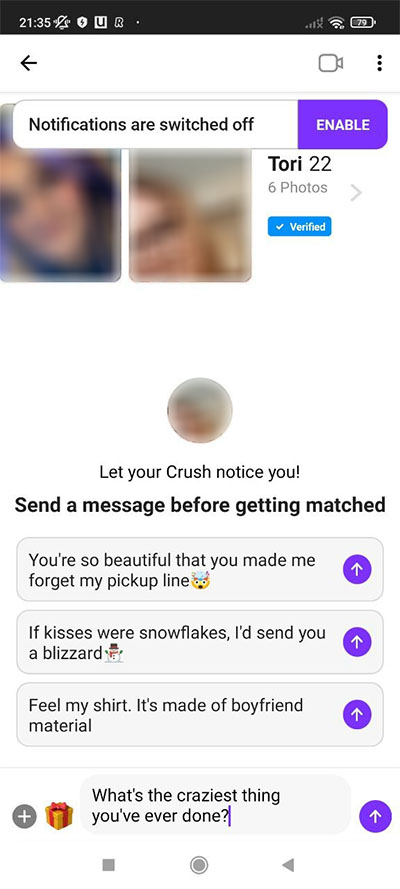 Hily allows you to add a fair amount of detail to your profile. The app helps users to make their profiles more complete by highlighting what information hasn't been added yet. If other members have taken the Hily personality test, you can click a button on their profile to see how compatible you are with them.
You can add up to six pictures to your profile. Most of the members I encountered chose to add multiple pictures and write a short bio.
As well as adding photos, you can live-stream on Hily or join other members' live streams. A nice touch that helps to make the app unique.
Design
There's nothing that truly stands out about the design of the Hily dating app. It's more or less the same as every other mainstream app where you swipe left and right in the hope to get a match. That's not a bad thing though. The familiarity of the app makes it easy to use.
Messaging and chatting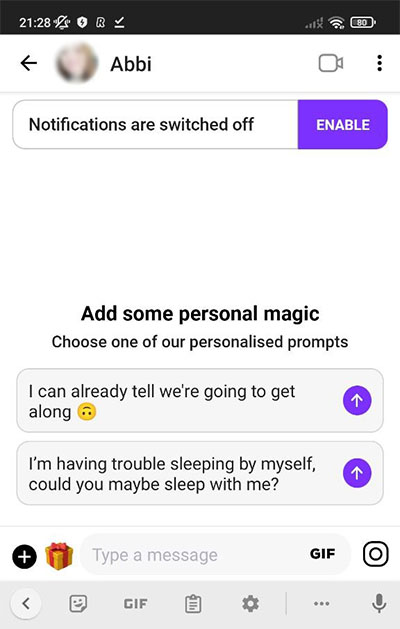 One of the most unique features of Hily is that it recommends ice-breakers for you to send to your matches. These aren't terrible – and it's arguably quite useful since most guys tend to open with a variant of "hi".
At the same time, I imagine women would prefer if you spoke from your heart, rather than sending them  a message created by an algorithm.
The ability to message members before you match with them is another standout feature that might allow you to charm women with your witty banter, even if your pictures aren't tip-top.
Hily is one of the major dating apps that has incorporated a live-streaming service. You can go live by clicking the button on your "edit profile" page. You can also leave messages on other people's livestreams to chat with them that way.
If you link Hily with your Snapchat account, your matches will be able to view your Snap stories. This is another unique feature that can help aid your efforts to connect with women.
Advertisements
There were no advertisements popping up during my time testing the Hily app.
Pricing
The pricing structure is pretty simple. You can use the free edition of the app or pay $14.99 per month for the premium edition.
Hily Frequently Asked Questions
Still unsure about Hily? Here are some quick FAQs to help you learn more about the Hily dating app.
What is Hily?
Hily is a dating app that aims to spark quality conversations between singles. It has been available on iOS and Android since 2017. Based on my experience, there are real, legit women on the app and a good handful of them are open to actually meeting up.
How can I contact Hily?
Navigate to hily.com/contact or send an email to [email protected]
Who actually owns Hily?
Hily was co-founded by Yan Pronin and Alex Pasykov.
Is Hily real?
Hily is a real dating app and I'd imagine it's possible to meet real women using the Hily dating app too. It's unlikely to be the most effective of the dating apps out there though.
Is Hily legit?
Hily is a legit dating app. There is no reason to worry about getting duped or scammed.
Is Hily a scam or fake?
During my intense testing of Hily, I found little evidence of any scams or fake profiles.
Is Hily safe?
There were no signs of Hily being unsafe to use. You can trust this app to keep your personal and financial data safe.
What are Hily alternatives?
You can see our most highly-recommended alternatives to Hily in our list of the best hookup apps and sites we've tested.
How does Hily work?
Hily works in much the same way as most traditional mainstream dating apps. First, you'll be advised to create a profile with photos and information about yourself. Then, you'll need to swipe on other Hily members one-by-one, right to say yes and left to say no. Once two members both swipe right on each other, they have "matched" and will be permitted to message each other and hopefully arrange to meet for a date.
Hily is slightly different because it allows members to send a message to a limited amount of other people before they match. It also allows people to connect with other members via its live-streaming service.
Is there a Hily app?
Hily is only available on mobile devices, via its iOS or Android app.
How much does Hily cost?
A premium Hily subscription costs $14.99 a month, although new members will be granted a free trial for one week.
How can you use Hily for free?
You can use the free version of Hily and probably still land a date, as this version still allows you to swipe right on 100 people per day and send unlimited messages to your matches. The main downside of the free version is that it limits the number of messages you can send before matching to one per day. It also limits the ability to reveal who right-swiped on you to one person per day. As such, the premium edition of Hily will probably allow you to land more dates at a quicker rate.
Can you send messages for free on Hily?
Yes, you can message all of your matches as much as you want on the free version of Hily. However, this does limit the number of messages you can send before matching to one per day.
How do you cancel your Hily account?
You will cancel your Hily premium subscription by visiting the subscriptions tab on the iOS or Google Play store.