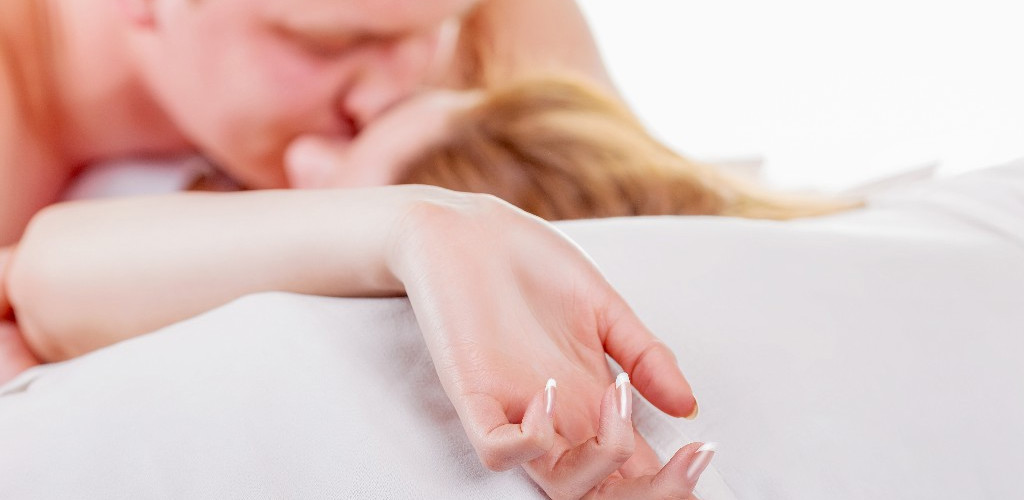 Today I'll talk about how to know when a girl cums during sex.
I'll show you several ways to spot when the woman you're with is cumming. Plus, I'll tell you what to look out for so that you know when she is getting close to climaxing. This will allow you to make the whole experience unforgettable.
Before learning how to know when a girl cums
Great sex is something that every woman is looking for in a partner.
If you can show a woman an unforgettable time in bed, then she will become addicted to you. That's because women love sex at least as much as men do, if not more.
That said, many guys are selfish in bed and become too absorbed in themselves during sex. They tend to focus on getting to their orgasm first and don't give their partner enough attention. This causes them to miss all the clues that the woman they're with is about to climax. Because of that, they lose a great opportunity to show her what they're capable of in bed and take their sexual relationship to the next level.
There are also guys who aren't that great in bed because they're oblivious to how the girl is reacting to what they're doing. Both of these situations can be avoided if more men understood how to know when a girl cums.
But before I show you, I must address something first.
The key to great sex is being present in the moment. If you're too much in your head during sex, then it won't be as enjoyable as it could be. Particularly and especially for the woman you're with.
You see, women enjoy the whole experience of sex. Unlike many men who tend to rush towards their orgasm and call it a night, women don't just want to cum as fast as possible and leave it at that.
That's why it's essential to allow yourself to be entirely lost in the moment if you want to blow her mind. For sex to be excellent for everyone involved, it's crucial to not focus on getting off as fast as possible, but to enjoy every little bit of the experience. Women often say that men who are attentive in bed make the best lovers.
Now, with that tidbit out of the way, here's how to know when a girl cums or is getting close to it:
She tenses her whole body
When she suddenly tenses her whole body while you're going at it, it means that she's getting close to climaxing.
Notice how long she holds her muscles tense because that will tell you how close she is to cumming. The longer the periods when she holds her body tense, the closer she is getting to the end.
When you notice this, just keep doing what you're doing. Eventually, you'll see that she begins convulsing and writhing with pleasure. That means she just came.
This is one of the easiest ways of how to know when a girl cums. You just keep going at it until you feel her tense up nearly every muscle in her body and then watch the magic happen.
Knowing this will let you time your own orgasm so that you can both cum in tandem. If you pull this off, she'll have the time of her life and will feel very connected to you.
Her moans intensify
Unforgettable sex is not just intense and passionate, but it also can be pretty loud. That's why it's important to pay attention to the sounds that she's making and keep vocal cues in mind.
So, notice when her moans intensify and become louder and more frequent. Her vocal cues aren't just for her benefit — they let you know if you're on the right track or not.
If you keep pumping away in a monotone and boring fashion, you won't hear many moans at all after a while. Adjust your position and your body according to the sounds that she makes. If you notice that she starts moaning harder in a particular position, it means that she likes it a lot. Continue whatever you were doing until her moans become louder and louder because eventually, this will make her cum.
Her heart starts racing and her breathing becomes very shallow
If the woman you're with is not very vocal in bed, then don't worry. There are other ways to find out when she is about to cum.
Two of my favorites are to watch out for how she is breathing and to see how fast her heart is racing.
For the latter, it's just a matter of putting your right hand on her left breast so that the base of your thumb is resting on the area where her heart is. This will let you easily feel how hard or fast it is beating. Your hands might be busy, so you can simply pull her in very close and feel her heartbeat with your chest if that's the case.
If her heart's going crazy, then it means that she's enjoying what you're doing very much. If that's also accompanied by her breathing getting increasingly shallow and quick, then you're definitely on the right track.
Continue with your efforts or make them even more intense and you'll soon see her cumming. It's one of those ways of how to know when a girl cums that heavily relies on you being very present and watching your partner closely.
She grabs and clenches the bedsheets, or you
This is another great way of how to know when a girl cums because it's straightforward to notice.
Many women are quite physical in bed, but some have a hard time controlling their hands. When these women are getting very close to orgasm, they often grab the nearest available thing. Usually, it's bedsheets and pillows that suffer their wrath when women clench them in a vise-like grip.
Careful though; if there isn't anything available to grab, you may get your back clawed. That can be particularly painful if the woman you're with has extra sharp nails.
The bright side of this is that you'll definitely know that your partner is about to cum. That's because your back will start hurting like hell and may look like a crime scene after a while.
If you enjoy this, then that's great, and you should time your orgasms accordingly. If you don't, make sure to have a pillow or something similar close by to avoid the bloodshed.
For extra points, when she's about to claw your back, you can physically restrain her hands with yours while you keep pumping away. This will be a very dominant and masculine move which may just cause her to cum even harder.
She begins massaging or rubbing her clitoris
Unfortunately, some women cannot climax from inner vaginal stimulation alone. They may need a little help to get off.
That's why you should take notice if your partner is trying to massage and stimulate her clitoris during sex. If she does it all the time, she may just be looking for a little extra pleasure. However, if she only tends to massage her clit when you've both been going at it for a while, it means that she wants to reach orgasm now.
So, find out which is the case. Because if it's the latter, then you may want to give her a helping hand to make her climax hard. A great way to do this would be when she's laying on her back on your chest. You can just reach around and massage it while you keep doing what you're doing and she'll usually orgasm quite hard because of that.
She tells you
I don't mean that women will straight up tell you "I'm about to cum!" although that may happen once in a while. If all women just told you, then there wouldn't be any point in learning how to know when a girl cums.
Instead, what I mean is that women will often say something like "Wow this feels great!" or "Yeah! Just like that!" during sex.
Make sure not to miss these comments because when you hear them, it means that what you're doing feels very pleasurable to her. Under no circumstances should you stop or try to do something else. Instead, do the exact same action, in the exact same position — just harder!
More often than not, this will result in a very intense and powerful orgasm. Mostly, she's trying to guide you towards her orgasm because she knows her body best, so pay attention.
---
As you can see, there are many subtle and even not-so-subtle ways that women show you when they're cumming or getting close to it. When learning how to know when a girl cums, the most important thing is to pay attention to your partner.
She will give you all the clues you want and need because sex is all about giving and receiving. If you make sure that she gets off during sex and is completely sexually satisfied, you'll be forever in her good graces.
You can also use this to your advantage if you want a really intimate and loving relationship. Armed with the knowledge of how to spot when she's about to cum, you can time your orgasms with hers. Coming to climax at the same time builds enormous connection and intimacy.