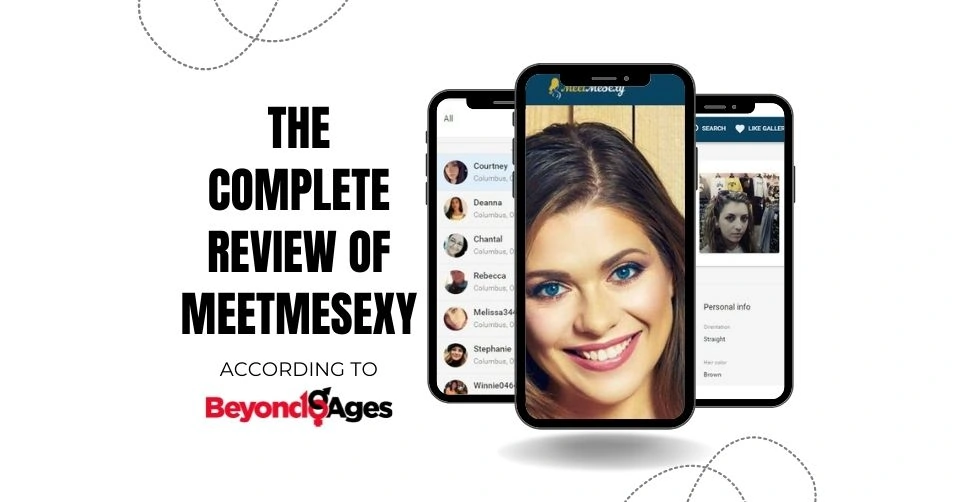 In our MeetMe Sexy review, we spent over three weeks thoroughly testing out the site and scoping out its reliability to see how it could potentially benefit you. It can be very difficult to tell if a dating or hookup site is actually worth using without spending money so we did the hard work for you.
How we reviewed MeetMeSexy.com
We spent many hours using both the free version of the site
as well as spending the $19 per month for the paid version (proof below)
to get the full experience of using the site and what you can expect.
We sent messages to over 75 different women and responded to every single message we received. We don't want you to waste your time (or hard-earned money) on a site that could be deserted and full of generated bots.
We made an honest effort to meet as many women as we could through the site and after our exhaustive top to bottom review of Meetmesexy.com, this is what we found.
What We Found In Our Review of MeetMeSexy.com
To kick things off let's take a quick look at how Meet Me Sexy compares to its top-quality competitor:
Overall

Our team rates each site objectively based on many hours of independent research, the features each site offers, and how it compares with other sites. The ratings are the opinion of our editors and their extensive experience.

1
9.5
Quality of Women

Our opinion of how attractive the typical woman is that uses this site and how easy they are to connect with compared to other sites.

1
9
Popular

How many people are using this site to actually meet people compared to other sites.

1
10
Usability

How easy is this site to use and how quickly can an average person begin meeting people compared to other sites.

4
9
Privacy & Safety

Does this site take proper precautions to safeguard its members, their identity, and their data.

4
9
Effective

Our opinion of how easily an average person will be able to achieve their dating goals with this site compared to other sites.

1
9
Value

Will the time and money spent using this site pay off for an average person based on the opinions and experience of our editors.

1
10
Our Recommendation
After conducting numerous hours of research and trying the site for ourselves, this is not a site we would recommend. In short, the site appears to thrive on sketchy marketing tactics without actually helping you meet any women. We found that Meet Me Sexy is full of fake profiles ("bots") and generated messages. The site is also expensive, meaning you do not get the benefit for the bargain. In our experience, we did not successfully communicate or meet any REAL HUMANS from the site. There are other sites out there that contain real women, unfortunately, this is not one of them.
MeetNoOne.Com
MeetNoOne.Com seems like a more fitting title. The site does not seem to have one, not even one potential real person. This was evidenced by our repeated attempt to gain a response to the almost one hundred messages sent out. We were patient too, we explored the site for several weeks to give it a fair chance.
MeetMeSexy is just a tacky illusion that uses fake and stolen profile pictures to try and give off the impression that these are real women. The site is plagued with deceptive marketing techniques that are buried in their terms and conditions which state that most of the messages sent are from staff and are not the person in the photo. I can assure you, the staff isn't looking to speak either. They just send a random message, and when we replied, hoping we actually received a real message, guess what, no response. So, even when we would respond back to a message we received, we still did not get a response.
Waste of Money!
The site is full of "upgrades" that are practically useless.MeetMeSexy uses these "upgrades" like the ability to read a message received, you cannot open it or read it until you "upgrade." They even make it more enticing by giving you 24 hours to "upgrade" or the message will be "gone forever." That is just one upgrade. The site has them waiting around every corner.
They know that their site is a desert, so they have to keep pushing these "upgrades" as a way 1) for them to make more money
2) to trick you by thinking the more upgrades you invest in, the more likely you are to land a date
So, let's just say, the money you work hard to earn every day should not be wasted on MeetMeSexy, because after our experience, you do not get the bang for your buck. You are going to be much, much, much better off going with a quality site like Adult FriendFinder (try them for free below) if you actually want to meet someone. They are legit and give most guys the best chance for success.
The profile setup is pretty quick
Lots of spam messages
Limited Access without constant Upgrades/additional costs
Lots of fake profiles
Hidden legal disclaimers all over
Absolutely zero results
What Else Our Review Found On Meet Me Sexy
(It's Not Good!)
There is literally a cost for everything. There are "upgrade" options around every corner. For example, to read any messages received you have to "upgrade."
Unfortunately, the first red flag we noticed upon signing on is the overload of messages within minutes that were in response to a blank profile. While the photos of the women mostly appear to be real women, they are more than likely just the face of a bot, simply because they are non-responsive, yet always online (as indicated by the green dot on the top of the photo).
Another negative is the cost. There is literally a cost for everything. There are "upgrade" options around every corner. For example, to read any messages received you have to "upgrade."
There are other sites with real people. I do not think a single person is real. I would not rec. To anyone – waste of money and money could be better spent elsewhere.
Fake Profile Pictures, Fake Photos and Fake Members
All profiles on MeetMeSexy.com seemed to be fake. However, it is a bit misleading because the majority of the photos are real women, but it's just a mask to the bot. It is a game of catfish. Most profiles only have one main photo, few have another photo. Some profiles had inaccurate information listing the age as 70 years old.
Oddly enough one profile had a badge labeled "verified user." However, that account was unresponsive as well.
MeetMeSexy Review Site Design – Basic but not awful
The site's design was fairly basic. It has minimal destinations and is pretty straightforward, yet easy to navigate. It's low quality and seems somewhat elementary. The site gives off the impression that it was put together quickly with minimal effort. The site is also very limiting.
There are only a handful of places you can actually go to. Not to mention the profiles are bare because the site does not have an "About Me" section where you can really express who you are and what you are looking for. Overall, the site design is limited, weak, and poorly constructed.
The First MeetMeSexy Scam – Messaging
MeetMeSexy messaging is less than arousing. There is a basic message box similar to other sites. Out of the 75 messages sent to engage with potential bachelorettes we NEVER received a single response. This was odd because the majority of messages sent were to users that were online (which was indicated by a little green dot on their profile picture). We did this in an effort to get a quick response, but none were returned.
We did, however, find that our inbox was full of about 40 messages we received completely unsolicited. That might sound great but there are a few things you need to remember:
#1 – Almost all of these messages were sent when our profile was completely blank
#2 –  These messages are almost certainly automatically generated fake messages
We investigated further and clicked on the profiles to check out the "woman" behind the message. Unfortunately, we found only one or two poor quality photos with an essentially blank profile.
It was also odd that in no less than fifteen to twenty minutes of logging onto the site for the first time we received messages from what looks like spam, including odd usernames. We then received a message from "admin". The Admin photo is a beautiful brunette with glasses. The admin offered various promo codes to upgrade for unlimited messages and full-size photos.
All messages have a 24-hour countdown. You are not allowed to read the message unless you upgrade, and if you do not upgrade within 24 hours, the message will be deleted. See the screenshot below.
How does the paid version of MeetMeSexy.com compare?
Once we paid for the $19 monthly paid membership (yes, we actually did it) we were able to review the numerous messages received (even with a blank profile). We sent messages to over 40  "women" who messaged us first and didn't receive a single response back that wasn't obviously fake. These were messages that were sent to us first, without anything done on our part. If these were real messages wouldn't we expect a SINGLE response?
Most messages were suggestive and sexual/playful and it became pretty obvious that this is just a technique this site uses to trick people into signing up for a paid membership. After digging a little deeper we found that Meet Me Sexy actually has posted terms and conditions where they tell you that they have "staff profiles" that send auto-generated messages. They are outright admitting that you are going to receive fake messages!
The Free Profile on Meet Me Sexy is pretty much useless
With a free profile on this site, you are pretty much useless. For example, you are not able to read messages received, you are not able to view full profiles (if they even exist). To be able to do anything engaging on the site, you have to upgrade. There are additional "upgrades: if you want to add a read receipt to messages sent. You just won't be able to do anything of value without shelling out the money for a paid membership.
Advertisements on MeetMeSexy.com
One of the biggest red flags you can see when checking out a potential site is if they are advertising competing dating sites. This would be like Coke having Pepsi advertisements on their own label. Quality products don't do this.
MeetMeSexy has a lot of "offer of the day." advertisements that are basically just trying to get you to go to a DIFFERENT dating site and sign up there. We clicked it and it redirected us to another sketchy dating sites to "meet single locals." Any time you see this you should run as fast as you can.
Meet Me Sexy Pricing for Paid Memberships
When you first click upgrade, the site provides a:
3-day trial
1,3, 6-month options as low as .30 cents a day
3-day trial was $4.49.
Upgrade includes:
Unlimited chats
Big photos
Looking for info
Extended search
Premium support
And share photos and videos in chat.
They also offer: $27.99 to get access by purchasing a one-month subscription, $56.97 to get access by purchasing a 3-month subscription, $95.94 to get access by purchasing a 6-month subscription.
There are additional upgrades throughout the website as well. For example, you can upgrade to be a "premium dater." The total upgrade cost for that is $26.49.
Also, if you look in the fine print on the terms and conditions, there is a satisfaction guarantee policy. So, if you're not feeling it, you may be entitled to a refund.
Frequently Asked Questions About Meetmesexy.com
How do you login to MeetMeSexy.com
If you are new to MeetMeSexy, you can click this registration link to sign up for a free account. The sign-up process is pretty straightforward, and you will confirm your email address before you are granted access. You will then fill in your age, and some standard info like your height, weight, body type. You will also be able to upload a photo and input a username.
Once your account is set up you can follow the same link and click the "Login" button at the top right of the screen. You will then be prompted to put in your username and password and then you will be granted access to your account.
What are the quality alternatives to Meet Me Sexy
We spend a lot of time every year looking at all the hookup apps that are actually worth using. These are the few sites and apps that a normal guy can actually have a fair chance of meeting a woman on. If you are smart you will use one of these sites instead.
How do you use MeetMeSexy for free?
Unfortunately, you are very limited as far as what you are able to access with a free account. If you want to be able to read any of the messages, you receive from the women on the site you will need to upgrade" to be able to access any messages for free. You will also need to upgrade for other features like viewing "big photos," read receipts on messages sent, video view/upload, etc.
How do you cancel your MeetMeSexy Membership?
To cancel your membership, you go to your main menu on the top right and click. A drop-down bar will appear, and you will click "settings." You then scroll to the bottom of the page where you will see a button to click that says "Billing History" at the bottom right. Once you click you will see a button in the center of the page that says, "Deactivate subscription." You are then prompted to re-enter your password and go through five steps to successfully cancel your membership.
How do you delete your MeetMeSexy Account?
You simply go to your main menu on the top right and click. A drop-down bar will appear and you will click "settings." You then scroll to the bottom of the page where you will see a button to click that says "Remove Account" at the bottom center. You will then be prompted to cancel your recurring billing before you are able to proceed with successfully removing your account.
Is MeetMeSexy a scam or real?
Our conclusion is that MeetMeSexy is a scam full of misleading profiles and information. The site is dishonest and not effective. As a member of this site, you will not get results and waste a good deal of money trying. Your money is better spent elsewhere on a legitimate site that is capable of real results. This is a typical run of the mill waste of time.
How do you search the MeetMeSexy?
You simply go to the search bar and type in a search term. Below the search bar there is a method where you can sort profiles by distance from your location, age, last activity, and presence of a photo. You can also sort based on preference like ethnicity, race, etc.