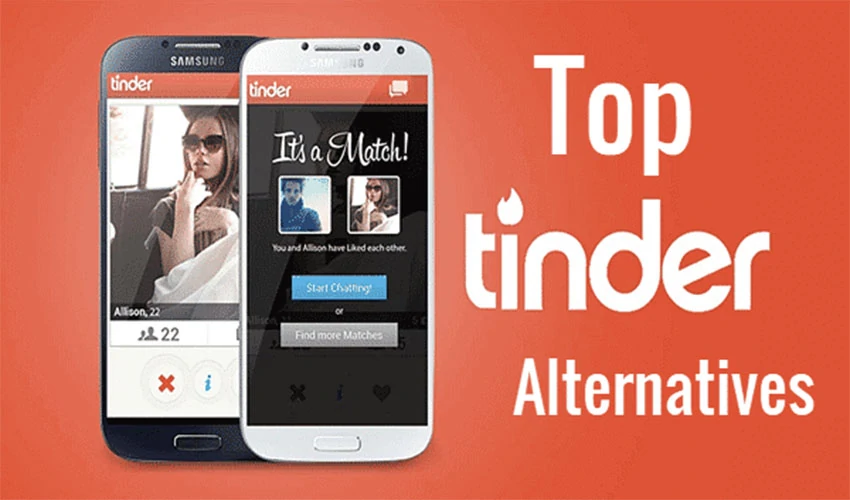 Tinder can be great for a certain type of person but we've found it to be pretty frustrating for the average guy. From our experience, the most handsome 10-15% of guys get almost all of the female attention. That can make Tinder a huge waste of time for a lot of guys.
On the other hand, apps and sites like Tinder can be a fantastic way to quickly and easily meet a lot of women for quick hookups or even longer-term relationships. We spend a ton of time testing out and reviewing 100+ dating and hookup apps every year to find the ones that are going to work the best for most guys.
How we review dating and hookup sites apps
In order to really understand the value a site or app has to offer we spend a lot of time actually using it (shocking). You can't really see if a site is worth checking out for normal guys without using it for several weeks and actually testing it out like we do! A lot of reviews you see are from guys who check out a free trial for a day and give up which makes them worthless.
We set up a free profile first just to see what we can do without handing over money. After a while of trying it out, we take the risk and sign up for paid memberships on the sites we are testing out to get the full experience. Without doing this you really can't see how good something is or know what you are missing (it's just expensive to do for 100+ sites/apps like we do).
We reach out to 50+ women of various levels of attractiveness in our area and send them solid first messages. This whole process gives us a full picture of exactly what the site is like as a real user (who isn't hideous and knows how to talk to women). We spend a lot of time trying to get conversations going and actually meet up with women outside of the site. It also meant putting our credit card on the line so you don't have to. The things we do for you guys, huh?
Now we are going to give you some suggestions for sites and apps that we know will deliver success meeting women. We are going to break it down into a few specific recommendations based on your situation.
There are a lot of apps and sites out there that are complete wastes of time so you will be doing yourself a favor by checking these out first.
Now we are going to go through the sites and apps that are producing great results. You can try all of these sites for free and absolutely should try out a couple. You need to put in a little effort to get results (it isn't a lot of effort).
First, we are going to look at our favorite app for short-term fun:
#1 – AFF is the best alternative to Tinder for guys who are mainly looking for something casual or physical
Overall

Our team rates each site objectively based on many hours of independent research, the features each site offers, and how it compares with other sites. The ratings are the opinion of our editors and their extensive experience.

8
9.5
Quality of Women

Our opinion of how attractive the typical woman is that uses this site and how easy they are to connect with compared to other sites.

8
9
Popular

How many people are using this site to actually meet people compared to other sites.

10
9
Usability

How easy is this site to use and how quickly can an average person begin meeting people compared to other sites.

10
10
Privacy & Safety

Does this site take proper precautions to safeguard its members, their identity, and their data.

10
10
Effective

Our opinion of how easily an average person will be able to achieve their dating goals with this site compared to other sites.

6
9
Value

Will the time and money spent using this site pay off for an average person based on the opinions and experience of our editors.

6
10
Our Recommendation
As you have probably found out for yourself Tinder is a great app for guys but only if you fit a very specific description:
Under 25
Very attractive (like top 10-15%)
Only looking for people who meet the same criteria
If you don't fit that description, you are most likely going to have very few matches on Tinder (we have seen it tons of time). Combine that with it being filled with women just looking for attention and you have a recipe for disaster.
Fortunately, there is another option for guys primarily looking for sex, a friend with benefits, or a primarily physical relationship. We have found AFF (which you can try for free here) to be the best option for more normal guys when it comes to actually meeting women. We have thought about this a lot and the big reasons are:
AFF has a huge number of active users
One of the most surprising things we found out with AFF is that they have around 60,000,000 active members which is a TON. When it comes to meeting women online the more options you have the better results you are going to get. It's just that simple.
When you have millions and millions of options for women who aren't just looking for attention good things will happen.
The
ONLY

reason to use AFF is to hookup

One of the biggest reasons that Tinder has really gone downhill lately is that it's basically turning into a general dating app. Years ago it was very focused on hookups but now it's pretty common to hear about long-term couples who met on Tinder.

For guys who are mostly looking for a sexual relationship, general dating apps are terrible for that. Instead, you need to be using something that is completely focused on hookups, like AFF. You don't want to be messaging women who are looking for 5 dates before things get fun or are saving themselves for marriage if that isn't what you're into.
It's proven to work
When it comes to hookup apps and sites AFF is the gold standard. They have been around since 2006 and have consistently grown. The big benefit here is that there are a surprisingly large number of women over 30 using it. Tinder is really tough to meet older women on but AFF has done a great job attracting way more.
The bottom line is that you should at least check out their free trial and see for yourself. You don't have anything to lose and could meet a lot of fun women looking for the same thing you are.
That brings us to our second option:

#2 – If you are looking for a long-term relationship eHarmony's free trial delivers
On the other side of the spectrum from AFF, you have eHarmony, which you can try for free, and is completely focused on connecting compatible people for long-term relationships. If you are looking for a short hookup or friend with benefits this is the wrong app for you.
There are tons of sites and apps out there that claim to be the best when it comes to finding a long-term partner but eHarmony really stands out for a few reasons after we tried it out:
They weed out all the attention-seeking women really early
One of the first things you find out with eHarmony is that their signup process for a free trial is a little long. They ask you a lot of questions and really try to learn a lot about you. If you are one of the women on Tinder who just want attention from guys with no intention of messaging back you aren't going to complete this process. That means that almost all of the women on eHarmony are actually committed to responding to messages and meeting up (if not messaging you first).
It's such a great experience compared to other sites where you can send 100 messages and never hear anything back! Committed, compatible women are extremely hard to find and eHarmony makes it way easier than other sites.
They have a huge number of women using it and a system that works (it isn't just "swipe left or right")
eHarmony has had incredible success finding compatible couples. 4% of all marriages in the US with eHarmony. Not 4% of online dating marriages 4% OF ALL MARRIAGES PERIOD. That's a crazy high number.
You are more likely to meet someone you eventually marry than any other site out there. That isn't a guess that is just plain fact. We like to look at all the data when making our recommendations (not just our own experiences). You just don't see data like that for any site focused on long-term relationships.
The bottom line is that there isn't a better option for meeting women for a long-term relationship than eHarmony's free trial. If you value your time and want results check out their free trial here.
#3 – If you ONLY want to meet women 35+ and happen to be a younger guy Cougar Life's free trial works
There is something special about women over 35 (let's call them cougars) that you just don't find with younger women. They have an amazing combination of sexiness, experience, and confidence that can be irresistible. Unfortunately, for younger guys finding and meeting cougars that are interested in dating younger guys is REALLY hard sometimes. There are a few things we really like about Cougar Life:
All the women you see are interested in younger guys
When it comes to connecting younger guys with cougars Cougar Life is fantastic. It really is the ONLY legit site out there that specializes in making this happen. That means that every woman on this site is looking to date younger guys (that is the main reason for being there)! You can save so much time and frustration with Cougar Life you won't believe it.
We all know how difficult it can be find meet single women 35+ in the first place. Then you have to go through the whole song and dance to figure out if she is interested in younger guys. To make things worse, a lot of times they won't even admit they are looking for younger guys in front of their friends! That makes the whole process incredibly annoying.
The mix of relationship and hookup seekers is pretty solid
We have been pleasantly surprised by the diversity of relationship interest we have found on Cougar Life (they have over 7,000,000 members so it isn't that surprising). There seems to be a pretty even split between women who are just looking for younger guys to hook up with and cougars who are actually looking for a more long-term thing. If you are definitely looking to meet a single cougar you have to check out Cougar Life's free trial.
#4 – If you're looking for something a little kinkier, Alt.com is where it's at
When you are looking to meet a woman who has a particular kink or interest in BDSM Alt.com (which you can try for free here) is the best option going right now. They have a huge member base and a really wide variety of search options that let you get VERY specific when looking for women. You can really narrow down your options to the specific women who are looking for exactly the same thing.
Having that first conversation where you bring up your kinks is INCREDIBLY awkward sometimes (especially if you met her on Tinder). You never know how a woman is going to react and things can blow up real quick. The beauty of Alt is that you know ahead of time that the women you are talking too are not only OK with your kinks but fully embrace them.
If you want to make finding women with the same interests 100 times easier you have to check out their free trial.
#5 – Guys who are more interested in BBW should try BBW Match
Tinder is a truly terrible place to meet BBW. It is so focused on traditional images of what beauty is that most of the actual big and beautiful women leave pretty quick. When your photo is the only thing 99% of guys even look at before swiping, you can imagine how bad the experience is for BBW.
BBW Match (which you can try for free here) on the other hand does an amazing job of making BBW feel welcome. There are a few reasons why it's so good:
It's 100% focused on keeping BBW around
BBW Match has a really smart approach to connecting guys with BBW who are mostly looking for hookups. They do everything they can to make the women feel safe and appreciated. Every woman on this site is a BBW and every guy that messages them is into that. That means neither side has to deal with the awkwardness and rejection you see on Tinder.
It isn't just about your photos
Nobody reads your profile on Tinder. On BBW Match, you actually see a lot of women take the time to actually read it. That means guys who don't have the best photos still have a chance. You still want to do what you can to look good (that is still a factor) but it's much less than on Tinder where you basically have two seconds to impress before the swipe happens.
Conclusion
If you haven't been winning on Tinder these days, there's no reason to feel down. These are the five best alternatives we have found to Tinder out there right now. If you can't find a relationship or a hookup on these sites and apps we don't know what to do for you!