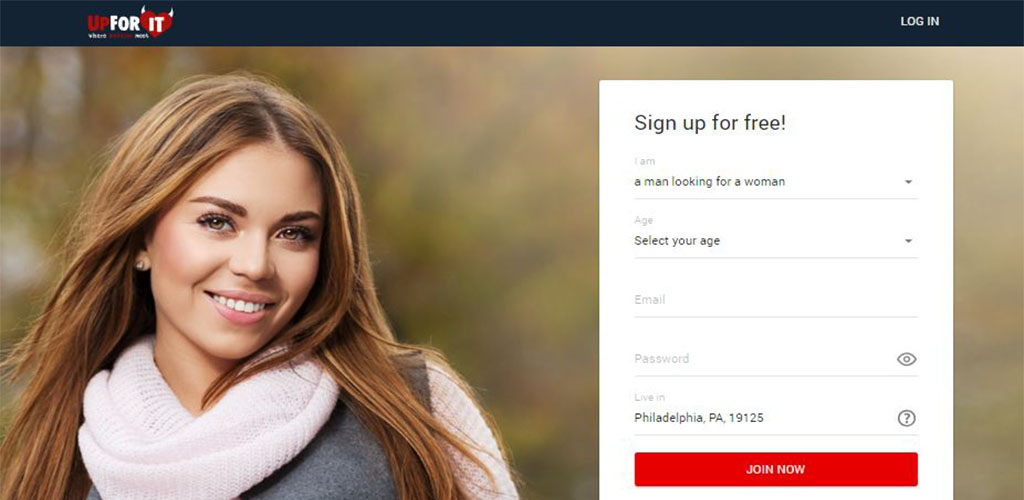 The invention of the internet has made figuring out who wants to sleep with whom a whole lot easier. We have all kinds of apps and dating sites that are catered to those who are just looking for a quick hookup. UpForIt.com is yet another entry in this growing market.
Many of these services are so simple that they include a field where you can say exactly what you're looking for, no beating around the bush. But this doesn't solve every difficulty in hooking up. You still have to make a connection and meet up in real life. To even get that far, you have to make sure that the dating service you're using is legit. As with all things online, not all of them are.
That's where we come in. We put together a complete review of all the top hookup apps to help you know which sites can help you get what you're looking for, and which ones will waste your time and money. Keep reading our UpForIt review to see what you can expect.
UpForIt Review - What Is UpForIt.com Really Up To?

It can be a very difficult and awkward task to find out if someone you want to hook up with also wants to hook up with you. So much of human interaction can be categorized as sly and elaborate courting rituals aimed at figuring out who wants to sleep with whom.
In the movie A Beautiful Mind, Russell Crowe's character cuts to the chase: "I don't exactly know what I am required to say in order for you to have intercourse with me," he says plainly to a woman at the bar. "But could we assume that I said all that. I mean essentially we are talking about fluid exchange right? So could we go just straight to the sex?"
It's a fun scene that ends, to no one's surprise, with the woman slapping him in the face. He should have designed a dating app.
Up For It makes a decent first impression
As I opened UpForIt.com, I found a pleasant sign-up page. They had a picture of a pretty woman in the background and the site had a clever logo of a heart with devil horns. It looked professionally made, which is more than I can say for far too many dating sites.
Scrolling down through the front page, though, things got a little less appealing. There was a ton of promotional text, most of a bit odd. It didn't start out too bad: "You may find your love here, you may find your soulmate if you're lucky. But what you will do is meet up with women you fancy. That's what online dating truly offers you."
From there, it got weirder:
"Find a minx you find deserving your sex-drive, reach out with a lewd offer, flirt and have zipless quality time at her place or at some hotel room. Every third couple in a chat meets for real, so hurry up and have a nice bite of the sex-pie right now!"
I had so many questions. Who wrote this? What exactly is "zipless quality time" or a "sex-pie"? Did this type of writing really work for anyone?
Hopefully whoever was hired to write the copy for the website enjoyed themselves, but none of the text explained the real services on UpForIt.com. A decent dating site should at least be able to provide a concise, clear description of what is has to offer.
There are a lot more women who are "up for it" on Adult FriendFinder
We started off our review of Upforit.com as positively as we could but now we are going to get real. Up For It just is not a site that is worth your time to use. We highly doubt you are going to meet ANY single women, let alone find real success.
If you want a hookup site that will ACTUALLY HELP YOU Adult FriendFinder is the first one you should try. We have tested and ranked 100+ hookup sites and apps and AFF has been at the top for several years now.
Tinder is another great option if you exclusively meet women under 28 and you are a good looking guy. If that isn't the case, we bet you will get better results from Adult FriendFinder (that's what we saw).
It's easy to sign up and you can try them out for free. Give them a chance and you could fill up your dance card pretty quick.
Up For It comes at a price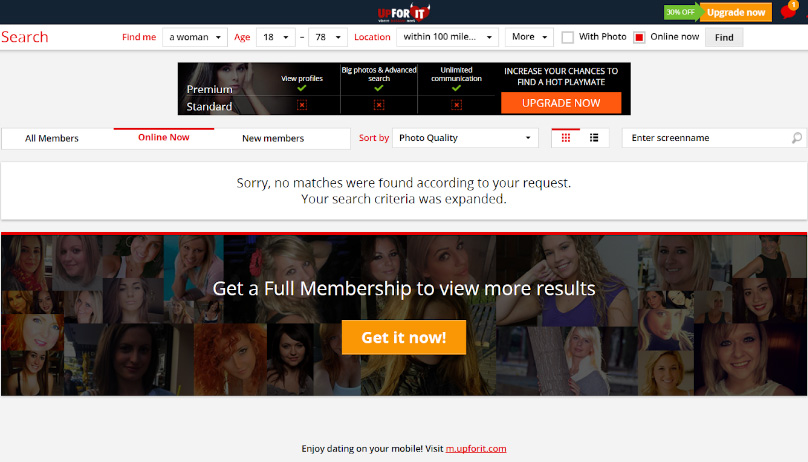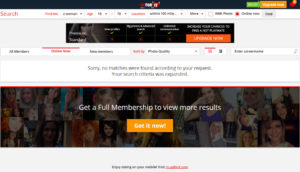 Once I signed up for the website, I noticed that they had all kinds of advertisements for account upgrades. There was a huge banner ad at the bottom of every page telling me to sign up so that I could get more services and see more members.
I was immediately disheartened. My experience with these kinds of pushy sites is that they tend to end up being places where you can't even interact with other members until you pay. Then, once you have paid, you end up chatting with automated bots. It was all too familiar.
Websites that say they are free, like UpForIt, and then don't even offer a basic package of services, such as chatting with other members and viewing their full profiles, are always bad news. It's not just false advertising, they are also usually scam sites, with fake profiles and other schemes.
I was pretty sure I knew what UpForIt.com had in store for me. I was about to be surprised.
How many members does Up For It have?
Now that I had signed up, I looked for other members who were close to me. First, I searched for members in my neighborhood. There were none. Okay, not great, but I could widened my search. I expanded the parameters to my whole city. Again, nothing. This was a problem.
I decided to try searching for members in a major city. There would have to be some members in New York City, certainly. I changed my location to NYC and looked for members within 100 miles. The results: none. Not a single member among 9 million people. That did not speak well for UpForIt.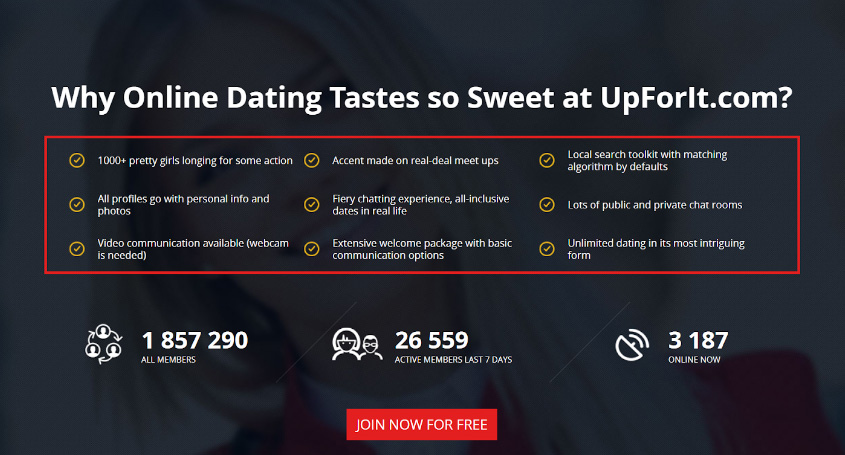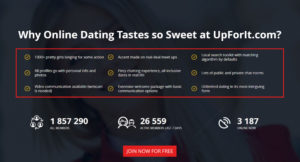 In fact, I couldn't find a member anywhere on the site. Not a single profile. On their sign-in page, the copy had boasted that 26,559 members were active in the last week. Well, they had apparently all left.
It was obvious that UpForIt.com was just the mold of a dating site, the shell of one maybe still in construction. There was nothing to offer on the inside. I had opened a well wrapped gift on Christmas just to find out that the box was empty.
Is Up For It even a dating site?
After discovering the site had zero members, I looked into the terms and conditions for more information. Maybe it would explain in the fine print that I have to do something to unlock their member profiles. I wanted some explanation, but what I found made things worse. The fine print explained:
"We provide on line entertainment and social services through our websites and mobile applications enabling you to contact and engage in interaction with other users."
To put it plainly, UpForIt.com isn't a dating site at all. It's an "entertainment and social" site, whatever that meant.
The terms went on to say, "we will automatically broadcast custom messages created by any user, or selected from a default list of template messages." In other words, they send fake messages from their members. I hadn't received any messages, yet, but I guess it's hard to get messages, fake or otherwise, if a site doesn't have any members.
Privacy issues and third parties
Yet another thing I noticed in the fine print was the site's sketchy policies concerning privacy and third parties. I know you aren't likely to be tempted to use a site that doesn't have any members, but in case you were still considering it, read this: "In accordance with our Privacy Policy . . . your data may be transferred as it is considered to be an asset of ours."
UpForIt.com will take your data and do with it whatever they please. That's scary enough from a site like Facebook, but the last place I want having all my private data and information is a dating site with a questionable online presence.
The terms and conditions continued on to say:
"We have commercial partnerships with third party cam providers ('Cam Providers') which we market to our site users. We do not guarantee or verify the Cam Provider . . . Models affiliated with the Cam Provider may create a profile on our websites."
Not only does UpForIt use fake profiles (when they have any profiles at all), but those profiles could lead to sketchy, unverified cam sites. Seriously, this was one of the worst scam dating sites I had ever encountered. Which, considering how many sites I've reviewed, is honestly kind of impressive.
Don't get down with Up For It
UpForIt.com isn't just a scam site, it's an incredibly lazy scam site. Actually, they barely pass for a scam, given that they don't even have fake member profiles in place of real ones. They have all of the infrastructure for a classic scam dating site that steals your money, time, and information, but they haven't put in the time to make it work.
It's possible that the site creators will get around to getting some fake profiles on the site soon, but don't waste your time with them. It's clear that whatever UpForIt is up to, it isn't a legitimate dating service.