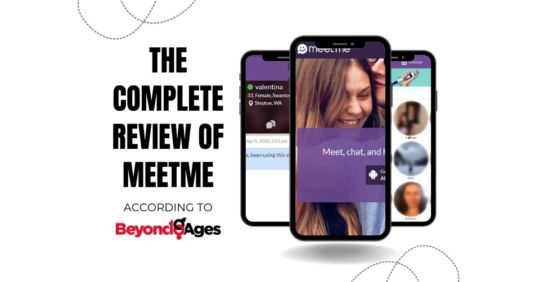 From my experience reviewing so many dating sites, they generally fall into one of two categories. They're either complete trash and a danger to your credit card or they're legitimate. Working through this MeetMe review, I was surprised to find that it bridges the gap between the two.
It certainly made for an interesting review process and I was never really sure what to expect next. If nothing else, it was a pleasant change from reviewing sites that form part of a huge scam network.
You have to be using at least one dating app these days. There just isn't getting around it. It's become so rare to meet other singles in public and be able to strike up a conversation that a LOT of dating has gone online. You need to stop holding out if you have been!
In today's review I'll be walking you through my experience reviewing MeetMe.com and offering my recommendations. If you're looking for specific "how to" steps for certain things, check the FAQ at the end.
How we reviewed MeetMe.com
Before I get into my experience with the site, let's run through my review process for some context. I put a lot of time into this process to make sure you can get the most out of it.
To get started, I'll create a free account for myself and just leave it blank. No profile photo, no bio text or information. I'll leave it to sit that way for a couple of days to see if I get slammed with fake messages.
If I find 65 "women" have messaged my completely blank profile in that time, we've found a winner—it's a fake site for sure. No real woman is messaging a blank profile.
Regardless of the outcome, I'll then complete my profile just as I would on a reputable site. My aim here is to set up actual dates with real women so I want my side of things to be legit.
I'll use the site with this free account for about a week and see if a date is possible without paying.
Finally, if the site seems trustworthy enough, I'll upgrade to a paid account and use it for another several weeks. Again, my aim is to set up as many dates as possible. This gives me some quality insight into how worthwhile the paid perks are.
If I'm on the fence about the site being trustworthy, I'll look around for some outside opinions. Generally googling the site name and the word "scam" is all it takes if the site is bad. This site seems to rely on ad revenue, so the payment side of things here is kind of a moot point.
Now that you know the process we went through to review MeetMe lets get into the results!
Our MeetMe Review — Will You Actually Meet a Real Human?
Now that we have some context for this review, let's see how MeetMe.com stacks up against a known site. AFF (which you can try for free) is easily the best hookup app we've seen lately, especially for regular single guys. Here is how they compare:
Overall

Our team rates each site objectively based on many hours of independent research, the features each site offers, and how it compares with other sites. The ratings are the opinion of our editors and their extensive experience.

2
9.5
Quality of Women

Our opinion of how attractive the typical woman is that uses this site and how easy they are to connect with compared to other sites.

2
9
Popular

How many people are using this site to actually meet people compared to other sites.

8
9
Usability

How easy is this site to use and how quickly can an average person begin meeting people compared to other sites.

5
10
Privacy & Safety

Does this site take proper precautions to safeguard its members, their identity, and their data.

1
10
Effective

Our opinion of how easily an average person will be able to achieve their dating goals with this site compared to other sites.

2
9
Value

Will the time and money spent using this site pay off for an average person based on the opinions and experience of our editors.

1
10
Our Recommendation
For sites that fall into one of the two usual categories, this comparison section is very telling. For the MeetMe review though, it's a mixed bag.
The site looks okay and is functional. But the types of women I found on there generally were not. It has a decent-sized, active user base (they claim a user base of 40 million). But most users were nothing short of toxic. I didn't know what to think in the first few hours of using it. My opinions soon firmed up after I started talking to people though.
I'll get into my recommendation in a moment but if you're just looking for a legit site right now, I'll save you some time. Stick to the top hookup websites and save yourself the trouble.
Using something like AFF means you're getting a real user base and a safe environment. You know they aren't going to steal your credit card info and they take scams very seriously.
Chatting with someone for 20 minutes only to have them send you a link to a paid website is a frustration you could do without.
My recommendation
I'll break down a few major elements below but here's the crux of this review in a few simple points. My recommendation in two words: Stay away.
Don't use it. Stick to legitimate websites and don't reward sites like this with your money. The esteemed user "Ok" was kind enough to sum up the general sentiment nicely:

Of course, it begs the question if it's such a nasty place (and it is), why are you so active here? This isn't the last you've seen of "Ok" in this review.
Legitimate beginnings as MyYearbook
Originally created by two US high school students in 2005, it was launched under the name MyYearbook. It started out with legitimate beginnings and was something vaguely similar to the original Facebook.
It was renamed MeetMe in 2012 and somewhere along the way it devolved into its current state. This may be where their claims of "40 million users" comes from. A sea of inactive accounts that have been accumulating for 15 years and counting.
There's a slight chance this number is legit, but when you consider Tinder's user base of 57 million it seems unlikely.
MeetMe has a very toxic user base
The best way to describe MeetMe is a hybrid dating/social media site. You have the dating functionality at the forefront (hence the name), but there's also a social feed.
Referred to as "Discuss," this tab will show you a feed of what other users have shared. This ranges from memes and political rants to new selfies and "people suck" posts.
The more time I spent scrolling through this feed and reading various threads, the less I wanted to interact.
Take this charming gentleman for example. He seems to be a decent representation of the users on MeetMe.

Don't believe me? A few memes later in the feed and Derry had this little gem to share with the world:

What a charmer.
Scammers, toxic users and inactive accounts
As usual, I reached out to 50 women when working through this MeetMe review. Of those 50 women, here's the breakdown of what I got:
24% scammers
16% normal conversation
24% read my message but ignored
36% message not even read
That's right, I spoke to 8% more scammers than I did real people. More than one in three messages I sent weren't even read.
Thankfully some of the scammers were lazy and easy to spot like my good friend "Valentina" below.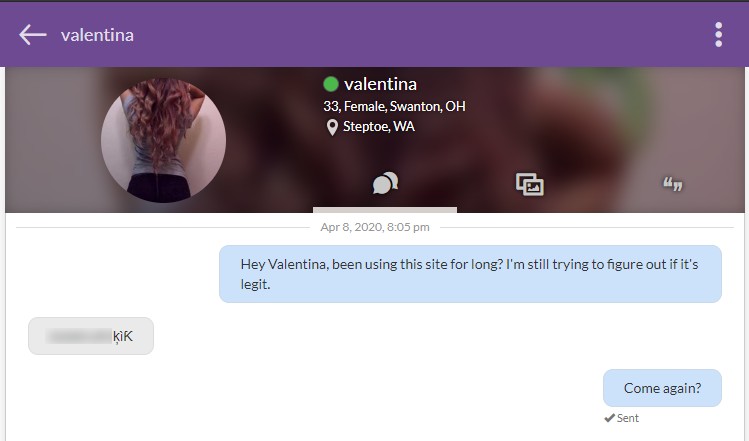 Others would hold an actual conversation before saying they want to chat on another site and dropping a link.
Sadly for us, the moment they sensed I wasn't clicking the link they'd block me, so I couldn't get a screenshot.
Countless reviews pointing out the scams on MeetMe
The more I read about MeetMe, the more examples I came across of people being scammed.
Some like this one on TrustPilot claiming the MeetMe smartphone app scammed them: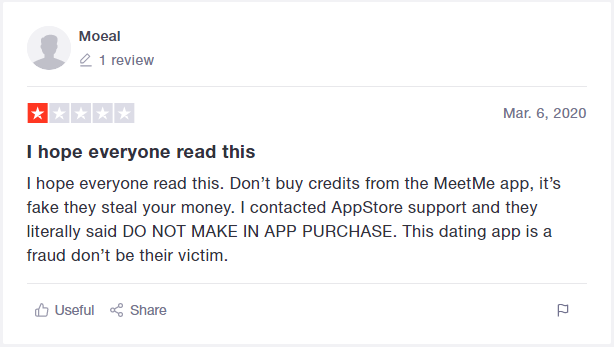 Many, many others saying they were scammed by users on the site. A quick search for "meetme scam" will show you exactly what I'm talking about: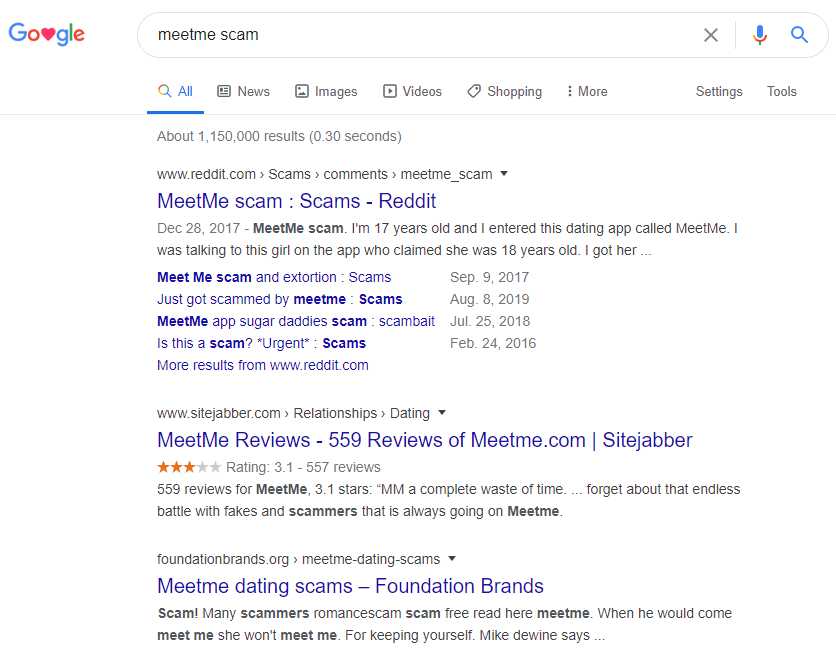 Don't be fooled by the star ratings either. The 5-star reviews you'll find on those sites are clear fakes designed to bring up that average. That 3.1-star rating looks much better than the 1 star they'd have without adding their own fake reviews.
Even if MeetMe itself doesn't take your money as "Moeal" claims, a legit site would stop the scams. They'd actively work to shut these accounts down and implement some kind of verification process. Particularly when said site boasts 40 million users. A site of that scale isn't a minor dev project running in someone's basement.
Positives and negatives of MeetMe
With all this in mind, are there any positive things about MeetMe? And if there are, what are they?
Large user base
Reasonable site design
Filled with scammers
No attempt made to stop the scams
Very few actual users to talk to
Profiles, pictures and members in MeetMe
We've already covered the unsavory members on MeetMe.com, but let's take a quick look at their profiles.
The layout of profiles is actually well done, likely owing to the legitimate beginnings of MyYearbook. It's a shame to see a legit site turn into this really. I digress.
Below is a look at my good friend "Crystal"'s profile. "Crystal" is one of the many scammers that urged me to follow a link and sign up to another site.

As you can see, the profile pages are split into three tabs. Your private messages between you and her, an Instagramesque photos tab and the third is a feed. Much like visiting someone's Facebook profile, you'll see a feed of everything she's posted.
Of course, all three tabs are blank on Crystal's profile because she blocked me after I tried to keep chatting. Quite rude, really.
Dating Coaches Prefer These Alternatives To MeetMe
The easiest and most common mistake guys are making now is using the wrong apps. Online dating is fantastic but it can really suck if you don't make the right choice at the start. These are the apps that our dating coaches are recommending you start with if you want real results:
Site
Our Experience
Our Rating
Free Trial Link

Best For Relationships

Experience Highlights

Easily the best option for long-term relationships
75% of all online marriages start here
70% of users meet their spouse within a year
In-depth signup and matching process

Try eHarmony

Best For Casual Fun

Experience Highlights

The best way to meet women for casual relationships
Best results for regular guys
Over 60 million active members
Not good for long-term relationships

Try AFF For Free

Great If You're Handsome

Tinder Highlights

Great if you're pretty good looking
Very popular, especially if you're 18-22
Really focused on photos
Becoming more of a dating than hookup app

Try Tinder
Design of MeetMe.com
The design of this site isn't going to win any awards but it functions just fine. It's easy to navigate although I have found things a little slow to load. The initial email verification took a long time to come through and uploading photos was a bit of a nightmare.
These days it's predominantly aimed at dating, so the home page targets exactly that. By default you're taken to the "Meet" tab where you're shown a grid of women.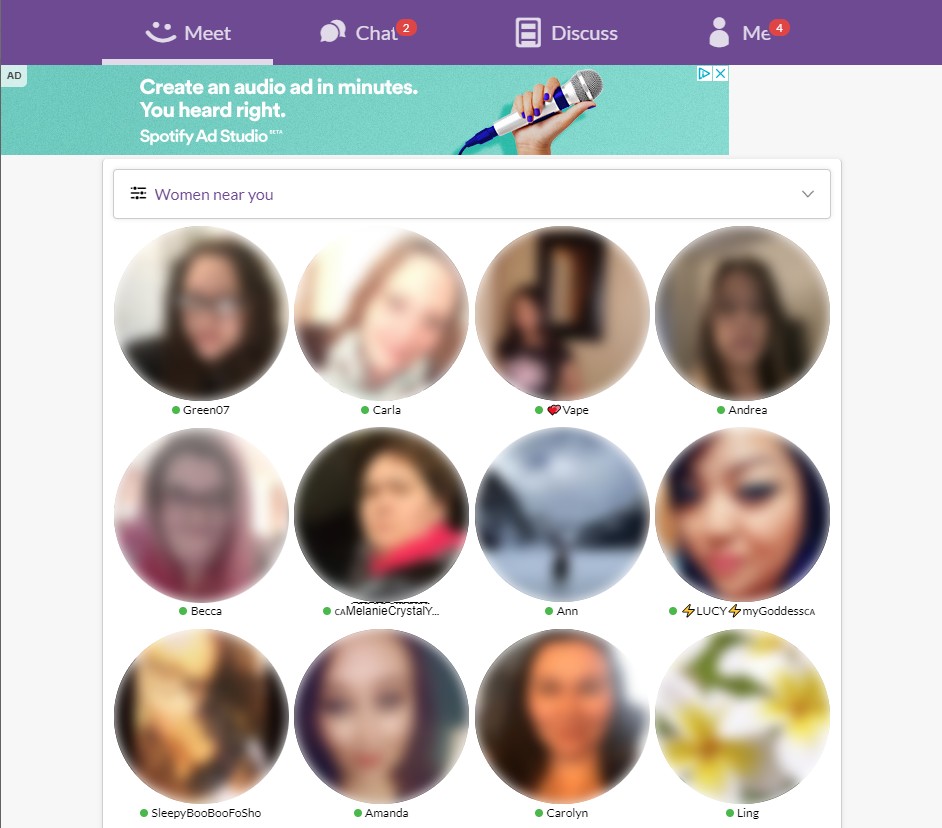 You can control who you see in this grid by clicking the dropdown box at the top and changing filters. No matter what you change here though, you will get people from around the world chatting with you.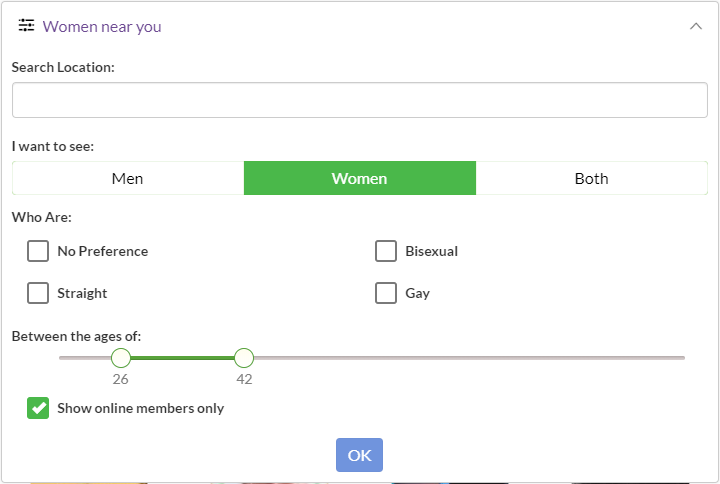 Messaging and chatting on MeetMe
If you happen to come across a real, active user, chatting with them couldn't be easier. Just click on their photo or username and you'll be taken to the messaging tab of their profile.
No need to match or anything, just start chatting with them. That's it. Since only 16% of my attempts at conversation received a response from a real woman, I wouldn't bother trying.
What can you do with a free membership on MeetMe.com?
Actually, everything. There is a MeetMe smartphone app that's said to be just as scam-riddled. That's the only place you can give them money.
I spent some time specifically looking for paid features and the only area I found was the "Live" tab. This tab is essentially a bunch of non-nude cams. Community members can go live and interact with their members just like a cam site only. . . with their clothes on.
You can purchase perks here with Credits but the only way to purchase those is through the app.
That means the web version lets you search for women, chat with them and add them as a friend. You can also be an active part of the (very toxic) community. All for free.
Advertisements on MeetMe
The website's business model presumably runs on ad revenue. You'll notice ads like in the screenshot above and they're in very prominent positions around the site.
They're also part of Google's ad network rather than some sketchy no-name one. At least that means prominent, targeted brands in your ads instead of porn sites, right?
FAQ about MeetMe
Finally, we've reached the Frequently Asked Questions for this MeetMe.com review. Below are all the most common questions we come across for dating sites in general.
If you have a question I haven't answered here please let us know. The more info I can cover here the better.
What is MeetMe?
MeetMe.com is a hybrid dating/social media platform. While it originally launched as a social media platform back in 2005, it's since deteriorated.
It now focuses more on the dating side of things, hence the name, and is full of scammers.
Who actually owns MeetMe.com?
MeetMe.com is owned by The Meet Group, a company that creates social networking apps and sites.
How can I contact Meet Me?
You can contact Meet Me via email at [email protected]
Is MeetMe real?
Yes, MeetMe is a real site that's moderately popular. However, it looks like it's full of incredibly toxic people.
Is MeetMe.com legit?
Not really, no. While MeetMe.com isn't a straight-up scam like many other dating sites, it does host a lot of scammers.
I wouldn't suggest using it at all. The community is very toxic and the volume of scammers renders the site pretty useless.
Is Meet Me a scam or fake?
No, Meet Me is not a scam and it's a real site. But it seems like it's hosting some scammers.
Is MeetMe safe?
While MeetMe itself doesn't seem like a scam. But based on reviews and our experience, it looks like plenty of users aren't exactly safe to interact with.
What are MeetMe.com alternatives?
There are so many better online dating alternatives than this website. Check out our overview for the best hookup apps and websites right now.
How does Meet Me work?
You can think of Meet Me as a site like Facebook, but it's more focused on dating. You can chat with anyone and also post status updates.
How do you create a MeetMe account?
When you open the MeetMe app, you can use your Facebook profile to log in. You can do the same on the website.
Is there a MeetMe app?
Yes, MeetMe has an Android and iOS app.
How much does MeetMe.com cost?
The web version of MeetMe.com is completely free. However, there are various features like profile boosts and a live feed that you can purchase for credits.
How can you use Meet Me for free?
If you're using the website version, not the app, MeetMe is completely free. The only function that you can spend money on is the "Live" section.
This is a collection of non-nude cams where you can pay for various features. If you just want to watch and chat though, even that is free.
How can you search for users on MeetMe?
When you log in you'll be shown a grid of women who fit the default search filters. To change these filters, click the dropdown box at the top of the grid on the 'Meet' tab.
This dropdown box will show you all the filter options you can change. See the screenshot above for more info.
Can you send messages for free on MeetMe?
Yes, sending messages is free on MeetMe. To send a message to another user just click their username or profile photo. You'll be taken to the Chat tab in their profile and you can start typing right there.
No need to match with them first or even add them as a friend.
How do you cancel your MeetMe.com subscription?
There's no monthly subscription on MeetMe.com. You pay for credits.
How do you delete your MeetMe account?
Deleting your account is almost as easy as creating it. Just follow these steps:
Click 'Me' at the top of the home page
Click 'Settings'
Under 'Account Settings', click 'Delete Account'
Enter your email address and password to confirm