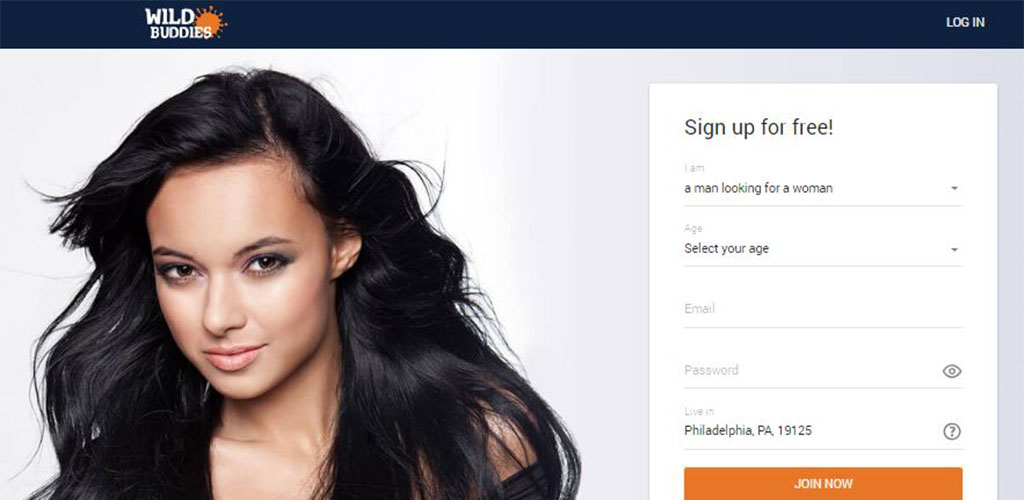 As much as we love it, online dating has its issues. For one, there is a daunting amount of sites to wade through. Some dating sites are fantastic – modern, user-friendly, and full of attractive singles – while others are absolute garbage. As soon as you think you've seen them all, a site like WildBuddies.com comes to your attention. What are you to make of it?
When signing up for a dating site, you have to be careful. That's where we come in. We spend hundreds of hours every year trying out all the apps out there to compile our 2019's Best Hookup Apps & Sites For Casual Sex That Worked For Uslist of the hookup apps that can actually work for you. After reading our reviews, you'll have absolute confidence which ones are worth signing up for and which ones need to be avoided. Keep reading our WildBuddies review to learn where it falls.
WildBuddies Review – Is This A Matchmaker Or A Heartbreaker?

Did you know, according to government statistics, the majority of Americans adult are single? That means, if you've been struggling to find a date, the problem isn't that there's nobody out there for you. The problem is you aren't looking in the right place.
So, where do you look? Well, you can try going out every night, spending twenty bucks on drinks and rejections. Alternatively, you can strike up a conversation with a stranger in your local park or at the grocery store, if you're feeling adventurous.
Better yet, you can go online like tens of millions of other people do every year. Online dating grows more popular with every passing year, and with that popularity comes greater success. Even penguins are using it!
Wild Buddies looks fun; maybe too much fun
On first impressions, WildBuddies appeared to be a welcoming place to find a date. On their front page, before I signed up, there was a happy couple embracing in laughter. The tagline read, "Flirty buddies have fun inside!" Their logo was a splatter of orange paint and goofy lettering that emphasized the WILD. It looked like it could be fun; hopefully the kind you're looking for.
To be honest, the logo reminded me a bit of a Nickelodeon game show from the nineties, where kids competed to throw brightly colored goop at each other. That, along with the word "Buddies" in the name gave the site's initial vibe a kind of juvenile feel. It wasn't a deal breaker, but it did seem a bit odd. What message was the site trying to send with their design?
Of course, first impressions aren't everything, especially in dating. But anyone who tells you they don't matter at all is wrong. If a site looks weird, well then it's probably a little bit weird.
Adult FriendFinder is going to be a way better option for you
If you are still reading our review and have not clicked away you must not be getting the message yet. This site is not worth your time. If you want a legitimate site that will actually deliver on its promise to help you find a hookup you need to be using Adult FriendFinder.
There are tons of scammy sites out there but Adult FriendFinder and Tinder stand apart as the only two legitimate options these days. This site has been around since 2006 and has a giant number of users (over 90,000,000 worldwide). No other site really compares and we would know since we test, rate, and review them all in our annual hookup app review.
It's true that Tinder is also a great option but if you are not a super good looking guy it can be really tough. The best looking guys get almost all of the attention leaving even decent looking guys out of luck. Adult FriendFinder does a much better job of helping more typical guys and girls find someone to have a little fun with.
Check out their free trial and save yourself a lot of time and frustration!
It's what's on the inside that counts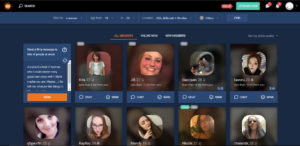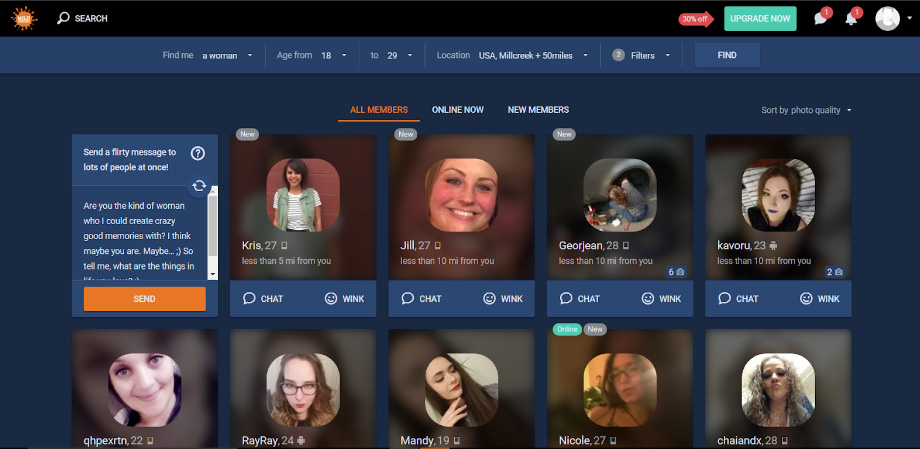 The meat of the site is what really matters. A site can have a totally bogus design, but I'll recommend it if there are beautiful, single women to be met. Thankfully, WildBuddies.com looked a lot better once I got past the sign-up page. The blue and black layout was appealing, and there was an easily navigable search bar. It was dark in a cozy sort of way, kind of like a well organized man cave. I could get used to it.
Once I navigated to a few of the women's profiles, though, disappointment started to seep in. It was like biting into a sandwich and then finding out it's just two slices of bread slapped together, no meat at all. I began suspecting there was no substance to WildBuddies.
Wild Buddies is not free
The immediate issue was that everything useful on this site was behind a paywall. I couldn't view any member's self-description or even view their profile picture at full size. When I got a message from a member, I tried to respond and it just took me straight to an upgrade page. How was I supposed to know whether or not I wanted to pay for a full membership if I couldn't even see what I'm paying for?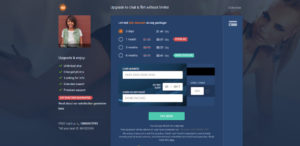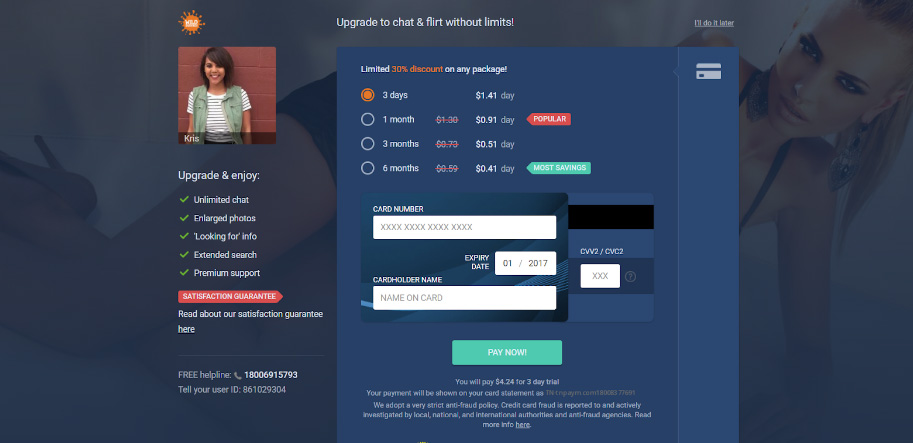 Not all dating sites have to be free. There are plenty of legit sites that require payment or at least offer a higher tier for a fee. Generally, though, there is a free option. They let you see other members profiles, do some basic searches and message other members before you actually have to pay.
I'm naturally skeptical of any site that doesn't let you look at another member's self-description without first subscribing.
Wild Buddies sends fake messages
WildBuddies did allow me to send a few outgoing messages for free. I decided to try it out. I wrote to two women with an intentionally simple conversation starter: "Hello." They both messaged back almost immediately.
"Thanks for checking me out. How about adding some pics as a favor?" Read the first response.
"I'm sure you have some nice photos to add to your profile. What are you waiting for?" Echoed the second one.
Do you think it's a little strange that neither women replied with a simple greeting or that they both responded immediately with nearly the same message? Yeah, I did, too.
Based on other sites I have reviewed, I had a feeling I knew what was going on. Often, member profiles (real or fake) are programmed to respond to messages with standard replies, even if the user isn't online. It's not a good sign for the quality of the site.
Also, why did they want to see my photos so bad?
Wild Buddies wants to take your photo
I was starting to have my doubts about WildBuddies, so I decided to take a closer look. I went to their Terms and Conditions page to see what it had to say about these fake messages. That's where I found this:
"By posting information or content including but not limited to copyrighted content, name and likeness and photographs to your profile pages or any public area of the Services, you automatically grant . . . a non-exclusive, royalty-free, worldwide license to use, copy, publish, display, reformat, translate and distribute."
In short, by using the site, I'd be allowing WildBuddies.com to use all of my content, from my profile pictures to any private messages I might send or receive. They could use my content on other sites that they operate or insert it into advertisements for other sites. It's not unreasonable to think they might even use it to make fake profiles to trick other members (more on that below).
This is not the kind of thing you want to read in the fine print. A legitimate dating site shouldn't be using your own personal information for anything but helping you meet women.
Red flag! Fake profiles!
There is no surer sign you are on a scam dating site than fake profiles. They may use them to get you to upload a photo. They may use them to lure you into an upgraded membership. Either way, it's slimy, tricky behavior.
In WildBuddies' Terms and Conditions, I also unearthed this detail: "We may, from time to time, create profiles which are created, maintained and managed by our employees." I don't know what they mean by "from time to time," but it looks to me like almost all of their profiles are fake. WildBuddies.com includes a horde of beautiful women with one desire on their collective mind: a photo of me.
Unless you've been dying to chat with a WildBuddies employee, you're probably out of luck with this site.
Third-party links
Making things worse, I read even more of the fine print. In one portion, it states, "We have commercial partnerships with third party cam providers." They "do not guarantee or verify the Cam Provider." In other words, if the third parties that they promote scam you, steal your information, or send you to some virus-ridden site, it's not their fault.
Any site that says it's a dating site should focus on one thing: dating. They should want to help you meet single women near you who want to meet up, and nothing else. If they're pushing third-party, adult sites on you, then you can be certain they aren't too concerned with love connections.
Don't they have Facebook in the British Virgin Islands?
One more detail I noticed while researching WildBuddies is that they operate out of the British Virgin Islands. If you're not familiar, the British Virgin Islands is well-known as a tax haven, a place where dubious money can safely be hidden. There's my skepticism coming back, again.
Furthermore, WildBuddies doesn't seem to have any social media presence. Any legit dating site will try to promote itself and connect with members through social media. WildBuddies doesn't even have a Facebook profile, which is a shame, because after researching them thoroughly, all I wanted to do was unfriend them.
Not my buddy
I'll say it plainly: Don't be buddies with WildBuddies. They have little to offer but heartbreak and a potentially empty wallet. If you pay for their full membership, you're most likely going to get nothing but fake profiles and automated messages. You might even end up staring at your own face looking back at you from an advertisement.
Unfortunately, there are many terrible sites out there. It should be clear from this WildBuddies review that they are yet another one to avoid. Still, even if you had high hopes for WildBuddies, don't be discouraged. There remain plenty of legit dating sites out there with real women and real services. You can still meet someone great online, millions of others have.