Although there are plenty of eligible singles in Washington, DC, finding the one for you can be tough. Online dating, however, has made things easier! This is why you should be aware of the best dating apps and sites in Washington DC. Our team of experts has tested over 150 dating apps so you don't have to. Whether you live near the president in Capitol Hill or in Kalorama near Jeff Bezos, we know which ones you should try!
If you know of an app or site that you think should be on our list, let us know in the comments below!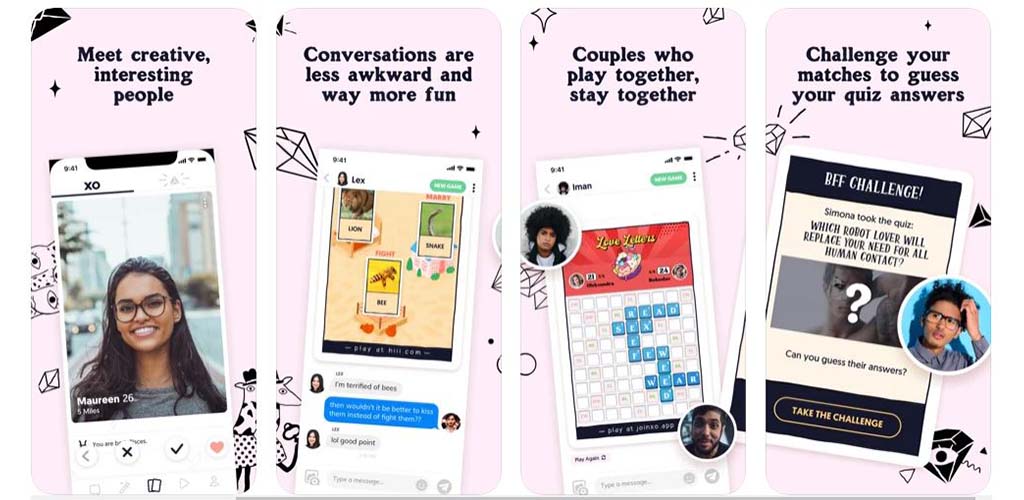 #1 -  XO is one of the best dating apps in Washington DC for dating and playing games (Android; iOS)
XO is one of our favorite dating apps because of how fun it is to use. It has a collection of games users can play together to see if they get along. Playing games with someone is a great way to get to know them without all the awkward small talk.
Users can play games like word association, drawing challenges, rating games and even astrology matching. You can also simply message your matches, so XO also works like a traditional dating app making it the best of both worlds!
Why XO is a great dating app
There is a great selection of games to play with your matches
You can also invite friends to play to help break the ice
Blind dating is another great feature where XO matches you with a random person
What we don't like about it
If you want a paid membership, it's quite expensive
There are not many users on XO yet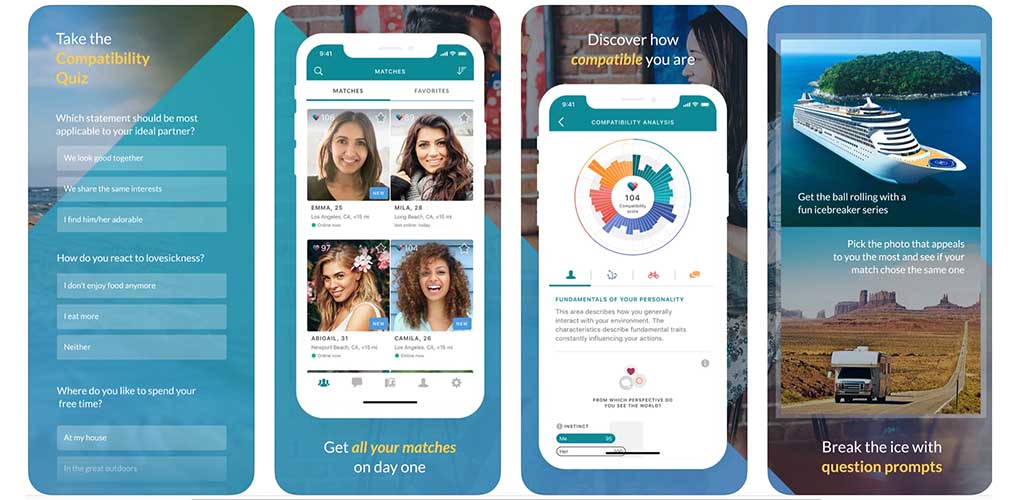 #2 - eHarmony (Android; iOS) is one of the best dating sites in Washington DC for long-term relationships
eHarmony is extremely popular here and has an amazing track record of helping Washington DC locals find long-term partners by using matching algorithms. This app does the best job of matching you up with compatible potential mates that we've seen.
You don't have to scroll for hours. The app does all of the tough work for you. Of course, you might not make a perfect connection outside of the algorithms. Usually, it works like magic. The toughest part is answering all of the questions. It's important because this is how they match you with other single people. You can build chemistry before you even meet.
If you're serious about finding long-term partners this is the site for you.

Why eHarmony is one of the best dating sites in Washington DC
The best success rate out there for long-term relationships
70% of users find their future spouse within a year
Makes it pretty easy to form connections
What we don't like about it
It definately takes more time than most to get started
Not super popular with those 18-22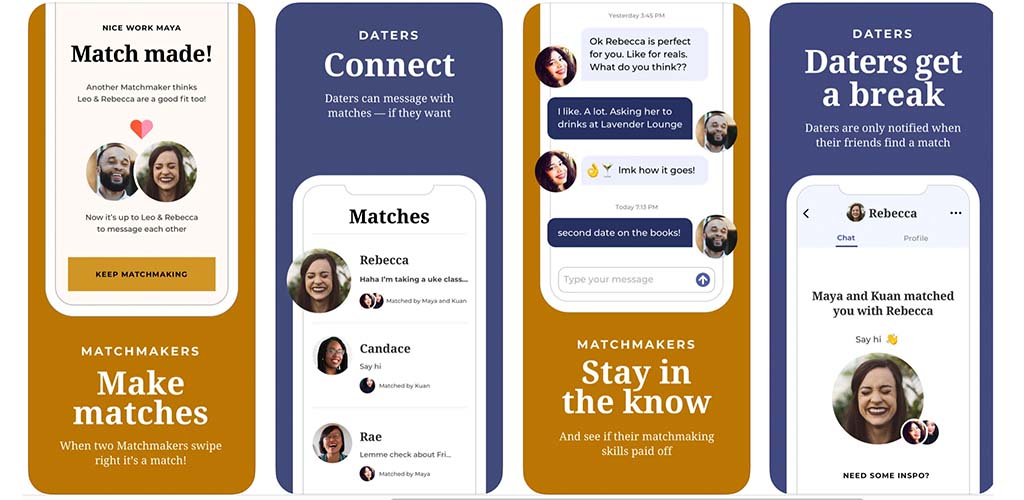 #3 -  Chorus is great for matchmaking (Android; iOS)
Chorus is a dating app where the work is taken out of your hands and put into your friends' hands. Instead of endlessly swiping through profiles, your friends will do it for you! You will sign up for Chorus and set up your profile like you would on any app. Then, your friends can sign up as matchmakers and take control of your profile.
Your friends tend to know you and your preferences better than you do, so they are sure to find the perfect matches. Users can even have a blind date where they will be paired with a random person for a five-minute video chat. This is a great way of getting to know someone!
Why Chorus is one of the best dating apps in Washington DC
Your friends can have fun on the app and you reap the benefits
You receive a notification every time your friend finds a match
Five-minute video chats are a a great way to quickly get to know someone
What we don't like about it
You can't swipe on your own, so you have no control over your matches
Blind date video chats are only available on Mondays, Wednesdays and Fridays

#4 - AFF is the easiest way to find a fling
AFF should be your first choice when you're not looking for a relationship but still want some fun in the bedroom. We've tried a lot of different apps for this (most are awful) and only a couple have proven to work over and over. Tinder is great if you're under 25 but once you get beyond that AFF has shown the best results out of any dating site in Washington DC we've tried, especially for guys.
One of the things we've really liked about this app is that they do a really good job of helping you find EXACTLY what you're looking for. Everyone on this site is looking for the same thing so you can save a LOT of time that you would waste on other sites. If you're 25+ and want to take someone home this is your app.
Why you should try AFF
They have a massive number of users on their app (over 50 million)
We've seen guys have the best success using it, especially those who aren't super good looking and didn't do well on Tinder
It's very straightforward and easy to use
What we don't like about it
Many users can only access via web app
The app is a little dated and not as polished as some others
Sometimes people are a little TOO upfront with what they want
You Can Try AFF Free!
If you're just looking for a fling or more short-term fun you need to
try out AFF's free trial
. We've spent months and months testing out the alternatives (more than 100 other sites) and haven't found anything that gives most guys more options and better results. Give it a shot!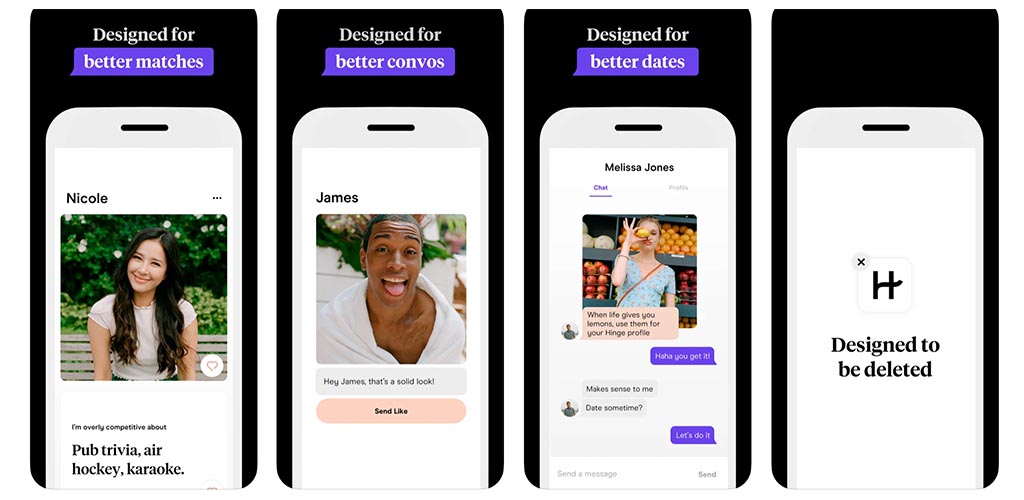 #5 - Hinge is great for getting to know someone (Android; iOS)
Hinge is the perfect dating app for people who want to get to know their matches. Hinge seamlessly integrates pictures and conversation prompts, so users can learn more about their matches beyond just their looks.
Users must upload six pictures and answer some conversation prompts. To match with someone, you must like or comment on a specific aspect of someone's profile. This is a great way of ensuring people are actually looking at other's profiles and not just blindly matching with anyone.
Why Hinge is one of our favorite apps
Hinge is free to use and users can pay for additional features
You receive a daily match recommendation
Profiles include both pictures and fun conversation prompts
What we don't like about it
You may not be compatible with your daily match because Hinge doesn't have personality tests
There is a limit of ten likes per day with the free version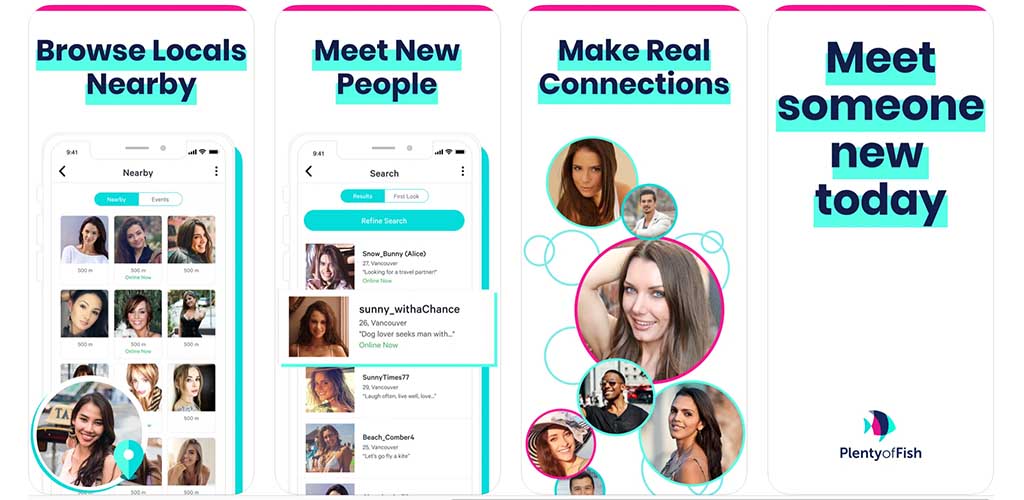 #6 - Plenty of Fish is one of the most successful dating apps (Android; iOS)
Plenty of Fish was inspired by the saying "there are plenty of fish in the sea" when referring to dating. Plenty of Fish is thus a dating app to help you find the perfect fish. When you sign up, you must answer a detailed personality test. You will then receive match recommendations based on your answers, so you are more likely to actually have something in common. You can also search for matches yourself if you prefer.
Why Plenty of Fish is consistently one of the best Washington DC dating apps
There are over 4 million active users on Plenty of Fish daily
You will receive daily match recommendations you should be compatible with
Users don't need to match to message one another
What we don't like about it
There are many fake or outdated profiles on Plenty of Fish
Finding your own matches can be time-consuming as there is limited search criteria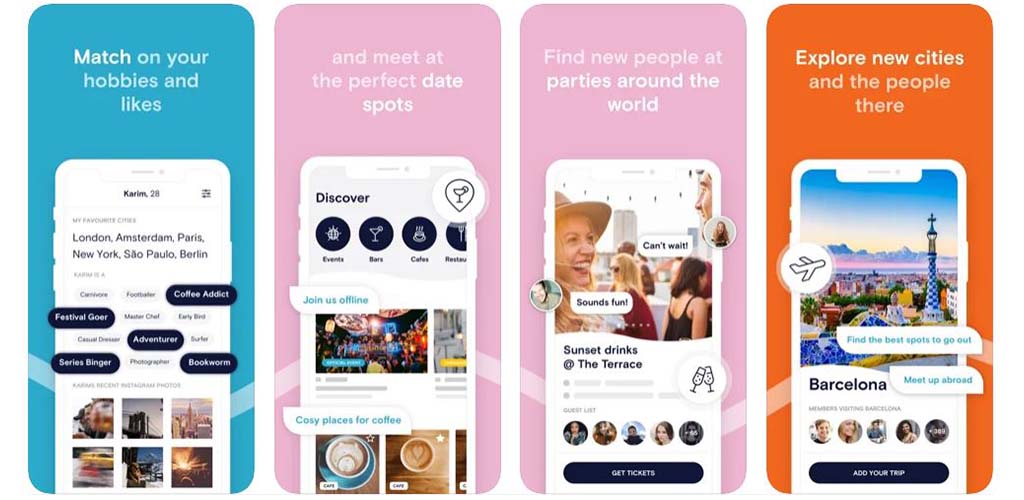 #7 - The Inner Circle offers a selective dating experience (Android; iOS)
The Inner Circle is one of the best dating apps in Washington DC for people who prefer quality over quantity. Many dating apps emphasize a huge dating pool so you can get tons of matches. The Inner Circle only allows young professionals so people can actually make an authentic connection.
To sign up, you must have an active Linkedin or Facebook account and The Inner Circle will decide whether you make the cut or not. This helps keep the dating pool exclusive so users can make quality connections. Once you're approved, you can search for matches with detailed search criteria to find the perfect person.
Why The Inner Circle is such a great dating app
Detailed search criteria helps users find the perfect match
There is an extensive vetting process to sign up so everyone is a good fit
One of the best Washington DC dating apps if you want to attend exclusive events for members
What we don't like about it
You can't send or receive messages with the free version
Location is based on the nearest city, making it harder for people in the suburbs to meet people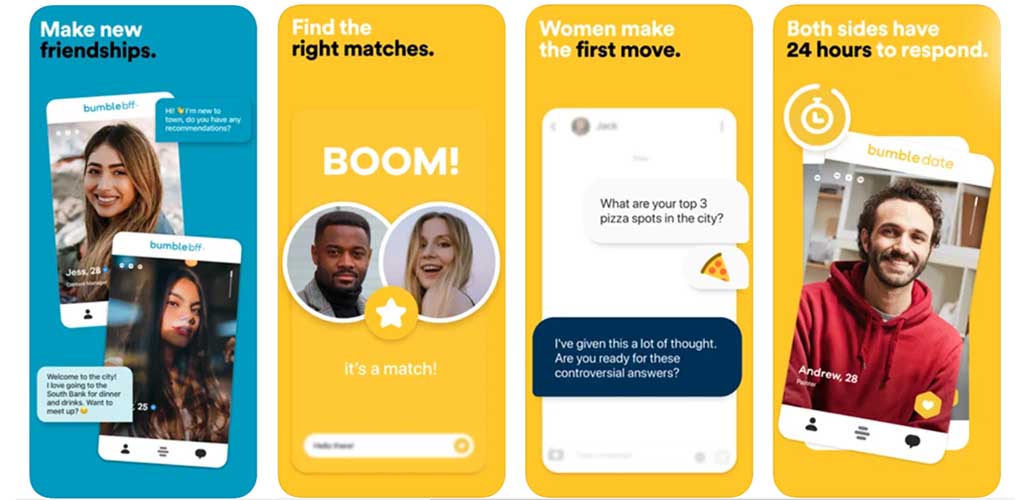 #8 - Bumble is one of the best Washington DC dating apps for women who like to be in control (Android; iOS)
Bumble is one of the best dating apps for women who want control over their dating life. Most dating apps have more men than women, so women can be overwhelmed by constant messages. On Bumble, this won't happen as the woman has to make the first move.Once both users like each other, the woman has to message first or the match will disappear within 24 hours. This gives them a say on who can message them so they won't be bombarded by unwanted advances. It's a great way to keep women on the app!
Why Bumble has made our list
It's one of the best dating apps in Washington DC for singles in their 20s and 30s
Women can choose who can message them
Bumble is very user friendly
What we don't like about it
Some women get cold feet an unmatch before sending a message
Not many women are used to having to make the first move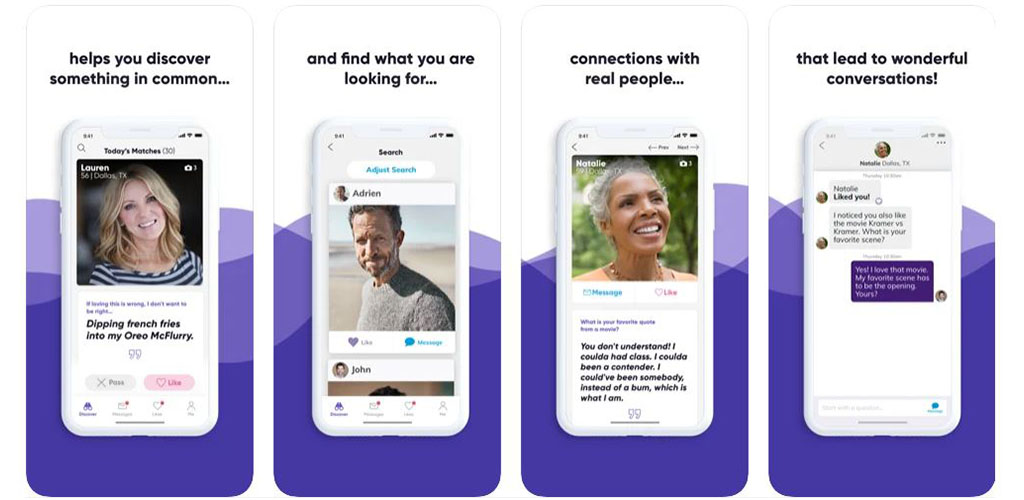 #9 - Our Time is perfect for seniors (Android; iOS)
Our Time is one of the best dating apps in Washington DC for singles over 50 to find their match. Using popular dating apps like Tinder and Bumble when you're older can be tough. The dating pool is mostly younger people looking for flings. On Our Time, you won't have that issue as everyone will be over 50.
Using Our Time is super easy even if you aren't tech-savvy as you will receive ten match recommendations every day. If you prefer, you can also look for matches on your own. On your profile, you can include whether you're looking for a casual relationship, marriage or even penpals to attract people looking for the same thing.
Why Our Time is our favorite dating app for the older crowd
Everyone on the app will be around your age
You receive ten curated matches daily
Members can send emails, chats, texts, gifts, flirts or even talk on the phone through Our Time
What we don't like about it
Having so many features may overwhelm some users
You need a paid membership to send messages
If you are looking for more great guides to finding the right dating apps check these out: