There was a time when getting a close shave meant a trip to the local barbershop. The barber would hold a long straight razor next to your face, while you prayed that the razor won't end up slicing your face. This isn't really a problem now. There are other options that let you get that close shave without risking some cuts. What you need to do is find the best electric razor for a close shave. While these razors won't give you the same level of smoothness that straight razors do, electric shavers are safer and more convenient to use at home.
Electric shavers are the best option if you want to get a good shave in a hurry. You also won't have to worry about cutting yourself. This means that you can squeeze in a quick shave and be ready for your date within minutes. There are many different electric razors in the market, so check out this guide if you want the closest yet safest shave possible!
How The Right Razor Affects Your Dating Life
You may not be giving your shaving equipment the amount of credit that it deserves when it comes to your dating life. As times change, male grooming has grown into a huge industry. The onus for making an effort to look good is now on both sides. As a man, you will not just be judged on how you conduct yourself, your personality and your sense of humor. The way you look also has a huge bearing on the outcome of the night and whether you'll go on another date.
An essential part of looking good is working on your facial hair for either a close shave or well-groomed beard. In situations like this, you want the best possible shaving equipment that you can get your hands on. You want something doesn't just have great reviews but also works for your skin type and other requirements. It can be confusing to pick one particular electric razor as there are a number of factors at play here. However, if you are looking to try out some of the best options available in stores, keep reading!
The Best Electric Razor for a Close Shave
Finding the right shaving equipment can be life-changing. An electric razor can be helpful for people with sensitive skin, those with very curly beard hair or just beginners who don't want to get nicks and cuts.
But how do you find the right electric razor for you? As there are many different options available in stores and online, choosing one can be a little complicated. To make the decision easier for you, here our list of the best electric razors for a close shave. We've compiled this list based on in-depth expert reviews we've gathered from different sites.
Best Bang for the Buck: Panasonic Arc5 Electric Razor | $119.99 | Click to Buy Now on Amazon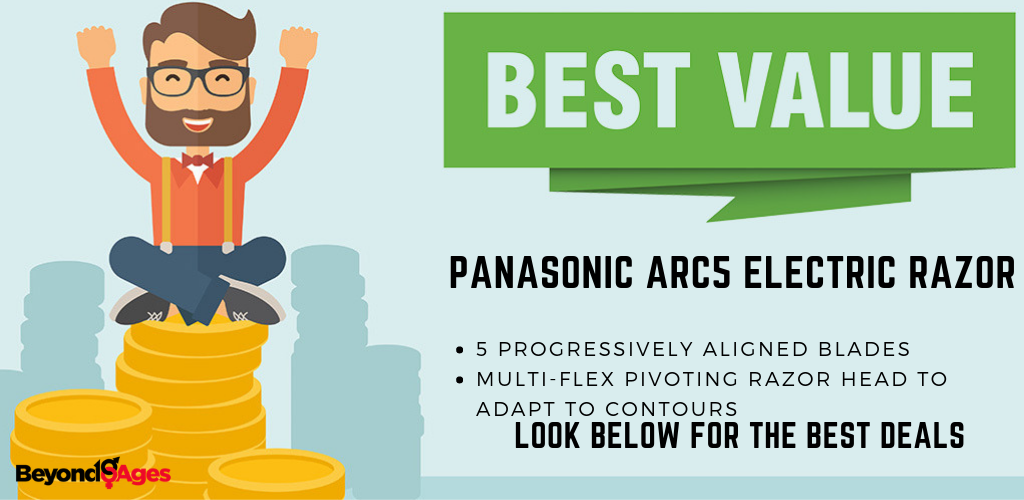 If you are looking for a high-quality product that cuts close to your skin for the clean shave that you've always dreamt of, try the Panasonic Arc5 Electric Razor.
Despite its high price point, this electric razor is worth the money. It can give you superior performance because of the five progressively aligned blades, all set at a 30-degree angle. This means the blades will come into contact with you at the optimal angle, lifting your hair from its base and then cutting it. This helps to get more hair with each rotation instead of just running over the same surface without much of an effect.
It has a multi-flex pivoting razor head that adapts to the contours of your face with each swipe. It also has advanced sensors that can detect the thickness of your hair to adjust its power output. This prevents the razor from wasting power. The trimmer, which is built into the appliance, maintains your beard, mustache or sideburns if you want to skip the close shave.
The Panasonic Arc5 Electric Razor has very few drawbacks. However, the cleaning station isn't exactly the sturdiest. Also, the shave will be close, but not as clean as the one assured by the next product on this list.
Best of the Best: Braun Electric Shaver, Series 9 9290cc | $384.99 | Click to Buy Now on Amazon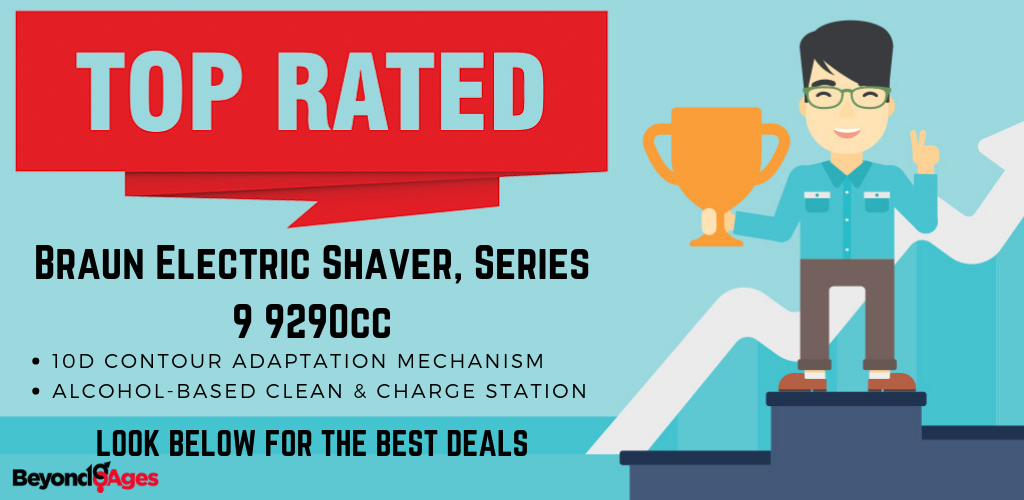 There are many people who like to invest in quality. If you consider yourself a part of this category, no electric shaver can match the quality that Braun offers. The company's top-of-the-line product is the Series 9 9290cc electric shaver, which gives you the closest shave an electric razor can provide.
Traditionally, people don't associate electric shavers with a very close shave, but the Series 9 electric razor changes this perception with the help of its five shaving elements. These five shaving elements are indispensable if getting a clean look is your priority.
This product has a 10D contour adaptation mechanism, which allows it to traverse even the more hard-to-reach areas of your face. This results in a thoroughly close shave that will amaze your date. It also comes with two trimmers for days when you just don't feel the need to shave.
In addition to this, the alcohol-based Clean & Charge station completes five different actions including cleaning, lubrication and charging of your electric shaver. Once the Series 9 shaver is charged completely, it can give you about 50 minutes of shaving time. It even counts down the last 9 minutes.
The Series 9 razor is truly the "Best of the Best" electric shaver. The only drawback that we can see is the price. While there are always discount deals online, this razor will still cost you more than the others on this list.
Best Value: Remington F5-5800 Foil Shaver | $38.69 | Click to Buy Now on Amazon
Quite a few regular shavers shy away from electric razors because of their higher price. But not every good electric shaver needs to be expensive to give you good results. For example, the Remington F5-5800 Foil Shaver is one of the better-performing foil shavers in the affordable category.
Its flexible razor head and contoured handle can help you reach some tricky areas around your face. The razor is also quite small, making it easy to pack when you are traveling. It also has a trimmer like many of the other electric shavers.
There are, however, some major drawbacks associated with the Remington F5-5800. For example, it is not suitable for wet shaving. Additionally, it won't last you very long, as it has the tendency to develop sharp edges over time. Keep in mind that this product is a good option for the price point, but it pales in comparison to the more advanced options mentioned above.
Final Thoughts On The Best Electric Razor For A Close Shave
After looking at the three products that we discussed in detail earlier, you now have a good idea of what the best electric razor looks like. There are a number of features that you need to keep in mind. For example, how long the battery lasts and how the razor head adapts to the contours of your face. Once you know the features you need, you also need to think about the razor's price point.
The "Best of the Best" electric shaver is undoubtedly the Braun Series 9 electric shaver. It's well-constructed, easy to use and packed with myriad features for an easier shave. But if you don't want to shell out as much money, go for the "Best Bang for the Buck" product – the Panasonic Arc5 Electric Razor. While it isn't cheap, it packs a punch in terms of effectiveness and giving you a close shave. Lastly, the "Best Value" Remington shaver is good for beginners and those who want a decent shave at a low cost.
Here is a quick recap of all the electric razors mentioned on this list to help you make up your mind:
| | | | |
| --- | --- | --- | --- |
| Award | Product | Price | Buy Now |
| Best Bang for the Buck | Panasonic Arc5 Electric Razor | $119.99 | Buy Now |
| Best of the Best | Braun Electric Shaver, Series 9 9290cc | $384.99 | Buy Now |
| Best Value | Remington F5-5800 Foil Shaver |  $38.69 | Buy Now |
As discussed earlier, good-quality shaving equipment can make a noticeable difference in your love life. Once you're silky-smooth and date-ready, you'll exude a glow of confidence that doesn't just make you feel better but also makes other people sit up and notice you!