You're probably curious about the best dating apps in Honolulu and what it's like to be single in this beautiful island community. Couples from all over the world travel to this paradise to fall in love, get married or spend their honeymoons. Perhaps there's something in the air in Honolulu that makes it easier to find love and bump into your soulmate?
We hate to burst your bubble. Dating in this paradise on earth is no different than dating in any city in the US. The only difference is that singles here are more laid back and very close to their friends and families. Chances are you'll date someone who's friends with a cousin or related to an old friend from school. Singles you will meet in Honolulu are also friendlier and know just what they want when it comes to relationships and their partners.
If you're ready to mingle and meet these exciting singles, we've curated the best dating apps for you to try. You can create an account and start looking at profiles. Who knows? You might be lucky enough to meet up with your matches at popular hangouts like Rumfire, Mai Tai Bar and Off The Wall.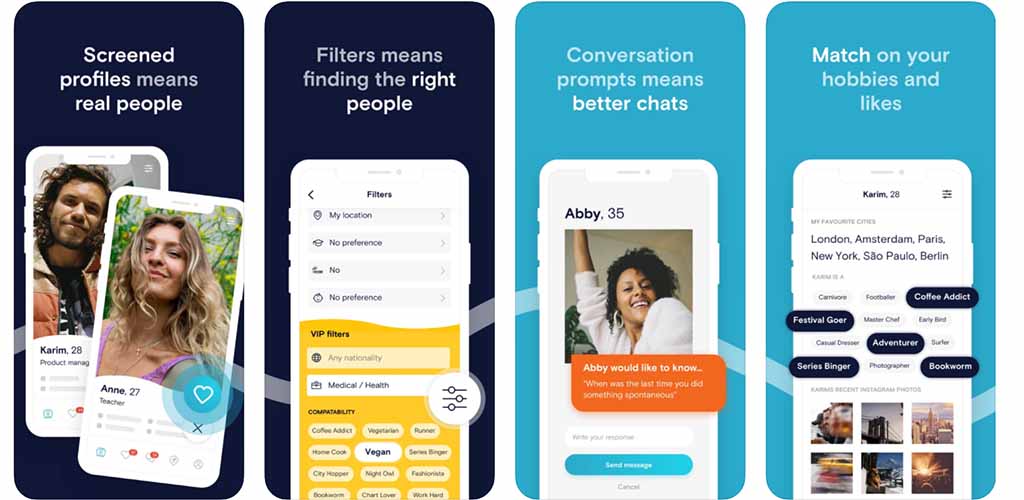 #1 - The Inner Circle (Android; iOS) is one of the best dating apps in Honolulu for picky singles
When you're driven, successful and wealthy, it's very hard to find someone who shares the same interests and feels the same way you do about life. And with most dating apps relying on swiping and chatting, it's not really a very effective way for some people to start a real romance.
But that's something you don't need to worry about with The Inner Circle. It's one of the best dating apps in Honolulu because its main goal is to help you find a compatible match. It will help you connect with singles that you would not normally meet in a regular setting because of how busy you are. With this dating app, finding someone with the same goals, drive, values and outlook on life has just gotten so much easier.
To sign up for an account, you just need a Facebook and Linkedin profile. This is a dating app for professionals after all.
Why The Inner Circle works
You can view profiles for free
Only professional singles are allowed on the site
Available for download all over the world
What we don't like about it
Small number of users
Sending messages is not free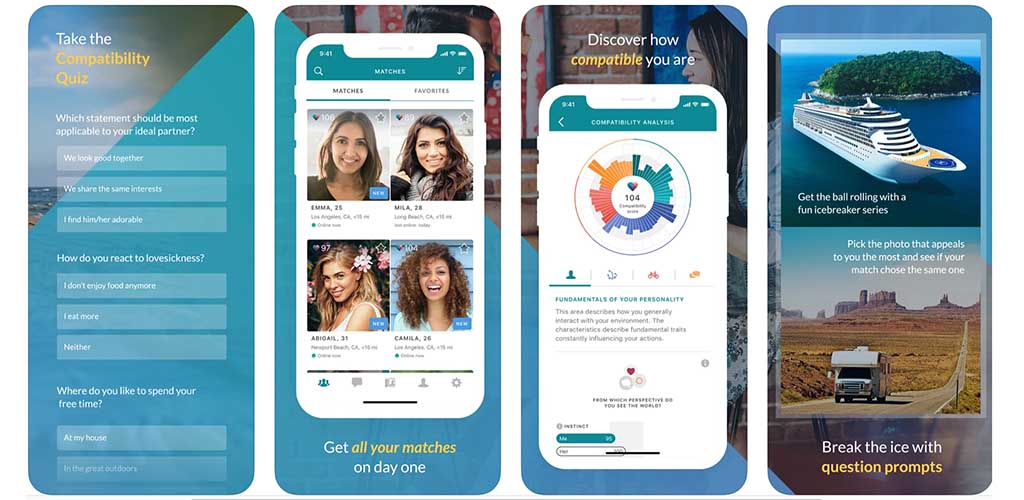 #2 - eHarmony (Android; iOS) can't be beaten for long-term relationships
eHarmony is extremely popular here and has an amazing track record of helping Honolulu locals find long-term partners by using matching algorithms. This app does the best job of matching you up with compatible potential mates that we've seen.
You don't have to scroll for hours. The app does all of the tough work for you. Of course, you might not make a perfect connection outside of the algorithms. Usually, it works like magic. The toughest part is answering all of the questions. It's important because this is how they match you with other single people. You can build chemistry before you even meet.
If you're serious about finding long-term partners this is the site for you.

Why eHarmony is one of the best dating sites in Honolulu
The best success rate out there for long-term relationships
70% of users find their future spouse within a year
Makes it pretty easy to form connections
What we don't like about it
It definately takes more time than most to get started
Not super popular with those 18-22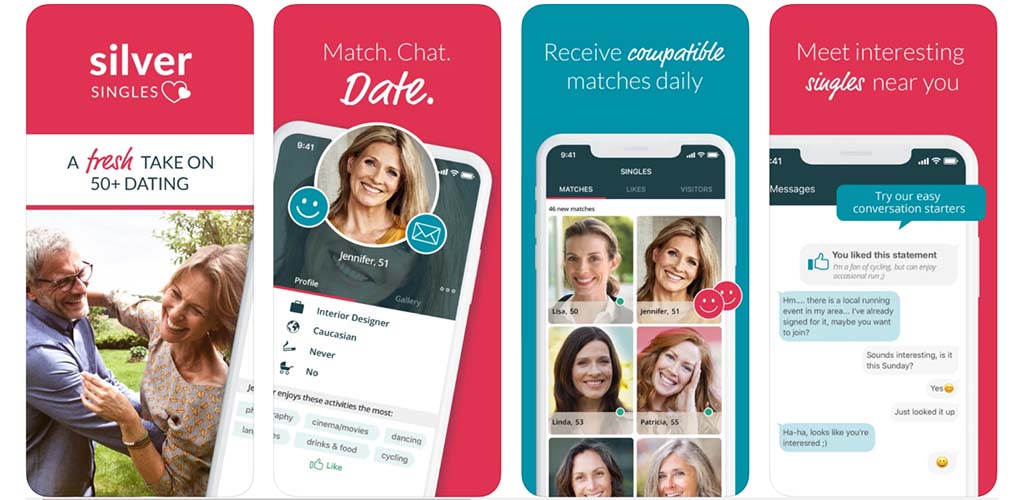 #3 - SilverSingles (Android; iOS) is one of the best dating sites in Honolulu for people over 50
Just because you're over 50 doesn't mean it's the end of the line for you. When it comes to love and romance, age is no issue! SilverSingles is one of the best Honolulu dating apps that will help you meet someone new. Someone that you can build a good connection with. And someone that you can hopefully fall in love with.
It's exclusively for singles 50 years old and above. Just like other dating apps and sites, there will be a profile verification during the sign-up process. This is because it aims to promote a safe environment for members and to detect fake or fraudulent accounts.
Whether you're looking for a serious romance or a casual companionship, SilverSingles delivers a lot of great potential matches. And you don't need to worry about fast-paced dating like with other dating apps. You can go at your own pace and take it slowly but surely.
Why it works
Lots of useful information on member profiles
Focused on personal compatibility
Strict safety and privacy guidelines
What we don't like about it
Photos can only be viewed on a paid subscription
Small user base, so you might end up with matches on the other end of Hawaii

#4 - AFF is the easiest way to find a something short-term and casual
AFF should be your first choice when you're not looking for a relationship but still want some fun in the bedroom. We've tried a lot of different apps for this (most are awful) and only a couple have proven to work over and over. Tinder is great if you're under 25 but once you get beyond that AFF has shown the best results out of any dating site in Honolulu we've tried, especially for guys.
One of the things we've really liked about this app is that they do a really good job of helping you find EXACTLY what you're looking for. Everyone on this site is looking for the same thing so you can save a LOT of time that you would waste on other sites. If you're 25+ and want to take someone home this is your app.
Why you should try AFF
One of the best dating sites in Honolulu for finding quick encounters
We've seen guys have the best success using it, especially those who aren't super good looking and didn't do well on Tinder
It's very straightforward and easy to use
What we don't like about it
Many users can only access via web app
The app is a little dated and not as polished as some others
Sometimes people are a little TOO upfront with what they want
You Can Try AFF Free!
If you're just looking for more short-term fun you need to
try out AFF's free trial
. We've spent months and months testing out the alternatives (more than 100 other sites) and haven't found anything that gives most guys more options and better results. Give it a shot!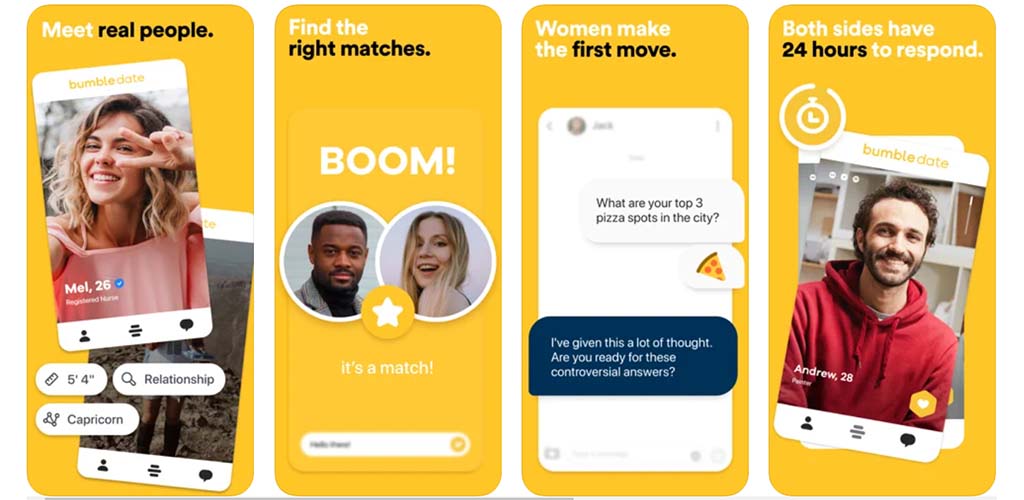 #5 - Bumble (Android; iOS) is one of the best Honolulu dating apps in for single women
When it comes to finding a quick date for this weekend or meeting new women in a new city, it's hard to top Bumble. It's one of the best dating apps in Honolulu that offers singles a chance to find something casual or serious, depending on their preferences.
But for guys who always make the first move, you'll appreciate this dating app's unique feature of letting the women take the first step. You can like a profile, but you can't do anything else until she messages you back. Also, you only have 24 hours for a connection to be made. After that, the connection is gone. That's okay, though. You can just set your sights on another user and not waste more time on someone who's not interested. There are lots of single women here after all!
So if you're the type of guy who likes to sit back and let the ladies take charge, Bumble is the dating app for you!
Why we love Bumble
Great privacy and safety settings
Lots of usable features in the free version
It has a video chat feature
Lots of female users
What we don't like about it
Not a lot of info on the profiles
Impatient guys don't know when they'll receive a message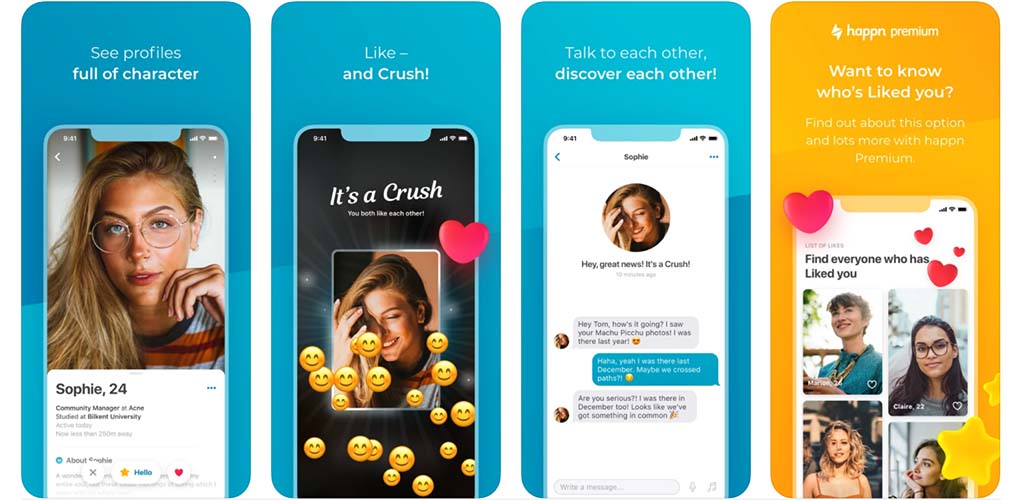 #6 - Lots of singles find love on Happn (Android; iOS)
What if the woman you're meant to spend your life with just happened to be at the same coffee shop you got your Americano from? This is where dating apps like Happn can work beautifully for you. Because it works a little differently compared to other dating apps, you can be notified when other singles are in the same vicinity. Yep, it's a meet-cute waiting to happen!
Whether you're doing your groceries, fueling up at the gas station or picking up your pizza order, Happn will let you know if other singles are in your general location. You can take this opportunity to pop over to where they are and do your own reconnaissance mission or something. The app is free to download, and there's also an option to upgrade to unlock more features.
Why Happn is one of the best dating apps in Honolulu
The thought of bumping into potential matches somewhere is very exciting
Connection feels effortless and more natural
Good account verification process
What we don't like about it
Matching is proximity-based
Not a lot of matches if you're in a small town or remote area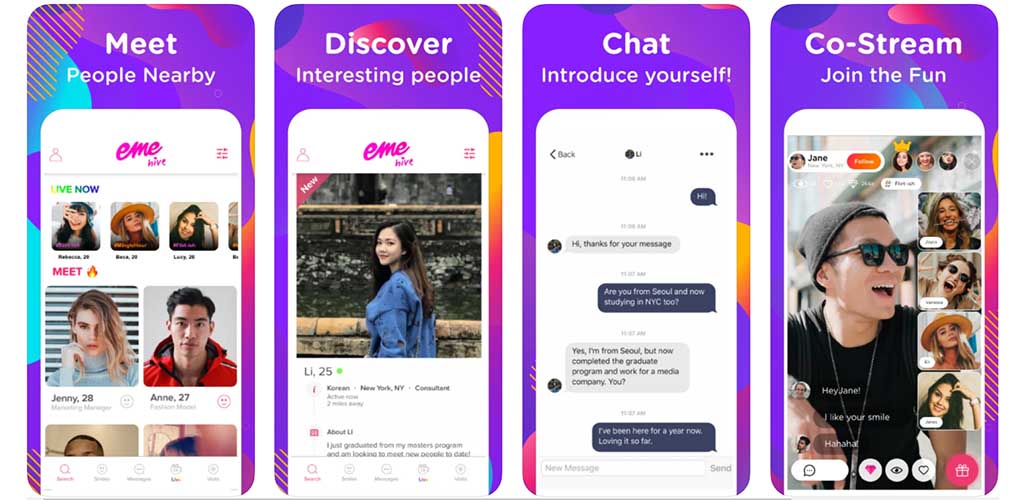 #7 - One of the best apps for Asian singles is East Meet East (Android; iOS)
Do you find yourself doing a lot of introspection lately, the desire to settle down with someone blooming in your chest? Dating is challenging enough as it is. What more finding an Asian woman with the same cultural background, goals and beliefs? This is where East Meet East can help. It's been around since 2013 with the goal to help single Asian men find the Asian woman of their dreams. And since that time, East Meet East has made thousands of love stories happen for different couples in the world, not just the USA.
Signing up is quick and easy ― do it with your Facebook account or sign up manually. For the ladies, the site is free to use. But for the guys, you need to pay if you want to use more of the site's best features.
Why it's one of the best Honolulu dating apps
You can see who has viewed your profile
Lots of search filters
All users are required to upload a photo
Free to use for women
What we don't like about it
Not a lot of details on profiles
Member suggestions don't refresh often
Men need a paid membership to use all the features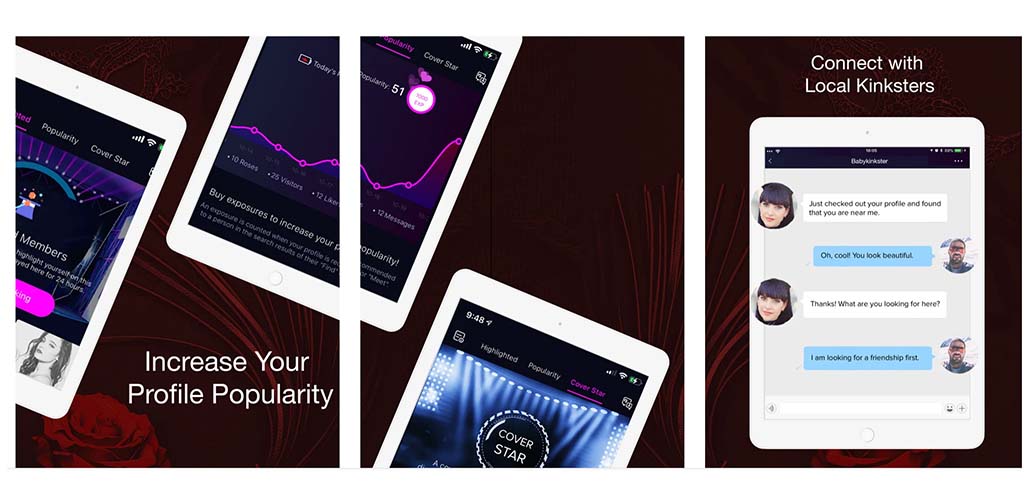 #8 - Kinkoo (Android; iOS) can open your eyes to a whole new world
Somewhere between traditional dating apps and quick connections is an app like Kinkoo. If you got some kinks you want to explore with other singles in a safe environment, then this is the dating app for you.
Don't be scared because it's a thoroughly vetted community. Discover new interests and make new connections with the app's match algorithms. It's the largest dating app for singles who are into new sexual adventures, so get ready to unleash the kinkster in you. Search for profiles that you like for free and connect with singles or couples who are into the same things as you.
Share what you like on your Feed or look up another user's Feed before messaging or meeting them. This feature will let you see what kind of lifestyle they lead and if it's something you can be on board with.
What we like about it
Free to use
One of the best alternative dating sites
Good for singles who want to explore and are not looking for something serious
What we don't like about it
Lots of fake profiles
Plenty of inactive accounts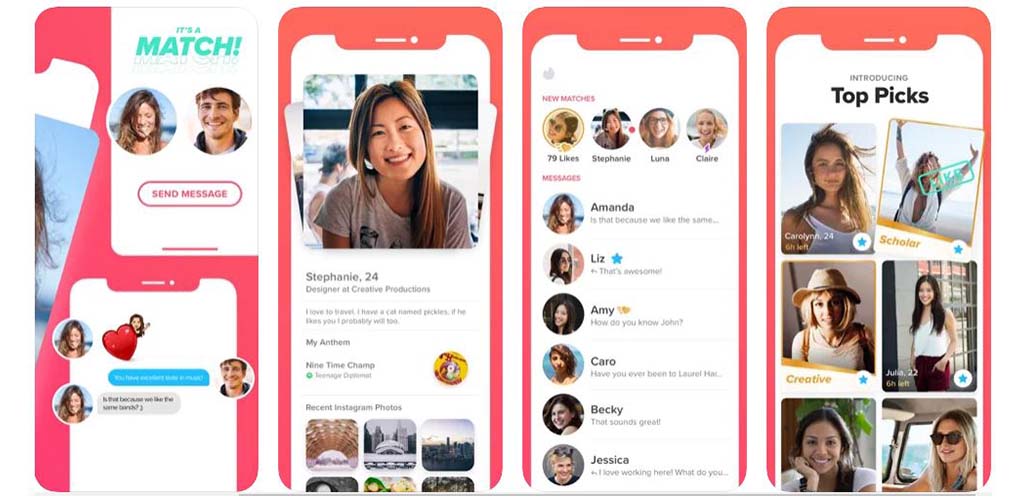 #9 - Tinder (Android; iOS) scan still surprise you with great matches
Is there a single guy out there who has not tried Tinder at all? This app is so popular that it has become a sort of rite of passage for young, professional singles all over the world. It's perfect for guys who want a dating app that's easy, quick and results oriented.
You can sign up with your Facebook account or with your phone number and immediately you will be given suggested matches. You can get a match without even paying for anything. But if you want to get more match suggestions and swipe opportunities, you can opt for an upgrade.
It may be such an impersonal thing to swipe your way to love, but there are happy endings on this app as well. So whether you're looking for something fun and casual or serious and long-term, Tinder always has something for you.
What we like about it
Quick and easy account registration
Fun to use
So many users no matter where you are
What we don't like about it
No required photo verification
Age-based pricing model