Is online dating still a worthwhile option if you're over 50? Dating apps seem like something younger, never-married singles would use. But you'd be surprised to know that lots of people over 50 still use them quite frequently. In this guide, you'll discover the best dating apps for 50+ singles.
We'll list the best singles over 50 dating sites based on who you are and what you're looking for. Our recommendations are based on our extensive testing of dating apps, so you can be sure we're suggesting the best websites for you.
How we rank the top dating singles over 50 dating sites
We rank the top dating apps based on intense testing, in which we try out every aspect of a dating app and try to connect with single women on it for an extended period of time.
During these tests, we create the same profiles with the same photos, bio and demographical data, so it's possible for us to make accurate comparisons between all the different apps we test. In this case, our profile was for a 50-something man.
We will:
leave our profile blank for 24 hours to check if we're messaged by bots
test the free version of the app and see if it's possible to meet women without paying
send 50 messages to 50 attractive women; our opening lines are based on the same selection of messages to ensure a fair test
make notes of how many responses we get; this is a great indicator of a website's effectiveness
build rapport and arrange to swap contact details with the women who responded, to test how many actually are looking for a date.
We will also make notes of the various features on the apps and the typical demographic of women using them, so we know what age range of men it's best to recommend each app to.
The Best Dating Apps for 50s Singles Right Now
These are apps and sites that work well for single men aged between 50-59. If you're not in this age range, we have specific recommendations below for different age ranges.
Best app for long-term relationships and marriage - eHarmony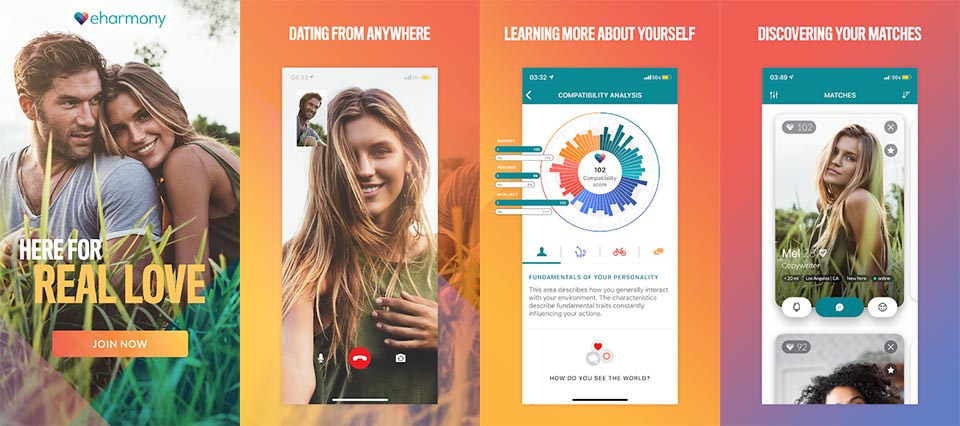 eHarmony has been heralded as the best dating app for long-term relationships and marriage ever since it launched. The app is best known for its famous personality test. This takes around 40-45 minutes to complete, and the results will be used to recommend the users who are most compatible with you.
Users are only permitted to send messages to those who the algorithm detects are the most compatible with them - and they'll be recommended just a handful of extra matches each day. These limits might sound like a bad thing, but they help to ensure that your dream woman actually reads your message and responds.
We found lots of women on eHarmony who are over 50 and are interested in dating men over 50. The response rate was really exciting as well, compared to other online dating websites. This proves to be promising for most men, especially since 7 out of 10 eHarmony users end up meeting their future spouse on the app after just a year of use.
Considering eHarmony's target demographic is on the older side (generally mid-30s and over), there's a huge chance you'll meet someone over 50 who wants the same things out of life as you.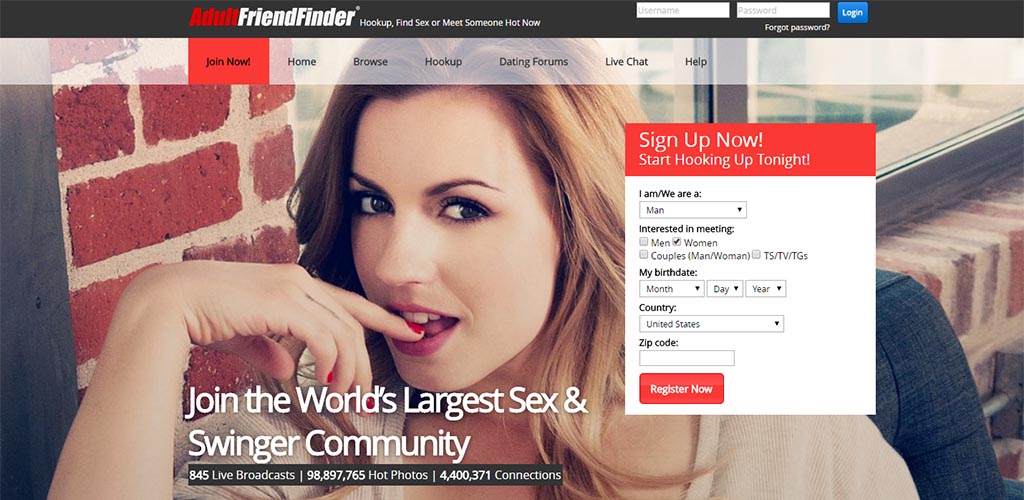 There are plenty of men and women in their 50s not looking for something serious romantically. Maybe you've just gotten out of a marriage. Perhaps you're done with marriage and children. Perhaps you have no intentions to hop into something that committed again.
If so, we recommend you create an account on AFF (which you can try free here) to enjoy your fresh taste of singledom at full capacity.
AFF makes it absolutely clear that it's a hookup site. There's not even a hint of anyone suggesting otherwise. The end result is you don't have to deal with women wanting to be wined and dined for months before sleeping with you.
In fact, you can expect to find plenty of great women willing to come to your house for some bedroom fun after a handful of messages back and forth.
AFF has built a huge network of singles across the world and caters mostly to an older demographic, so we're sure you can find whatever type of casual fun you're looking for as a single man in his 50s.
Online dating over 50 never got sexier than with AFF. Plus, there's a free trial running at this moment, meaning you can see for yourself just how much casual fun is waiting for you on this website.
Best app if you're open to anything - Silver Singles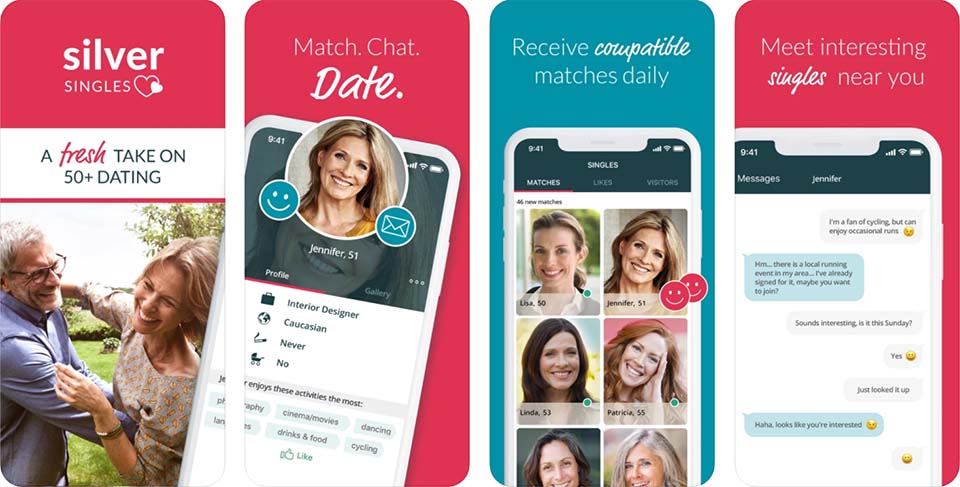 Silver Singles markets itself exclusively as being one of the best dating apps for 50+ singles. It's one of the sister websites of Elite Singles, which ranked very well in our testing. Since it doesn't market itself as being just for finding true love or just for casual hook-ups, it's a nice choice if you don't want to limit yourself to one experience or the other.
A word of warning though; when we tested Silver Singles, we did find there was a limited number of women over 50 to connect with. Instead, we found lots of women under 40, who most likely signed up to one of the network's sister websites but appeared on this domain too.
As such, if you're adamant about dating someone your own age and you know exactly what you want, we'd recommend you pick eHarmony or AFF over this website.
Best Dating Apps for Early 50s (50-year-olds to 53-year-olds)
You just hit your 50s and you're still relatively young. Being right out of your 40s means you still have some energy in you, and your dating prospects are quite good, especially if you're a man. Here's what works best for your age range.
Best app for long-term relationships and marriage - eHarmony
The great news is that eHarmony's userbase skews towards older singles. That means you'll meet plenty of women in their 50s on the app. Even if you're looking to date someone 10 years older or 10 years younger than you, eHarmony has plenty of users in that age range.
Best app for casual fun - AFF
Tinder may be popular for those in their 20s, 30s and even 40s. But if you're over 50, your best bet when it comes to finding casual fun is AFF. Lots of users are open to meeting up with someone in their 50s, as long as their preferences in the bedroom are compatible.
Best Dating Apps for Mid 50s (54-year-olds to 57-year-olds)
Best app for long-term relationships and marriage - eHarmony
As mentioned above, you'll be able to meet plenty of singles in their mid-50s on eHarmony. Some of the people you'll meet on this app will likely have the same experiences as you. Whether you're divorced, a single parent, a step-parent, or never married, it's very likely you'll find someone who can relate.
Best app for casual fun - AFF
Casual fun and one-night encounters aren't a young man's game. Lots of women are also open to something fun and hassle-free, no matter their age. So if that's exactly what you want now that you're firmly in your 50s, try out AFF.
Best Online Dating Sites for Late 50s (57-year-olds to 59-year-olds)
There isn't too much of a difference in what apps work best between 54 and 59, so the recommendations from the previous section are most valid. Turn to eHarmony if you want to find a long-term relationship, and give AFF a try if you prefer to keep things casual.
What Makes a Dating Site Great in Your 50s?
Here is a short list of the key criteria for what makes a great website when you're trying online dating over 50.
App popularity with 50-somethings
Since the launch of trendy dating apps like Tinder, online dating has been most popular among men and women under 30. Indeed, that is the age where adults are most likely to be single and looking for a partner.
This means that 50-somethings have to be more intelligent when it comes to choosing websites with potential partners of their age using it (assuming they want to date someone near their own age).
After all, the best dating app in the world would be rendered useless if its user base didn't cater to your needs.
Site design and features
We're not implying that all 50-somethings struggle to use technology. But, regardless of your ability to adapt to the digital world, it's always nice when a dating site is easy to navigate and has useful features that are easy to understand.
Does the app make meeting people easy?
Most dating apps promise the world, but with a lot of them, it's far too difficult to actually meet another user for a date. This could be due to a lack of active users, an expensive subscription, or the fact that the app is a complete scam! That's why it's important to read reviews before signing up for a dating app, and especially before spending any money on it.
Can regular people find success or just the best looking?
If you've managed to maintain your fitness and good looks well into your fifties, kudos to you. Most likely, you're in the minority for your age and you should be able to clean up on online dating. Most 50-somethings are going to need to choose a dating app where regular-looking people are still able to land a date.
Do people use it for dating or socializing/ego-boosting?
The reason we extensively test online dating websites is that we want a real idea of how easy it is to actually land a date. This is the main thing that matters, to men anyway. Still, there are some apps that women mainly use to boost their ego or chat when they're bored. We want to call out these websites for being ineffective and a waste of time.
Thankfully, this is mostly a problem for those looking to date younger women. Older women who are online dating are mostly looking to find a companion in the real world.
A Short Guide to Getting Great Results from Dating Apps
Below, you'll find a list of the aspects that matter most when it comes to landing plenty of dates when online dating over 50. Make sure to click our recommended lists so you can master these skills and maximize your success.
Creating a great profile
To attract the attention of the best women, you need a profile with high-quality photos and a bio that explains how awesome you really are. The guides below should help you to do that.
Sending a great first message
If you want to inspire women to reply and start a great conversation, you need to send an opening message that sparks their imagination. These guides should help give you some ideas.
Responding to messages
The guides below will help you keep a woman interested as you're going back and forth getting to know each other on a dating app.
Asking them out
The final step to dating app success is to ask a woman to meet you and to have her say YES. We have a range of online guides to help you do that as well.
Biggest Mistakes Singles Make on Dating Apps in their 50s
Three big mistakes most singles make and how to avoid them. Each should be about a paragraph in length
Using old photos
Yes, you may have looked a lot better twenty years ago, but uploading old pictures to your dating profile is a bad idea. You're barely going to fool anyone, and even if you do it's going to screw you over in the long run. How would you feel if your date turned up looking twenty years older than she actually was?
Cringeworthy photos and bios
Older male online daters are the biggest culprits when it comes to uploading cringeworthy photos. To start, try to avoid selfies, "funny" outfits, photos with a fish or animal you hunted. Also, don't complain in your bio!
Instead, use a photo where you look clean and presentable. A recent photo engaging in sports or one where you're hanging out in your nice bachelor pad would work. As for your bio, cover the basics such as your hobbies and interests.
Messaging back and forth for too long
Usually, it's better to cut to the chase rather than waste time staring at your screen. The best way to get to know each other is face-to-face. This may not be easy when the woman you're talking to is hesitant to meet up with someone she met online. So to ease her doubts, invite her to a video call and build some rapport. Once she's comfortable enough with you, it's time to ask her out.
FAQ about the Best Dating Apps for 50+ Singles
What is the best dating website for 50-year-olds?
We recommend AFF if you're looking for something casual or eHarmony if you're after something more long-term.
What are the best dating apps for 54-year-olds?
If you're 54, eHarmony and AFF are your best options. eHarmony is better if you want a long-term relationship, while AFF is best for short-term hookups.
What are the best dating apps for 55-year-olds?
At fifty-five years old, we recommended eHarmony (for serious relationships) or AFF (for casual encounters).
Are dating apps good for meeting singles in your 50s?
It can be difficult for 50-somethings to meet other single people while they're out and about. For starters, they might not have the time to get out so often. Even when they do, how many people their age are going to be single? How can you tell if they are? Dating apps simplify the whole process allowing you to meet someone great from the comfort of your own home.
How can I get better at using dating apps?
If you're new to online dating, it might be a steep learning curve for you to attract attention from the women you want, especially as an older man. The best first step is to take better photos, perhaps with the help of a professional photographer. From there, we have listed plenty of articles in this guide to help you improve your messaging.