You would think in a city of 4 million people, meeting someone would be as simple as walking out the door. Alas, LA is not a city for just bumping into people. If you want romance or even something light and casual, you have to work for it. These days, that usually involves hours researching the best dating apps and sites in Los Angeles.
People love to tell you to try this app or that site, but the reality is, most suck. A new dating app or site appears online every minute (more or less), and most aren't worth a second glance. Thankfully, there really are some great ones on the market, and we're here to tell you which ones they are. Whether you're studying at UCLA or making waves in Hollywood, there's an option here for you.
To reinvigorate your love life, check out this list of our favorite dating apps and sites in LA. Southern California is too full of gorgeous singles to be on your own.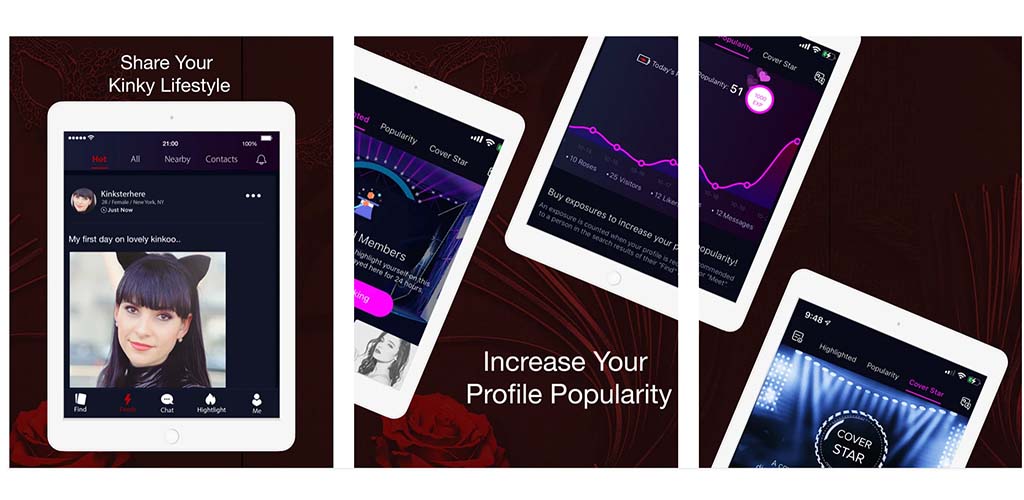 #1 - Kinkoo (Android, iOS) is the best dating app in Los Angeles for the shamelessly kinky
It seems like everyone in LA has a unique, erotic peccadillo that gets them going. This certainly makes dating in this city interesting. But it can also be complicated, especially if you're shy about broaching the subject. Kinkoo is the dating app for the modern Angeleno. In this day and age, we don't kink shame, and we don't settle for a sexual relationship that doesn't fire on all cylinders.
With its emphasis on photos and openness about sexual kinks, this app wants you to be yourself. You can find the dominant to your submissive or learn something new. For anyone who's been interested in exploring their kinky side but have been too afraid to try, Kinkoo is here. If you prefer your sex life to have something extra, this might be the best dating app in Los Angeles.
Why Kinkoo is worth downloading
Provides a safe space to explore different facets of your sexuality
When it comes to your kinks, there is no need to beat around the bush (unless that's what you're into)
With an interface that highlights user photos, swiping can be an education
Why it could still be improved
The app is pretty barebones in terms of other features
They haven't done a very good job of filtering out the spam accounts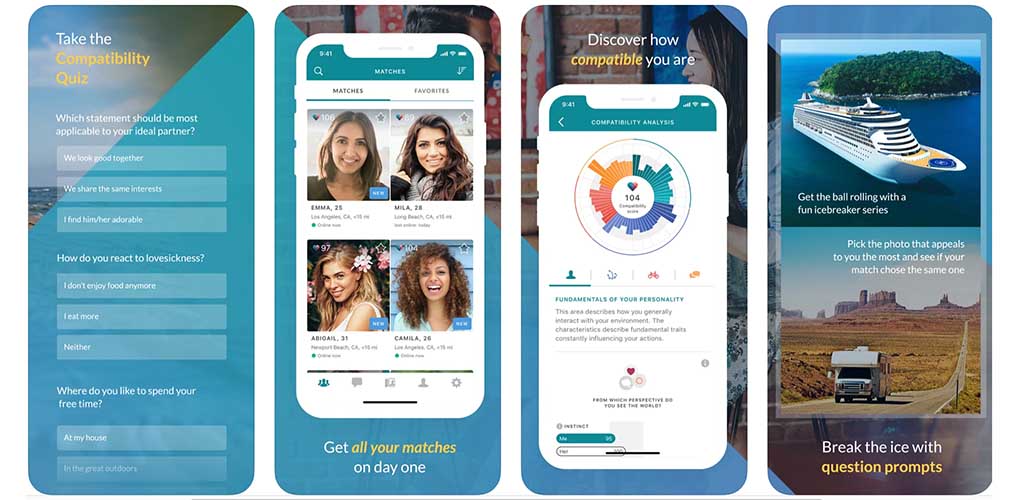 #2 - eHarmony (Android; iOS) can't be beaten for long-term relationships
eHarmony is extremely popular here and has an amazing track record of helping Los Angeles locals find long-term partners by using matching algorithms. This app does the best job of matching you up with compatible potential mates that we've seen.
You don't have to scroll for hours. The app does all of the tough work for you. Of course, you might not make a perfect connection outside of the algorithms. Usually, it works like magic. The toughest part is answering all of the questions. It's important because this is how they match you with other single people. You can build chemistry before you even meet.
If you're serious about finding long-term partners this is the site for you.

Why eHarmony is one of the best dating sites in Los Angeles
The best success rate out there for long-term relationships
70% of users find their future spouse within a year
Makes it pretty easy to form connections
What we don't like about it
It definitely takes more time than most to get started
Not super popular with those 18-22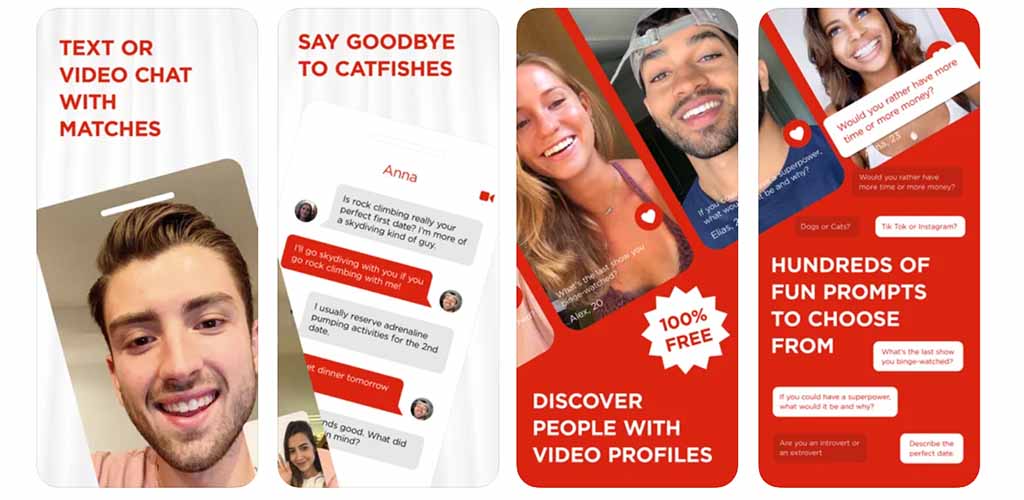 #3 - Curtn (iOS) is leading the video revolution in online dating
Curtn isn't the only dating app that uses video features, but it may be the one that does it best. While Tinder and many of the other competitors have a video chat option, Curtn has full video profiles. Anyone who has ever landed a date on an app or site knows pictures can lie. From catfishing to heavily photoshopped images, there's rarely truth in advertising.
Video profiles all but eliminate the uncertainty and surprises. You can see there is a real person behind the photos and texts. Even better, you get a much clearer sense of their personality and style. You'll not only feel more secure meeting people in person, you won't keep wasting your time on personality blackholes. Forget the headshots, you're going in for the full audition.
Why Curtn is one of our favorite LA dating apps
Say goodbye to those shocking first impressions
Through the video chat, you can build a rapport with someone before you even meet
In a city of aspiring actors, videos let you show off your personality so much better than photos
What you might like about it
This app is still one of the new kids on the block, so the userbase isn't big (yet)
Supposedly an Android version is in the works, but no luck yet

#4 - AFF is the easiest way to find a fling
AFF should be your first choice when you're not looking for a relationship but still want some fun in the bedroom. We've tried a lot of different apps for this (most are awful) and only a couple have proven to work over and over. Tinder is great if you're under 25 but once you get beyond that AFF has shown the best results out of any dating site in Los Angeles we've tried, especially for guys.
One of the things we've really liked about this app is that they do a really good job of helping you find EXACTLY what you're looking for. Everyone on this site is looking for the same thing so you can save a LOT of time that you would waste on other sites. If you're 25+ and want to take someone home, this is your app.
Why you should try AFF
They have a massive number of users on their app (over 50 million)
We've seen guys have the best success using it, especially those who aren't super good looking and didn't do well on Tinder
It's very straightforward and easy to use
What we don't like about it
Many users can only access via web app
The app is a little dated and not as polished as some others
Sometimes people are a little TOO upfront with what they want
You Can Try AFF Free!
If you're just looking for more short-term fun you need to
try out AFF
. We've spent months and months testing out the alternatives (more than 100 other sites) and haven't found anything that gives most guys more options and better results. Give it a shot!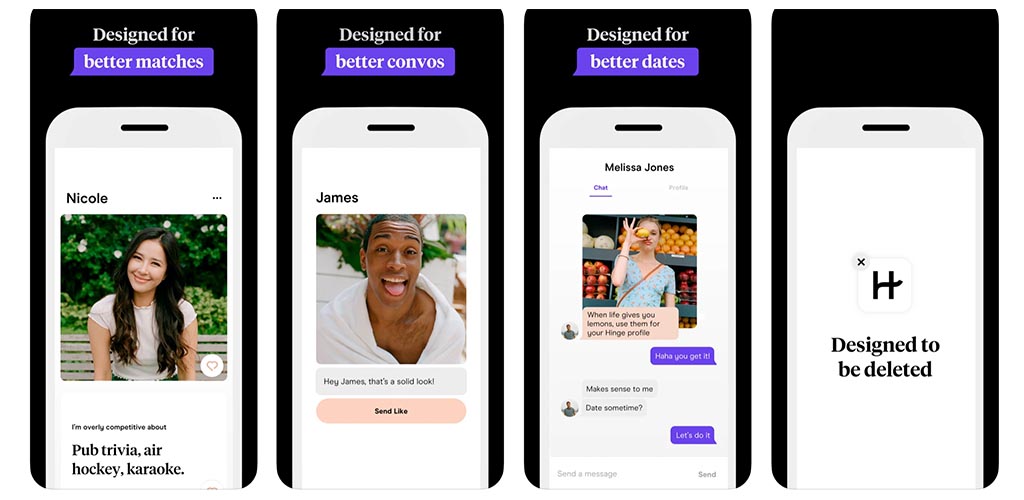 #5 - Hinge (Android; iOS) could be one of the best dating apps in Los Angeles for guys
When it first appeared on the scene, Hinge was designed around matching people through their established Facebook connections. It was a way to ensure users were legitimate and not total creeps. Though this app has changed (you no longer need a Facebook account), the makers still have the same guiding principle. They want to initiate connections that go the distance.
One of the ways Hinge does that is by helping you break the ice. Guys tell us all the time, the hardest part of online dating is finding the right thing to say. Hinge's mix of icebreaker questions and amusing photo prompts help users start more natural conversations with online strangers. Of all the best Los Angeles dating apps, this is the one we recommend for men the most.
Why Hinge is a great LA dating app
Comment directly on a photo to start a conversation more naturally
The "Standouts" Feed uses an algorithm to recommend the profiles that best suit you
The "Preferences" section lets you get very specific with what you like and don't like
What we didn't like
All the best features are behind the paywall
If you do go with the free option, you'll only be able to "like" 10 photos a day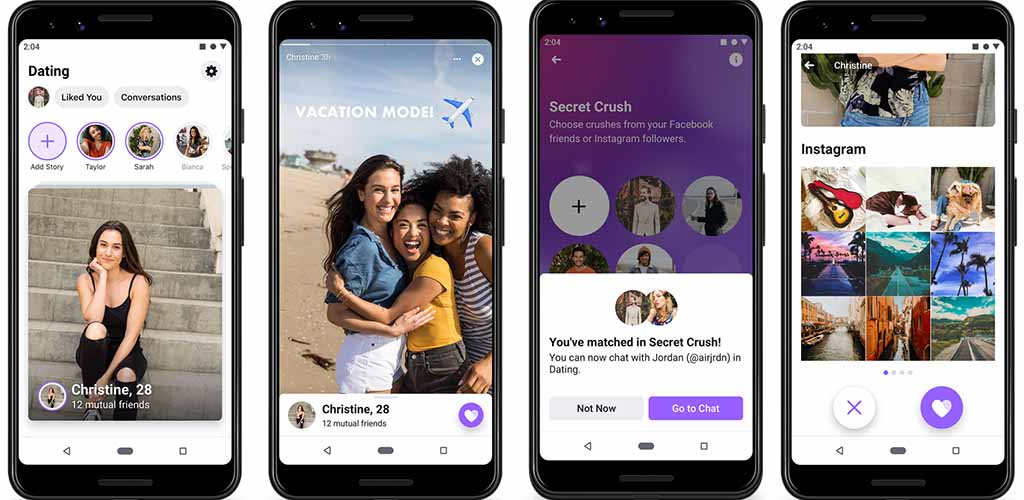 #6 - Facebook Dating (Android; iOS) puts your digital profile to good use
A lot of older Millennials who have been on Facebook since the beginning are considering quitting the site. They weigh the pros and cons, but it's not always an easy decision. Well, let us make the decision a bit harder by recommending Facebook Dating. It's the one and only official dating app from the website you love to hate, or hate to love.
One of the perks of Facebook Dating is that, assuming you already have an FB profile, set up is easy. Users can transfer info from their main profile, ensuring a more robust scrolling experience than other apps. Don't worry, no one will know you are on the app unless they're on it too. And, like the other websites under the Facebook banner, Facebook Dating is completely free.
Why Facebook Dating is among the best dating apps in Los Angeles
Easily one of the most feature-rich free dating apps out there
Profiles offer lots of details and photos so you can really get to know your matches
It's got a pretty much unlimited pool of potential users
What we don't like about it
Weirdly, Facebook Dating is only an app; there is no browser version
It's a Facebook app; for a lot of our readers, that's enough of a dealbreaker right there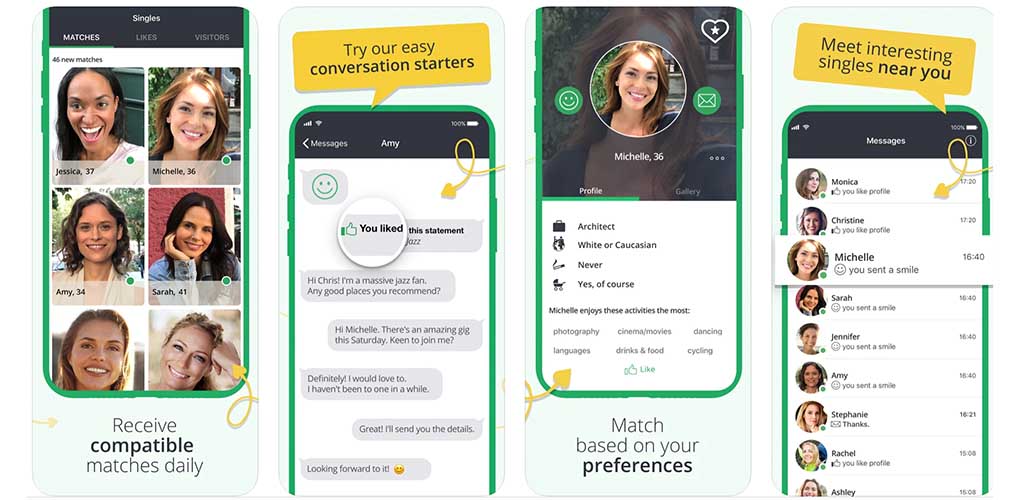 #7 – Elite Singles (Android, iOS) connects educated adults with high standards
Dating in this city can be brutal, let's face it. It's often an exercise in hearing some stranger ramble on endlessly about what they're going to do "someday." It can be draining. But while everyone in LA thinks they're elite in some fashion, on Elite Singles, the users actually are.
By "elite," we mean well-educated and focused on their careers. Elite Singles is an exclusive app where people who have ambition and the means to achieve those ambitions can meet. In a city of movers and shakers, this is one of the top apps for dating and networking. The app's key demographic is people between the ages of 30 and 50 who have their lives together. Sound refreshing?
Elite Singles is a bit pricey, we'll admit. If you're a picky partner, though, it'll be among the best dating sites in Los Angeles.
The best reasons to choose Elite Singles
The clientele on the app tend to be the crème de la crème of LA
Well-educated people generally want to date other people with good educations
The gender ratio is almost perfectly split between men and women
What some users will not like
The membership plans are high priced
Some of the users can be a bit, shall we say, pretentious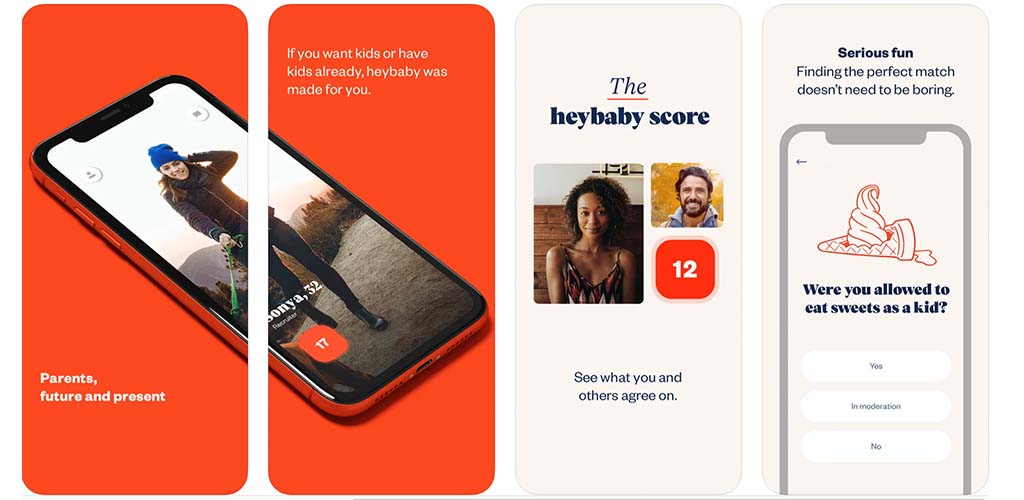 #8 - Heybaby (iOS) is among the best dating sites in Los Angeles for single parents
To be single with a kid in LA is to find yourself on a very lonely island. It can sometimes feel like everyone in this city is a 20-year-old aspiring model/actor/writer with no responsibilities. Heybaby wants you to know that, in fact, you aren't alone. There are plenty of single parents in this city, and they're looking for substantial, meaningful relationships.
Heybaby is for both single parents and people who know they want to have children sooner than later. If that describes you, you'll love the freedom and peace of mind dating with this site gives you. You can be honest about your situation and desires as you fill out your profile. That way, all of your matches know what you're all about, and you know it about them too.
Why Heybaby is one of the best dating sites in LA
Single parents don't have to second guess talking about their children
It's excellent if you're on the market for a relationship that can lead to something lasting
The questions you answer at sign up are a fun but thorough way to fill out a profile
Why you should not sign up
This isn't a site for casual sex, so if that's all you're after, save everyone the time
If you have an Android phone, it's not an even an option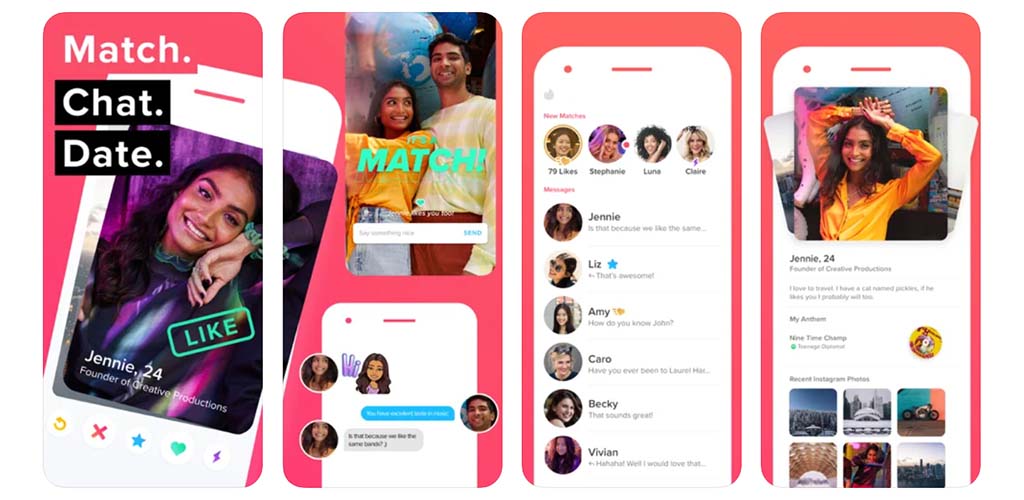 #9 - Tinder (Android; iOS) is a showcase for all the 10s in LA
In a city that prides itself on having the hottest people in the country, Tinder is a sight to behold. The app known for being filled with sexy people achieves another level in LA. We don't know what the talent looks like in other parts of California, but here, Tinder is overflowing with smokeshows. We're all but certain some models use it just to try out their newest photosets.
We admit, it can all be quite intimidating if you're an average-looking guy or gal. You can feel depressingly invisible when you're swiping through pages of perfect 10s. But you'd be surprised how well a clever bio can cut through the fog of six-pack abs and fake boobs. And, hey, even if you don't wind up with a lot of dates, you'll surely enjoy the experience.
What's so enjoyable about Tinder
You won't find a more gorgeous line-up of potential matches on any other app
This remains the app in LA for casual flings and one-night stands
After all these years, it's still one of the best free dating apps out there
What we don't like
Finding true love on this app is about as likely as winning the lottery (it could happen)
No matter how funny and charming your bio is, lots of people never get past the photos
If you are looking for more great guides to finding the right dating apps check these out: