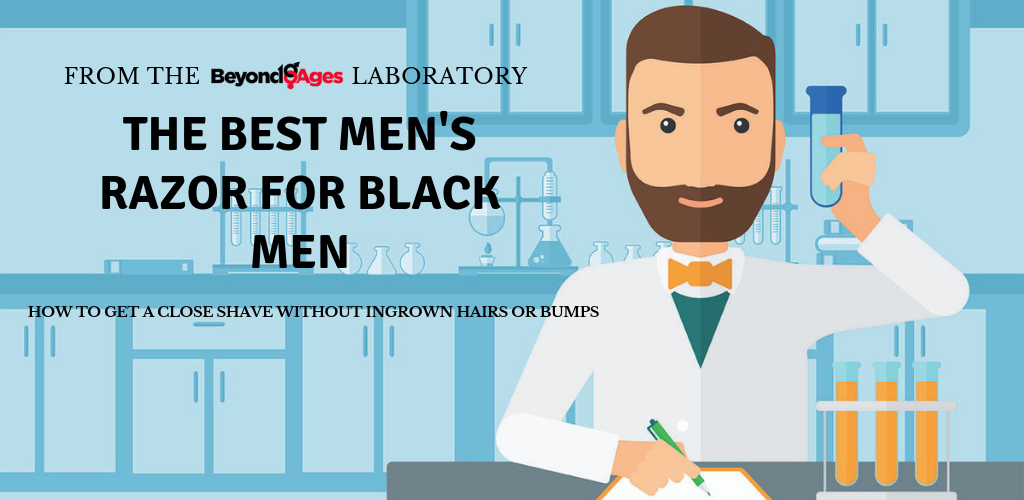 A proper shave is perhaps the most important grooming regiment when it comes to dating. Unkempt beards, patchy facial hair, razor burn or sticky stubble can turn a woman off in no time. It can be especially important for some groups more than others. Which is why we went on a deep dive for the best men's razor for black men.
How the best men's razor for black men can impact dating
Black men have different needs when it comes to razors.
On average, 60% of African-American men or men with curly hair suffer from razor bumps. This is a problem that occurs when curly hair curves back into the skin after shaving, causing painful ingrown hair and inflammation. It can also be caused by a bad razor that requires you to use more pressure, irritating the skin and creating raised red bumps.
The best men's razor for black men can really solve a lot of your skincare troubles, however. Razor bumps are not only distracting to look at, but they also look downright painful. If you are on a date, these bumps have a good chance of taking away from what you have to say. More often than not, you may have to hide it behind a beard and maybe having facial hair is not your best look — either way, having this skin condition is not ideal and you need a product that can alleviate this problem altogether.
The key to a great shave for black men is to not cut so close to the face that you end up causing friction. Sure, you require a close shave but you have a thin line between not close enough and razor burn. With the right kind of razor, you can go on dates with confidence and never worry about painful razor bumps.
The best men's razor for black men
Not all razors are created equal and if you've used a bad one, you're likely not eager to go back. That's why we've done the homework for you.
The best men's razor for black men is easy to use, can be cleaned quickly and properly, and provide a great shave.
We've combined the opinions of respected product reviewers and our own experiences to bring you this collection. No matter your price range or desired functionality, we've got you covered. From a budget conscious option to a classic safety razor, you've got choices to fit your lifestyle and skin type.
Best value: Merkur Classic 2-Piece Double Edge Safety Razor | $40.43 | Click to buy now on Amazon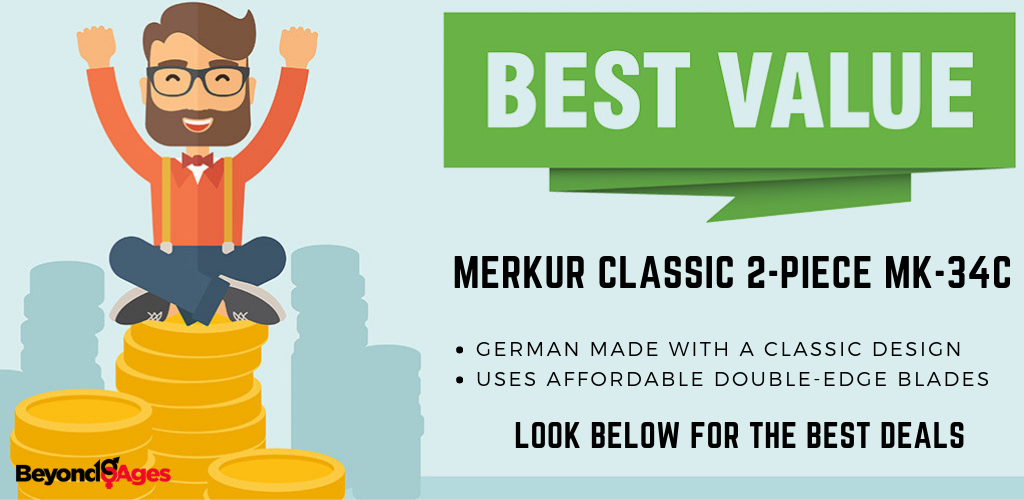 This Merkur Classic is a two-piece razor which is a definite hit among wet shavers. Manufactured in Solingen, Germany, the razor employs high-end German technology that has few competitors in the market.
You can get a close shave without any skin irritation with this safety razor. All your problems with ingrown hair and razor bumps can be eliminated with this handy razor.
The razor your grandfather would use
The Merkur Classic 2-piece is the best value razor for black men because it just works, keeps it simple and elegant. The safety razors use standard, affordable double-edge blades that give you a close and smooth shave. It has a closed comb, straight bar-head design, something that harkens back to all the classic safety razors your grandfather's generation was known to use.
This safety razor is one of the best men's razors for black men because it gives you a clean cut without the unnecessary pulling you'll see on multi-blade cartridges. This allows you to shave more hair in a single stroke. That efficiency means you don't have to go over the same area multiple times so you can avoid skin irritation.
Long-term affordability
While the initial price tag might seem a little high for such a simple razor, you'll save money in the long term. You can find standard double-edge razor blades just about anywhere for only a few dollars for dozens in a pack.
This product is sure to up your dating game as you say goodbye to razor burns. No longer do you have to let your facial hair grow out or use expensive creams to treat razor burns. You simply won't have any razor burn in the first place.
Top rated: Braun 7850cc Electric Foil Shaver | $179.99 |Click to buy now on Amazon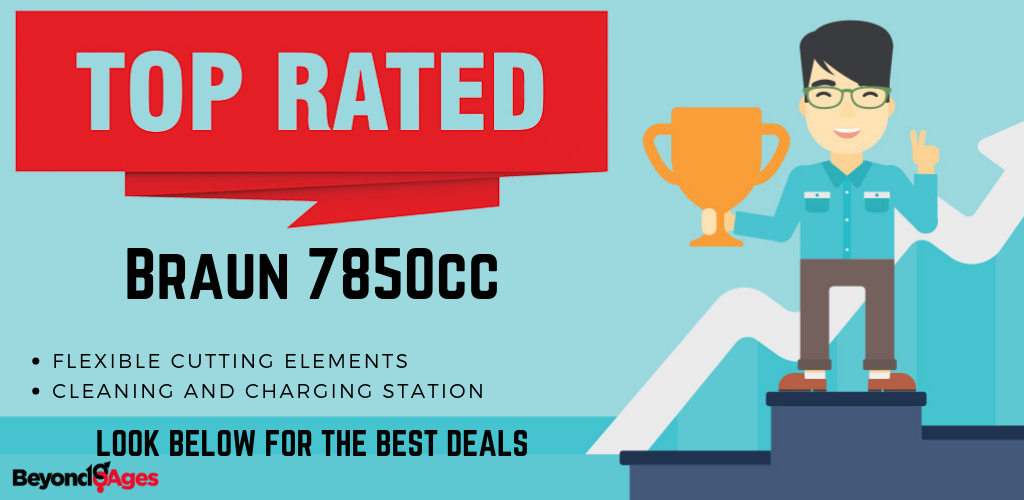 Sometimes you just don't have the time to break out the shaving soap, lather up, shave and trim. That's where the Braun Series 7 foil shaver comes in to help you.
The Brauns Series 7 is an efficient and gentle device. It employs Sonic Technology which manages to deliver 10,000 micro-vibrations per second, thereby reducing the friction between the shaver and your skin. The end result is a smooth, clean shave without irritating your skin or causing abrasions and ingrown hair.
Flexible cutting elements mean a better shave
There are four elements at work to make this the perfect product — three cutting elements and one skin guard. These four elements come together to do more in one stroke that most shavers can manage to do only in two. The 8-D flex head is great for all types of face shapes. The razor head can flex and pivot according to the contours of each unique face.
Perhaps the best part is you can shave wet or dry — which is ideal for black skin because you can include all the other skincare products in your shaving routine that would give you a smoother shave. For example, a hydrating shaving gel or foam would be a great addition to your skincare routine. The shaver is also waterproof up to 5 meters so you can shave in the shower to save time too.
Cut the cord
As is the case with most foil shavers now, the Braun 7 series is cordless. You can get about 50 minutes of shaving off just one hour of charge, making it convenient. The five personalized modes let you decide what intensity your facial hair requires. At the click of a button, you can get a gentle shave or switch to a little more power.
The charging base also doubles as a cleaning station. The alcohol-based cleaning setting also lubricates the blades for a better shave the very next time you go to use it. This is especially important for black men as a clogged, dull razor will cause more razor burn and ingrown hairs.
Obviously, all of those extras mean a higher price tag. But those that have used the Braun Series 7 think it's worth every penny. While you can get away with a lesser razor, you probably don't want to.
Best budget: Bump Fighter Men's Disposable Razors | $9.96 | Click to buy now on Amazon
Bump Fighter might just be the best men's razor for black men because it was specifically designed for black men. This 16 pack of disposable razors are designed to prevent skin irritation. It protects your skin from razor bumps and ingrown hair while at the same time condition it to ensure that it remains smooth after the shave.
It has a patented "bump guard technology" that raises the blade up just off the skin to avoid irritation and ingrown hairs. The people that have used the Bump Fighter razors all speak highly of its ability to stop Pseudofolliculitis Barbae (ingrown hairs) immediately.
There are some downsides to the Bump Fighter razors that keep it from being the absolute best, however.
This razor also isn't adjustable and doesn't have a pivoting head, meaning a more basic shave. While some users noted the blades don't last long, the price for four packs of four razors ensures they're still the best men's razor for black men on a budget.
Final Thoughts
Dating is an unpredictable, scary space to navigate. Going forth into the dating pool with skin trouble is bound to hamper your confidence. But with the right kind of shaving tools, you can say goodbye to razor bumps!
Depending on your needs and budget, these are the three best men's razors for black men.
| | | | |
| --- | --- | --- | --- |
| Award | Product | Price | Buy Now |
| Best value razor for black men | Merkur Classic 2-Piece Double Edge Safety Razor | $40.43 | Buy Now |
| Top-rated razor for black men | Braun Series 7 Men's Electric Foil Shaver | $179.99 | Buy Now |
| Best budget razor for black men | Bump Fighter Men's Disposable Razors | $9.96 | Buy Now |