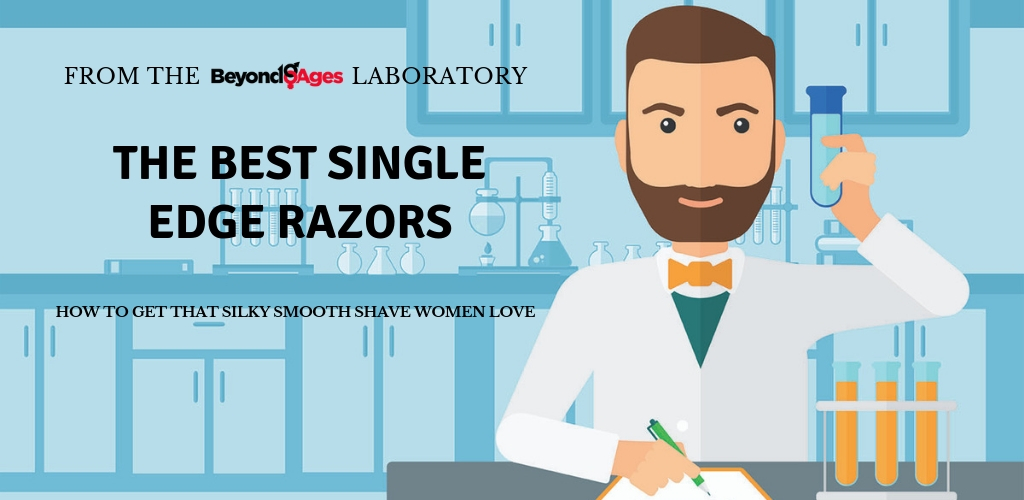 If you find the best single edge razor, you can almost guarantee yourself a date. They can give you one of the best shaving experiences of your life! As opposed to a multi-blade razor, a single edge razor shaves close to the surface of your skin, therefore giving you a smooth, clean shave without any cuts or potential ingrown hairs. No one wants to go on a date with someone whose face is covered in ingrown hairs!
Multi-blade razors, on the other hand, attempt to pull the hair out from underneath your skin in order to give you a closer shave. But this ends up irritating your skin and causing in-growns. Sure, you'll have to learn how to use this classic single blade shaver, but if you have sensitive skin or are prone to ingrown hair, single edge razors are the answer for you.
There are several single edge razors in the market, but you'll need to find the best single edge razor for you. Whether you're entering the dating field for the first time or if you're enjoying playing the field, you need a tight shave setup. Keeping it simple let's you focus on creating a quality shave. More importantly, a razor that does not cut you and make you look like an amateur will serve you in several other aspects of life as well.
How a Single Edge Razor Can Make or Break Your Dating Streak
A good razor is something every adult male should swear by. Even if you like to sport a beard, you will need to use a razor often to keep things groomed and trimmed. If your date can't tell the difference between intentional growth and over-growth on your face, you need a single edge razor. The precision you can use to nick single hairs will let you perfectly shave your face. And women love a well-groomed man!
If you are looking to impress your date or are plucking the courage to go up to an attractive person at the bar, a good shave will give you the confidence to speak freely. You do not have to worry about the person being distracted by the shaving cut on your face or by a patch of facial hair that got left behind when you were shaving in a hurry to get to the date in time. Such cuts and marks on your face will make you look like somebody who does not know how to use a razor. As an adult male, you do not want to be perceived as a teenager who is just learning to use a razor. A good single edge razor will take you a long way in the dating game so you can make the perfect first impression!
The Best Single Edge Razors You Can Buy
The following are some of the best single edge razors you can consider. The 'best bang for the buck' is the single edge razor which is the best you can get without shelling a lot of money; the 'best of the best' is the best product you can get, hands down, irrespective of the price; and finally, the 'best value' category is for the razor that is the cheapest and does a decent job when you have run out of other options.
Best Bang for the Buck: Shave Classic Single Edge Razor | $29.49 | Buy Now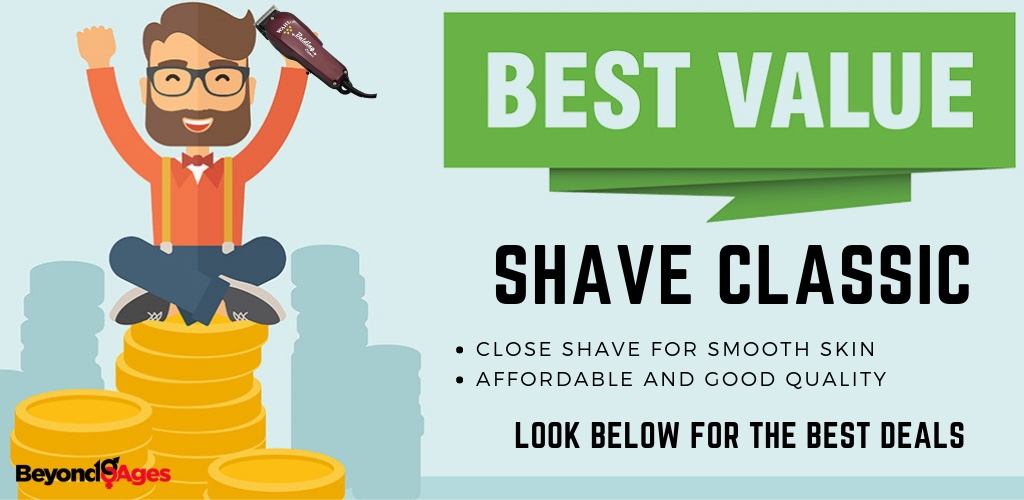 The Shave Classic single edge razor has a fair bit to offer. This small, compact razor packs a lot and does not tear a very large hole in your pocket. It upholds the legacy of the vintage Schick razor, which was known for quality shaves and comfort grooming. The razor boasts of high-quality stainless steel blades which are metalized electronically with durable chromium. The blade also has a polymer coating, which offers you a smooth and safe shave. Meanwhile, the handle gives you better control over your shave and pivots according to the shape of your face well. This is one of the greatest plus points of using this single edge razor as you can avoid the irritation and lacerations that some multi-blade razors may cause. The razor is also smooth and sensitive when you are shaving areas that require greater attention, like your neck.
The razor is also extremely easy to use and clean. You can carry it around on trips and forget about it until you need to use it again. The set includes the Shave Classic single edge razor handle and a 1ct injector blade, along with a pack of 7 ct Schick injector blade refills. The razor is compatible with all Schick injector blades so you can use the handle for a long time.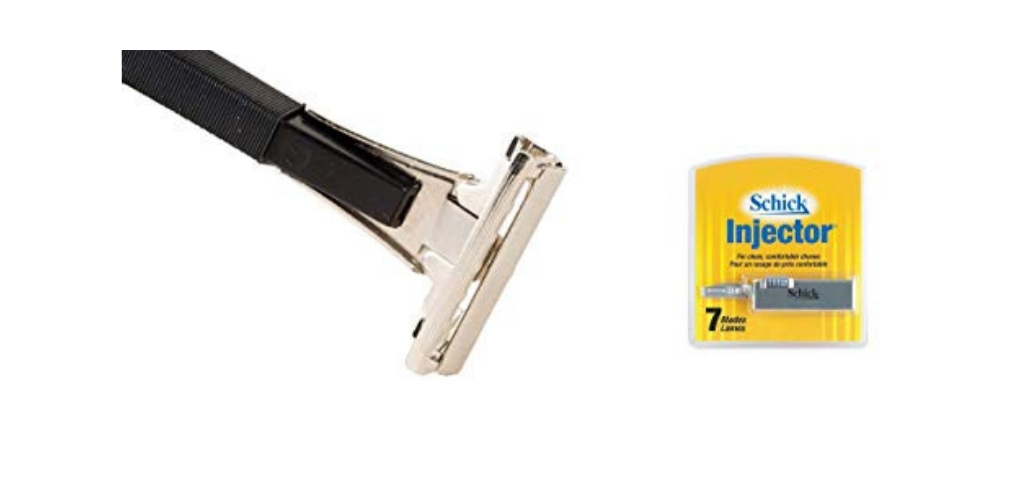 Several users have come back and praised how the vintage razor has evolved and has been presented in a new, even better avatar. Several people who had been using the original Schick razor for years also found the Shave Classic update on the razor great to use!
Perhaps, the only drawback the razor has is that the blade can feel a bit sharp in the first few shaving attempts so you may want to tread with care when you are getting used to the new razor.
Best of the Best: Vikings Blade the Chieftain Safety Razor & Swedish Platinum Super Blades | $36.97 | Buy Now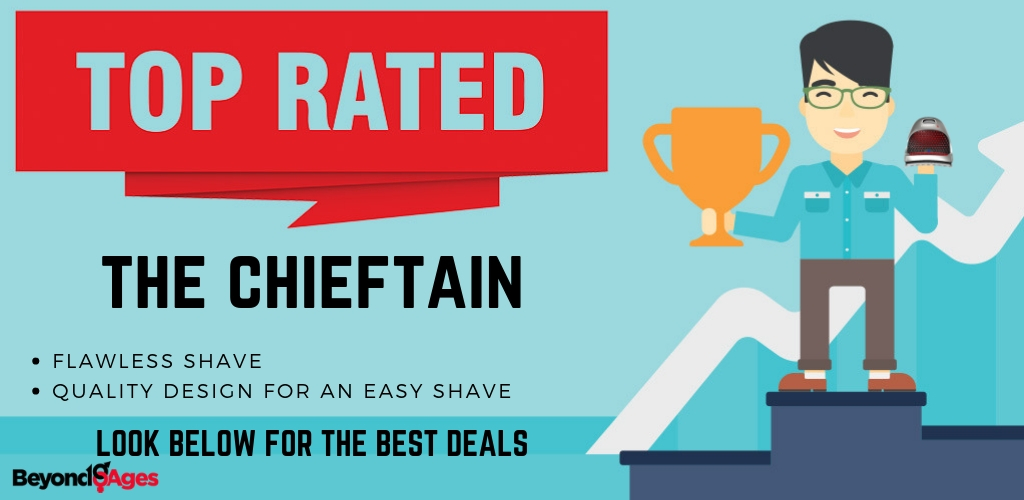 The Chieftain Safety Razor uses high-end materials, has top-notch construction and also offers great control. The razor is heavy, therefore more durable, but also smooth and eco-friendly! So many virtues packed into one design.
The razor also improves upon old, classic designs so you know you are dealing with all the tried and tested methods of grooming that are, with good reason, here to stay. Vikings employs an exclusive anti-misalignment system which maintains your safety and comfort while you are shaving. Since the head cannot close if the razor is put in incorrectly, you have a chance to correct it before you hurt yourself. The advanced Chieftain head is also able to minimize cuts and allows for a time saving and quick five-second blade change if required.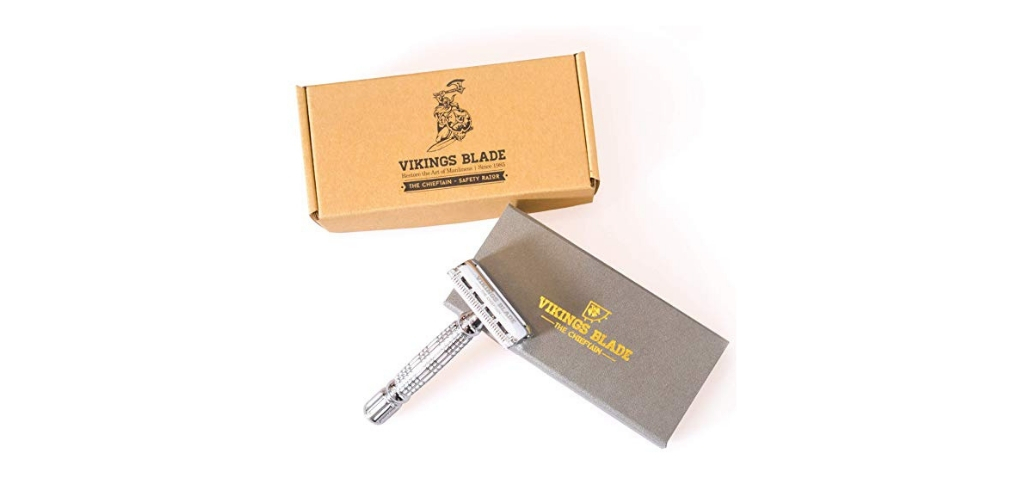 The 3.75-inch (95.3 mm) razor has a lot to offer. You can get a smooth, clean and safe shave with the Chieftain Safety Razor. It is close to the product described as the 'best bang for the buck' in terms of experience, though the Chieftain safety razor surely gives you a smoother shave and takes care of your safety with greater attention. Along with the razor, there is also a leatherette and alcantara case with a mirror, which you can use while you are traveling. This case may come especially handy if you go out on a camping trip or do not have access to a good mirror or place to shave while you are traveling. Just because you are at an inconvenient place does not mean you need to compromise on your daily shave!
This is the 'best of the best' because not only do you get a razor, you get an entire experience. You also get a complimentary pack of Swedish premium, steel mild blades so your grooming needs will be taken care of for a long time! It does cost slightly more money but the extra expense gives you a great experience in return.
The only drawback, perhaps, is that the razor is a little short for some user's preferences.
Best Value: Equinox Professional Straight Edge Razor with 100 Single Edge Derby Blades | $9.99 | Buy Now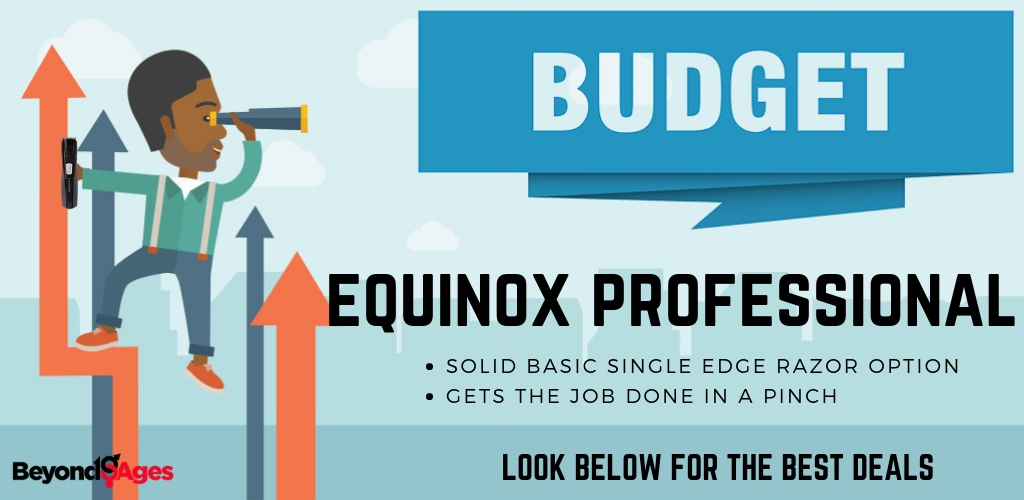 A classic-style straight edge razor, it can give you one of the cleanest shaves for a lot less money. Sure it's not the most glamorous tool to keep in your bathroom closet, but straight edge razors do have a lot to offer — provided you use them with care. The Equinox Professional Straight Edge Razor uses a single edge blade to give you the best and smoothest shave possible. The razor is made of fine quality stainless steel which does not tarnish or rust with repeated use. The blade guard is extremely easy to open so you can replace the blades with ease.
The ergonomic design leaves even some of the best safety razors behind in terms of comfort of use. The razor keeps stability in mind and offers you the perfect holding angle so you can get a smooth shave without needing to indulge in multiple strokes. When the razor is fully open, your fingers can rest on the back handle loop. The index and middle fingers are placed on top and your thumb is positioned near the blade compartment. Along with the razor, you will also get a box of 100 single edge blades that are all wrapped individually so you can use them as needed. Each blade is good for at least 2-3 shaves, so you know that you can get over 200 shaves with that simple tool — a fairly great bargain!
However, given that the razor is of a lower price range and is not a safety razor — which is the conventional choice most men go for — there are a few drawbacks you should be made aware of. To begin with, no matter how safe the razor is, you will still need to be extremely careful with a straight edge razor to ensure you do not cut yourself while shaving. Some users have also complained that the blade moves mid-shave, interrupting your shave when you stop to adjust the blade. Sure you get what you pay for, but if you can push your budget by a few dollars, the products mentioned above may serve you better and leave your skin feeling smoother too. But if budget is a rigid constraint, this is a good option that you can rely on for a long time.
Reviewing the Best Single Edge Razors to Keep You in the Dating Game

When you are dipping into the dating pool, looks matter. As unfortunate or harsh that reality may be, your first impression is made by how you look. You may have a great personality or you may have the ability to win the room with your sense of humor, but what your date sees before you are able to charm them with your personality matters too. Besides, anybody you may potentially date will appreciate the effort you put into your physical appearance. Surely, the women are putting in a great deal of effort into their appearance, so shaving every day and keeping your facial hair groomed is the least you can do.
The products mentioned above are surely some of the best-rated ones in the market. Single edge razors have a lot of good things to offer. Often, you will get a smoother, cleaner and safer shave with a single edge razor as opposed to a multiple-edged one. The following is a synopsis of all that we have covered so far, for your convenience:
| | | | |
| --- | --- | --- | --- |
| Award | Product | Price | Buy Now |
| Best Bang for the Buck | Shave Classic Single Edge Razor | $29.49 | Buy Now |
| Best of the Best | Vikings Blade the Chieftain Safety Razor & Swedish Platinum Super Blades | $36.97 | Buy Now |
| Best Value | Equinox Professional Straight Edge Razor with 100 Single Edge Derby Blades | $9.99 | Buy Now |
You can pick any of these products listed above, based on your budget and requirement — the results will undoubtedly be satisfactory, provided you pick the product that is right for you. Naturally, the Vikings Blade Chieftain Safety Razor (best of the best) will have the most to offer, but if you do not want to spend as much money, the Shave Classic Single Edge Razor (best bang for the buck) is also a great second option!