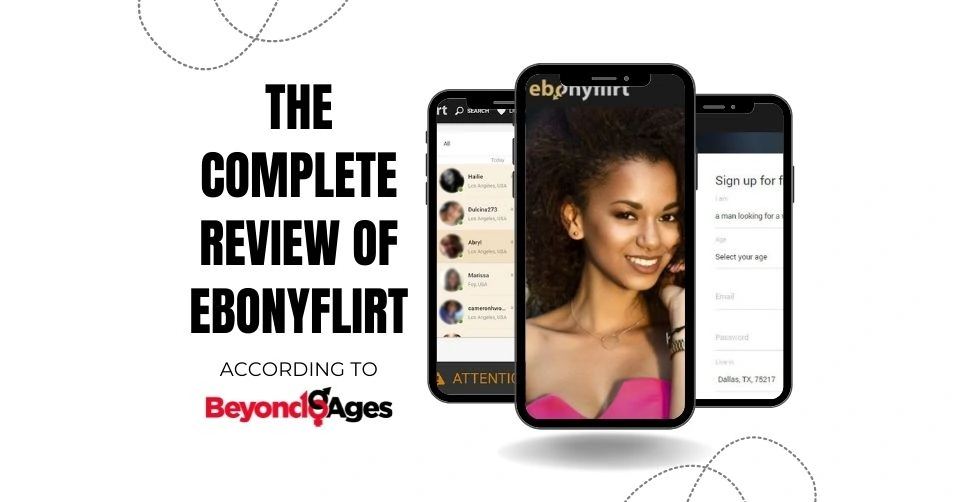 I spent the past couple of months using and reviewing Ebony Flirt. With dating sites becoming more popular, sites that cater to specific audiences are popping up. And since there are many Black singles in the US, it only makes sense to have a site where they can easily match up. This is what Ebony Flirt markets itself to be–a site for meeting Black singles for either relationships or hookups. In this Ebony Flirt review, I'll reveal whether this is the case.
There are plenty of websites that claim to be the greatest online hub for meeting beautiful singles, but in my experience, most of them are terrible. Even worse, a lot of these websites require you to pay money to see for yourself how good or bad it is…
How I reviewed Ebony Flirt
For this Ebony Flirt review, I followed the same standardized procedure that we always use to run the rule over dating websites here at Beyond Ages. This process is what allows us to make fair and accurate comparisons between all of the online dating services available to you.
The process begins with leaving my profile blank for 24 hours. This is a reliable indicator of whether an online dating service is a scam or not.
In our experience, scam websites will ensure that new accounts are bombarded with messages from beautiful women, even if they leave them blank. In most cases, they have programmed online bots to send these messages. With legitimate dating websites, a blank profile will receive no engagement, because what real woman would bother engaging with a completely blank internet profile?
After this test is completed, I fill out my profile with the same generic photos and bio, then buy a premium membership and send messages to 50 women. These are gathered from our trusty list of approved online openers.
Our verdict is based on how responsive these women are. How many reply to my messages? How many are happy to share contact details with the intention of meeting for a date? Ultimately, these are the only things that matter when it comes to the quality of an online dating website.
My verdict on EbonyFlirt turned out to be as clear as daylight. Keep reading to discover what happened when I put EbonyFlirt.com to the test.
The Full Ebony Flirt Review
Let's begin with my basic summary of EbonyFlirt.com. Below, you'll find my ratings for this website out of 10 for the most important aspects of online dating.
To provide a clearer context, these ratings are compared to AFF; the greatest hook-up website of all time, in my expert opinion.
Overall

Our team rates each site objectively based on many hours of independent research, the features each site offers, and how it compares with other sites. The ratings are the opinion of our editors and their extensive experience.

2
9.5
Quality of Women

Our opinion of how attractive the typical woman is that uses this site and how easy they are to connect with compared to other sites.

1
9
Popular

How many people are using this site to actually meet people compared to other sites.

1
9
Usability

How easy is this site to use and how quickly can an average person begin meeting people compared to other sites.

7
10
Privacy & Safety

Does this site take proper precautions to safeguard its members, their identity, and their data.

3
10
Effective

Our opinion of how easily an average person will be able to achieve their dating goals with this site compared to other sites.

1
9
Value

Will the time and money spent using this site pay off for an average person based on the opinions and experience of our editors.

1
10
Our Recommendation
As you can see, this website is not recommended for anyone to ever waste their time and money on. Here are the highlights of the testing process that you need to know:
I was spammed with messages with seconds of creating an account
It is simple enough to create an account, but the warning sirens were blaring within seconds of finishing it. Despite my profile having no bio or photos, messages began to flood my inbox. As previously explained, that's one of the biggest warning signs of a scam website.
But as soon as you try to reply, you're taken to a payment page where you have to pay at least $0.99 for a day of unlimited messages.
Keep in mind that EbonyFlirt is one of many extremely similar sites that cater to different niches. Its other clones are MILFBerry, GetNaughty and MeetWild. They do the exact same thing on other sites.
I received zero replies to my messages
After I completed my profile, I sent out my five free messages, though I didn't hold my breath for a reply. After all, out of the thousands of users on the site, what are the odds that one of the five women I messaged was interested in me?
So I signed for a premium membership and replied to all of the accounts that had messaged my blank profile with such suggestive messages. No replies.
I waited for someone to message me first and replied immediately. No replies.
I started conversations with more suitable profiles in my local area. No replies.
I waited seven days. Still no replies.
I waited a few more days and even added some more info on my profile. NOT. ONE. REPLY.
Once it has your money, EbonyFlirt.com transforms into a virtual ghost town. If you want to feel absolutely gutted that no one is interested in you, this is the site for you.
I couldn't find any female profiles with unique information in their bio
EbonyFlirt.com is well designed and would appear to be packed with beautiful female profiles. But the lack of responses would suggest that most (if not all) of them are dummy accounts. A closer look at these profiles made that even more obvious. None of the profiles that I checked had any unique information added to them.
Why bother with EbonyFlirt when you can use AFF instead?
Add Ebony Flirt to the list of the worst online dating websites I've tested. Ultimately, I couldn't find one person to enjoy a flirty conversation with, let alone meet for a date. Don't waste a second of your time or a dime of your money on this website.
If you're looking for a quick easy hook-up website, you should absolutely head over to AFF instead. This website is packed with REAL women of all ages and races, and most of them are actively looking for one-night stands or casual relationships. If you have a specific type, the search filters make it easy for you to meet your exact type within a set location.
There is no shame regarding casual sex among AFF users. Everyone knows why they're there. For this reason, there's usually a lot less meaningless chat on this website. Instead, all members are keen to meet and get down to business as soon as possible. Life is short, after all!
You can meet some amazing beautiful black women on AFF, and the website is even running a free trial at the moment. Honestly, you should forget about EbonyFlirt and create an account on this amazing website instead.
Pros and cons of EbonyFlirt.com
As you can imagine, it is hard to list any plus points for EbonyFlirt. Still, here is a list of pros and cons for this disappointing online service.
The website has a quick sign-up process
The website is well-designed
You're only granted five messages with a free account
You can't read the messages you receive with a free account
No-one replied to my messages I sent, even with a premium account
I couldn't find one profile with a bio that had actually been filled out
Ultimately, there is no proof that there is even one real woman using this website
The only interesting thing about the profiles is the singular photo
You can add multiple photos to your Ebony Flirt profile, as well as a 140-character status to let people know how you're doing.  What's more, there are tons of multiple-choice questions you can answer to give people more infomation about yourself.
Most of the profiles I spotted had added pictures of attractive Black women. However, I couldn't find any with information added to the bio. There are plenty of profiles, no matter what part of the United States you search in, but there is no evidence that any of these beautiful women are real. After all, if you set up a profile on a dating site, the least you could do is add some info about yourself, right?
EbonyFlirt.com design
EbonyFlirt.com has a fresh and modern design. The main dashboard doubles up as your search function and is dominated by profiles of women you might want to speak to. You can filter this search by age, gender and location.
Each profile has a "chat" button underneath it. When you click this, a new tab appears on the page so you can message that account. No need to navigate to a new web page. You can view your inbox in a tab, without having to navigate to a new page too.
You'll have no problem navigating this website, as most of what you'll want to do occur on the same page. Honestly, it would be great if other more established websites stole this design. As it stands, it's wasted on a website with seemingly no real members.
I got lots of messages but zero conversations
Once you sign up for a free account, you'll be bombarded with messages, but you won't be able to read them. What's more, you'll only be able to send five messages.
With a premium account, you'll be able to send unlimited messages to as many accounts as you want. You can also send a "Flirtcast" every 12 hours, which blasts a pre-determined message out to multiple accounts. However, no matter what you do, there is no evidence that you'll get a reply from real women.
What can you do with a free membership on EbonyFlirt.com?
You can view other member's profiles. You can send five messages in total. You'll also be flooded with messages that you'll be unable to read without a paid account. That's it.
Thankfully, the ads were subtle
There are few unobtrusive text ads for other online dating websites, which appear to be in the same network as EbonyFlirt.com. These messages typically suggest that X amount of women are "waiting for you." Occasionally, you may also get a pop-up ad trying to convince you to sign up for a premium membership.
How much is an EbonyFlirt.com membership?
You can choose between four premium membership lengths. The longer memberships cost less per day, but more overall.
I wouldn't recommend wasting money on any of them.
Still, here is your full list of choices.
One day: $0.99
One week: $7.00 ($1 a day)
One month: $28.80 ($0.96 a day)
Three months: $48.60 ($0.54 a day)
There also an add-on pack available for an additional $0.95 per day. This gives you read reciepts, HTTPS encryption, auto history cleaning and incognito browsing. It's also suggested that you'll appear in other members' inboxes and search results when you buy this, but this most likely is nothing more than another way to scam you out of your money.
Ebony Flirt Review: Frequently Asked Questions
Need some quick answers to your questions? Here are the most common questions asked about EbonyFlirt.com.
What is the Ebony Flirt URL?
www.ebonyflirt.com
How do you log into EbonyFlirt.com?
Navigate to ebonyflirt.com.
Click the "Log In" button at the top-right of the screen.
Enter your username and password
How do you search on EbonyFlirt.com?
The home page also acts as your search function. When you log in, you'll see a list of suitable profiles. You can filter this list by age, location and gender.
How do you send messages on EbonyFlirt.com?
Click the "Chat" button below a member's picture in search results. There is a "Chat" button at the top of each member's profile too. Either way, a window will appear where you can write a message to that member.
What are the best Ebony Flirt alternatives?
For a list of the greatest alternatives to EbonyFlirt.com, see our guide on the best hookup apps and websites.
How do you delete your Ebony Flirt account?
Click your profile picture in the top right-hand corner of the screen.
Navigate to "My Settings."
Click the "Remove Account" button. (It's small and near the bottom of the page)
From there, follow the instructions. You'll have to re-enter your password and answer some questions about why you want to delete your account.
How much does Ebony Flirt cost?
There are four choices of premium membership. These payments will reoccur until you cancel your membership.
One day: $0.99
One week: $7.00 ($1 a day)
One month: $28.80 ($0.96 a day)
Three months: $48.60 ($0.54 a day)
Is EbonyFlirt.com legit?
No, I found a grand total of zero women to speak to at all on this website.
Should I worry about an EbonyFlirt scam?
This website makes huge promises and fails to deliver on any of them. Worse yet, you have to pay to find out that this website offers nothing. That's a scam in my book! Avoid EbonyFlirt at all costs.