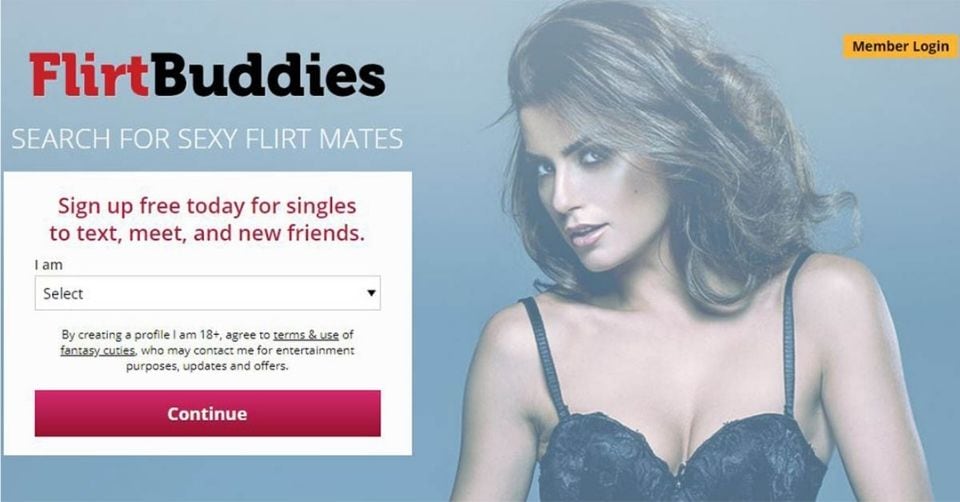 In our Flirt Buddies review we had high hopes when we started. We wanted to find a quality site, with a great population of both single men and women, and an easy to navigate interface. We have reviewed many, many sites over the years in our constant quest to find the best sites out there for meeting single older women.
There are a lot of bad reviews out there and we take a lot of time to make sure we give you the full story. At a high-level this is how we typically review sites:
How we review sites like Flirtbuddies.com
We spend a lot of time evaluating both the free and paid versions of the site. Unless you take the time to discover what you can do with both options you really don't know what you're getting into. Most reviews you see are for the free version only.
That means that we actually risk our credit card and pay for a membership. That's a scary proposition for some sites that don't have a more established reputation but we take the risk.
Once we've signed up we spend weeks sending dozens and dozens of messages actually trying to setup dates and meetups. We have had a lot of success with online dating so we know what works and what doesn't. After all that we have a very good idea of what site is worth your time and what you need to run away from!
As always, we conducted a full review looking at all aspects of the site that would determine if using the site would actually give you a good shot of meeting single women. If it turned out the Flirt Buddies is a great site we would include them in our rankings of the best hookup sites out there. Below is what we found.
What We Found in Our FlirtBuddies.com Review
Things did not start well:
Overall

Our team rates each site objectively based on many hours of independent research, the features each site offers, and how it compares with other sites. The ratings are the opinion of our editors and their extensive experience.

4
9.5
Quality of Women

Our opinion of how attractive the typical woman is that uses this site and how easy they are to connect with compared to other sites.

3
9
Popular

How many people are using this site to actually meet people compared to other sites.

2
10
Usability

How easy is this site to use and how quickly can an average person begin meeting people compared to other sites.

5
9
Privacy & Safety

Does this site take proper precautions to safeguard its members, their identity, and their data.

5
9
Effective

Our opinion of how easily an average person will be able to achieve their dating goals with this site compared to other sites.

1
9
Value

Will the time and money spent using this site pay off for an average person based on the opinions and experience of our editors.

1
10
Our Recommendation
When you're looking for a site or app that can help you meet people for more casual fun or hookups there are a few things that you absolutely need that we didn't find in our Flirt buddies review:
We didn't find many REAL women using this site
There are very few casual dating or hookup apps that can boast that they have a lot of women using them. Flirt Buddies is not one of them.
As you will see further down in our review we didn't find many, if any, real women using this site and had zero luck actually getting any responses. We have seen a TON of success on competitive sites, especially Adult Friendfinder, so this is a terrible sign.
It looks like there are only fake profiles of women
Not having many real women is bad enough but when you see a lot of fake profiles you need to be running away even faster. We don't know how these fake profiles got there, just that they're there.
When you do a little research it becomes pretty clear that you can't trust what you find here. Your best option is to skip this completely and try one of the few legit options for finding casual fun online like AFF.
Now we are going to dive in deeper with what we found while reviewing Flirt Buddies. This is what we found that you need to know about:
It's Very Difficult to Get to the FlirtBuddies.com site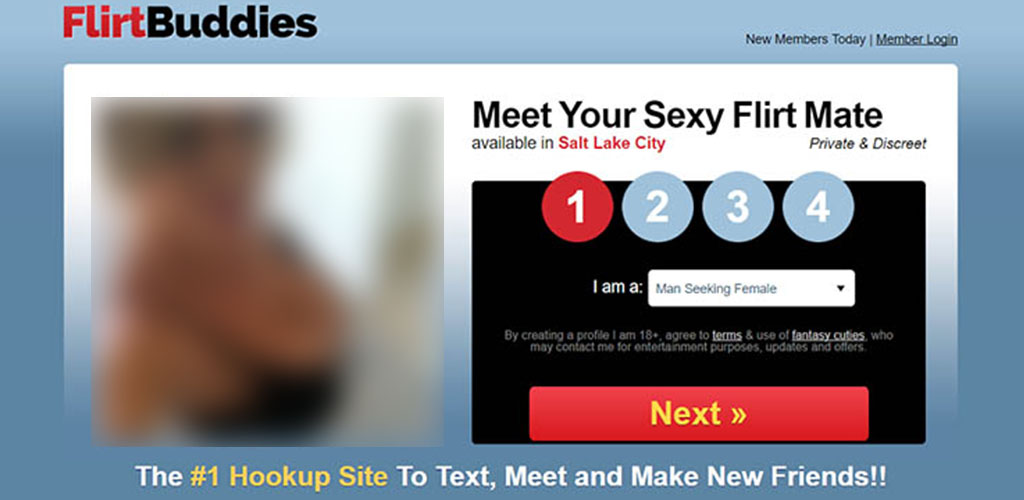 When I got through the initial hoops of creating an account, I was taken immediately to a page that had two, banner length photos of either side of it. The content of these photos was adult, to say the least. But before I could see the rest of the site, I already had a pop-up asking me to verify my email. Apparently, it's not so easy to get to the actual content of the site. I verified my email and continued.
After that, I was taken straight to a membership upgrade page. It offered four different levels of membership. Next to the membership options was a list of reasons to upgrade, including "Cell phone texting," "Private Friend Photos," and something called "Get Action Guarantee."
I looked up the "Get Action Guarantee" in their terms of service page. How can you guarantee "action," I wondered. It turns out that their guarantee amounts to nothing more than a free month of membership if you are dissatisfied. Needless to say, I didn't sign up.
It wasn't until I clicked away from all of these pop-ups that I was allowed to go to the home page.
Now, we are going to help you out here and save some time. You can skip the rest of this review and use your time more wisely on our review of the hottest hookup apps and sites. These are the sites that can actually get you laid.
Adult FriendFinder is a better place to find "flirt buddies"
Flirtbuddies.com has a lot of good looking women on their homepage. Unfortunately, none of those women actually use the site (as far as we could tell when trying it out).
Do yourself a favor and check out Adult FriendFinder for free instead of spending one more second on Flirt Buddies. We are supremely confident you will have far more success meeting women there.
Why are we so confident? Well, while using Adult FriendFinder it is extremely obvious that there are WAY more women using it (they have over 50 million active members after all). When it comes to finding a hookup it can be a numbers game sometimes.
They also do a really great job of helping guys who may not be the most photogenic have a chance with a wide variety of women. Instead of a quick swipe left or right there is an actual profile and the ability to message before matching.
If you want a real hookup site that has been delivering since 2006 check out Adult FriendFinder free trial offer.
Not Safe for Work (or anywhere else)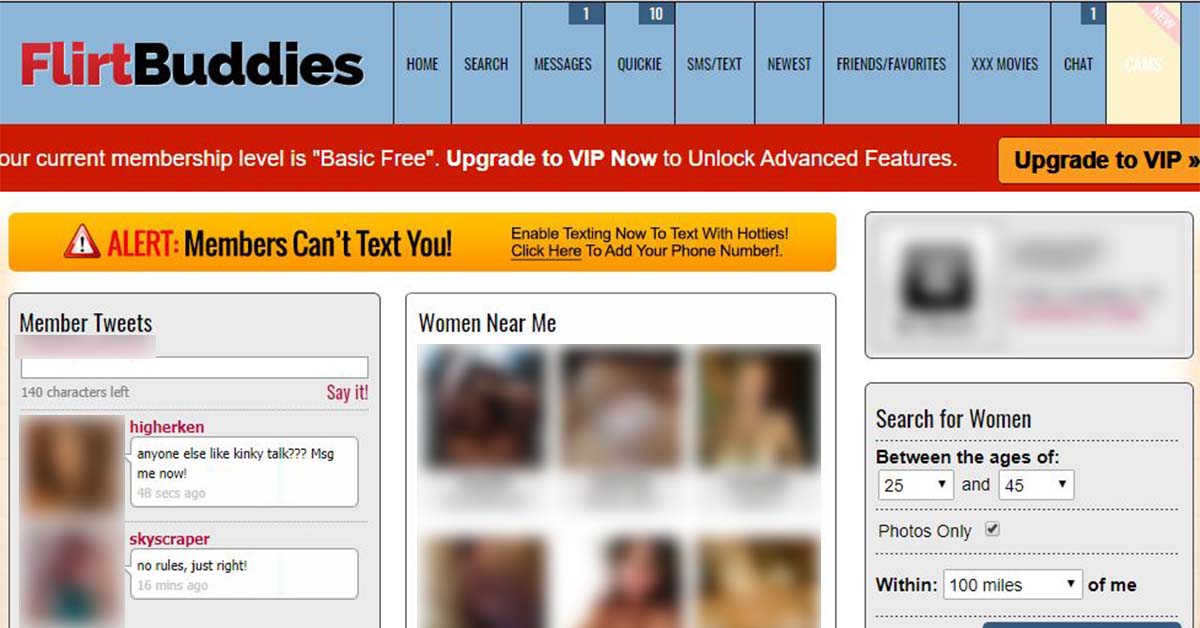 There is nothing very homey about the home page. In fact, it looks more like a dingy alley that you don't want to walk down. There are dozens of 'profiles' (which you cannot actually visit) that display photos of women in all sorts of NSFW poses. There are buttons all around the site asking you to "text" or "tweet" to other local members. They have examples of the kind of text they want, and it's definitely not for the faint of heart.
I have to search for a long time before I can find any options that even resemble a dating site. There is an option to search for local women, although it doesn't allow you to change the location from the one that it has automatically assigned to you. And I'm not sure it would really matter if it did, because I have a suspicion that these women aren't really trying to date me, or anyone else (more on that later in the review).
What's perhaps most sleazy about the home page is the tabs at the top of the page. They include, "Quickie," "Chat," and other not so great stuff. The only "quickie" that should ever be advertised is an oil change at your mechanic.
The Return of the Pop-up during our Flirt Buddies review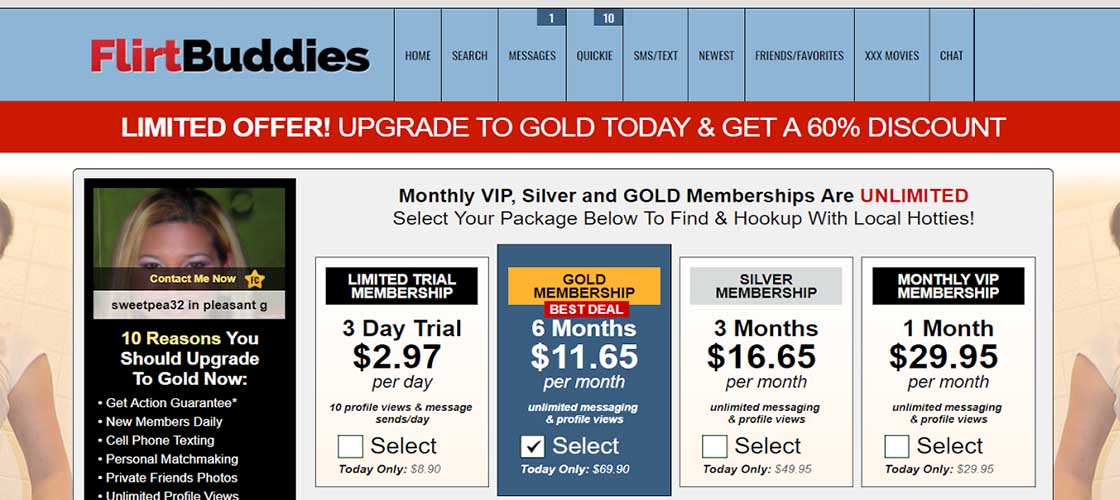 As I try to navigate throughout the different sections of the website I begin receiving more pop-up chat boxes.
"redheadnippples: I'm not sure what you think of me." I try to type something back but it just takes me to another upgrade page, which I click out of. But then, a few seconds later the chat box comes back.
"redheadnippples: I hope it's at least R Rated." I don't type anything.
"redheadnippples: Or maybe X? Heheh."
I have no idea who this woman is that is messaging me, and I have no way of viewing her profile. But she keeps sending me messages, and I must admit, it's pretty clever. I feel rude for not responding. However, even if I could respond, I bet the conversation wouldn't last too long.
Flirt Buddies and Fantasy Cuties
In order to find out much of anything for this Flirtbuddies.com review, I had to check out their user agreement and privacy policy. That's where I discovered the real juice.
At the bottom of a standard liability release clause, I saw something that caught my eye. It said, "including but not limited to interactions with Fantasy Cuties." What is a Fantasy Cutie, I wondered.
I looked a little deeper into the fine print and I saw this. "This site utilizes fantasy profiles identified as Fantasy Cuties. You comprehend, acknowledge, and accept that some of the profiles listed on the Site may be operated by our Site or third party contractors and are fictitious."
So that's who "redheadnippples" was, a fantasy profile run by some third party contractor, probably trying to get me to sign up for a premium account. The user agreement makes it clear that these fake profiles have pretty much-unlimited license to trick or scam you, all in the name of "entertainment"
FlirtBuddies is For Entertainment Purposes Only
Yes, Flirt Buddies really isn't about meeting locals or flirting with someone who lives across the globe. It's not about dating. They have it written very clearly. "You comprehend, acknowledge, and accept that our Service, presented in the style of an online dating service, is an entertainment service." If you actually wanted to get more than entertainment out of this site, as we would expect from those in our review of the most useful sites for meeting cougars.
It's like a very expensive video game. First, you give them your credit card information and all of your personal information, and then they let you chat with computer algorithms and look at adult photos that were probably taken from other member's profiles. How fun!
Is Anyone Out There?
I started to wonder if any of the profiles I saw on the site were real. I cannot find any official member counts, but the site does claim in one advertisement that they have "thousands of users online." Does this include the infamous Fantasy Cuties? It's unclear.
I did find one small point listed in the User Agreement. Under the heading "Number of Members" is says: "The number of members shown on the Site reflects the aggregate number of members over the life of the Site, and may not accurately reflect the exact number of current members."
Okay, so thousands of members over the whole life of the site. That's not so promising. And it also makes me quite skeptical of all the "local" profiles I see (in an unrelated note, I did see one member who was supposedly from "the North Pole"). There's just no way that there are hundreds of local members on a site that only has a few thousand total members.
Different, but Not in a Good Way
At the bottom of their User Agreement, there is a small advertorial message about the site. It says, "FlirtBuddies.com is different. Unlike other online dating sites that have guys in lab coats deciding who is your best match we simply give you all the tools at your hands to find the hottest most compatible dating partners."
I'm not so sure about these guys in lab coats or the claim that they are giving their members "tools" for dating. But I would agree: they are different.
For instance, Flirt Buddies is located in Anguilla. That's different. And in case you are wondering where Anguilla is, Wikipedia informs me that it's in the British Virgin Islands, a place notorious for scamming, international companies.
It's a Scam, but Not a Good One
One thing I consistently noticed about Flirt Buddies was that the site is slow, glitchy, and all-around low quality. Often a window would pop up, but the offer wouldn't load. It would just be a lonely button that says, "No thanks, continue". Whenever I pushed the button, rather than taking me to the place I was trying to go, it would redirect me back to the home page.
I visited their Facebook page. They even managed to make Facebook's glossy platform look sketchy. There were pictures of women in scandalous clothing and videos of women speaking in other languages while looking seductively into the camera. There was no information at all about the actual service being offered.
Whoever it is that runs this company from the British Islands, they don't seem to be very tech savvy.
Flirt Buddies Review Verdict – Don't Even Try this One
One of the "women" who chatted me while I was on the site told me her hands were chilly. And then she asked, "May I put them in your pants to warm up?"
That's just bad flirting. And that's the thing about the Flirt Buddies scam. It's not even clever. It's just low-end, standard, boring, offensive content that no one should engage with. I wouldn't recommend the website to anyone.
I hope that this Flirtbuddies.com review helps you to avoid all of the pop-up windows and glitchy redirected pages that I had to wade through.