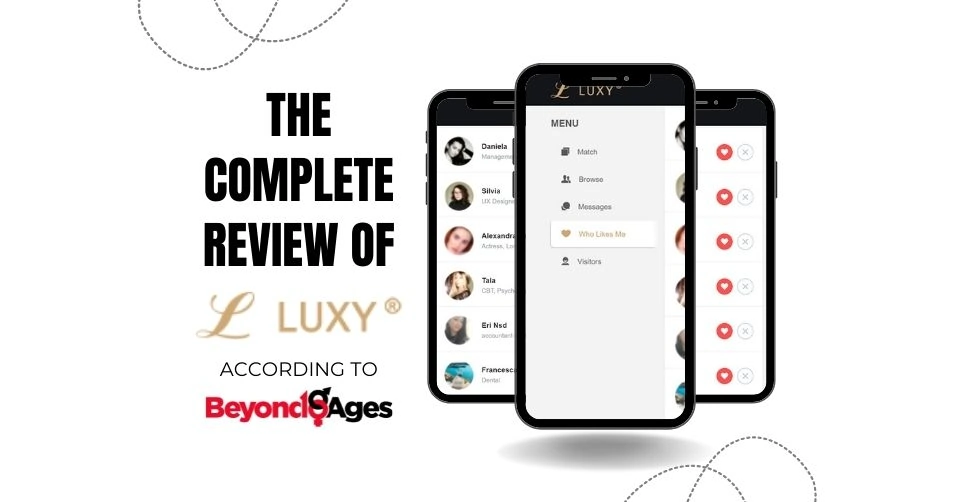 We spent a lot of time putting together this review of the Luxy dating site. It positions itself as a dating app for "high-end singles" that promises to help you "connect with "the successful and attractive." Put simply, it's an app for rich singles to meet each other. It has one of the most expensive premium memberships out of all the online dating apps and websites we have reviewed.
The question is: is it worth the money?    
These days it's a requirement to spend at least some time online if you want to meet a lot of other singles. Far fewer people are hanging out in crowded public spaces that used to be great for meeting. If you're not using at least one quality app or site you're just not going to do that well anymore.
We have seen plenty of online dating services that walk the walk, only to leave guys disappointed once they invest in a premium membership. That's a travesty, especially at "high-end dating" prices.
This is why I like to write these online dating reviews. It gives you the chance to discover what the websites are really like without having to pay money upfront.
In this Luxy review, you'll discover how easy it is to date successful and attractive women from your city using this website. You'll discover whether it's a cut above the free and cheap mainstream online dating services, plus what you'll actually gain from investing in a premium account.
How I Reviewed Luxy Dating App
The review below goes into great detail about what you'll get with a free profile and a premium membership at onluxy.com. I started out by testing the free profile to see if that's enough to get me any dates.
Once done, I paid for the premium membership, which has more features than the free one.
I sent messages to well over 50 women and noted how much attention I received. How many women would look at my profile? How many would reply to my messages? How many would share contact details with me? For those that respond I actually set up dates with them to really understand how responsive and committed the women using this site are.
Read on to find out and see how this compares to other online dating websites. 
The Full Luxy Review – What Did Months Of Trying Get Us?
Luxy is available as a smartphone app, as well as on desktop. You'll have to jump through a couple of hurdles to even be accepted by the website. But is it even worth being invited in?
You're about to find out…
If you're not too fussed about the ins and outs of how this website works, check out this basic summary. It rates Luxy out of 10 for the most important aspects of online dating.
For context, these figures are compared to AFF (which you can try for free here), the hookup site that usually is the best option for guys that aren't super handsome (they can do well anywhere). It's a useful comparison to see how a newer site or app compares to the best out there:
Overall

Our team rates each site objectively based on many hours of independent research, the features each site offers, and how it compares with other sites. The ratings are the opinion of our editors and their extensive experience.

7
9.5
Quality of Women

Our opinion of how attractive the typical woman is that uses this site and how easy they are to connect with compared to other sites.

7
9
Popular

How many people are using this site to actually meet people compared to other sites.

7
9
Usability

How easy is this site to use and how quickly can an average person begin meeting people compared to other sites.

5
10
Privacy & Safety

Does this site take proper precautions to safeguard its members, their identity, and their data.

10
10
Effective

Our opinion of how easily an average person will be able to achieve their dating goals with this site compared to other sites.

7
9
Value

Will the time and money spent using this site pay off for an average person based on the opinions and experience of our editors.

7
10
Our Recommendation
This was definitely an interesting experience compared to most of the other apps we've tried. They definitely put a lot of time and effort into their product and it shows.
Luxy tries to maintain the quality of its user base by making new users jump through a number of hoops to get in.
First off, you'll need to go through a 24-hour "vouch" process, where existing members vote whether to allow you in or not. You'll need more than 50% of voting members to vouch for you to be granted a free profile. It's not clear what criteria they are using, but Luxy suggests it helps for you to fill in your profile while verifying your photo and your income.
Don't panic, though. I'm a bald 32-year-old dating/relationships writer and I was still successfully vouched by the Onluxy community. It felt good to be part of the in-crowd 🙂
Having said that, it's not the end of the world if you don't make the grade. You can skip the vouch process by paying for a premium membership.
A premium membership is expensive, but a free account will waste you a lot of time
You'll need to verify your photo in order to message other users, but with a free account you'll only be able to message those who "liked" you. Similar to mainstream apps like Tinder and Bumble, you'll have to swipe on members one-by-one, deciding whether to "like" them and hoping they "like" you back.
The key difference here is: you only get 30 swipes per day with a free Luxy account.
You can buy "boosts" so that your profile is more likely to be seen by other members. But it's almost undoubtedly more cost-effective to buy a premium account.
Luxy is packed with high-quality women
I bought a one-month premium account for $79.99 on sale (it's usually $99.99) and this gave me the opportunity to message any Luxy member without them having to "like" me first. It also allowed me to see who had viewed my profile and who had already "liked" me. (There are other benefits, which I'll list later).
Just as I'm not a six-figure earning CEO, neither are all the women on Luxy.
Nevertheless, the quality of the women is high. It's hard to stumble across a laughably unattractive woman. I guess the vouch process helps to take care of them.
It's not the quality of the women that is the biggest advantage of an exclusive dating website though. It's the quality of the men.
The barriers to entry mean that women probably aren't being bombarded with messages from unattractive low-quality morons. Your message is less likely to get lost in the noise.
What's more, a woman may be more inclined to see you as a half-way decent guy and check out your profile, if only because you bypassed the barriers to be accepted by the Luxy community. As with a high-end nightclub, the fact you got in implies some value on its own.
Also, if women are paying to be a part of the website, they're more likely to be serious about meeting someone.
My response rate would suggest this is the case. Out of the 50 women I messaged, I received 21 replies and swapped contact details with 7 of them.
Luxy.com is not a well-designed website
I tested the desktop version of onluxy.com and was frustrated with several parts of the website's design.
For example:
Before purchasing a premium account, I was told 20+ people had "liked" me. Upon purchasing an account, I was able to discover that several of these were based in a different country and a couple were men!
I continued to receive a steady stream of likes and profile views after purchasing a premium account, but again these were rarely people from my country.
The "Who Likes Me" page barely shows any details about the people who like you. You see a picture, their name and one (seemingly random) detail. To find out where they live, you have to click through to their profile. To "like" or discount them, you have to navigate back to the previous page.
When searching for women, you can't set a maximum age younger than 28.
The website doesn't tell you how many miles away other users are. You can't filter your searches based on this either.
You'd expect more from such an expensive service. Still, the website is bearable to use. Most guys would put up with it, if it meant securing a date with a high-class woman – and this is absolutely possible.
Is Luxy worth the money?
We paid $79.99 for a one-month Luxy Black account. It was on sale when we bought it, so you might have to pay the full price of $99.99. Just like a high-end nightclub, the price is deliberately high to scare off lower-class people.
For Luxy's target audience, $99.99 a month is loose change — and perhaps therefore worth the money. The same way that blowing four figures on a table with bottle service is worth the money to them.
Are there better options out there?
Still, we should mention that it's absolutely possible to hook up with great women online without breaking the bank.
When we reviewed AFF, we found there were plenty of great women happy to message us back and meet us super quickly. These women were responsive and open, so we didn't have to resort to too much small talk to land a date. We'd suggest you give AFF a try before blowing the big bucks on Luxy if you're only looking to hookup. If you are 100% committed to finding a long-term partner with money Luxy is going to be a better option.
Positives and negatives of Onluxy.com
Overall, our feeling about Luxy are mixed. So here's a quick summary of what we liked and didn't like.
High-quality women;
Exclusivity gives you a higher chance of being noticed;
No bots, scammers or cam girls in sight.
Frustrating website design;
Expensive;
Most "likes" and profile views came from women outside my city.
Luxy profiles, pictures, and members
Luxy profiles are extensive enough to encourage members to paint a detailed picture of themselves. Most members have taken the time to do this. As mentioned before, the entry fee encourages people to take the website seriously.
You must have your photo verified by Luxy in order to message people. You'll be given a crown symbol to show off on your profile if you're a premium member. Luxy also encourages you to verify your income, although the women who chose to do this were in the minority.
Nevertheless, you'll be impressed with the overall quality of the women using this website.
What Dating Experts Recommend As Alternatives To Luxy
If you're even considering Luxy you need to try these apps that dating experts are actually recommending. What app you choose is the biggest decision when it comes to online dating and shouldn't be taken lightly. These are the apps that are working best right now:
Site
Our Experience
Our Rating
Free Trial Link

Best For Relationships

Experience Highlights

Easily the best option for long-term relationships
75% of all online marriages start here
70% of users meet their spouse within a year
In-depth signup and matching process

Try eHarmony

Best For Casual Fun

Experience Highlights

The best way to meet women for casual relationships
Best results for regular guys
Over 60 million active members
Not good for long-term relationships

Try AFF For Free

Great If You're Handsome

Tinder Highlights

Great if you're pretty good looking
Very popular, especially if you're 18-22
Really focused on photos
Becoming more of a dating than hookup app

Try Tinder
OnLuxy.com design
As mentioned above, there are a number of frustrations when it comes to navigating Onluxy.com. We didn't test the iOS or Android apps. With that said, the desktop version of OnLuxy.com is bearable enough to use — and the aesthetic of the website does emanate a touch of class.
Luxy messaging and chatting
You can leave unlimited messages to members all over the world if you have a premium account. You can send emojis and images too if you wish. Most of the women were responsive, and there wasn't a single woman who sent sketchy links.
The chat feature is pretty straightforward. However, your messages get deleted when you log into a different device.
What can you do with a free membership on OnLuxy.com?
With a free account, you can send messages to women who you "match" with. That is more generous than a lot of other high-end online dating websites, although free profiles are 40% less likely to be shown to other members during the "match" process.
Also, remember you'll have to pass the "vouch" process to be granted a free account in the first place. 
Advertisements
There is no sign of any advertisements on this platform.
Pricing
There are two premium accounts. Luxy BLACK and Luxy Platinum. When we reviewed Luxy, it was running a 30% off sale on these memberships.
Luxy Black Membership
($99.99/mo for 1 month, $79.99/mo for 3 months; $58.99/mo for 6 months)
Luxy Black members can:
skip the vouching process;
message members from around the world, even those who haven't "liked" them;
see who has already liked them;
see who has viewed their profile;
change their profile name;
"like" as many profiles as they wish.
Luxy BLACK members get a "crown" on their profile to show off their premium status. They will also get more exposure than free members. In fact, on average they are shown to 40% more people.
Luxy Platinum Membership
($333/mo for 3 months)
Platinum members get all the benefits of a BLACK membership, plus they get even more exposure, three free boosts per month and a different symbol on their profile. There are only seven platinum members allowed per city.
Luxy Review: Frequently Asked Questions
Still not sure if OnLuxy.com is the app/site for you? Here are some FAQs to help you decide.
What is Luxy?
Luxy is an exclusive dating app and site that caters to more affluent singles. They have a 24-hour vouch process that ensures that all the users on the site meet their standards.
Who actually owns OnLuxy.com?
The CEO of OnLuxy.com is Tim T. The site is registered in Hong Kong.
How can I contact Luxy?
You can contact Luxy via email at [email protected].
Is OnLuxy.com real?
Yes, OnLuxy.com is a real site with all usual features of a moderately decent dating app.
Is Luxy legit?
Luxy is a legit dating website if a little expensive. There are no signs of any scammers.
Is OnLuxy.com a scam or fake?
It's an expensive website, but you get everything that is advertised and it works reasonably well. Definitely no OnLuxy.com scam here.
Is Luxy safe?
In my experience, Luxy seems safe enough. Their vouching process seems legit enough, which is promising.
What are OnLuxy.com alternatives?
OnLuxy.com may look legit and safe. But that's not all you want in a dating app. You want an active userbase of people who are looking to actually meet up. For our recommendations of the best alternatives to Luxy, see this guide on the best hookup apps and websites.
How does Luxy work?
Luxy is basically like any other paid dating site. You pay for an account, you browse through profiles, narrow down your search and message anyone you like. The only difference is that all the users on the app are more affluent than most.
Is there a OnLuxy.com app?
Yes, OnLuxy.com is available on Android and iOS.
How much does Luxy cost?
A Luxy BLACK membership costs:
$99.99/mo for one month
$79.99/mo for three months
$58.99/mo for six months
A Luxy Platinum membership costs $333/mo for three months
How can you use OnLuxy.com for free?
You can't. You need to pay to create an OnLuxy.com account.
Can you send messages for free on Luxy?
Once you pay for a Luxy account, you can send unlimited messages to anyone. So technically, you need to pay before you can even create an account.
How do you cancel your Luxy membership?
Navigate to your name on the top right hand of the screen. On the drop-down menu, click Settings, then Delete Profile.
How do you delete your Luxy account?
Navigate to your name on the top right hand of the screen. On the drop-down menu, click Settings, then Delete Profile.
Canceling your subscription, however, isn't as simple. You will need to go to a third-party payment site and provide your credit card details.