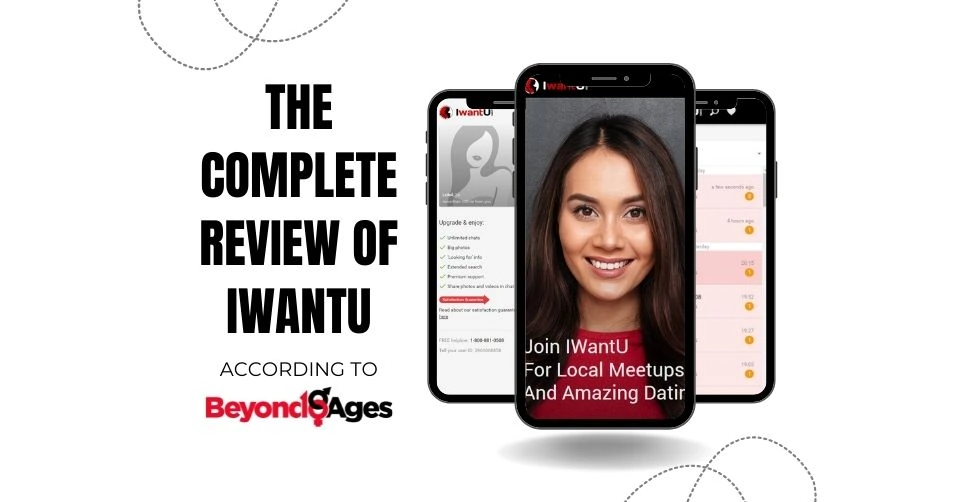 For the past few months, we've been putting together our IWantU.com review below. There are hundreds of dating and hookup sites out there and we have a mission to try them all in order to find the best!
Online dating is a great way to put yourself out there, especially with all the social distancing going on. You can't expect to spend hours and hours in crowded bars and clubs anymore. So many women have moved to only meeting single guys on dating sites and apps that you really need to be on a couple. It's too easy to miss out otherwise.
The thing is, your experience can only be as good as the dating site or app you're using. To save you lots of time, effort and potential credit card fraud, check out our other dating site reviews. You'll be surprised by just how many dodgy sites are out there, just like IWantU.com.
How we reviewed IWantU
How did we come to the conclusion that this isn't a site worth trying? I didn't just create an account and have quick look around before saying it's a scam.
Instead, I follow a pretty standard review process that lets me thoroughly inspect the ins and outs of the site.
This process starts off with a free account. I created an IWantU account and left it completely blank for a day or two. No photos, no bios–just a username. If my blank profile receives any messages, that's an instant red flag I'll take into account.
Next, I'll complete my profile by adding photos and a fairly generic bio. I'll then start messaging at least 50 women in the hope of arranging a date. I'll also navigate through some of the sites free features. Once done, we signed up for a paid membership to IwantU.com to see if paying will open up any useful features worth reviewing.
This allows me to see a clear picture of what IWantU is all about while also allowing me to share my thoughts about why you should or shouldn't use the site.
If the site doesn't look familiar, I'd suggest reading the rest of this review anyway. The better understanding you have of these sites and how they operate, the better you can avoid them.
Our IWantU Review: A Dodgy "Dating" Site?
We like to start off every review with a quick comparison to one of the high-quality options out there. Since AFF is the top-rated hookup site in our experience for normal guys, it makes for an ideal comparison against IWantU.com. You can see for yourself how they stack up and which one is worth your time.
Overall

Our team rates each site objectively based on many hours of independent research, the features each site offers, and how it compares with other sites. The ratings are the opinion of our editors and their extensive experience.

3
9.5
Quality of Women

Our opinion of how attractive the typical woman is that uses this site and how easy they are to connect with compared to other sites.

1
9
Popular

How many people are using this site to actually meet people compared to other sites.

2
9
Usability

How easy is this site to use and how quickly can an average person begin meeting people compared to other sites.

10
10
Privacy & Safety

Does this site take proper precautions to safeguard its members, their identity, and their data.

8
10
Effective

Our opinion of how easily an average person will be able to achieve their dating goals with this site compared to other sites.

1
9
Value

Will the time and money spent using this site pay off for an average person based on the opinions and experience of our editors.

1
10
Our Recommendation
The more dating sites I review, the more I see this same exact template over and over again. Take a look at the screenshots below and you'll see exactly what I mean. Of the sites I've personally reviewed so far, 6 of them use the same template and tactics.
As I came across this more and more, I started to look a little closer. I wanted to see if they were all connected or maybe it was just a cheap dating site theme that could be purchased.
As it turns out, they're all part of the TopOffers affiliate network. Not just six websites though — 218 of them. 218 scummy bottom-feeders trying to fool you into giving them your credit card info.
Blank profiles are extremely popular!
Since no real user will ever message a totally blank profile, this is always a great indicator the site is dodgy. In the case of IWantU, that's exactly what happened. Within minutes I had four messages in my inbox. After 48 hours. . . 42 messages.
The good news is that my blank profile seems incredibly popular. The bad news, though, is that I'm popular among a bunch of bots. You see, these "women" who sent me messages aren't even women. They're probably not even people. Instead, they're just there to get me hyped up and wanting a paid subscription so I can see what this "hot single woman near you" is saying.
I've tried the other sites in this network, and the process is the same. You want to read these messages, so you sign up for a paid subscription. You open the message and see that it's a fairly forward yet (maybe) believable message from a woman. You reply. You wait. Then you realize that she will never reply. I Want U and its affiliates already have your credit card information and they'll likely charge you again and again until you call them up to cancel. Or you'll probably need to cancel your credit card altogether.
No one wants you on IWantU, but there is a site where you can meet real women
In short, you'll get nowhere using a site like IWantU. Instead, you should focus your attention on other sites that actually work. From our experience, that's AFF. No other site has been as useful and as reliable as AFF when it comes to arranging hookups with single women, MILFs, cougars, couples and whatever else you could possibly want.
AFF has been in the dating business for decades, and they're one of the most reputable sites out there. With its huge userbase all over the world, there's no doubt there are bound to be women in your city who use the site. So why not arrange a meetup with them tonight by checking out the AFF free trial!
Pros and cons
I try to be balanced about my reviews and give credit where it's due. All I can really say here is that at least the user experience isn't terrible.
The layout loads fast and is easy to use
The scam tactics are lazy and easy to spot
Not a single real user on the website
Adds and other affiliate links everywhere
Constant spam messages pushing you to sign up
More about the TopOffers affiliate network
This has been covered in more detail in some of my other dating site reviews but let's look at the basics here. In short, TopOffers is an affiliate network, meaning the websites within that network get paid for a certain action. It's impossible for me to confirm exactly what that action is but looking at how they operate, my assumption is traffic and sign-ups.
If this is the case, each time a user creates a profile, the site owner gets paid an amount of money. Same deal each time someone clicks an outbound link and visits another site in their network.
Snopes dug even deeper into this network and uncovered the scale and value of it. If their tactics weren't bad enough, wait until you hear the value of these websites. Several years ago, just three of these sites sold for around $52 million!
IWantU Alternatives For Regular Guys Dating Coaches Prefer
If you're just a regular guy looking for some casual fun it can be tough out there if you use the wrong app. Most are pretty bad. Fortunately, if you actually want some success, there are a few apps dating experts recommend:
Site
Our Experience
Our Rating
Free Trial Link

Best Hookup Site Right Now

Experience Highlights

Top option for local hookups by far
Best results for regular guys
Over 60 million active members
The design needs an update

Try AFF For Free

Great If You're Handsome

Tinder Highlights

Great if you're pretty good looking
Very popular, especially if you're 18-22
Really focused on photos
Becoming more of a dating than hookup app

Try Tinder

2nd Best For Most Guys

Experience Highlights

2nd best option to find hookups
Attracts an older crowd than most hookup apps
Pretty popular
Solid free trial

Try Passion
Ever-increasing discounts
If it wasn't already clear that they really want your credit card info, just keep an eye on the discount percentage. When you first create an account they offer you a "limited time" 30% discount (this "limited time" discount has been running for a very long time now).
That percentage kept climbing and right now, I'm being offered 60% off. What a steal!
Chatting and messaging
The way these sites push you to sign up is by pretending there are multiple women desperate to chat to you. Since they're behind a paywall, you need to pay to see these messages and interact. I'll save you the trouble: Not a single one of these messages are from women. They're bots designed to make you want to sign up.
As you can see in the first screenshot of this review, most of the messages are obscured completely. All you see is that someone sent you a message and a big "Upgrade to read" button. Occasionally you will receive a message you can actually read. Even then, you can tell it was written by a guy that doesn't communicate with women very often.
Check out this example from "Leilx4"
I wanted so badly to tell Leil how romantic I am. That I love nothing more than to walk in the park under the moon. I needed to know how she immediately understood me so I decided to reply.
Alas, our love was not meant to be. The moment I clicked in the text box to reply, I was given a clear sign from cupid himself:
My soulmate was locked behind a paywall. Distraught, I moved on with my review process.
Advertisements
Another clear sign that a dating site can't be trusted is an abundance of ads. While real dating sites get their revenue from ongoing subscriptions (because they have real users), fake ones take ad revenue.
In the case of the TopOffers network, things work slightly differently. Rather than being porn or camsite ads, you see links to other sites in their network. Since they seem to get their money from referral traffic and sign-ups, they want to point you to other parts of their network.
For example, this unassuming ad might seem interesting:
But it will only take you to another site that's part of their affiliate network:
Either way, the result is the same. Ads = low-quality dating site.
Blank user profiles
It's not all that uncommon to find blank profiles on dating apps, I'll admit. In the case of IWantU though, every single profile is the same. It'll have a profile photo that was likely stolen from elsewhere and that's it.
Take "Freahon" here, for example. A profile photo and her age, a couple of obscured photos and. . . that's it.
When you scroll down to see other information about her, it's completely blank.
I guess populating tens of thousands of fake profiles with this info would be a lot of data entry so they just don't bother.
Frequently Asked Questions About IWantU
Before we end this IWantU review, here's a run-through of the most frequently asked questions.
What is IWantU.com?
IWantU.com is a hookup dating site that claims to help singles meet online. However, we've found that it's one of many terrible sites that lure its users into paying for a subscription.
Who actually owns IWantU?
IWantUis operated by Infraweb Solution Limited, which is a company registered in Hong Kong. They also operate a variety of similar low-quality sites.
How can I contact I Want U?
You can email I Want U at [email protected]
Is IWantU.com real?
IWantU.com might be a real site, but it's not an actual dating site. It's impossible to meet anyone here since nearly all the profiles on the site look incredibly fake.
Is IWantU legit?
Definitely not. It's part of an affiliate network that exists just to get your information and credit card details. There is not one single woman here!
Is I Want U a scam or fake?
While I Want U might not be an outright scam, it'd definitely not a site you want to try.
Is IWantU.com safe?
No. From our experience, IWantU.com is far from safe. Don't give them your credit card details.
What are IWantU alternatives?
Do yourself a favor and avoid this site. Instead, check out our review of the best hookup apps and websites.
How does I Want U work?
I Want U works by showing you profiles of attractive women once you log in. However, to contact any of them, you need a paid account. On top of that, once you do sign up for a paid account, you'll find that barely any of the seemingly eager women will reply to you.
How do you send messages on IWantU?
As a free member, you can't. As a paid member, click the Chat button under any user's profile. Be warned, you'll likely only be chatting to bots or men pretending to be single women.
Is there an IWantU.com app?
No, IWantU doesn't have an app.
How much does IWantU cost?
Below are the paid membership prices for IWantU:
One day: $0.99
One week: $7.00 ($1 a day)
One month: $28.80 ($0.96 a day)
Three months: $48.60 ($0.54 a day)
How can you use I Want U for free?
By signing up you're automatically given a free IWantU membership. This membership doesn't allow you to interact with anyone, though since it's a fake site, neither does a paid membership.
Can you send messages for free on IWantU.com?
No, you need a paid IWantU.com account if you want to send messages.
How do you cancel your IWantU account?
Going by the other reviews I've seen online, it seems unlikely they'll actually cancel your subscription. You'll have to cancel your credit card if you want to stop the payments.
Official instructions to cancel your subscription are below. But if you've signed up for a paid account, contact your bank ASAP.
Click your profile photo in the top right corner
Select "My Settings"
Click "Billing History" (¾ of the way down on the right) then "Deactivate Subscription"
Follow the steps in this wizard to cancel further payments
How do you delete your IWantU account?
To delete your profile just follow these steps. Note that you'll have to cancel your paid subscription before you can do this.
Click your profile photo in the top right corner
Select "My Settings"
Click "Remove Account" (¾ of the way down on the right)
Follow the steps in this wizard to delete your profile