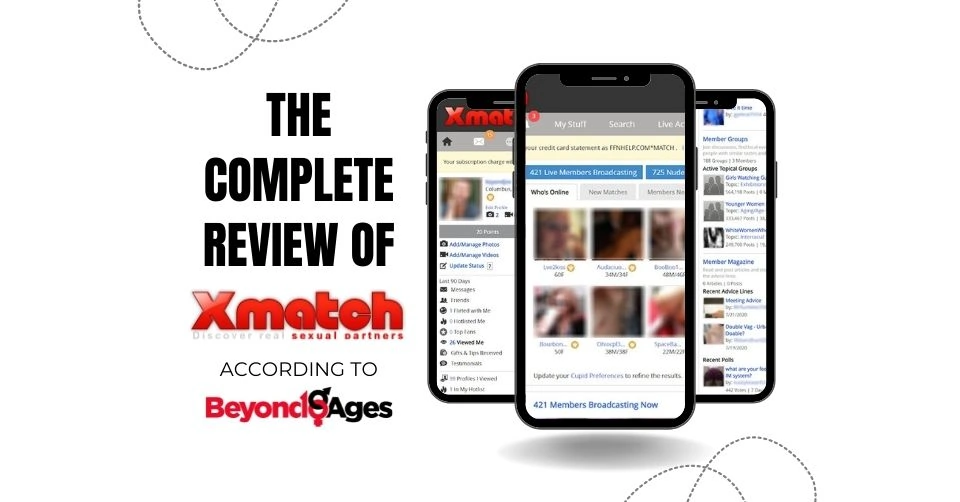 XMatch is an online dating website aimed at singles looking for one-night stands and casual relationships. It's online dating with the gloves off. The website would appear to be especially popular with swingers and couples looking for a third wheel. We've put together a complete XMatch review below where we spent a lot of time using it and trying to meet women.
Online dating can be frustrating enough without wasting your money on dud websites. That's why I was more than happy to complete this review for you. I invested in a Gold account and put this website through its paces to discover just how easy it is to organize hookups with hot women.
You really need to do your homework these days. There are so many garbage sites and apps out there that will just waste your time. However, so much of dating happens online these days that you just can't avoid them either (thanks social distancing).
How I reviewed XMatch.com
I always follow a standard procedure when it comes to reviewing sites like this. This allows me to paint a thorough and objective picture of what the site is all about. It can also help you decide if the site is worth trying.
After creating an XMatch account, I left my profile blank for 24 hours. Often, if a website is a scam, a blank profile will be inundated with suggestive messages from female accounts. However, this didn't happen with XMatch. This was a good sign. After all, what legitimately hot women would message a ghost account?
Afterwards, I filled out my profile with the same generic photos and a bio that we use for all of our online dating reviews. Then, I fired out some generic messages from our list of opening lines to 50 women in my local area. By using the same profile and opening lines for each review, we are able to make a fair comparison. Once done, I opted for the paid membership to see if there are any other useful features that will make it easier for me to meet women.
Read on to find out how responsive the women were on this website. You'll discover how many women viewed my profile, how many replied to my messages and whether I was able to convince any to share contact details.
Now that you've seen how we conducted our review of Xmatch.com let's look at the results.
Our XMatch Review: Our Experience
If you're not too bothered about the ins and outs of how XMatch works, check out my basic summary below. I rated XMatch out of 10 for the most important aspects of online dating. To create some context, these ratings are compared to our review of AFF (which you can try for free here) – the hookup site that we consider to be the very best for finding no-strings fun (especially if you're a guy).
Overall

Our team rates each site objectively based on many hours of independent research, the features each site offers, and how it compares with other sites. The ratings are the opinion of our editors and their extensive experience.

8
9.5
Quality of Women

Our opinion of how attractive the typical woman is that uses this site and how easy they are to connect with compared to other sites.

5
9
Popular

How many people are using this site to actually meet people compared to other sites.

7
9
Usability

How easy is this site to use and how quickly can an average person begin meeting people compared to other sites.

7
10
Privacy & Safety

Does this site take proper precautions to safeguard its members, their identity, and their data.

10
10
Effective

Our opinion of how easily an average person will be able to achieve their dating goals with this site compared to other sites.

8
9
Value

Will the time and money spent using this site pay off for an average person based on the opinions and experience of our editors.

8
10
Our Recommendation
XMatch is relatively expensive compared to the other hookup websites out there, but there are plenty of good things to say about it. Overall Xmatch.com is a solid site but we've had much better success using AFF. They aren't hugely different but we've just seen more guys find consistently better results with AFF. If you really want to maximize your chances we recommend that you try them both.
Here are the main things you need to know about using XMatch.
XMatch has a large and active community of users
From the moment I logged into XMatch, I could sense that it had a large community of real users who were genuinely interested in sharing explicit pictures, enjoying flirty chat and maybe even meeting for casual fun.
The website's main dashboard greets you with a list of profiles you might want to interact with. And if you scroll down, you'll find a feed of recent status updates. Typically, these are explicit pictures that the members have taken of themselves. There are usually plenty of comments left by admirers on each one.
I messaged 50 women based in Ohio, United States. This is the region we usually use when testing online dating websites to ensure fair comparisons. I received a reply from 9 of them. That's actually a pretty amazing response rate for a guy compared to most hookup sites!.
I learned, however, that with a Gold membership ($39.95/month), only paying female members can reply to you. If we upgraded to a "Standard Accounts" membership, we may have gotten more replies from women with free accounts. This account costs $39.95/month plus an additional $24.95. Of course, there are other payment plans, which I'll detail later.
A significant number of the accounts were deactivated shortly after I sent the messages. It's likely that these were women just trying out the site, although XMatch should be credited for removing these quickly. Some 25 women also viewed my profile within my first week on the website.
An XMatch Gold membership will also grant you access to its live cam streaming service. On this, you can view and speak with cam girls from all over the world, although you have to pay extra for a private session.
You can find attractive women on XMatch
In order to increase the number of replies I could potentially receive – and therefore avoid giving an unfair review – I sorted by search results by "last online." I also set a filter so only those within 100 miles of my search area.
There were more attractive profiles that popped up when I set the maximum age to 30, although it appeared that few women of this age had recently logged into their account.
A lot of couples accounts popped up until I filtered these out too. So I concluded that if you're into older women or getting involved with couples, you may have more joy using XMatch.
You can arrange hookups on XMatch
I was able to engage in some lengthy conversations with most of the nine women who replied to my opening message. Although I wasn't able to swap contact details with any of them, I would imagine it's more than possible to do so. Often, the conversation fizzled out through no fault of my own.
On other occasions, I was likely foiled by the fact I have no idea how to arrange to meet a swinger couple:
I would imagine an experienced guy who is legitimately into this sort of scene may be able to arrange a hookup with the couples here.
Why would you use XMatch when you can use AFF?
The XMatch app and dating website is decent. But let's compare it to a well-known premium hookup website like AFF. Whereas XMatch has a decent-sized user base, AFF has built a tremendous active user base all over the world.
In our experience, the women on AFF are incredibly responsive and keen to meet for a date. Of course, with more women in your local area to choose from, it should be easier to find someone exciting to meet up with. Aside from this, AFF also has a lot of different filters. From my experience, no matter how specific I get, I always manage to find a handful of active users nearby.
Perhaps most importantly, it's currently running a free trial, which surely makes your choice of hookup website a no-brainer. You're better off trying out the best hookup website for free, rather than splashing the cash on an inferior service.
Stay safe when chatting with people online
All too often, you might find yourself wondering if the person you're talking to online is real. And if they are real, could they be hiding something they don't want their future dates to know?
If you don't want to go through all the trouble of snooping through their socials or asking them more detailed questions, there's a tool you can use to know for sure that the person you're talking to is who they say they are. It's Instant Checkmate, a background-checking tool that can help you know more about people you find online–the legal and hassle-free way. All you need are a few of their details and Instant Checkmate will give you all the information you need to verify who you're really talking to online.
Try out Instant Checkmate's free trial and see just how easy it is to get all the info you need. Better safe than sorry!
Pros and cons
Here's my basic summary of the main strengths and weaknesses we found in our Xmatch.com review:
This website is easy to use and navigate
There are plenty of active members
A large user base of couples looking for "third wheels"
An extensive live cam service
Expensive compared to its competitors
Not so many young attractive female members
Many accounts were deactivated shortly after I messaged them
Profiles, pictures and members we found in our review of Xmatch
XMatch has some of the most extensive profile features I've ever seen on an online dating website. As well as giving you space to write your introduction and list your demographical information, you can create separate albums for new photos and videos. These appear in your activity feed and other members can leave comments.
You can list your kinks and desires, and a "compatibility chart" will appear on your profile for other people to see how well matched they are with you.
Your "friends list" will also appear for other people to see. XMatch also allows couples to create joint profiles – and will split them into "his" and "her" information where necessary. Most of the members also tend to be aged 40 and above, although there are some younger members too. You can find these by adjusting your search filters. The majority of the active female members had uploaded a lot of explicit photos and videos.
Look for the gold crown logo on her profile. If she doesn't have this, she won't be able to reply to you unless you have a "Standard Accounts" membership.
Dating Coaches Recommend These Hookup Apps For Regular Guys
Instead of using XMatch, there are a few hookup apps that work much better for regular guys. If you haven't had the kind of success you think you should online it's probably in large part because you're on the wrong app. These are the ones dating coaches recommend you start with:
Site
Our Experience
Our Rating
Free Trial Link

Best Hookup Site Right Now

Experience Highlights

Top option for local hookups by far
Best results for regular guys
Over 60 million active members
The design needs an update

Try AFF For Free

Great If You're Handsome

Tinder Highlights

Great if you're pretty good looking
Very popular, especially if you're 18-22
Really focused on photos
Becoming more of a dating than hookup app

Try Tinder

2nd Best For Most Guys

Experience Highlights

2nd best option to find hookups
Attracts an older crowd than most hookup apps
Pretty popular
Solid free trial

Try Passion
Xmatch.com Design
Considering how much there is to do and see on the site, it's remarkably easy to navigate. Its aesthetic looks incredibly similar to Facebook circa 2008, but you shouldn't have any complaints with how the website works.
Messaging and chatting
There are a number of ways you can get in contact with people on Xmatch.com. You can send an instant message to members who are currently online, or an mail message if they're not. Bear in mind, only paying female members can reply, unless you have a "Standard accounts" membership. Alternatively, there is an option to buy a woman's gold membership for her.
You can send pictures through the mail message feature. You can also send a "flirt" or "virtual gift" if you prefer. On top of that, you can comment on their photos and videos. There is also a "hotlist" feature where you can publicly list yourself as her fan. The more points you donate, the higher up her fan list you'll appear. These points will cost money to buy though.
If a woman is streaming live on her webcam, you can also leave messages in the accompanying chat box.
What can you do with a free membership?
If you're male, you can't even enter the website without paying for a membership!
Advertisements
There are a few adverts appearing in the sidebar of the main dashboard. Occasionally, you'll see some on other members' profiles too. They are hardly intrusive though, and not as grotesque to look at as you often find on these sorts of websites.
Pricing on Xmatch.com
There are two levels of membership.
A Gold Account gets you full access to the website.
You can buy a:
one-month membership for $39.95.
three-month membership for $80.85.
12-month membership for $239.40.
The "Standard Contacts" feature allows non-paying female members to view your profile and reply to your messages.
This will cost you an additional $24.95 for one month, $35.85 for three months or $107.40 for 12 months.
Frequently Asked Questions about XMatch.com
Got more questions about XMatch? Here are some quick and easy FAQs to help you out.
What is XMatch.com?
XMatch.com is a hookup site that helps singles meet up for some naughty fun. As far as we can tell, it's completely legit.
Who actually owns XMatch?
XMatch is owned by FriendFinder Networks, Inc. They also own sites like Adult FriendFinder.com.
How can I contact X Match?
You can contact X Match via their customer service form: https://xmatch.com/p/help.cgi
Is XMatch.com real?
Yes, XMatch is a real site with real users.
Is XMatch legit?
Yes, there's a thriving community of horny men and women on XMatch.
Is X Match a scam or fake?
There was no sign of an X Match scam at all. This website delivers everything it promises, and I wasn't messaged by any dodgy accounts either.
Is XMatch safe?
Yes, XMatch is safe. It's run by a legitimate company that's been operating dating sites for decades.
What are XMatch alternatives?
For a full list of fantastic alternatives to XMatch, check our guide on the best hookup apps and websites.
How does X Match work?
X Match works like your typical dating site. You create an account, you log in, and you search for other people you want to talk to. However, keep in mind that this is a paid service.
Is there an XMatch.com app?
No, XMatch.com doesn't have an app.
How much does XMatch cost?
These are the payment plans for XMatch:
one-month membership for $39.95.
three-month membership for $80.85.
12-month membership for $239.40.
How can you use X Match for free?
With a free X Match account, you can browse through profiles and message users with a free account. However, to message other users, you need to pay for a subscription. Keep in mind, however, that men are required to pay to even create an account.
Can you send messages for free on XMatch.com?
Yes, you can send free messages on XMatch if you're trying to contact other free users. To message anyone else, you'll need to pay for a subscription.
How do you cancel your XMatch account?
Click on your username in the top right of the screen, click "Account Settings", then find the "Delete My Account" link. It's at the bottom of the page in tiny font.
From there, you'll see a number of options, including "Hide My Profile," "Turn off auto renew" and "Please Delete My Account." Choose the option most suitable to you.