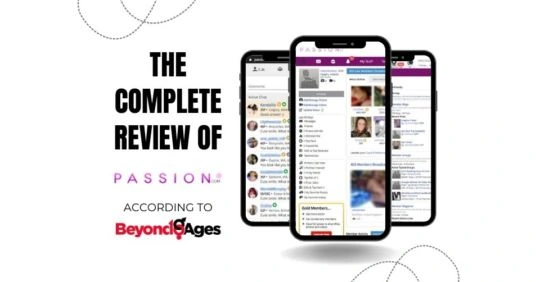 I've reviewed a lot of dating websites over the past 12 months and most of them are a complete waste of time. In the case of my dating site review of Passion.com, I definitely approached it from a more wary point of view. Fortunately, I've learned that you can't always just a website by your first impression.
As soon as I created an account I wasn't too impressed by the design but I kept going. The experience I had in the weeks that followed was interesting and made this review well worth the effort (and worth the read).
Ultimately, it turns out it's not a scam site, but how does it compare to the best out there? That's exactly what I'll be covering in this review. By the end you'll know enough about the site to make that decision for yourself without having to spend money.
How we reviewed Passion.com
To review each site equally, the process involves setting up an account and actually using it. My aim is to set up as many dates as possible using a free account first, then moving on to a paid one.
To begin with, I set up a blank profile. I want to see if I'll get any spam messages before I've even added a profile pic. Generally, this is a classic sign of a spam site with bots pretending to be real women.
After a day or so of this, I'll finish my profile off properly with photos and a complete bio. For the next couple of weeks I'll use the site just like I would my own personal Tinder. Since the whole point of a dating site is to go on dates, that's what I aim to do.
I give it a couple of weeks to be realistic about it but it also gives me time to find points of frustration. I'll quickly work out what paid features are actually worthwhile and which are just fluff.
After that, it's time for the paid account. By seeking more dates with my paid account, I have the opportunity to use these paid features myself. It's the best way to give you the full rundown on whether or not it's worth paying for.
All of this, of course, is designed to give you all the info you need without having to go through it yourself. I assure you it's not as fun as it sounds.
Of the reviews I've done so far, this was easily the most interesting and confusing. Let's talk about what I found in putting this Passion.com dating site review, shall we?
The Full Passion Review: Is It Worth Your Money?
For each of these dating site reviews, there's a process that I'll aim to get through to be sure they're evaluated equally. While many sites have been so bad that exploring them in-depth was pointless, Passion.com needed a closer look.
First off, a high-level comparison to AFF. Interestingly enough, both sites are part of the AFF network so you can expect some similarities.
Overall

Our team rates each site objectively based on many hours of independent research, the features each site offers, and how it compares with other sites. The ratings are the opinion of our editors and their extensive experience.

8
9.5
Quality of Women

Our opinion of how attractive the typical woman is that uses this site and how easy they are to connect with compared to other sites.

8
9
Popular

How many people are using this site to actually meet people compared to other sites.

5
9
Usability

How easy is this site to use and how quickly can an average person begin meeting people compared to other sites.

7
10
Privacy & Safety

Does this site take proper precautions to safeguard its members, their identity, and their data.

10
10
Effective

Our opinion of how easily an average person will be able to achieve their dating goals with this site compared to other sites.

7
9
Value

Will the time and money spent using this site pay off for an average person based on the opinions and experience of our editors.

7
10
Our Recommendation
Our recommendation
The site itself is pretty decent and, once I had a paid membership, it felt safe and secure. Ironically though, as a free user it really didn't look that promising. Passion.com devs if you're reading this, it's something you might want to look into!
Overall I'd strongly recommend AFF or literally any of the others listed in our article on the best dating apps and websites. We had decent results with Passion but have seen consistently better results with AFF.
It's not that Passion.com is a scam, it's that we had better success with other options. One was a gay man that kept hitting on me (zero hate but not what I was looking for here) and the other was verrry slow-moving. Though I was able to maintain a bit of a conversation with Kendall here before she stopped replying.
All in all, after weeks of using Passion.com to set up dates, it just didn't work out as well. It's possible that it was just an unlucky time but AFF, by comparison, I'd put money on me being able to set up a date within the first 48hrs.
Never judge a book by its cover
I'll be the first to admit I was guilty of exactly this in the first 10 minutes of using the site. I've reviewed so many scam sites and was seeing all the usual red flags. I was ready to write it off as more trash to stay away from but was pushed to keep going. . . and I'm glad I did.
Immediately after logging in I was presented with the payment page for premium which had no obvious way to skip. I retyped the URL to take myself back to the home page and already had several messages.
Finally, the messages in my inbox were obscured because I couldn't see them unless I paid for a premium account.
All of these are these are less than encouraging signs. Read on though, there's an explanation for this stuff.
Instant messages in my inbox
Before I'd so much as laid eyes on the homepage, I'd received messages from four different users. They appear to be users messaging a blank profile the second it was created.
As it turns out, users can opt to have automated "icebreakers" sent to people who fit their ideal parameters. Since my location was visible and I had to select an age and gender during signup, this was enough.
What that meant is that I received several automated icebreakers because my profile basics met the parameters these users had set. It wasn't spam after all, just automated messages at the users' request.
Profile photos that looked like cam girls
This one is nice and easy to explain. There's an entire section for live cam girls on the site. Their profiles look like they're professional sex workers — because they are.
Now, whether or not they're legitimate live shows I can't say for sure. I didn't see a single example of a model interacting with messages from people in their room. Certainly when I tried interacting, it went ignored.
I even went so far as to ask if it was a video and the only response I got was from an angry user saying "yes they're live, idiot". How informative.
So, to appease the lawyers, I'm not saying they're fake, I'm saying I've seen no proof they're real. Maybe they're live on Cams.com (see below) and that feed is just being pulled to Passion.com. Who knows.
What I can't explain: The inbox as a free user
With a free account, you're very limited as to the profiles you can see and the people you can interact with. This means almost all messages you receive will be blurred and have a message below saying you need to upgrade if you want to read them.
Another thing that made me believe this was a scam site is what happens when you click between the messages.
Like any email inbox, you have your senders and a snippet of the message on the left. On the right is the reading pane where you can see the whole message.
Each time you click between these messages, both the snippet and the layout of the blurred message changes!
Check out the screenshots below to see what I mean. In the first screenshot I've just opened my inbox and clicked on that message.
For this second screenshot, I clicked another message then immediately came back to this one. Notice it's the same user yet the snippet is different and the blurred message is more than double the length?
And yet, once I was set up with a paid account and could see the message, this is what it said:
Positives and negatives of Passion.com
To summarize, here's what we liked and didn't like about Passion.
Reasonable design
Intuitive interface
Feels trustworthy as a paid user
Well built and reliable
Can be rough when using it as a free user
Heavily restricted as a free user
We've had better results with other sites and apps
Expect an email inbox full of notifications from the site
Design of Passion.com
The best way I could describe the design of this website is "busy but functional." It's surprisingly intuitive but there's a lot going on.
It's somewhat of a dated design and it's tough to know where to look exactly. Spend some time on it though and it stops being quite so overwhelming.
In fact, if you ignore the constant stream of explicit material, it looks quite similar to the Facebook of 2007!
Messaging and chatting on Passion
You can communicate with other members in two very familiar ways. Either messaging or messenger.
Messaging is just like an internal email as seen in the screenshots further up. Messenger is exactly what you're thinking — the same as Facebook or MSN Messenger. It's a live chat with other users that are online at that moment.
Since the only way you can have a conversation as a free user is via messenger, this is very restrictive. You're only going to find a fraction of users online at any given time and of those, only a small percentage may interest you.
Even so, I have to admit it's a smooth and intuitive experience once you have a paid account.
What can you do with a free Passion membership?
As a free member, you can look at some profiles and chat with people via messenger. Honestly, that's about it.
Frustratingly, this site is very restrictive until you sign up for a paid account. Still, that's exactly why dating site reviews like this are so helpful, right?
Want to see what I mean? Check out the screenshot below. This is a filtered view called "profiles I can view" which is just what it sounds like. Of the reported 101,811,840 members, I was able to view just four of them as a free user. Ouch!
Advertisements on Passion
Another strong sign that a dating site is probably fake is the need for paid ads. In the case of Passion.com, I didn't notice a single ad the whole time I was using it.
You'll see a lot of internal promotion. To upgrade your account, to look at different sections or take part in various social interactions. Since that's how they make their money though, this obviously makes sense and I'm all for it.
Pricing of Passion.com
The pricing structure on this site works the same as most subscription websites. Your two account types are free (heavily restricted) or "Gold" membership which is the paid, premium option.
For Gold membership, you can choose to pay in 1, 3 or 6 months increments. The longer you sign up for, the cheaper it gets per month.
Signing up for a Gold membership gives you these perks:
A final word on Passion.com
I think the last note I wrote in my research for this review really sums up my experience here:
"Not a bad site but if you're going to use the AFF network go with the mothership."
Having said that, in the interests of a fair and open review, there is one thing that might give you a better experience on the site. That is, essentially, a bit of networking.
Assuming the time stamps can be trusted, the site does seem to be active with real users. While I managed zero dates over the space of a month, there is a chance it's because I'm a new user.
Some sites, especially those that are kink-targeted, tend to favor those that are very active. The common names you see in the comments, in the blog or discussion sections and that are open to lengthy conversations.
While I wouldn't personally put months of my time into a site like this, maybe, just maybe, you'd have a better experience if you did.
Frequently Asked Questions about Passion
Before we wrap up this Passion.com dating site review I'm going to cover some of the more frequently asked questions. If you have a question that hasn't already been answered in this article, I'd love to hear from you and add the question and answer for others to see as well!
What is Passion?
Passion.com is an online dating website. Much like the earlier days of Tinder it's mostly focused toward sexual desires rather than long-term dating.
That said, nothing (legal) is really out of the question on this site. Whether you're looking for marriage, swingers or to explore your own fantasies, Passion.com aims to facilitate that.
Who actually owns Passion.com?
Passion.com is owned and operated by FriendFinder Networks Inc., which also owns other similar sites such as Adult FriendFinder.
How can I contact Passion?
You can contact Passion's customer service here: https://passion.com/p/help.cgi or by calling them at (669)208-0363
Is Passion.com real?
Yes, Passion.com is a real site, and the users we've encountered here are real as well.
Is Passion legit?
While my initial impressions were a definite "no," it turns out the answer on this one is "yes". Passion.com is a legitimate dating site. While I didn't find any success in setting up a date in the month I was using it, the site is legitimate. Perhaps in a different location, you'll have better success?
Is Passion.com a scam or fake?
No, Passion.com isn't a scam at all. We didn't encounter anything suspicious on the site at all.
Is Passion safe?
Yes, Passion is a safe site to use. First, it's operated by the owners of Adult FriendFinder, another legit dating site. Second, all of the people we talked to on Passion were undoubtedly real people.
What are Passion.com alternatives?
With just one look, you can instantly tell that Passion.com was made for people looking for hookups. However, we have a list of better, more reliable hookup sites that you should try out.
How does Passion work?
You can create a Passion profile, upload photos and view basic profiles of different members. You can also view live webcams from other users or cam models. But if you want to read and respond to messages, you have to pay for membership.
Is there a Passion.com app?
Passion.com used to have an app, but it looks like it's no longer available. You can use the site exclusively on your browser.
How much does Passion cost?
Passion memberships cost:
$39.95 for one month;
$80.85 for three months;
$239.40 for 12 months.
How can you use Passion.com for free?
As a free Passion.com member, you can look at some profiles and chat with people via messenger. Honestly, that's about it.
Can you send messages for free on Passion?
No, you need a paid Passion membership to send messages.
How do you cancel your Passion.com account?
To delete your Passion.com, click your username on the upper right-hand side of the page, then click "My Account."
Once there, scroll down a bit to see the "Manage Account" subcategory, and select "Close Account."
You will then be directed to a page that allows you to customize your experience in the hope of making you think twice about deleting your account. But if you've made up your mind, scroll to the bottom and click on "Please Delete My Account."