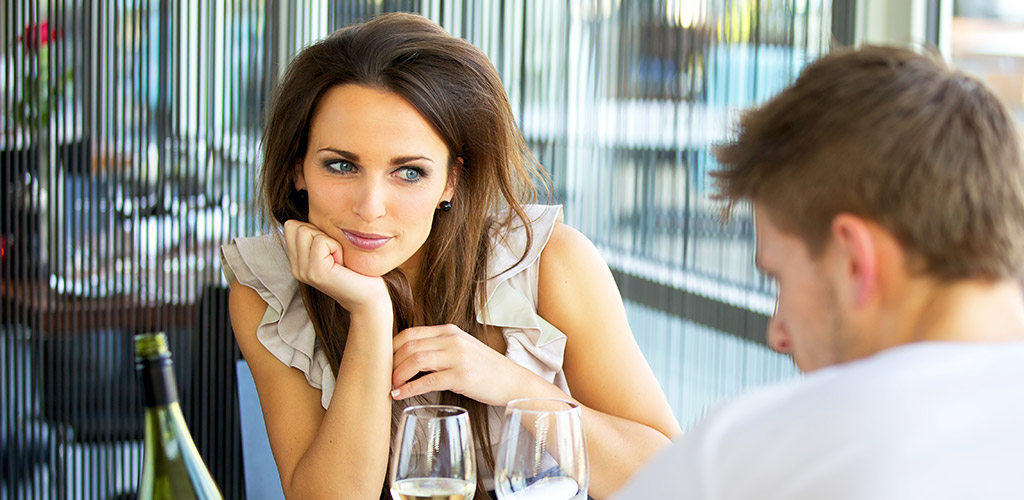 More and more women are dating guys younger than them. And why shouldn't they? Older men have been dating younger women for decades. Women are exercising their right to date whoever they want, regardless of age. But despite rising numbers, there are still some reasons older women hesitate to date younger guys.
Reasons Older Women Hesitate To Date Younger Guys
Many of the reasons holding them back are due to outdated stereotypes. The fears they face rarely have to do with the age gap itself. They're often assumptions rooted in relationship dynamics that can happen between any two people. Here are 7 reasons older women hesitate to date younger guys, and some advice on how to beat them.
They want a partner, not a son
One of the biggest fears holding older women back is the "mommy complex."
Whether she has kids or not, she's not looking for someone to parent. Older women want to know they can have a healthy relationship. So dating someone younger might give them pause. They might give advice, pay for things, or guide their younger partner through tough situations. Through a certain lens, that can appear as if she's "caring for" him.
You can avoid any resentment by asserting your independence whenever possible. If you can't pay for things, make it up in other ways. If you want advice, show your gratitude by following it and growing as a person. Help her in ways that only you can. By demonstrating your unique value, you'll remain equals, and she won't feel like she's playing mother to you.
Reasons Older Women Hesitate To Date Younger Guys? They fear ostracism
Let's call out the elephant on the page. Older women who date younger guys are called cougars for a reason. And it's not just because they're sleek, sexy, and intelligent.
The persisting stereotype suggests that older women are preying on young, defenseless guys. Which is ridiculous. But, stereotypes take a while to fade whether they're senseless or not. One study showed social stigma still has an adverse effect on how older women feel in these relationships.
You can ease their anxiety by making sure the people in your life don't perpetuate the stereotypes. Educate them to ensure they treat your older lady with the respect she (and you) deserve. Stand up for your relationship and remind those around you how normal you are. Either by ignoring them, or displaying your unrelenting awesomeness.
They want commitment
Many older women are looking for a long-term relationship. They might worry that a younger guy isn't ready for that kind of commitment yet. They may assume he's still in his "player" phase or wants to see what it's like to hook up with an older woman. It doesn't often cross their mind that a guy five or ten years their junior is willing to commit. Science says otherwise. Relationships between older women and younger guys go for an average of at least two years.
Remind her that men of any age can be commitment-phobic. So why can't a younger guy be pro-commitment? Show her you're ready to commit. Put time into the relationship and make efforts to work on the areas that need improvement. Those are the things she'll see as steps towards a healthy, long-term future.
Not All Older Women Are Hesitant — Give Cougar Life A Shot
It can be hard to find cougars looking for younger men. So maximizing your chances by finding them is really your best shot at getting exactly what you want. Cougar Life is that spot where older women flock looking for guys just like you.
Each year we rank and review over 100 different dating sites to put together our list of the best websites to meet a single cougar. There are a lot of sites out there that won't do much for you so you need to be sure to spend your time on a site proven to give you results.
Give their free trial a shot and start meeting single older women 24/7.
They want to connect
It's no secret that older women love to date younger guys because the romance is explosive. But like many things, rewards come with a trade-off. Many older women are afraid younger guys won't find them sexy. They're showing signs of aging, or might be dealing with not-so-sexy health issues.
They might throw half of their income into beauty products and gym memberships. And after all that, they may still convince themselves that a younger guy will leave them for a 20-year old. But it's even more complicated. After all her careful dieting, exercising, and face lifting, she watches her partner toss three hamburgers back and laughs it off. Experiences like this can create a chasm of empathy. She may not feel like she can talk about her insecurities with him.
Science has shown that older women are more concerned about aging faster than their younger partner. What can you do about this? Be present with her. Show her you understand. Ask questions, and listen when she tells you she's "feeling fat." She might make jokes about her age and weight. But really, she wants to connect with you. You can't age at her rate, but you can be there beside her every step of the way until you're both so old it doesn't matter.
They want it to be easy(ish)
Dating isn't easy for anyone.
Dating as an older woman is even harder because the pool of eligible bachelors is limited. Take that pool of bachelors and cut it down to a specific age range. Now you're looking at an even more limited group of guys. That's one barrier in itself. Add to that the confusion of where to meet younger guys. Many older women aren't sure how to go about dating younger guys. They don't know where to look, how to approach guys they're interested in, or what to say to represent themselves.
The good news is, there are several great sites for older women looking to date younger guys. But they might not know about these resources. It might be up to you to make it easier on them. You can register for dating sites and open a dialogue. You can approach an older woman in a bar, restaurant, or library if you see them flirting with you. Don't wait for her to make a move. Worst case scenario, she'll say no and you're back where you started. Try, try again.
They want experience
Generally speaking, older women have more experience. They have established careers. They're well educated and traveled. And they have practice with different kinds of relationships. From all this, they've learned lessons and gained wisdom. Great news for you, as science has shown younger guys love this quality in older women. But for the older women, it can cause some anxiety. Are they going to end up with a guy who can't launder his clothes, or cook a decent meal? Will he be able to maintain a job or take her out once in a while? Can he handle conflict, or will he run at the first sign of trouble?
You can ease her nerves. If you have more experience than your peers, prove that to her early. Maybe you're savvy with finances, and you can help her balance her checkbook. If people still do that. Perhaps you spent time traveling the world while your peers were playing beer pong. Make these facts known early on. If you don't have much experience, that's okay too. Be sure to let her know you're open-minded and eager to learn. Be independent and willing to hold your own. In the absence of experience, the next best thing you can offer is a keen eye for knowledge.
They want boundaries
Most older women have learned how essential boundaries are. Something they learn through relationship experience. So, many older women worry younger guys might not know how to establish boundaries. Some of the concerns are well-founded. Younger guys have a reputation for staying up and romping well into the twilight hours. Some of them are a little excessive. They may worry their partner's going to bang their door down at 3:00 am, waking their kids so they can play video games. Either way, you deserve a chance to prove yourself.
Just as older women don't want to be stereotyped as "cougars," they shouldn't stereotype younger guys as "cubs." Make an effort to establish firm boundaries early in the relationship. They're especially important if she has kids or a strict work schedule. They also give you a chance to show you respect her autonomy.
---
You can ease many of the fears older women experience with healthy communication. It's up to guys like you, to strip the existing narrative of its power and replace it with a new, thriving one. All it takes is perceptive listening, a genuine consideration for her needs, and a desire to build a healthy, loving relationship.