Have you ever appreciated the pleasure of meeting a stranger in public more than you do these days? It's more than just possibly falling in love. It's the excitement of the unknown, the possibility that anything could happen. And it's those endless possibilities that make us love online dating. It's also the reason we think you should know about the best dating apps in Vancouver.
Whether you're just hunting for casual sex or you want true love, these apps and sites are the real deal. In the following list, there's something for anyone. Maybe you're a student at the University of British Columbia. Maybe you're a recent divorcee looking to re-enter the dating scene. Or maybe you just want to network with a more sophisticated set of people.
Whatever your taste and goals for online dating, these are the Vancouver dating apps and sites to try. Check them out and let us know in the comments which ones work out for you.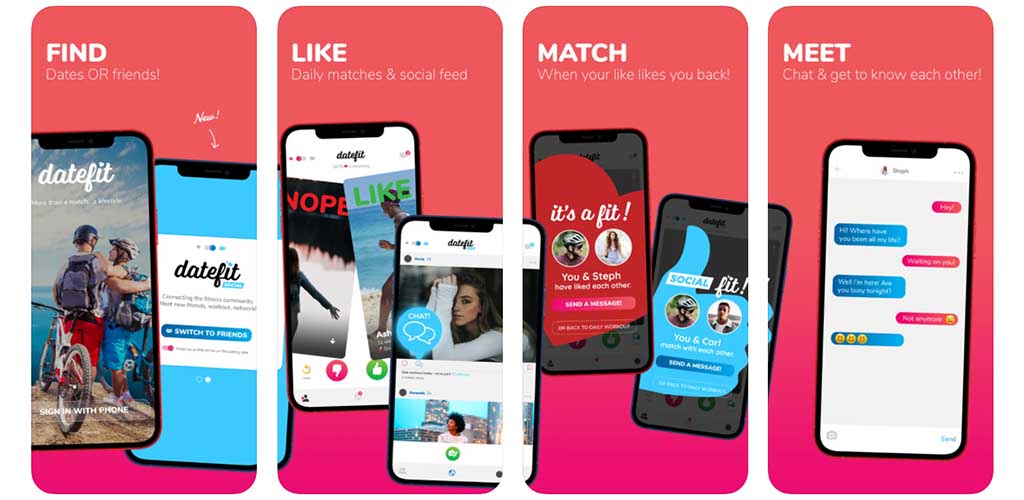 #1 - Datefit (iOS) is one of the best dating apps in Vancouver for active daters
In a city as beautiful as Vancouver, it's no wonder so many people like to spend their time outdoors. This is a city where people enjoy keeping active and fit. If that describes you, then you'll want to check out Datefit immediately. Part-dating app, part-fitness coach, it's one of the best dating apps in Vancouver for people who love to keep moving.
Like most dating apps, Datefit lets you narrow down your search parameters by saying what you like in a partner. What makes this app unique is you can include your fitness interests. Looking for a running partner? Maybe you want someone who loves to hit the slopes or repel down mountains. However you like to stay in shape, find someone who can keep up.
Why you should download Datefit
Whatever your fitness level, you can find someone that matches with you
Even if you aren't looking for romance, it's a great app for finding workout partners
There are a lot of very fit and very sexy users on this app
Why it isn't the app for everyone
For now, it's only available for Apple phones, so Android users are out of luck
If working out isn't a driving passion for you, you'll probably not find a good fit (so to speak)

#2 - AFF is the easiest way to find a fling
AFF (which has a great free trial) should be your first choice when you're not looking for a relationship but still want some fun in the bedroom. We've tried a lot of different apps for this (most are awful) and only a couple have proven to work over and over. Tinder is great if you're under 25, but once you get beyond that AFF has shown the best results out of any dating site in Vancouver we've tried, especially for guys.
One of the things we've really liked about this app is that they do a really good job of helping you find EXACTLY what you're looking for. Everyone on this site is looking for the same thing so you can save a LOT of time that you would waste on other sites. If you're 25+ and want to take someone home, this is your app.
Why you should try AFF
They have a massive number of users on their app (over 50 million)
We've seen guys have the best success using it, especially those who aren't super good looking and didn't do well on Tinder
It's very straightforward and easy to use
What we don't like about it
Many users can only access via web app
The app is a little dated and not as polished as some others
Sometimes people are a little TOO upfront with what they want
You Can Try AFF Free!
If you're just looking for a fling or more short-term fun you need to
try out AFF's free trial
. We've spent months and months testing out the alternatives (more than 100 other sites) and haven't found anything that gives most guys more options and better results. Give it a shot!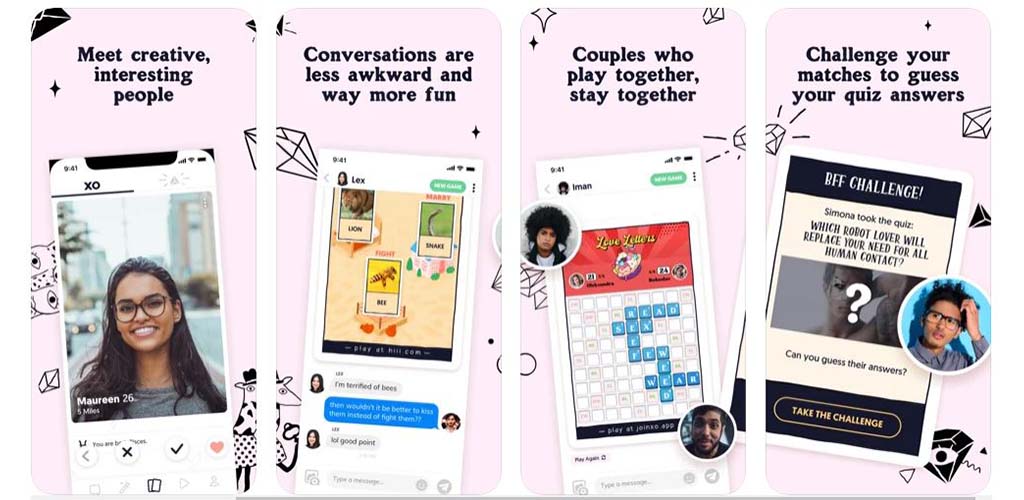 #3 - XO (Android; iOS) is a great app if you're into fun, casual dating
One of the things that's gotten lost in online dating since it's gone mainstream is the casual fun of it. Remember OkCupid and how it used to have those silly, user-generated quizzes? Now they're a very serious matchmaking operation. Nothing wrong with that, but, truthfully, sometimes we miss the silliness. Apparently, so do the creators of XO, because they're bringing the fun back.
Billed as "the dating app with games," XO allows you to break the ice with matches by playing online activities. With word games, drawing challenges and, yep, user-generated quizzes, you can get to know people easily. If you've found that short bios and a few pictures are insufficient for showing off your personality, you'll love XO.
Why XO is so much fun
Playing games makes you feel more relaxed and natural, which will help you make a better first impression
You match with people through mutual associations, so you feel more secure
They also have a "Blind Date" feature (users can't see each other's pictures) to let the fates decide
Why you should pass
Probably not the best app if you're someone who likes intense, serious conversation
To see who has liked you, you'll have to pay for a subscription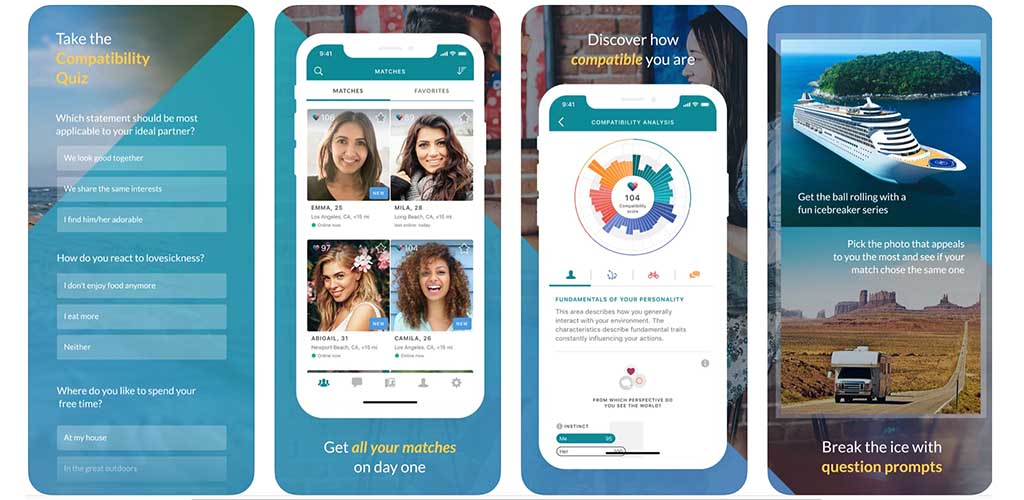 #4 - eHarmony (Android; iOS) can't be beaten for long-term relationships
eHarmony is extremely popular here and has an amazing track record of helping Vancouver locals find long-term partners by using matching algorithms. This app does the best job of matching you up with compatible potential mates that we've seen.
You don't have to scroll for hours. The app does all of the tough work for you. Of course, you might not make a perfect connection outside of the algorithms. Usually, it works like magic. The toughest part is answering all of the questions. It's important because this is how they match you with other single people. You can build chemistry before you even meet.
If you're serious about finding long-term partners this is the site for you.

Why eHarmony is one of the best dating sites in Vancouver
The best success rate out there for long-term relationships
70% of users find their future spouse within a year
Makes it pretty easy to form connections
What we don't like about it
It definitely takes more time than most to get started
Not super popular with those 18-22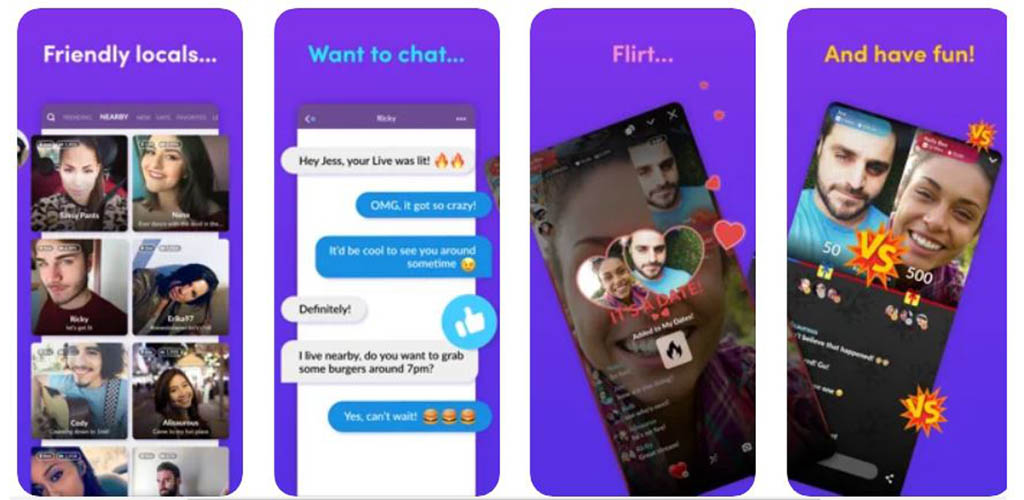 #5 - MeetMe (Android; iOS) merges a dating app with a social network
With dating apps having grown so common and so diverse, every new one aims for a unique angle. One excellent way to stand out, as the newish app MeetMe proves, is by being more than one thing. Sure, this is a dating app, but it's also a video-based social media platform, not unlike TikTok. With its video streaming feature, you don't just find dates, you find an audience.
Video chatting is a feature that many of the best dating apps in Vancouver are embracing, including MeetMe. After all, you can get to know a person so much better through a video than a picture. But, what truly sets MeetMe apart is the livestreaming feature that allows you to perform in all your digital glory. Build a big enough audience and you'll not only get dates with this app, but you'll also earn real money.
Why it's one of the best Vancouver dating apps
If users like your livestreams, they can give you virtual gifts and "Diamonds," which can be converted into cash
You can avoid awkward real-world first dates by video chatting with matches first
You don't have to pay a cent to talk to anyone on the app
Why you won't like it
Like all free social media platforms, you risk meeting your share of trolls and creeps
People seeking out serious relationships are better off trying elsewhere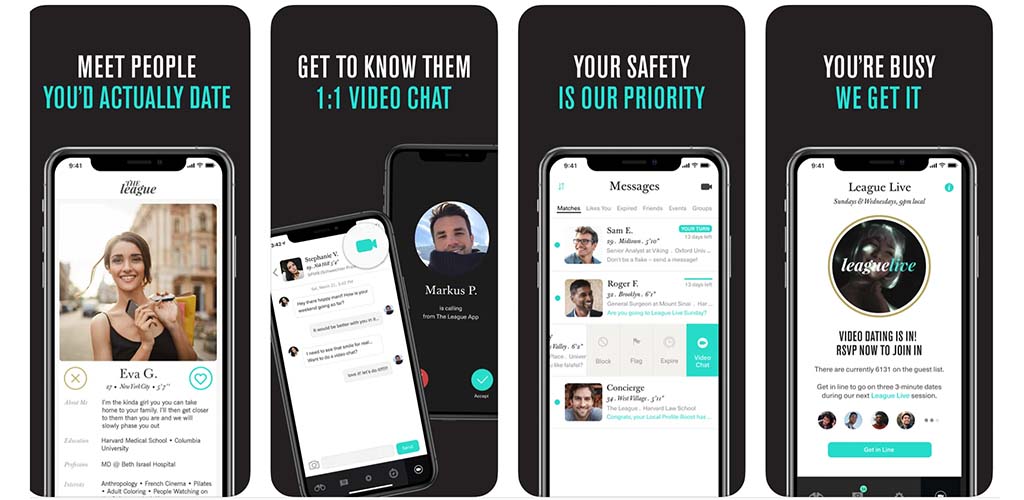 #6 – The League (Android; iOS) is one of the best Vancouver dating apps for networking
For many people, the best dating sites in Vancouver will offer more than just sex or romance. They will help users pursue a love life that is also personally and professionally fulfilling. That is the goal of The League, an app that rewards ambition and a dedication to success. If you've ever found yourself having to choose between your career and a relationship, this is the app for you.
Launched back in 2015, The League was originally created to ensure professional women didn't have to settle. It recognized that, even in this modern day, women were still often expected to forgo careers to find love. Since then, it's grown into a tool for smart, educated, ambitious people of both genders to pursue satisfying love lives. No more settling.
3 reasons to use The League
You'll meet people who won't make you feel guilty about being a workaholic
It's nice to go on a date with someone who can hold an actual conversation
The user base is considerably more affluent than other apps
What we don't like about it
The downside of an app geared toward people with higher educations is a heavy dose of pretentiousness
The free version of the app only gives you three potential matches a day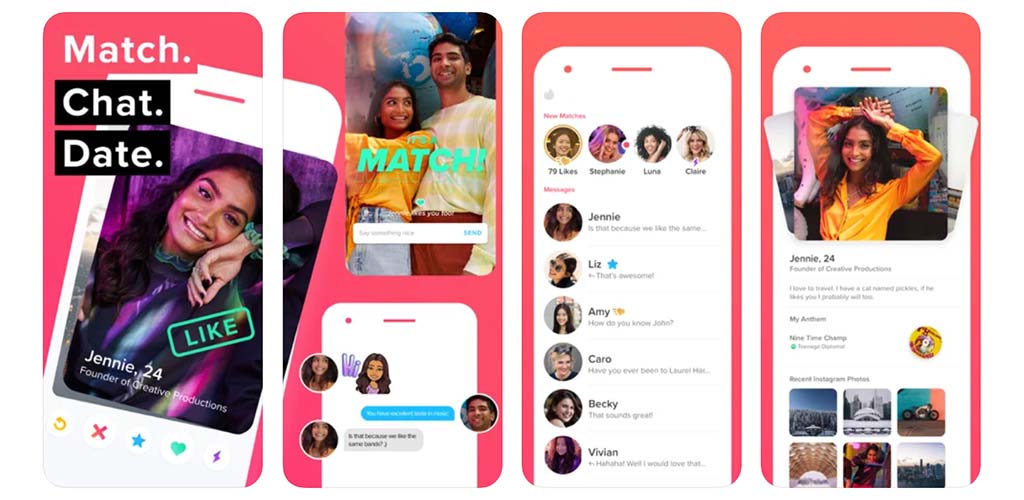 #7 - Tinder (Android; iOS) is too beautiful to ignore
Tinder doesn't need to work to earn your attention. You already know what it's got going for it: some of the most beautiful women in British Columbia. For lots of guys, Tinder will always be among the best dating apps in Vancouver purely for the eye candy. From the moment you open the app, you are overwhelmed with swipe after swipe of drop-dead gorgeous options.
Of course, it's one thing to get a match. It's a whole other matter to convert that into an actual date. All the beautiful women on Tinder are constantly being bombarded by messages, so standing out is the trick. We've found you don't need to have six-pack abs or a picture with a white tiger to make an impression. Just write a funny, clever and unique bio, and you'll coast past the competition.
What Tinder has going for it
It has one of, if not the most attractive user bases of any dating app
There are so many users, you'll struggle to run out of potential matches
It's one of the best Vancouver dating apps for casual flings
What we don't like
On the other hand, finding a relationship on this app is nearly impossible
We'll be honest: if you're not at least a 7, you'll struggle to get matches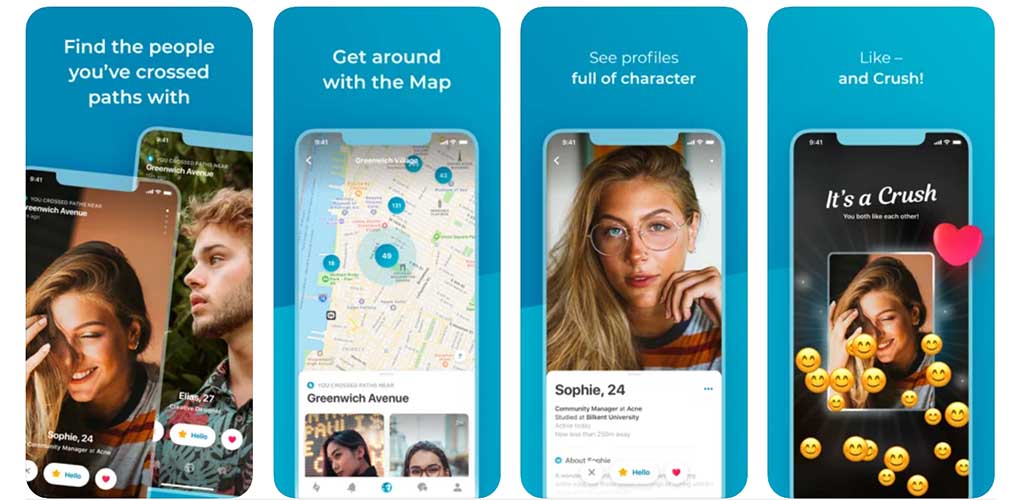 #8 - Happn (Android; iOS) knows love is always just around the corner
One thing online dating has mostly eradicated is the chance encounter. It doesn't feel like we ever hear about couples first meeting over a glance in the supermarket anymore. There is electricity in looking across a room or a crowded bus and catching someone's eye. Unfortunately, more often than not in our busy world, a glance is all you ever get. Happn wants to change that.
Happn is an app that uses your GPS to match you with people in your immediate proximity. When the app finds two people near one another, it puts them in each other's timeline. Get a smile from some pretty girl at the bookstore? Check your app, you may just have a new connection. It's the perfect way for you to turn a day out into the start of a love story.
What makes Happn one of the best dating apps in Vancouver
Gives you an opening to talk to that hottie on your commute
Popular with younger people who are looking for a quick fling
You only receive messages from people you have liked
What we don't like about it
If you don't live or work in a busy area, you probably won't get many contacts
For people who prefer a browser version, that isn't an option with this app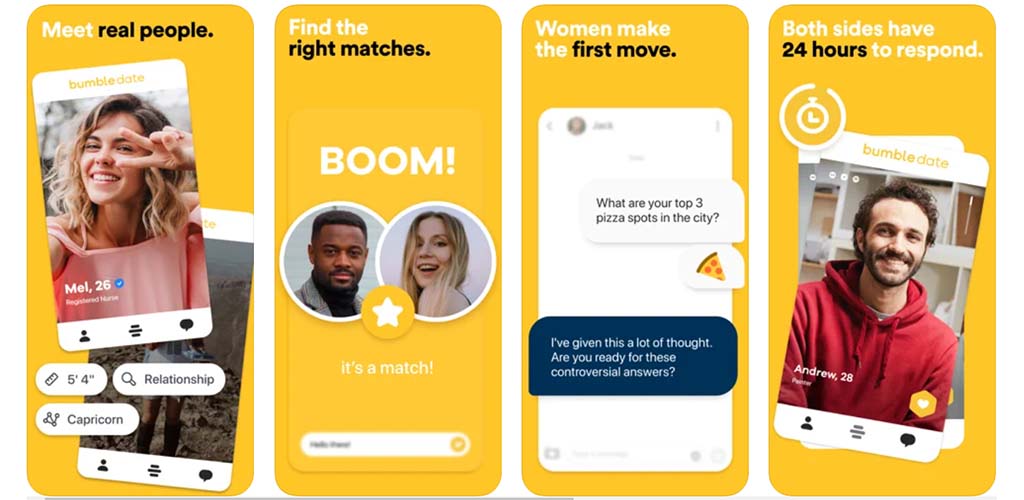 #9 - Bumble (Android; iOS) is among the best dating sites in Vancouver for women
There are tons of dating apps made in the Tinder mode. You know what we're talking about: prominent photos, swiping left or right, short bios. For many people, that's the selling point of online dating. No overlong sign-up processes or complicated user profiles. But, with that ease comes a whole lot of problems, especially for women. Bumble addresses one of those problems.
By making it so female users have to write the first message, Bumble gives women more control. They aren't getting a non-stop stream of messages and explicit photos. Instead, women can slow down, review their matches, and make contact when they're in the right frame of mind. It makes for a less frenzied, more enjoyable dating experience for all involved.
Why Bumble is worth trying
The quality of both men and women on the app is higher than other swipe-based apps
A lot of men actually appreciate not having to be the one who breaks the ice
Creating your profile is quick and easy
What we don't like about it
It's a little better than Tinder for finding serious partners, but not much
If you're a guy who doesn't like waiting for messages, you'll probably find this app frustrating