As you will see in this Xpress Cougar Club review the Xpress Cougar Club advertises itself as "free". I have seen it listed on other websites that provide dating site reviews and I won't go into how sketchy I have found those review sites to be but I will take the time to provide an in-depth review of Xpress.com.
Basically Xpress Cougar Club is one of the lowest-rated sites in our Best Cougar Dating Site Review which is quite a feat considering how many scam sites are out there!
In this free cougar dating website review, we will examine Xpress Cougar Club using the same standards that we outline in our review mentioned above. The same standards should apply to both free and paid dating websites.
Using these standards we will compare Xpress Cougar Club to it's proven peers and identify any areas that may point toward the site being a waste of time.
Whenever I see low-brow review websites making outrageous claims about particular sites I get suspicious. If a site looks untrustworthy and is making claims that are too good to be true the almost certainly are.
As you will see below, in this case, I believe my suspicions were justified. Without further delay, the review you have been waiting for.
Xpress Cougar Club Review
Xpress Cougar Club Review Warning Sign #1 - Tons of Fake Profiles
Google Image Search has become my favorite tool when evaluating if the members on a site are real. Using this tool I can quickly search the entirety of the internet to see if a profile has been used elsewhere. With sites like Xpress Cougar Club you get interesting results.
With a legitimate profile from free cougar dating websites you might expect to get a Facebook profile, blog post, or Twitter account. For a fake account you typically get dozens or hundreds of results.
In the case of Xpress Cougar Club we typically found that the images used on profiles, especially of the more attractive women, were on dozens or hundreds of other websites. Either this site is composed of women on 30+ dating sites or these profiles are fake.
We think meeting women online is an essential part of any guys dating life. Since it is so important using a quality dating site is vital.  Xpress Cougar Club is not a quality site.
When it comes to meeting cougars online there are two sites that stand apart, depending on what you are looking for:
If you want to find a relationship with a cougar - Cougar Life is the easy choice
If you just want sex with a cougar - AFF is your best option
Both sites have a ton of users and do a great job of connecting guys with cougars. Cougar Life is a little more focused on traditional dating between older women and guys (both younger and older) while AFF is completely focused on hookups or other no-strings-attached relationships.
They also both have free trials so you can use any of the links above to try them out for free. Check them both out and see which one works best for you.
Warning Sign #2 - Profiles Contain Pictures of Different Women
One of the biggest warning signs you can find that the profiles are fake is profile inconsistency. With Xpress Cougar Club we are consistently finding multiple profiles with pictures of different women in them. I don't know why the hired to put up all these fake profiles but they are a little sloppy when it comes to free cougar dating websites.
I found several profiles where the women were so completely different that it was comical. Not only does Xpress.com appear to be full of fakes, they don't even put in the effort to make them good fakes! Nothing screams "there are no women on this site" than fake female profiles.
Warning Sign #3 - My Blank Profile Was "Viewed" Eight Times While I Signed Up
In the two minutes it took me to complete my registration my profile on Xpress Cougar Club it showed that it was viewed by eight different women. This is an obvious lie. My profile was completely blank yet eight "real" women viewed it as soon as it loaded?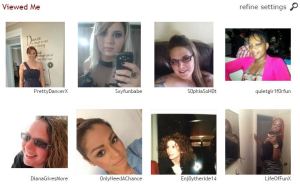 These women do not exactly strike me as waiting eagerly for Xpress Cougar Club new members to register. More interestingly, the members who "viewed" my changed every time I checked it. The numbers remained consistent but the profiles kept rotating. HUGE RED FLAG.
Warning Sign #4 - Live Cams
This is a regular indicator that you are dealing with a sketchy website. If free cougar dating website actively advertises "live cams" they are almost always dubious. Legitimate websites are seeking to match up men and women with other members, not get them to pay for adult content.
I would stop the review right here but there is one more huge warning sign to cover.
Warning Sign #5 - This Is
Not

A Free Cougar Dating Website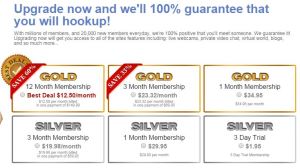 For a site that advertises itself as 100% free they sure do ask you to pay for a lot of things. While you can technically log in and look at SOME of the profiles you can't do a lot. You will constantly be asked to upgrade to a paid membership to do anything worthwhile. EVEN THE FORUMS ARE PAID.
Their ridiculous promise that if you PAY THEM you are 100% guaranteed to hookup is laughable. As we discussed in the opening paragraphs of this review, if it sounds too good to be true it almost certainly is. Sadly Xpress Cougar Club comes off as an extremely shady even among the sketchy group that are the free cougar dating websites.
Warning Sign #6 - Completely fake user counts
If you look on the homepage of the website you will see a big ticker that is counting the tens of millions of users that Xpress has. Based on our review of Xpress this is totally fake.
We looked at the the incoming traffic from Google and it shows that they are only getting around ten thousand new incoming visitors a month. If that is the case it is impossible that they are anywhere near the user counts they are claiming.
If you look at the ticker it is going up by 2-3 new users per second which would mean they are getting over 80,000 new users a day! How is that possible when they are only getting around ten thousand users coming in through Google search, the most popular method???
If it sounds too good to be true it is likely because it is.
Warning Sign #7 - Social media hasn't been updated in months or years
Looking at the various social media accounts that Xpress has you will see that they have not been updated in months or years. This is a pretty big red flag that nobody is at the help of the company.
Any site that is alive and well is going to be regularly interacting with their customers on social media. If a company stops doing this it is likely because the no longer really care about keeping existing customers happy or brining in new customers.
Xpress Cougar Club Review =
Waste Of Time!