As with all great innovations, there is an upside and a downside to online dating. Sites like AdultHookup.com offer the opportunity to expand our romantic options and meet people from all over. If the dating pool is too shallow in our immediate vicinity, the internet opens up an ocean of possibilities.
Yet, no matter how suave you are, you can only be as smooth as your dating service. It won't matter how attractive you are if the dating site is buggy and uninviting. Your most poetic pickup lines will fall flat if the site has a bad messaging app.
You should make sure you are using a great dating service before you sign up. We can help you with that. We write reviews of all the biggest and newest sites out there and then put together a huge review of all the most useful hookup apps so you can know before you go. With our AdultHookup review, we'll look to see if the site can deliver on its promises of a better sex life.
AdultHookup Review - Will You Find A Hookup Or A Let Down
If you're looking to meet someone for a weekend fling or maybe even something more serious, there are a million ways to do it. You can go the old fashioned route: go to the bar down the street and try to strike up a conversation with a pretty woman. Hopefully she doesn't find you creepy, or awkward.
You can opt for a more strategic approach: join a social club or a sports league and try to meet a woman who shares your interests. The hope here is that they'll be someone who isn't taken and that thinks you're attractive. That could work.
Alternatively, you can do what more and more men are doing these days: get online.
With online dating, a lot of the hard work is already done for you. The site can filter by common interests, physical type, geographical location, or any other factors that matter to you. It increases the chances that everyone you strike up a conversation with will at least have some basic interests in common. What a time saver.
Not love at first sight
They say you can't judge a book by its cover. Not every relationship begins with love at first site, after all. First impressions are important nonetheless. They can tell you about how someone wants to be seen, and how hard they work on their image. The same is true for a dating site.
Bad web design can often suggest there will be poor user interface and shoddy customer service. Well, I'll tell you one thing about AdultHookup.com: It doesn't make a good first impression.
AdultHookup has a very ugly color scheme: Pink, blue, black, and orange. It's a sort of Halloween meets the Care Bears aesthetic; not particularly sexy. I wouldn't suggest the scheme for anything, but especially not for a dating site. They technically have a logo, but it's pretty bland. It does the job, but all of the rest of the text on their intro page is frankly ridiculous.
It reads, in part, "We have millions of members in cities across the USA and the world who want one thing and one thing only, to hook up now!" Millions of members? Really? There are only a few dating sites in the world that have more than one million members, and this site is not on the list. This wasn't a good start for AdultHookup.
You will find a lot more "adult hookups" on Adult FriendFinder
I'm sure you are reading our Adult Hookup review because you are looking for just that, a hookup. We hate to say it but you just are not very likely to find one with Adulthookup.com. You can thank us later but try out Adult FriendFinder instead.
We have seen the most success with Adult FriendFinder out of all the hookup apps we have reviewed. They have 50 million active users and the only real competition is Tinder which is pretty hard to find success with as a guy if you're not pretty good looking.
Adult FriendFinder is the better option for most guys, especially if they are interested in women 30+ or don't get much response from Tinder.
We like them and think you will too. We suggest you check out their free trial and see for yourself first. You don't have anything holding you back.
Try Adult FriendFinder For Free!
If there's one thing we've learned after trying over 100 different sites and apps it's that quality is hard to find! We've seen more guys find more success using
Adult FriendFinder's trial offer
than anything else out there. If you're not looking for a long-term relationship but still want to meet someone to fool around with there isn't an easier way to do it.
It doesn't get better from there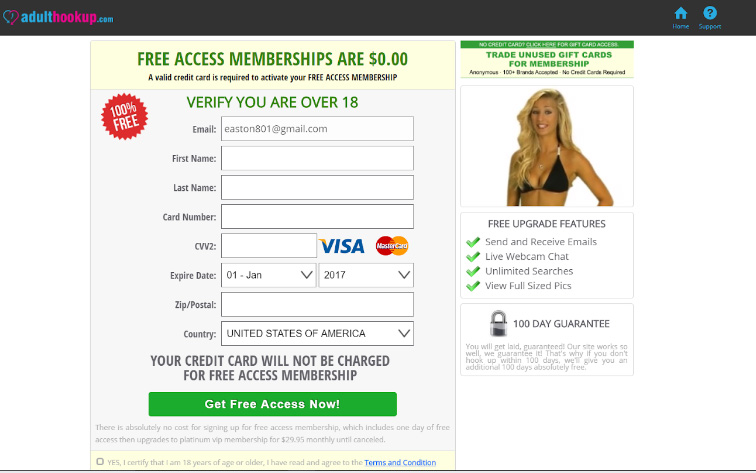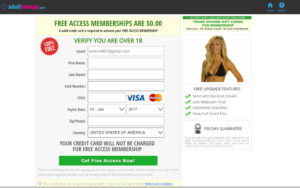 AdultHookup.com was no more impressive after I made an account. I was taken first to a page that told me to verify my email. It warned me I might have to check my spam folder. It's never a good sign when a website assumes by default its emails will be mistaken for spam.
Once I did verify my email, it immediately took me to an upgrade page. I hadn't even had a chance to browse the other users or chat with anyone. Yet they expected me to upgrade right out of the gate. It was off-putting, and even more annoying, their upgrade page had a video of a blond woman in a bikini pushing the membership and I couldn't turn the audio off.
I'm glad I wasn't at work when I was automatically taken to that page, or it could have been very embarrassing.
Adult Hookup is not safe for work
Speaking of work, another thing that became quickly apparent about AdultHookup was that their site was covered with straight up NSFW, explicit content. And it wasn't just on the back pages or in the secret member photos. It's all right out in the open on the profile pictures.
Seriously, who poses completely nude for their profile picture? It seemed less like a dating site than it did a pornography site. This got me wondering who these women really were.
Suspicious messages
Any guy who has tried online dating knows it's difficult to get into messaging with a woman. Even when you have a lot in common with someone, they may not respond to your messages right away, or ever. What's even rarer, is receiving a message yourself from a beautiful woman.
For that reason, I found it strange when I got three messages in the first ten minutes of being online. I didn't even have a profile picture up. The messages said things like, "Want to play?" and "Help me im horny."
Any site where a guy without a profile picture can get messages like that from hot women is clearly stacking the deck. They were trying to make the site seem a little too perfect. When I tried to send a message back to find out why these women messaged me, I was taken to an upgrade page.
Adult Hookup comes with a price
I was hitting a sturdy wall of upgrade pages as I used the site. I couldn't send a message without paying for a membership, or even look at the full member profiles. Technically, yes, it's "free" to sign up for the site, but it's not really free to use it, unless you just want to browse the little thumbnail pictures of members. That hardly qualifies as a hookup.
Not every legitimate dating site is free, which is fine, but a lot of the best ones are. If it's a good site that charges a fee, it will at least let you do basic stuff like browse a full profile and send a message before they make you sign up for a paid membership.
I had good reason to suspect AdultHookup.com didn't want me to be able to return messages because their "members" didn't actually have anything to say.
Fake profiles
I wanted to take a closer look at these women who were messaging me. However, since I couldn't chat with them and I couldn't even look at their full profiles, I had no other choice. I went to the terms and conditions page.
That's where I found this statement:
"[Adulthookup.com] encourages You to use the ONLINE EMISSARY service to enhance communications, entertainment and Your total site experience and enjoyment. [ONLINE EMISSARIES] may be a digital actor, an avatar or a synthespian (e.g. a computer generated "person" or "character"). ONLINE EMISSARIES may be employed by adulthookup.com or a third party to enhance Your online experience. For example, an Online Emissary may provide an electronic introduction to new or existing adulthookup.com features or functionality, or discourage inappropriate behavior."
Okay, there's a lot to unpack there. I'll translate: Adulthookup uses fake profiles. It's that simple. All of those messages I was getting were fake. Totally bogus.
Cam girls
Another red flag (of the many I'd already noticed) was that the site heavily featured ads and links for cam girls. Dating and hookup sites should be concerned with one thing, and one thing alone: helping you connect with real people in the real world. The presence of adult videos and cam sites is just a distraction, and it usually means they aren't even really a dating site.
Adult Hookup just might steal your photos
When I was looking through the fine print to read about the "online emissaries," I noticed another disturbing bit of text. The terms and conditions said, "by posting content to any area of adulthookup.com, you automatically grant, and you represent and warrant that you have the right to grant, to adulthookup.com and its Members, an irrevocable, perpetual, non-exclusive, fully-paid, worldwide license to use, copy, perform, display, and distribute such information."
The text continued on in that vein for a while, but essentially it was saying anything I put on my profile could be taken by the site owners and used for their own advertising, or whatever else they want.
That scandalous picture you sent to that girl you were chatting with (yes, that one)? Well, it could very easily end up on a huge banner advertisement for Adult Hookup or some other adult site. Yikes!
Adult Hookup is a let down
AdultHookup.com uses more sketchy business practices than a personal injury law firm. It has more scam deals than a used car salesman. It is, quite simply, a total waste of your time. So don't sign up, don't get a paid account, and please do not give them any of your personal photos. They have nothing for you but fake women, fake messages, and a god awful color scheme.
After this AdultHookup review, it's hopefully crystal clear you should stay away. Thankfully, the internet is awash in legitimate dating sites. Check one of them out and find what you're really looking for.