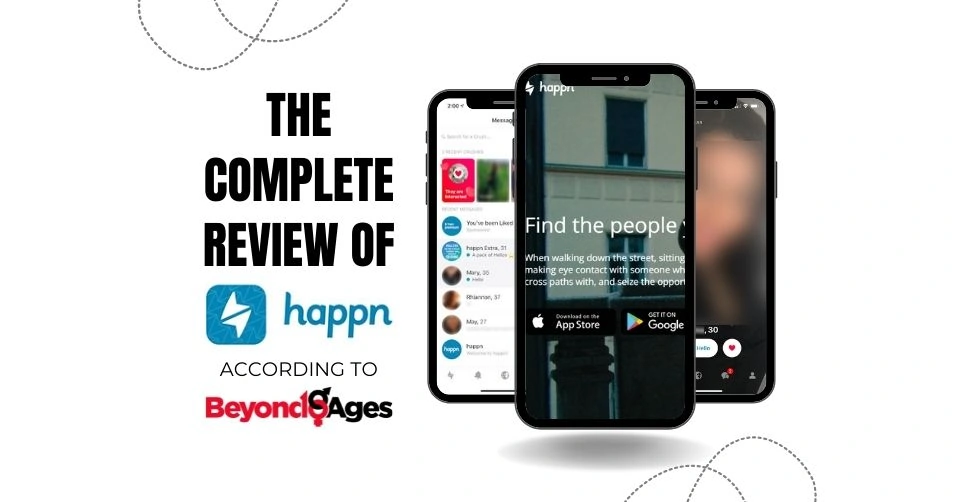 If you use any popular form of social media, you've probably come across ads for Happn once or twice. We have heard good things and have spent the past couple of months putting together a complete Happn review.
It's a popular dating app that gets plenty of exposure online. (It's also unique in that it focuses on chance encounters. It uses location tracking to connect with you women who have been near you.)
Does all that exposure mean it's a legitimate app or are we looking at a Happn scam? That's exactly what I set out to discover for myself.
As online dating continues to become the norm, it also begins to attract the scammers. There are so many fake dating sites popping up online that promise the world for a paid membership. Not only do you lose your money, but you're also potentially compromising your credit card.
Rather than spending the time and money trying these sites out, we want to do the legwork for you.
How we reviewed Happn
For this review I set up a Happn account (first free, then paid) to see what all the fuss is about.
I put it to use as a legitimate user to see if it's the real deal. I wanted to see if there were real women using this site and if so, if I could successfully arrange some dates with them. I matched with them, had conversations, and set up actual dates.
I did all of this so you can be certain about Happn before you ever even open the app.
Let's take a look at what I found.
Our Complete Happn Review
Let's start with a basic comparison against AFF. Easily one of the most prominent hookup and dating apps, it's a good benchmark to compare other alternatives too.
Overall

Our team rates each site objectively based on many hours of independent research, the features each site offers, and how it compares with other sites. The ratings are the opinion of our editors and their extensive experience.

8
9.5
Quality of Women

Our opinion of how attractive the typical woman is that uses this site and how easy they are to connect with compared to other sites.

7
9
Popular

How many people are using this site to actually meet people compared to other sites.

7
10
Usability

How easy is this site to use and how quickly can an average person begin meeting people compared to other sites.

8
9
Privacy & Safety

Does this site take proper precautions to safeguard its members, their identity, and their data.

10
9
Effective

Our opinion of how easily an average person will be able to achieve their dating goals with this site compared to other sites.

8
9
Value

Will the time and money spent using this site pay off for an average person based on the opinions and experience of our editors.

8
10
Our Recommendation
By all accounts, Happn is a solid option when it comes to the top dating apps out there. Within a matter of hours, I had a bunch of matches, active conversations and two dates set up. Many more followed in the coming days.
Compared to many of the apps I've used in the past, the user base seems to be very active. They don't have the profile volume of something like Tinder but the interaction is there.
I'm skeptical about how good this app will be in the long-term because it isn't nearly as popular as a lot of the other options out there that have also delivered great results (like AFF). I have a hunch that this is an app that peaks early and then gets pretty dead.
The app is clean, simple to navigate and offers no sign of funny business going on. If you haven't tried Happn yet, it might be worth a shot.
The users of Happn do seem to be very much on the younger side of things. If you're 30+ you might struggle to find a lot of matches as well.
Still want more info? I've got it for you! Let's take a peek at both the positives and negatives of our Happn review.
Clean interface
Active user base
Very premium feel
Fast and efficient profile setup
Having two different methods of finding women is unnecessary and confusing
Smaller user base than the major apps
Now, Let's Get Into How Good is Happn?
Happn is full of real, legitimate users
One of the first positive signs I got when I started this Happn review was profile quality. Every single profile I came across looked completely legit.
The profile photos used were a combination of phone selfies and the type of pics you'd see on Facebook. That is to say they're legitimate photos of regular people. 
No spammy stock photos trying to imitate a real account and no cringey bio. Just real people creating real profiles which makes for real interactions. What a pleasant change after reviewing so many scam sites lately!
These Are The Dating App Experts Think Regular Guys Get The Best Results With
Guys that struggle online are almost always using the wrong apps. There are a lot that are just a big waste of time. If you want real results start with these three that dating apps have found to work the best for regular guys:
Site
Our Experience
Our Rating
Free Trial Link

Best For Relationships

Experience Highlights

Easily the best option for long-term relationships
75% of all online marriages start here
70% of users meet their spouse within a year
In-depth signup and matching process

Try eHarmony

Best For Casual Fun

Experience Highlights

The best way to meet women for casual relationships
Best results for regular guys
Over 60 million active members
Not good for long-term relationships

Try AFF For Free

Great If You're Handsome

Tinder Highlights

Great if you're pretty good looking
Very popular, especially if you're 18-22
Really focused on photos
Becoming more of a dating than hookup app

Try Tinder
The design is intuitive 
The design of Happn's app is fairly clean and straightforward. There's a lot going on but they've managed to make it feel
uncluttered and simple which can be a challenge.
Everything you need is organized in tabs across the bottom of the screen. It's a very familiar layout thanks to apps like Facebook and Tinder. All in all, if you have a smartphone and use it for more than just texting, Happn will feel intuitive.
If I had to pick a negative it's the number of pop-ups they have. These aren't ads, just short snippets that are designed to be helpful. Sometimes it's wanting you to enable notifications or location tracking. Other times it's explaining how a particular feature works.
That's great and all but after you've used the app for a few minutes, these things just become a nuisance. It's not the biggest deal but a minor detail worth pointing out.
Messaging is simple (and musical) as far as dating apps go
Given the minimalist design we found in our Happn review, it comes as no surprise the messaging is very simple too.
It feels just like any modern dating app, really. Just tap on the speech bubble tab, select a conversation and you'll be taken straight to it. The fact they don't overcomplicate things with a zillion 'features' is actually quite refreshing.
Admittedly I have to question their decision to include Spotify songs. You can send a song in the conversation and I'm just not sure why. Sure, there's a dad-joke level of amusement that comes from sending "Call me maybe" but I can't see myself actually using it.
Beyond that, the chat interface is very simplistic which makes it easy on the eyes too.
As for fake profiles and messages, I didn't come across a single one. All conversations appeared to be entirely legit. As I mentioned above, users stay quite active which is a big deal too. Almost all the women I messaged replied within an hour and conversations were fast.
Also worth noting, you can match and chat with women using the free account just fine. The Premium account didn't make a difference to the conversations at all.
How does the free version of the dating app Happn work out?
This is one of those apps that really does let you do everything you need to with the free version. While the Premium features are a nice touch, they're only there to give you a slight edge.
All in all, I didn't feel restricted at all when using it as a free member. I was able to view profiles of women nearby, match with and chat to them just fine. I had several dates set up before even switching over to the Premium membership.
Tired of ads? You'll love Happn
Another element that builds on the quality feel of the Happn dating app is the lack of ads.
While actually using the app I didn't come across a single ad. Interestingly enough, when I logged out to test various elements I was presented with a short ad for shoes.
They do promote their premium subscription throughout the app but they have to pay their developers somehow, right?
Does Happn cost money?
Happn uses a standard pricing model for the monthly subscription although the prices seem a little high.
As is the norm, the longer you sign up for, the cheaper it gets per month. Your options are as follows:
1 month:

$33.99 /month

6 months:

$20.00 /month (a $119.99 payment)

12 months:

$13.34 /month (a $159.99 payment)
While the app is high quality and effective, pricing themselves higher than Tinder and Bumble doesn't seem wise. Especially considering the minimal benefit of the premium subscription.
Signing up for a paid subscription will give you these perks:
A peek at who liked you, without having to match first

10 "Hellos" per day (think of it like a Super Like on Tinder)

Unlimited likes (though I never hit my daily limit on the free version)

The option to go "invisible" so your account can't be seen for a period of time

More privacy controls so you can set what others can see in your profile until you've matched

An ad-free experience
Honestly, of these perks the only one I personally find helpful is the ability to see who has liked me. The only reason I like it is that I'm impatient. I don't have to do a bunch of swiping to find matches; I get a shortlist to choose from!
I do promote the idea of paying for premium with these apps to support a quality product. At $34 /month though. . . I'll leave that decision up to you.
Frequently Asked Questions From Our Happn Review
Finally, let's wrap up this Happn review by looking at the Internet's most frequently asked questions.
The app is very intuitive but if you find yourself stuck with something I haven't addressed here, let us know! We'll be happy to find the answer and add it to your review as well.
What is Happn?
Happn is a variation on the regular dating app model. Whereas the major players like Tinder and Bumble display profiles of users in your area, Happn takes a slightly different approach.
While it still offers a Tinderesque option, the main feature of the app is based around chance encounters. Tracking your location, it shows you women you've been near that day that fit your chosen demographic.
Maybe you drive to work at the same time every day and so does another woman you might be interested in. If you both use Happn, you'll see her profile on the map and have the chance to match with her.
It's an interesting spin on the standard model. Whether it's a valuable feature or just a marketing gimmick is difficult to quantify. What does matter though is the app works and you can meet women using it.
Is Happn a good dating app?
Yes, Happn is a pretty good dating app if you like going out. That's because the matches you'll get on the app is based on places you've been to.
Who actually owns Happn?
Happn was founded by Didier Rappaport, Fabien Cohen and Antony Cohen and developed by FTW & Co.
How can I contact Happn?
You can contact Happn via email at [email protected]
Is Happn real?
Yes, Happn is a real app that's popular in several countries.
Is Happn legit?
Yes. In fact, I actually enjoyed preparing for this Happn review. The profiles are real, users are active and interaction happens quickly.
I was able to set up a bunch of dates very quickly and I'm sure you will too.
Is Happn a scam or fake?
Any talk of a Happn scam would be very confusing to me. There's not a single part of this app that suggests it may not be legitimate.
By all accounts, Happn is a legit dating app.
Is Happn safe?
Yes, Happn is safe. Just keep in mind that it's an app that uses your location to send you potential matches.
What are Happn alternatives?
There are far too many major alternatives in this space for us to go listing them all here. Instead, take a look at our review of the best hookup sites and apps for this year.
We've gone into a little more detail on some of the best options available right now. Go ahead and check it out!
How does the Happn app work?
When you create a Happn account, the app will give you potential matches based on places you've been to recently. This is intended to help you find chance encounters with women who go to places you frequent.
Is there a Happn app?
Yes, Happn is exclusively an app.
Can you make a Happn account without Facebook?
Yes, you can create a Happn account by using your mobile phone number.
How much does Happn cost?
Happn can be used very effectively for free. If you'd like to sign up for a Premium membership for extra perks, you can do so on a subscription basis.
Below are the pricing options for the subscription. As usual, the longer you sign up for, the cheaper it gets per month!
1 month: $33.99 /month
6 months: $20.00 /month (a $119.99 payment)
12 months: $13.34 /month (a $159.99 payment)
How can you use Happn for free?
Happn lets you do everything you really need to without having to pay a cent. You can set up your profile, see women in your area, adjust your gender, age and distance preferences, and more.
Premium does allow you to see who likes you without having to match with them, among other features. Ultimately though, none of the premium perks really make a huge difference.
How can you chat on Happn?
You can chat with other Happn users once you match with them.
How do you cancel your Happn account?
Like most apps, you have to cancel your Happn subscription via your iTunes or Google Play account.
To do this, follow the steps below for your device:
iOS
Open Settings
Tap your photo at the top to open 'iCloud, iTunes & App Store'
Stap Subscriptions
Tap on the Happn subscription. You can cancel it from there.
Android
Open the Google Play Store
Tap the button
Select Subscriptions
Tap Cancel Subscription
How do you delete your Happn account?
Deleting your account can be done from within the app. With the app open, follow the below steps:
Select the Profile tab in the bottom right corner
Select App Settings
Scroll down and tap 'My data'
Tap 'Delete my account'