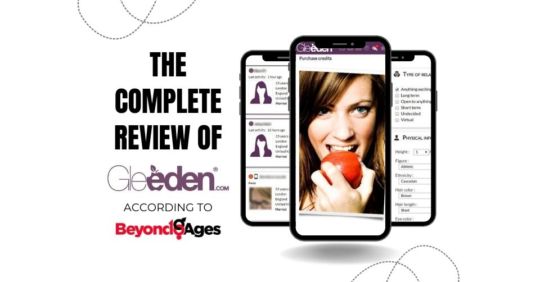 Gleeden.com is marketed for those in relationships who want to indulge in affairs. It claims to offer the discretion, security and confidentiality to pull this off with ease. In this Gleeden review, we'll show you whether it's a legitimate marital affairs website or a waste of time
Keep in mind that you'll have to pay to send a message to other members, and it's not exactly cheap. This is why I thought it was important to run the rule over Gleeden to make sure it's worth your money.
Now more than ever, it's important to be using at least one dating site or app if you're looking to meet other interested singles. So much of dating has shifted online with all the social distancing behaviors that you really can't avoid it. Good luck meeting a lot of people and getting the results you deserve without it!
How we reviewed Gleeden.com
The test involved creating a basic profile,
messaging dozens of women and taking note of the results
. How many women would respond? How many would share contact details?
But since messaging required payment, we opted for the paid version of Gleeden right away. This cost $39.99 for 100 credits. Though keep in mind that it costs 5 credits to message someone new.
We always use the same opening lines and profile details when testing out an online dating website. This way, we can give you a fair comparison to the other sites out there. Our goal was to find women who were willing to meet up after chatting for a while.
By spending a few weeks using the site daily, we're able to give you a thorough and comprehensive review of Gleeden.
So, were we able to make a connection with some married women or is Gleeden too good to be true?
Read on to find out…
Our Gleeden Review Results
For those of you who aren't bothered about learning every key detail of this website, there is a basic summary below. We rated Gleeden out of 10 for the most important aspects of online dating.
To create some context, we have compared Gleeden to AFF for each of these aspects. AFF is a hookup website that we believe to be very best for organizing no-strings fun, especially if you're a guy. Being able to compare Gleeden to the best out there makes it very quick and easy to tell just how useful it will be for you.
Overall

Our team rates each site objectively based on many hours of independent research, the features each site offers, and how it compares with other sites. The ratings are the opinion of our editors and their extensive experience.

5
9.5
Quality of Women

Our opinion of how attractive the typical woman is that uses this site and how easy they are to connect with compared to other sites.

4
9
Popular

How many people are using this site to actually meet people compared to other sites.

5
9
Usability

How easy is this site to use and how quickly can an average person begin meeting people compared to other sites.

7
10
Privacy & Safety

Does this site take proper precautions to safeguard its members, their identity, and their data.

10
10
Effective

Our opinion of how easily an average person will be able to achieve their dating goals with this site compared to other sites.

4
9
Value

Will the time and money spent using this site pay off for an average person based on the opinions and experience of our editors.

3
8
Our Recommendation
Gleeden.com: Our Recommendation
After using Gleeden for several weeks we came away with mixed feelings. It certainly isn't the best dating app or site out there but it's also far from the worst.
Compared to AFF (which has a great free trial) there is a lot to be desired, but that's a pretty high bar. While it's fair to say that Gleeden.com is a legitimate website, it's just not the best around (we would know after testing and ranking 100+ of the best hookup sites for casual sex).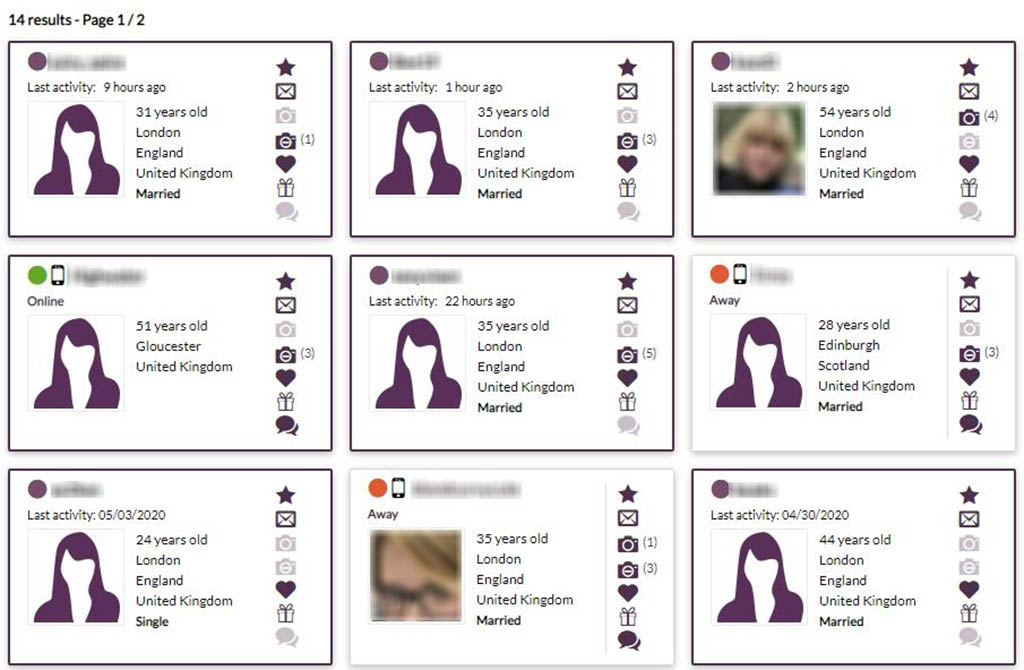 When comparing the cost of using the website to its competitors, it's fair to expect a lot more. I spent $39.99 to be able to message 20 women. But most of the female users in our area chose not to upload public pictures.
Perhaps that's to be expected on a marital affairs website where users have more incentive to retain their privacy, but we all know that appearance plays a key role in online dating. It's hard for us to grade the quality of the women on this website.
Having said that, Gleeden does allow users to upload photos to a Private Photo Book, which can be revealed to users if they make a request and it's accepted. This costs one credit.
Here is a summary of the main things you need to know about gleeden.com
Gleeden has a large and active user base in our review, but we can't be sure about the quality
At the time of writing, Gleeden boasted more than 6.8 million members worldwide. And it was immediately obvious that there was plenty of activity going on, in London at least.
When you log into the website, you are presented with Gleeden's 'members of the day', newest members and a selection of those who are currently online. This is based on an algorithm of who Gleeden thinks you might want to meet. You'll also see a list of who has viewed your profile. You can also manually search for women and there are plenty of filters on the 'advanced search' page.
While only four of the 20 women I messaged got back to us, it seemed clear that there were real people behind the accounts. However, the aforementioned lack of public profile pictures makes it difficult to tell just who these people are.
Gleeden profiles can provide plenty of detail
Gleeden gives you the opportunity to provide a lot of information and learn a lot about who you're speaking to.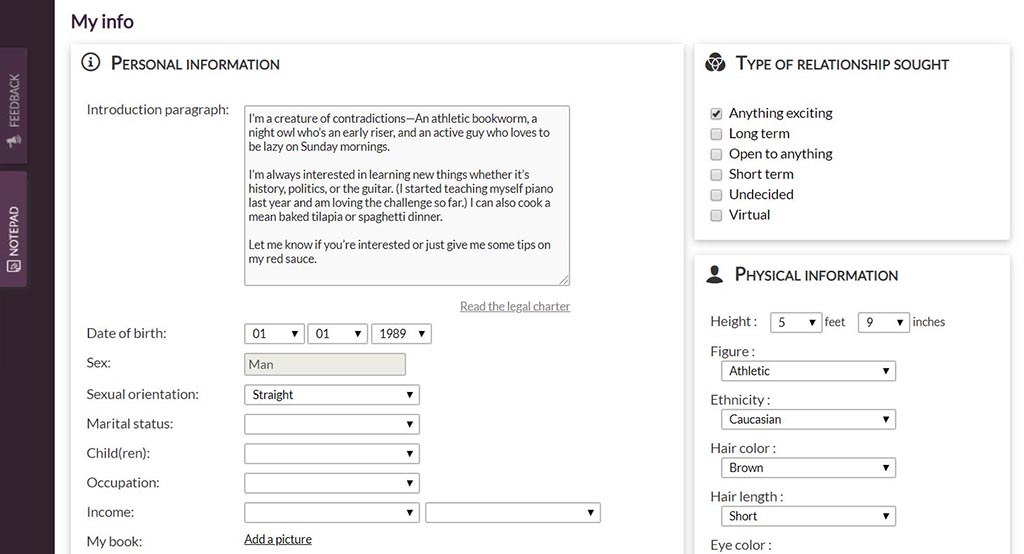 Gleeden takes into account more than just what you look like and what you're looking for. They also encourage users to include details like your personality, your sexual preferences, your hobbies and more.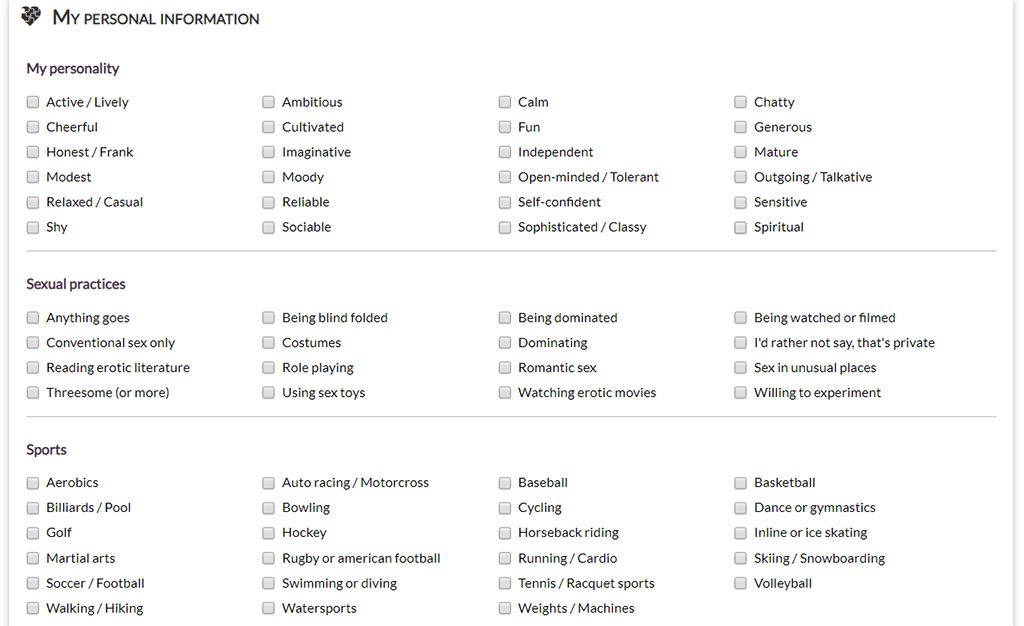 I also like that it's possible to see who is online at any given time. It's also useful to be able to see someone's relationship status at a glance. It's not just women looking to cheat on their man either, but the private Photo Book is likely to be a useful feature for those who are.
We can't say Gleeden provides value for money
Online dating is a numbers game for most men. Even the most attractive men need a decent-sized user base of attractive women in order to secure a satisfactory number of dates. While Gleeden may have this user base, it's going to cost you a lot more than it does on other websites to spread your seed far and wide.
That's because Gleeden charges you 5 credits to start a conversation with a new member. Bear in mind that you can only buy credits in packs of 25, 100 or 400. These cost £14.99, £39.99, £99.99, respectively.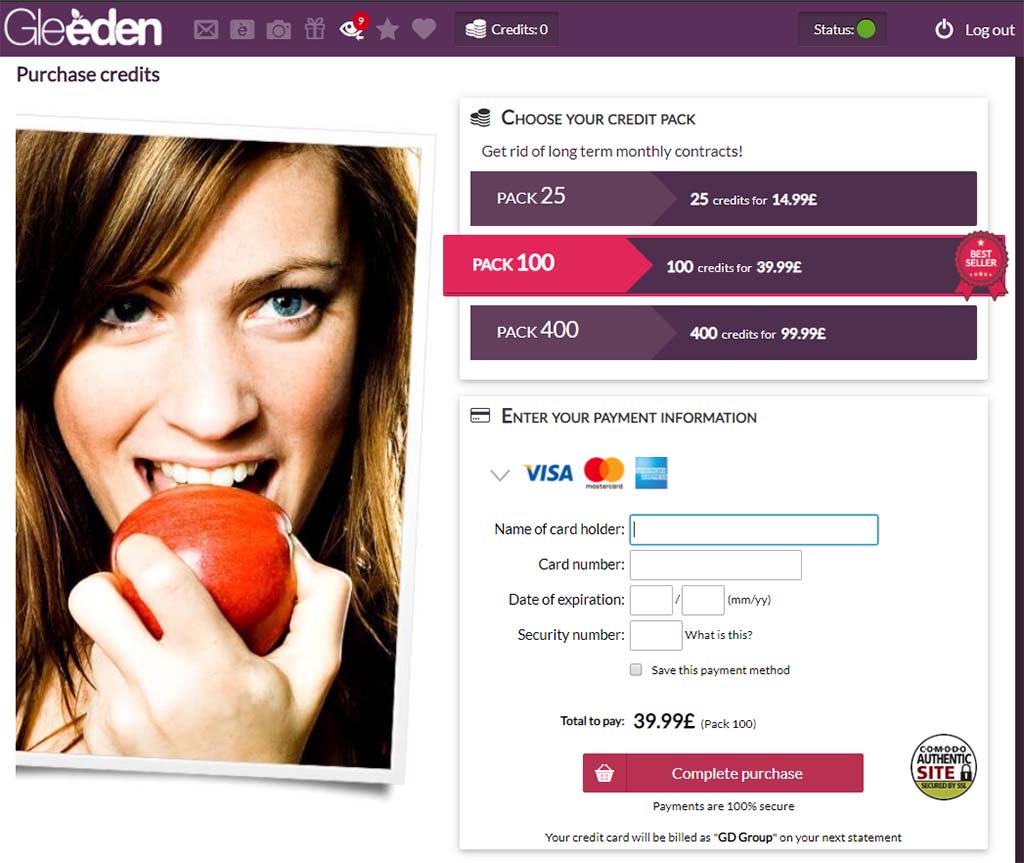 This pay-per-conversation model does help to eliminate one of the hurdles of online dating: women being overwhelmed by potential suitors.
Gleeden is completely free for women to use. However, this model may end up costing men a pretty penny if they're determined to try and make Gleeden work for them.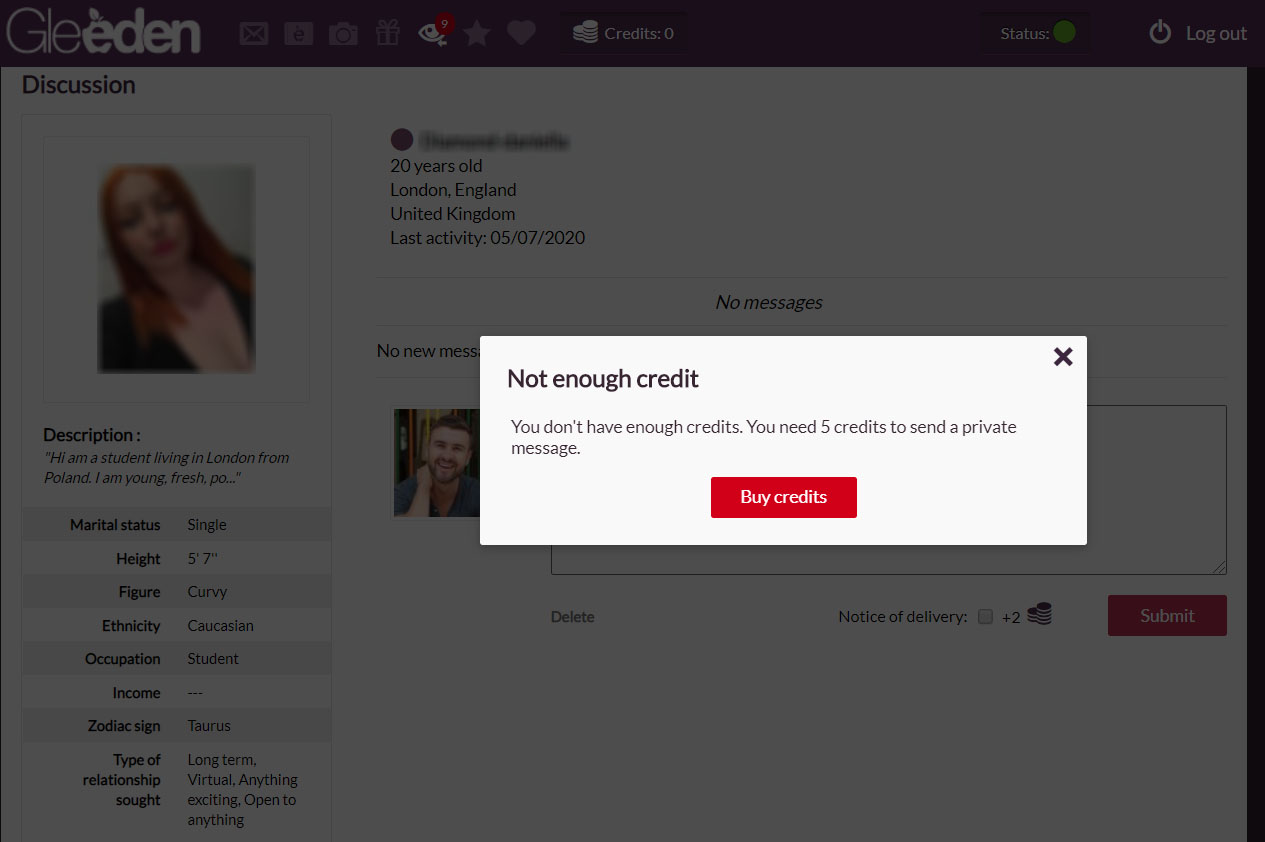 Now, let's compare this to our current favorite hookup site AFF
.
AFF is currently offering a free trial, and it's stacked with women who aren't afraid to reveal who they are or what they want. In our tests, women were far keener to message our profile and it was easier to swap contact details.
AFF has a far bigger user base, and you won't be mostly limited to women in unhappy relationships. Honestly, if you're struggling to choose between the two websites, we'd urge you to give AFF a try first. Otherwise, you can have a look at other reliable hookup sites that we've tried in the past.
Positives and negatives of our review of Gleeden
Gleeden has its own pros and cons that you might want to consider before signing up.
User-friendly interface
Plenty of women to talk to
Detailed profiles
No sign of bots, cam girls or scams
Not so many profiles with public pictures
Pay-per-conversation model can prove to be expensive
Profiles, pictures, and members
Gleeden will show you what percentage of a profile the members have filled out, and the majority of them appear to have taken the time to add plenty of information about themselves. My main gripe is the lack of public photos. In many of those that are uploaded, the women choose to hide their face.
This lack of photos means it is possible that the website is stacked with fake profiles.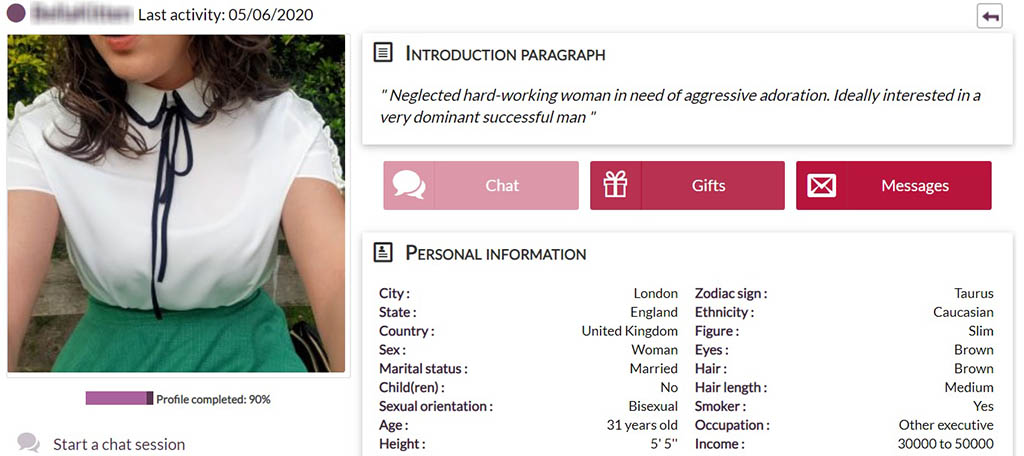 The Gleeden Alternatives Dating Coaches Actually Want You To Use
With so many apps out there it shouldn't be a surprise that most guys are using the wrong ones. It's a huge reason why so many guys get zero results when it comes to online dating. If you actually want to find a hookup try these first:
Site
Our Experience
Our Rating
Free Trial Link

Best Hookup Site Right Now

Experience Highlights

Top option for local hookups by far
Best results for regular guys
Over 60 million active members
The design needs an update

Try AFF For Free

Great If You're Handsome

Tinder Highlights

Great if you're pretty good looking
Very popular, especially if you're 18-22
Really focused on photos
Becoming more of a dating than hookup app

Try Tinder

2nd Best For Most Guys

Experience Highlights

2nd best option to find hookups
Attracts an older crowd than most hookup apps
Pretty popular
Solid free trial

Try Passion
Gleeden.com Design
Gleeden launched all the way back in 2009, but its website has been updated to keep with the times. It's extremely easy to navigate, and the home page does a great job of presenting women you might be interested in contacting. It's up there with the best designed online dating websites in recent years. Gleeden also has a mobile app, which works fantastically well on smartphones and tablets.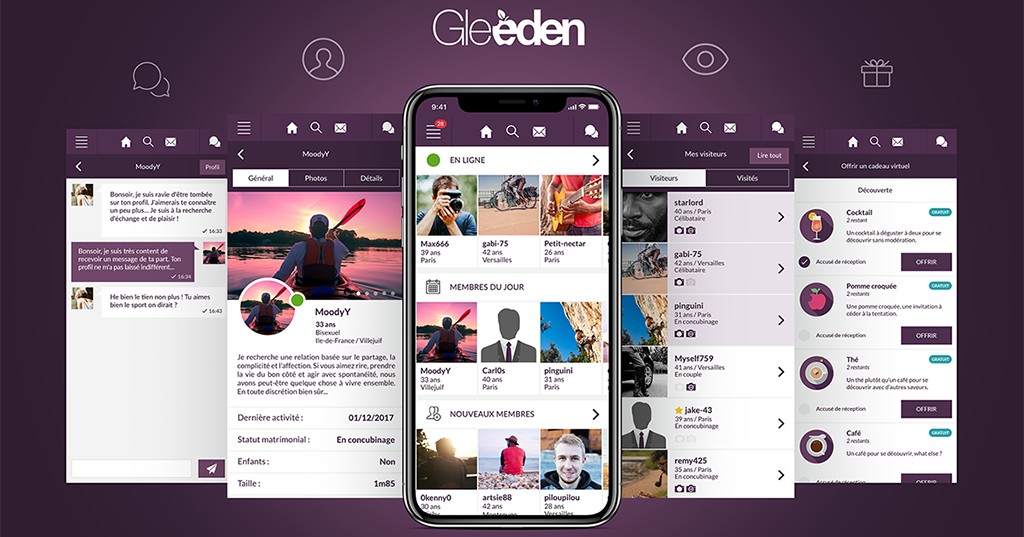 Messaging and chatting from our Gleeden Review
You can view profiles and see who has viewed your profile for free, but it will cost you five credits to message a new profile. Click to view a woman's profile and you'll see a 'Messages' button right at the top of it. Once you've sent one message, you can continue your back and forth for free.
When reviewing online dating websites, we always leave our profile blank for 24 hours to see if we receive messages. If our blank profile receives messages or chat requests, that is a good indicator that the website is full of fake profiles. However, our blank Gleeden profile didn't receive any.
There are two types of messaging you can initiate.
Chat. An instant message service. Only available when members are currently online. It costs four credits to send the first message or three credits to read and reply if she messages first.
Messages. These are available to send regardless of whether the user is currently online. It costs five credits to send the first message or three credits to read and reply if she messages you first.
We messaged 20 women, got four responses and swapped contact details with one of them: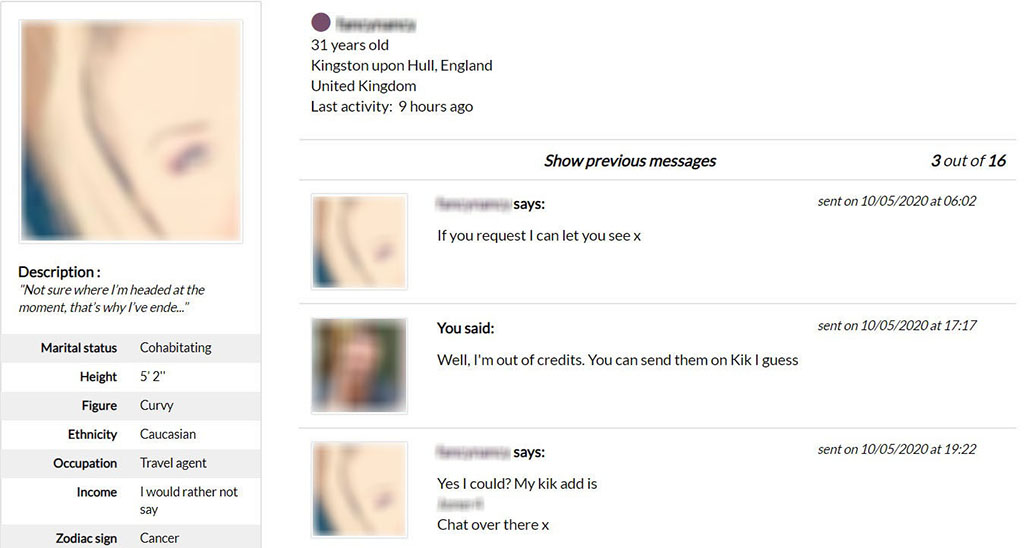 Then there's this interesting lady who seems like fun. But then she admitted that she only wants us for our money.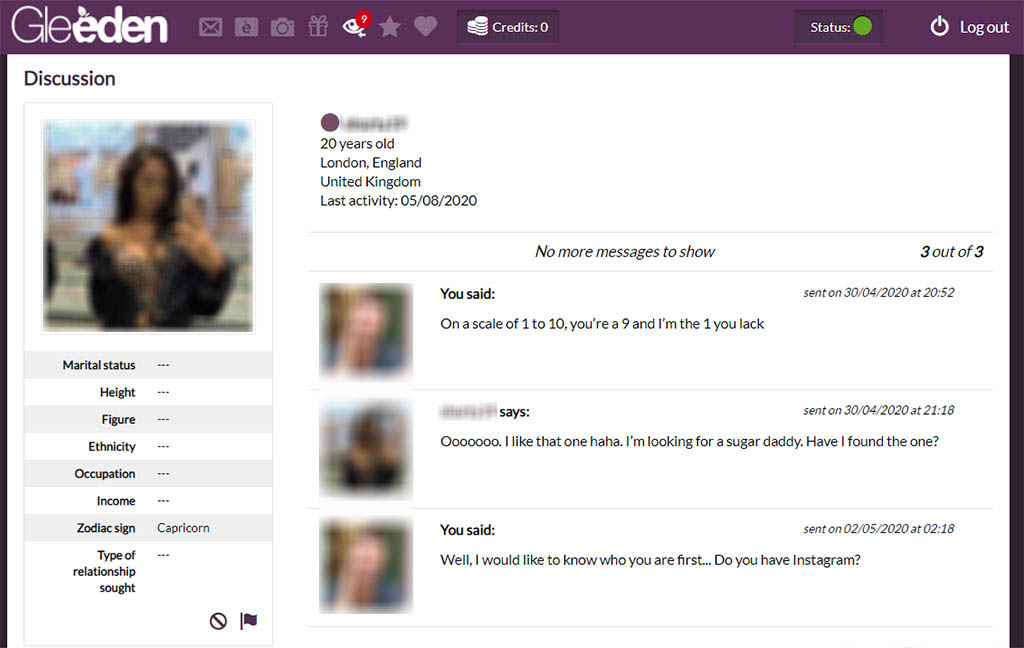 We also got another one who seems like a real person. She seems nice enough, but then she didn't respond after the first few messages.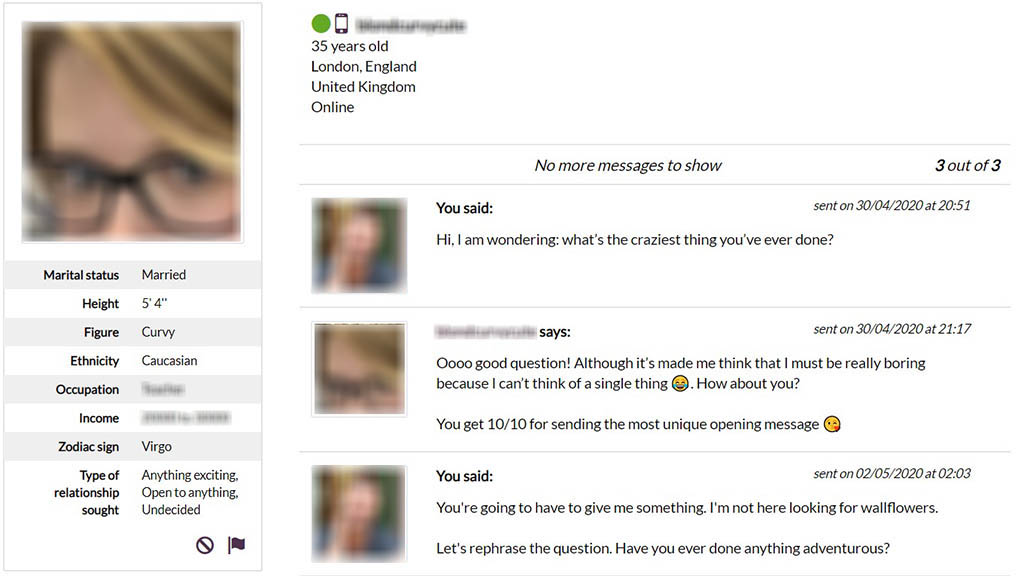 The chat function allows you to send 'crushes' or 'virtual gifts' to indicate that you really like someone. These are free to send and may encourage a woman to message you first.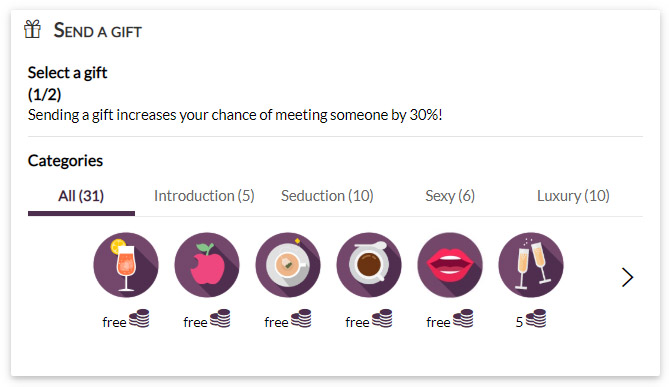 Gleeden suggests that sending a 'virtual gift' increases your chances of meeting in person by 30%, but there is no way I can believe that's true!
What can you do with a free membership?
As we found in our Gleeden review, women can access all features of the website for free. Men can view profiles, see who has viewed theirs and send virtual gifts. But as you can't message other profiles, a free membership is essentially useless.
Advertisements
We didn't receive any adverts for porn, cam girls, other dating sites or weird products. In fact, there are no adverts on the Gleeden website at all.
Pricing
You can buy credits via your credit card. Below are the prices: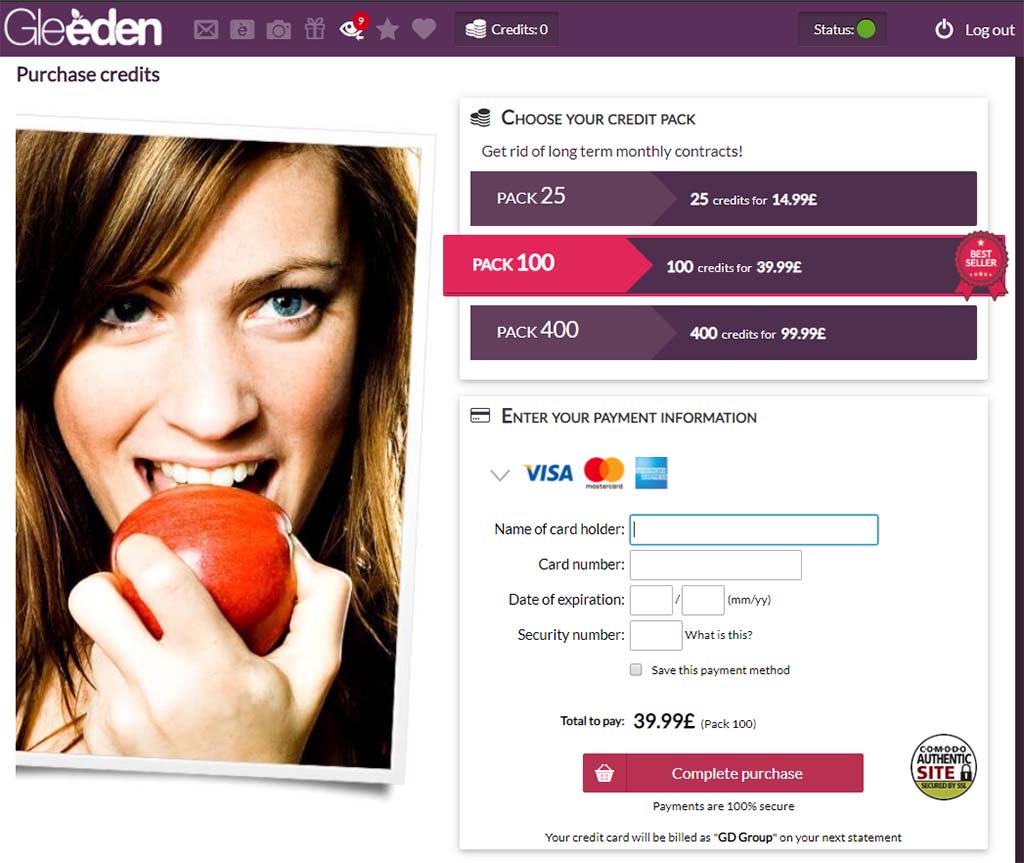 The good thing about Gleeden is that you don't need a monthly subscription. It's one and done once you've bought and used your credits. That way, you won't have to worry about canceling your subscription if the site doesn't work out for you.
Frequently Asked Questions about Gleeden
Still not sure if Gleeden is for you? Here are some quick and easy FAQs for you:
What is Gleeden?
Gleeden is an app and site that markets itself as a site where users can find like-minded people who want to engage in extramarital affairs.
Who actually owns Gleeden?
Gleeden is an app and browser site that is operated by Blackdivine LLC.
How can I contact Gleeden?
You can email Gleeden at [email protected]
Is Gleeden real?
Yes, Gleeden is a real site that's populated by real people. However, since it's a site for finding affairs, majority of these users try to be as anonymous as possible.
Is Gleeden legit?
You can conclude from our Gleeden review that this is a legitimate website for sure, but it's far from one of the best.
Is Gleeden a scam or fake?
There's no Gleeden scam to warn you about here. It's a legitimate website.
Is Gleeden safe?
From our experience, Gleeden looks pretty safe. However, considering most of the users try to be as anonymous as possible (some don't even have photos), it's hard to say how likely it is that you're talking to a scammer.
What are Gleeden alternatives?
If you're looking for the best alternatives to Gleeden.com, check our guide on the best hookup apps and websites. These might not necessarily be stacked with women who are in unhappy relationships, but that's necessary for cheating on your partner, is it?
Are there other apps similar to Gleeden?
Yes, there are lots of apps like Gleeden. However, since affair dating can be pretty risky, why not stick to some of the best hookup apps and sites we've found instead?
How does Gleeden work?
When you log into Gleeden, you can browse through a pretty large userbase of users. You can use the advanced filters to find women who suit your tastes. To message them, however, you need credits.
Is there a Gleeden app?
Yes, Gleeden is available on iOS and Android.
How much does Gleeden cost?
Gleeden.com operates on a credits system. You have to buy credits, then spend them in order to message other members.
You can buy credits in the following packs:
25 credits – £14.99
100 credits – £39.99
400 credits – £99.99
How can you use Gleeden for free?
As we found in our Gleeden review, women can access all features of the website for free. Men can view profiles, see who has viewed theirs and send virtual gifts. But since you can't message other profiles, a free membership is essentially useless.
Can you send messages for free on Gleeden?
You can't send messages for free on Gleeden. You need to pay for credits to contact other users.
How do you deactivate your Gleeden membership?
Navigate to 'My Profile' from the main menu, then 'My Account'. Here, you'll find a delete account option in small writing in the bottom-right hand section of the screen.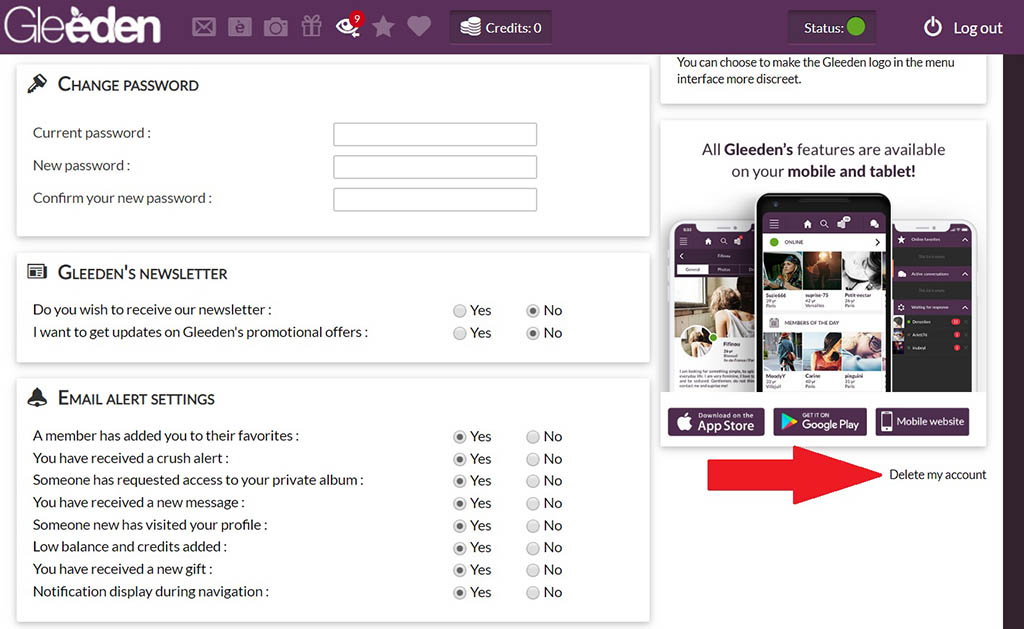 Here, you'll be given the option to re-enter your password and deactivate your account.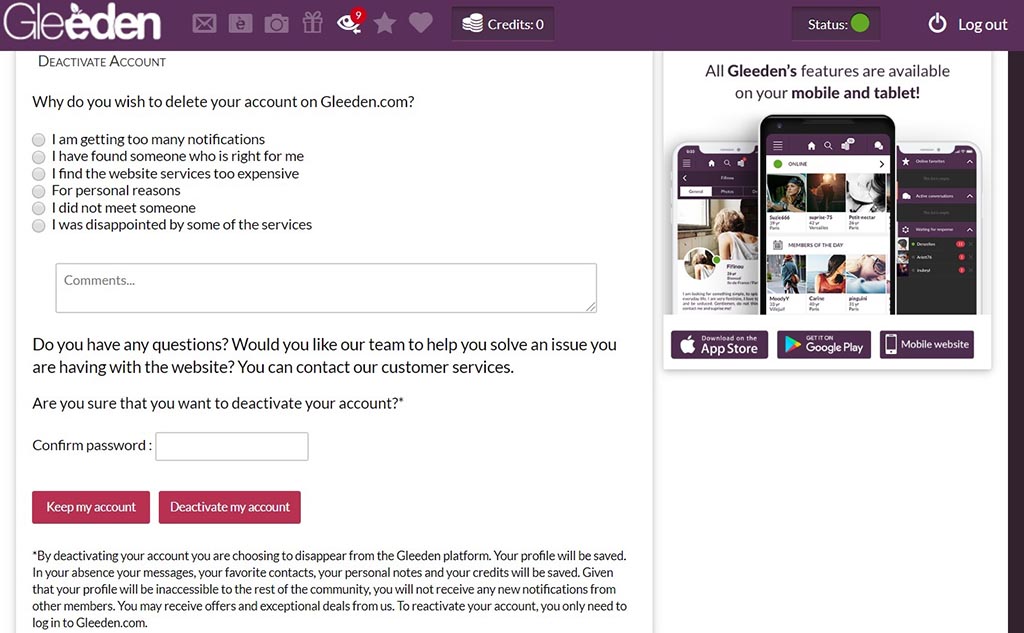 When you choose this option, your profile will no longer be visible to other users. So you won't receive any more email notifications. However, you'll be able to reactivate your account by logging back in to the website.
How do you delete your Gleeden.com account?
To delete your account, follow the same steps you would take to deactivate it. Navigate to 'My Profile', 'My Account' and 'Delete My Account'. Then, instead of entering your password to deactivate your account, click the link at the very bottom of the page which says 'Delete My Account'.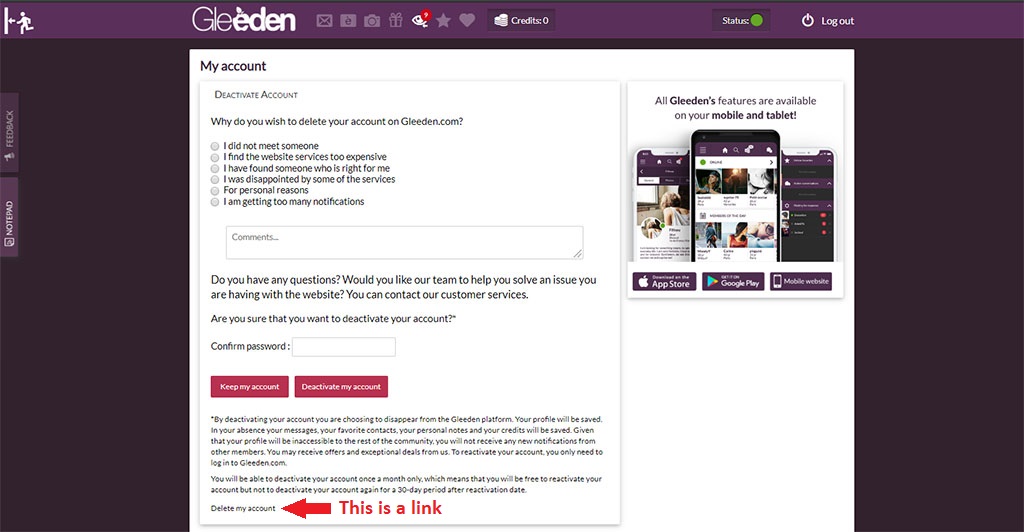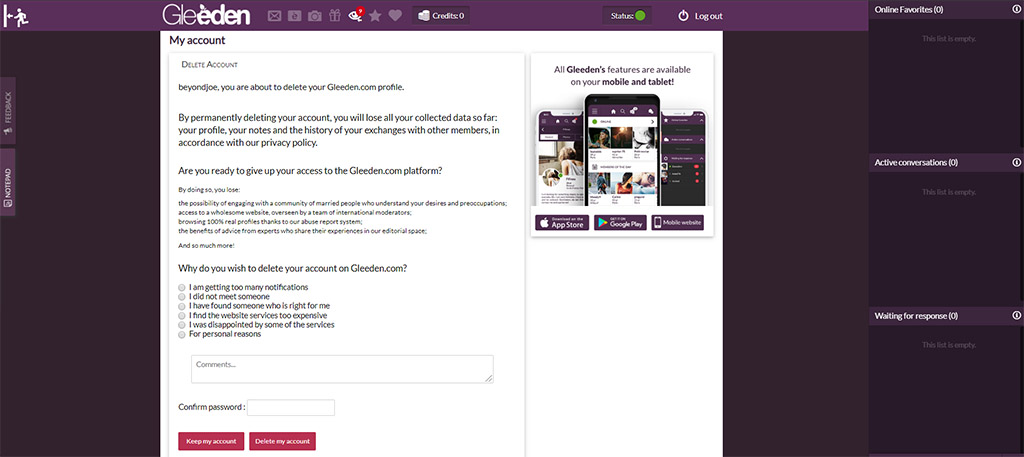 When you do this, you'll have to create a new account from scratch in order to access Gleeden.com