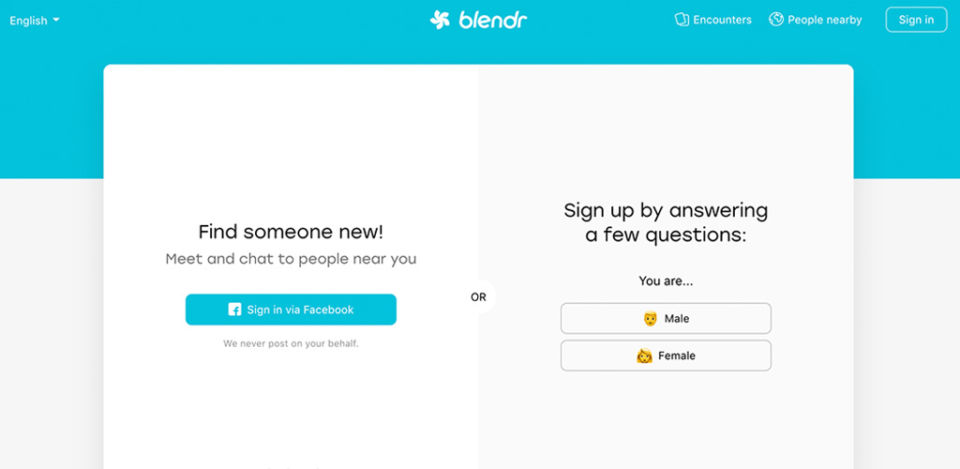 We have put in the time to do a complete review of Blendr to see if this app is worth checking out or just another time waster. There are so many reasons why we're a fan of online dating but there are some traps you need to avoid. Like any popular movement, dating apps and websites have become saturated with low-quality imitations.
To save you the frustration of testing out the sea of potentials, we cover the most talked-about for you. The less time you spend on questionable sites, the more time you can spend on exciting dates in the real world. Let's not even get into the risk of handing over your credit card to some of these providers!
In this Blendr review, we're taking a close look at this promising app.
How we reviewed Blendr
In our constant quest to find the best dating and hookup apps out there, I did more than just skim some reviews. Instead, I created a real account and put it to the test. I set up my own profile and sifted through hundreds of matches.
Not only that, I started with a free account then upgraded to Premium, to see what all the options were like. I sent out dozens and dozens of first messages. I had real conversations and arranged actual dates with women nearby. All of this was to see just how well Blendr stacks up to the competition out there so you can spend your time on the sites and apps that will actually get results.
I wanted to see if the hype around Blendr was warranted. Having reviewed a bunch of horrible dating sites recently (and some good ones), I can tell you right now, this was a refreshing change. Let's take a look at what I found.
Let's begin with the fundamentals behind a great dating website. The Blendr app was released fairly recently but I'll be focusing predominantly on the original website here.
As you can see below, Blendr was a pretty great experience all around. Not perfect but easily one of the best sites I've used in recent months. Fairly on par with eHarmony, one of the biggest names in online dating, which is no small accomplishment.
Our Full Review of Blendr
Overall

Our team rates each site objectively based on many hours of independent research, the features each site offers, and how it compares with other sites. The ratings are the opinion of our editors and their extensive experience.

8
9.5
Quality of Women

Our opinion of how attractive the typical woman is that uses this site and how easy they are to connect with compared to other sites.

7
9
Popular

How many people are using this site to actually meet people compared to other sites.

5
10
Usability

How easy is this site to use and how quickly can an average person begin meeting people compared to other sites.

8
9
Privacy & Safety

Does this site take proper precautions to safeguard its members, their identity, and their data.

10
9
Effective

Our opinion of how easily an average person will be able to achieve their dating goals with this site compared to other sites.

7
9
Value

Will the time and money spent using this site pay off for an average person based on the opinions and experience of our editors.

8
10
Our Recommendation
Overall, the Blendr app is simple and easy to use. I recommend giving it a try for yourself; I had no trouble setting up a date in less than 24hrs.
My biggest gripe with this website was getting my profile set up. Thankfully, you only ever have to do this once, but it was mostly about how it handles images. I chose to link mine to my Facebook account, and it gives you the option to pull photos from that.
Want to add just one more photo from your Facebook account? Guess what – by default, it's selecting all of your recent(ish) FB profile pics. Yep, even the ones you didn't want in your profile. And some seemingly random photos from other FB albums. The best part is you have to delete each of these photos one at a time.
However! Beyond this infuriating little bug, I loved using Blendr. So much so that I'd put it almost on par with my personal favorite online options. The main downside being that they don't have quite as many users as other sites (like AFF). You really want to have as many options as possible when you are using dating sites and apps.
The site feels fast, modern and safe. The verification process was very simple (just take a quick selfie, and in seconds, you'll be verified) and everything just worked. There are a couple of ways you can view nearby potentials too, which makes it so much faster than swiping.
All in all, I recommend trying this website out for yourself along with some of our other favorite apps out there. Blendr may not be at the top of the list of our favorite hookup sites and apps but it's pretty solid.
While we've covered a lot of the major features of Blendr in this review, we want to make sure that you have a thorough view of the site. Let's dive deeper and explore the positives and negatives of Blendr.
Large, active user base
Intuitive and easy to use interface
Easy to see pages of profiles at a glance rather than one at a time
User verification means no fake profiles
Not a single questionable interaction
Setting up a profile can be incredibly irritating
The regularity of popups pushing their premium offering can be a lot
Some profiles in "People Nearby" seem to be there to trigger the popup to buy premium
The Specifics of Our Blendr Review
Blendr profiles, pictures and members
The overall quality of the profiles on this site is a huge indication that it's legitimate. For most, the photos are the same quality you'd expect to see on Facebook and Instagram. That makes sense, of course, since you can link directly to your social media and pull photos from there.
Being able to see verified members makes it even easier as well. You know the profile you're looking at has been verified by Blendr (though admittedly, I don't know exactly how verification works on their end).
The only negative I came across were the "People Nearby" popup triggers that I referred to above. When looking at that view, you'll see a grid of profiles, as shown here. You can hover over an image and click the heart if you like them.
Every now and then, you'll come across a profile where, when you click the heart, you get a popup. Every time you click the heart on that particular profile, the popup is all that happens. Initially, I thought I'd hit a "like" limit. On further testing though, I could still like other profiles and get no popup.
That is a little frustrating and takes away from the quality feel of the site to an extent. Still, it's quite a niche problem, and I had plenty of success with Blendr regardless.
In terms of how attractive the women are on the site, it's your standard online dating fare. I'd say it's exactly on par with both Tinder and Bumble. Neither above or below average; just regular people in your area.
Design
As a minimalist fan, I really enjoy the design of this site. No clutter or complicated menus to navigate, just the necessary things right where you expect to find them. As a side note, if you've ever used the dating site Baddoo, Blendr will feel very familiar. It seems they're owned and operated by the same company.
No flashing or animated porn ads, no retina-searing colors pushing for your credit card details. Just a clean, intuitive interface so you can focus on what you're there for – finding women to date!
I'd even go so far as to say this is one of the best looking dating sites I've used. This clean and modern look is yet another factor that adds to the professional and trustworthy feel of Blendr.
Messaging and chatting with women on Blendr
Once again, clean, simple and effective. Once you've matched with someone, they'll show up under both Matched and Messages in the left pane. Unlike many dating sites and apps, you can also message women without having to match.
Once a conversation has started, you can find those messages under Messages. Crazy, huh?
From there, it looks and feels much like any web-based chat interface you've ever used. A list of conversations down the left, your actual conversation with the selected person on the right and a text box at the bottom. No added gimmicks, just a very clean and simple chat experience.
All of this happens on a free account too. The difference with messaging as a paid member is that your messages take priority in her Messages interface. You show up above free members, so she'll see you even if she's been flooded with attention.
In the month I've been using Blendr, I've yet to see a single questionable message. No spam or attempts to direct me to another website.
The response rate has been well above average too. I got a response from 100% of the women I reached out to, which is a first for me personally. In fairness, I was picky about my selection process, but I am with Tinder, Cougar Life, and Bumble too. The response rate on those apps is closer to 70% for me by comparison.
The Messages window shows a green dot for users that are online at the time, much like Facebook Messenger. I've noticed these women were active quite often. Not enough to look fake, but I do get the feeling Blendr prioritizes active users, which is a nice touch.
What can you do with a free membership?
Another point that I was pleasantly surprised to see on this site was how much you can do for free. That is to say, you can use it successfully without spending a cent.
The paid membership does give you a list of perks, of course (see Pricing below), but you don't need them. They're just nice additions to give you that extra edge.
With the free membership, you can see women nearby, match and chat to them without restriction. There doesn't seem to be a limit on likes and you don't have to match before you chat. Even as a free member.
This means every conversation, phone number exchange, etc. would have happened with or without paying.
Whether the perks of a paid membership are worth it to you is entirely subjective. Since they don't use ads on their site, it may be worth paying premium just to support the site devs, honestly. Especially since $69.99 gives you lifetime access to the premium features.
Advertisements
This is a delightfully short section of this Blendr review. Like any high quality and trustworthy dating site, there are no advertisements. Simple.
The Blendr pricing model
Pricing is probably the most complicated part of this site, so let's take a look at it in more detail.
The biggest paid option here is Blendr Premium. It unlocks the below features:
See who has liked you
Your messages are highlighted in her Messages window so you stand out
See who has added you as a favorite
Undo your vote (misclicks happen)
Become invisible  (you can visit profiles, etc. without anyone knowing)
Chat with new users as soon as they join Blendr
Get access to Blendr's "most popular" users
They're nice perks for sure. Whether they're enough for you is entirely your decision.
Blendr Premium Pricing
One day $0.79
One week $4.50
One month $14.99
Three months $35.99
Six months $53.99
Lifetime $69.99
As always, the longer you commit for, the cheaper it gets per day. Realistically, if you're considering three months or more, you may as well pay for the Lifetime option.
Blendr Credits
In addition to Premium, you can also purchase Blendr Credits which allow you to do a few more things. Credits let you buy the following perks:
Show up first in search results so you're seen by more women
Have your profile "Featured" on every page for even more exposure
Show up more often in "Encounters"
The ability to send Gifts in Messages
Add Stickers to your messages
See more people in Encounters
Chat to more people in Messages
Notify women that you're online
Each of these features can be unlocked by exchanging Blendr Credits. For example, it costs 250 Credited to unlock stickers in Messages. These perks are separate from Blendr Premium and cost the same either way.
As you might expect, Credits get cheaper as you buy larger quantities at once. Here's a look at the pricing options.
100 Credits $2.50
550 Credits $12.49
1,250 Credits $24.99
2,750 Credits $49.99
Once again, whether these perks are worth it is very subjective. To me, not really. If your goal is to get as many dates as possible, then Premium and Credits are your friends.
Blendr Review: FAQ
For the final part of this Blendr review, let's take a look at the internet's more frequently asked questions. As always, if you have questions I haven't answered in the review, be sure to let us know!
What is Blendr.com?
Blendr.com is a dating website (there's now a Blendr app too) designed to help you find women nearby.
You set an age range and whether you're looking for men, women, or both and Blendr does the rest.
How do you log into Blendr.com?
Blendr gives you a host of options for signing up and logging in. You can create an account in the old-fashioned way by choosing a username and password.
Alternatively, you can use your existing Facebook or Google accounts to authenticate. Personally, I prefer this method, since it means one less username/password combo to remember. You can use other accounts too; they're just lesser-known websites (e.g. Yandex, MSN, etc.).
What are Blendr.com alternatives?
There are countless alternatives for online dating sites. Since this question is an entire topic in itself, we decided to go ahead and shortlist the best for you!
Check out our review of the hookup apps and sites worth using as alternatives.
How do you use Blendr.com for free?
By default when you log in, you're set up with a free account. This allows you to do everything you need to set up dates with women.
There are various paid options that give you access to exclusive perks. Whether or not these are worthwhile depends on what you're trying to achieve. If you're all about volume, a few dollars will give you a lot more exposure.
Otherwise though, you can still see women nearby, match, and chat with them just fine.
How do you cancel your Blendr Premium membership?
You can cancel your Blendr Premium in your account settings. Just following these steps:
Click your name or profile photo in the top left corner
Click the cog icon in the top right corner
Scroll down to Payment Settings
Next to Blendr Premium package click Unsubscribe
How do you delete your Blendr account?
Deleting your Blendr account is equally simple. Follow these steps:
Click your name or profile photo in the top left corner
Click the cog icon in the top right corner
Scroll to the bottom and click Delete Account
How much does Blendr.com cost?
You can use Blendr for free without any major restrictions. If you want access to the exclusive perks, you're given two paid options. Blendr Premium and purchasing Blendr Credits.
Each of these offers access to different things and have quite a different pricing model. For more information about cost and perks, check out the Pricing section above.
Is Blendr.com legit?
Yes. Blendr is a legit website and one you're going to find plenty of success with. It's simple, easy to use, and isn't loaded with questionable or explicit ads like many competitors.
Is Blendr.com a scam or real?
There is no Blendr scam, plain and simple. Some people have been asking about a potential Blendr scam online. From my experience, there's no reason to feel like this site is a risk in the slightest.
How do you send messages on Blendr?
Sending messages on Blendr can be done in one of two ways. This applies whether you're using a free or paid account.
Once you've matched with someone, you'll find them in your Messages section. Alternatively, you can mouse over a profile, and click the speech bubble or click Message from within their profile. Either of these will allow you to message her without even having to match.
How do you search on Blendr?
Blendr functions more like Tinder and Bumble in that you can't really "search". Instead, you set the gender and age range you're looking for and Blendr will present you with appropriate people in your area.
Have you given Blendr a go? Tell us how you felt about it!