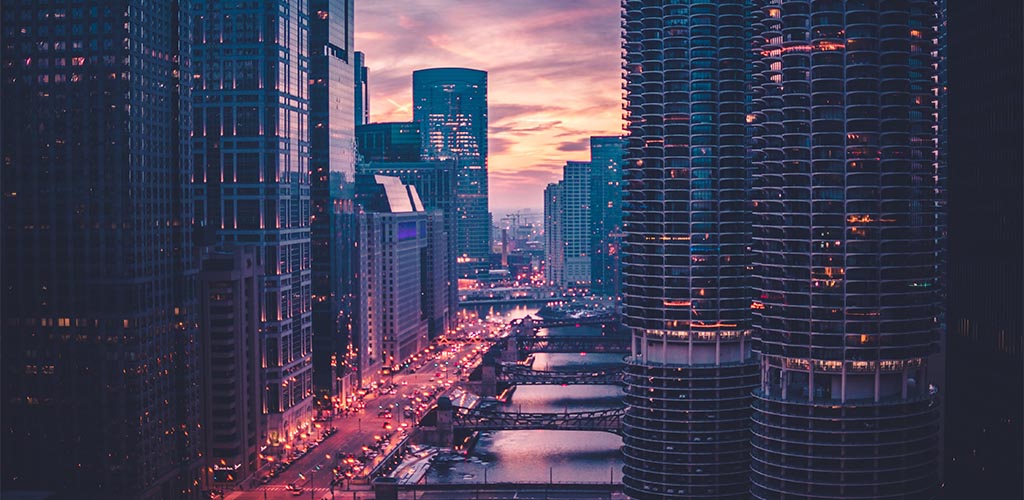 Picking the best dating app in Chicago isn't an easy choice these days. It seems like every week you hear about some new app that is going to "revolutionize" the way you date and help everyone from Logan Square to Englewood find someone with ease!
Unfortunately, it isn't quite that easy but we are really fortunate to have a lot of great dating app options in Chicago. This isn't some podunk little town like South Bend after all.
These days you have to do a bit of research if you want to make the right choice and avoid wasting your time and money. There are some great dating apps for specific tastes as well as more general apps that are well worth your time. You need to be careful though because it can also very easy to spend time on the wrong app without anything to show for it.
Below are the Chicago dating apps that we have had the best success with (and have heard the same from our local friends). Give them a shot and don't' forget to leave a comment below about your experiences. With over 35% of Chicago's 3 million people single the odds are in your favor!
The Best Chicago Dating Apps To Try Out
First we are going to cover several dating apps for specific categories. After that, we will give you our thoughts on the best general dating apps in Chicago.
Men interested in older women or women interested in dating younger guys have to try Cougar Life
Chicago has a lot of single guys under 35 and quite a few attractive single women that are 30+. If you have spent any time in the Viagra Triangle you will know what I'm talking about. If you fall into either one of those demographics you need to give Cougar Life's free trial a shot.
This is an app that is specifically for men interested in single women 30+ and women in that range who are interested in a wide range of men, younger and older. Every year we put together a list of our favorite cougar dating sites and apps and they have been the best in Chicago for several years.
Try them out and see who is on the prowl.
College grads in Chicago looking for other college grads need Elite Singles in their life
With so many universities from Northwestern to UIC it isn't surprising that 34% of Chicago residents have college degrees. That is definitely something to be proud of.
If you have spent the time and money to get that diploma and really want to date someone who has also completed a degree Elite Singles is worth a look. They are one of the newer players around but are growing fast.
Instead of wading through hordes of people who peaked in high-school on other apps you can narrow things down fast. Having a partner who values education can be a great.
Single parents in Chicago need to keep their options open and that means eHarmony
If there is one thing we don't need to tell you it's that dating as a single parent can be very challenging even in such a big city. There are over 12 millions single-parent households in the US and a good number of those are in Chicago.
If you are interested in dating a single parent bigger tends to be better here. With that in mind, we always recommend eHarmony as your first stop. There is a bit of a signup process but that just filters out people who are not serious about dating.
eHarmony has over 15 million members and does a fantastic job matching you up with people you are actually compatible with which can save a TON of time. If there is an app out there that can save some of your precious free time and find you someone great you need to jump on it!
If you're very attractive and want a quick hookup there is always Tinder
Oh Tinder, everyone's last resort when it comes to finding a quick hookup. Don't get me wrong, Tinder can be great to scratch an itch but there are some big caveats to that.
First, for guys, unless you are pretty attractive Tinder can be TOUGH. Most girls are getting spammed non-stop on Tinder and if your photos can't stand out from the dozens or hundreds of other guys you are going to waste a lot of time.
For girls, Tinder can definitely give you a nice ego boost. You will get a lot of messages from thirsty guys but they probably won't be from the guys you were hoping for. Most guys with game use Tinder as a backup.
Needless to say, if you are looking for more than a short-term fling Tinder isn't the app for you.
If you are mostly looking for sex Adult FriendFinder is your best bet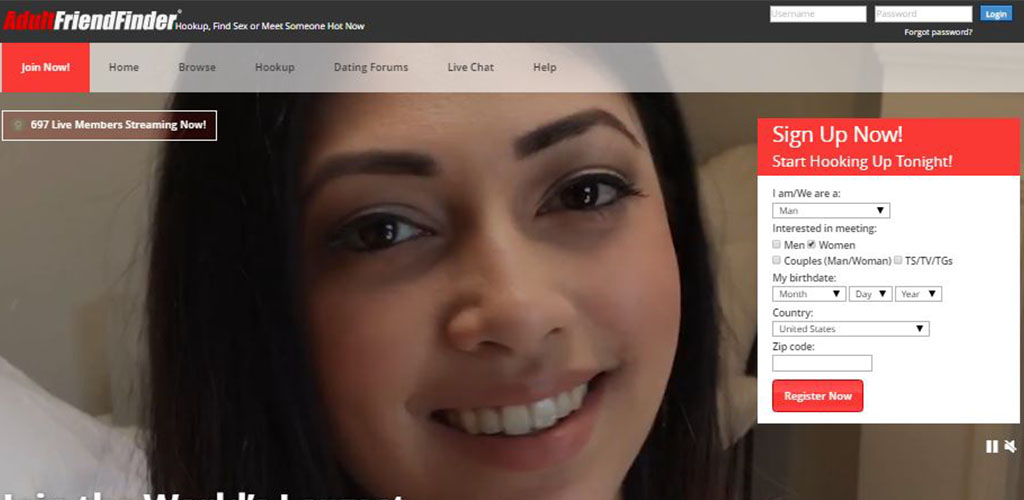 If you are like most of us and are not one of the super handsome guys out there Adult FriendFinder should be the first app you try if you are looking for something quick. Like Tinder, they have a huge number of users (over 50 million) and they have been around for a while.
Even in a big city like Chicago, it helps to use the apps that get the most attention. You also need to make sure you are using an app that is tried-and-true and isn't just a big waste of time. Fortunately, Adult FriendFinder covers both of those.
Aside from Tinder, all of the apps of this kind are pretty much a waste of time. Give their free trial a shot and see what we mean.
Larger ladies (and the guys who love them) in Chicago are on BBW Cupid
If you happen to be a big and beautiful woman or someone who would love to meet one your best bet is going to be BBW Cupid. If you have had not had a lot of luck on the general dating apps you have to try them out for the following reasons:
First, many BBW simply won't try typical dating sites where they have to compete with smaller women. They don't want to be judged and they don't want to feel let down if they don't get a lot of responses. This has lead to guys looking to date BBW to give up a little bit on looking there which just makes it worse.
The solution is an app like BBW Cupid that is specifically designed for men and women with these interests. Everyone is there for the same reason and things tend to go MUCH smoother without the downsides of general apps.
The best Christian dating app in Chicago is Christian Mingle
Online dating apps can be tricky for Christians. There are a lot of people out there who will list "Christianity" on their profile but don't necessarily reflect the values in their day-to-day life.
This can lead to a lot of frustration and wasted time. The last thing you want is to invest a lot of time into a person and develop feelings only to discover that your beliefs really are not that compatible. Fortunately, there is a way to avoid that.
Using an app like Christian Mingle, the most popular Christian dating app in Chicago, filters out all the people who don't make their faith a priority. This way, you are left with a great selection of people who you are much more likely to be spiritually compatible with.
Give them a shot if you have tapped out your Sunday School circle's friend network.
If you are over 50 and dating in Chicago your solution is Our Time
Dating apps are surprisingly popular in Chicago for men and women over 50. As easy as it is these days to signup and meet new people it probably shouldn't be that surprising.
In Chicago, the best app for dating over 50 is Our Time. This is the most popular app of this type and they do a really good job of simplifying the process so even the less tech-savvy among us can easily use it.
Even if you are not terribly comfortable with new technology they can really help you find someone nearby who is a good fit for you.
Grindr is still the best gay dating app in Chicago while

Pink

Cupid is the favorite of lesbians
Grindr has been the kind of gay dating apps in Chicago for a while now so this shouldn't come as a big surprise. It has been slowly declining in popularity as newer apps are coming on the market but it is still the king (for now).
Pink Cupid on the other hand, is becoming the favorite lesbian dating app in Chicago. They have the largest user base of any lesbian dating app we have seen and the users are pretty happy with the service. Definitely worth a look if the local scene hasn't been working out for you lately.
A Few General Chicago Dating Apps To Consider
Now that we have gone through the apps for more specific tastes here are our favorites that don't cater to a particular crowd:
If you are looking for more than a quick hookup check out eHarmony
When it comes to giving you the best chances of meeting someone you are actually compatible with you can beat eHarmony in Chicago. Unlike the other major dating apps out there, eHarmony actually has a signup process that is more than throwing up a couple of photos and a lame joke or two.
A more intensive signup process allows for much better automatic matching and also filters out the people who are not even committed enough to spend 15-20 minutes to answer a few questions. If you are looking for more than a quick fix and want to save a lot of time and money in the long-run you can't beat them.
OKcupid and Plenty of Fish are also decent but have some downsides
No list of dating apps in Chicago would be complete without including OKC and POF. These are two sites that almost everyone has signed up on at one time or another.
Now, OKC and POF have a lot of users, which is great. The problem is that very few people on the site seem to actually put much effort into it. We have yet to find another app that has as little activity per subscriber.
You can definitely get results if you spend a lot of time but in our experience it just wasn't worth it. The same amount of time and effort spend on other apps yielded much better results.