With so many new dating apps being created, finding the perfect one can be tough. However, meeting people on dating apps is a great way to connect with people you never would have met otherwise, so knowing which app to use is essential. Thankfully, we've curated a list of the best dating apps in Miami for you.
Our team of experts has tried over 150 dating apps, some were hits and some were misses. We put together a list of the nine best Miami dating apps and sites so you can avoid the misses. Miami is so different from the rest of Florida, so these apps are known to work specifically in Miami. From the Upper East Side to Little Havana, get ready to meet some singles!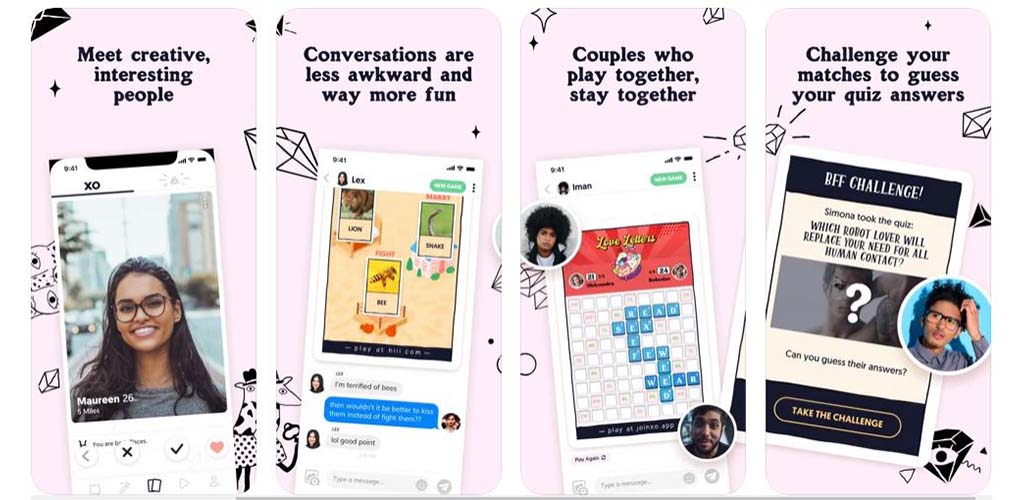 #1 - XO is one of the best dating apps in Miami for those who love games (Android; iOS)
XO is one of the most entertaining dating apps as users can connect by playing games together. Fun icebreaker games like word play, drawing challenges, astrology matching and rating games are perfect for getting to know your potential match.
XO takes away the awkward debate of who's going to make the first move as the first move is a game! This is a great way to introduce people and make them comfortable enough with each other to have a genuine conversation.
Why XO is a great dating app
There are plenty of fun icebreaker games to play with your matches
Both parties can invite friends to the games to make it less awkward
A form of blind dating is also available where you get matched with a random person
What we don't like about it
The dating pool is small as XO is still new
Paid membership is quite expensive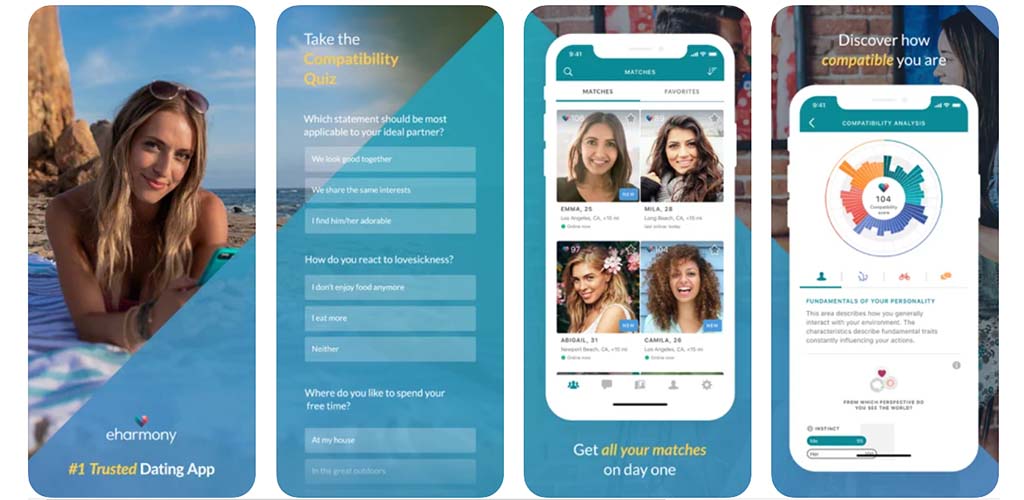 #2 - eHarmony (Android; iOS) is one of the best dating sites in Miami long-term relationships
eHarmony is extremely popular here and has an amazing track record of helping Miami locals find long-term partners by using matching algorithms. This app does the best job of matching you up with compatible potential mates that we've seen.
You don't have to scroll for hours. The app does all of the tough work for you. Of course, you might not make a perfect connection outside of the algorithms. Usually, it works like magic. The toughest part is answering all of the questions. It's important because this is how they match you with other single people. You can build chemistry before you even meet.
If you're serious about finding long-term partners this is the site for you.

Why eHarmony is one of the best dating sites in Miami
The best success rate out there for long-term relationships
70% of users find their future spouse within a year
Makes it pretty easy to form connections
What we don't like about it
It definately takes more time than most to get started
Not super popular with those 18-22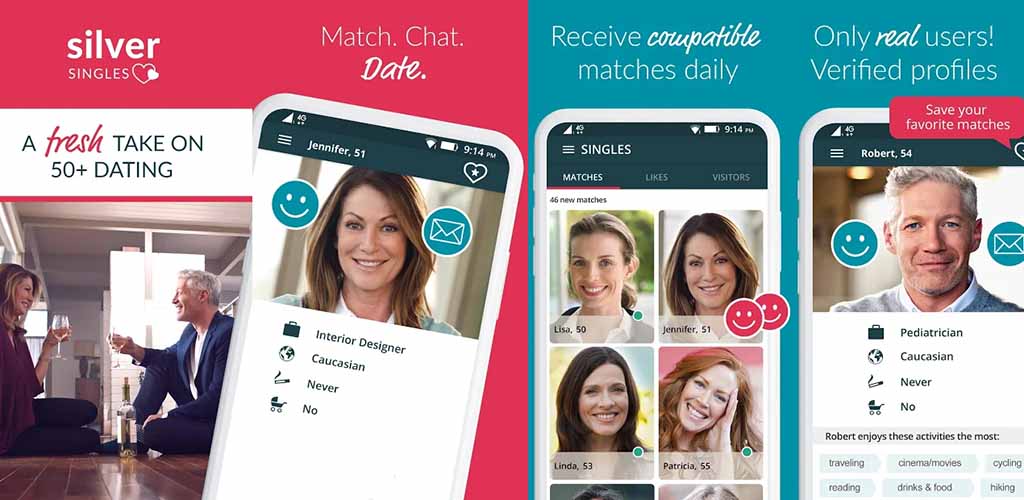 #3 - Silver Singles is for mature singles (Android; iOS)
Silver Singles is made for people over 50 to find their perfect partner. Dating apps and online dating in general are relatively new to the older generation, but Silver Singles is a great introduction to online dating as everyone on the app is over 50.
Users must fill out a personality test so they can be matched with members they are compatible with. This takes away a lot of the pressure and confusion of having to find people on dating apps yourself.
Why Silver Singles is the best dating app in Miami for the 50+ crowd
Users receive daily matches
The detailed personality test ensures matches are compatible
Users say it's one of the best dating sites in Miami for seniors
What we don't like about it
Signing up takes some time
Free features are limited

#4 - AFF is the easiest way to find a casual relationship
AFF should be your first choice when you're not looking for a relationship but still want some fun in the bedroom. We've tried a lot of different apps for this (most are awful) and only a couple have proven to work over and over. Tinder is great if you're under 25 but once you get beyond that AFF has shown the best results out of any dating site in Miami we've tried, especially for guys.
One of the things we've really liked about this app is that they do a really good job of helping you find EXACTLY what you're looking for. Everyone on this site is looking for the same thing so you can save a LOT of time that you would waste on other sites. If you're 25+ and want to take someone home this is your app.
Why you should try AFF
They have a massive number of users on their app (over 50 million)
We've seen guys have the best success using it, especially those who aren't super good looking and didn't do well on Tinder
It's very straightforward and easy to use
What we don't like about it
Many users can only access via web app
The app is a little dated and not as polished as some others
Sometimes people are a little TOO upfront with what they want
You Can Try AFF Free!
If you're just looking for a fling or more short-term fun you need to
try out AFF's free trial
. We've spent months and months testing out the alternatives (more than 100 other sites) and haven't found anything that gives most guys more options and better results. Give it a shot!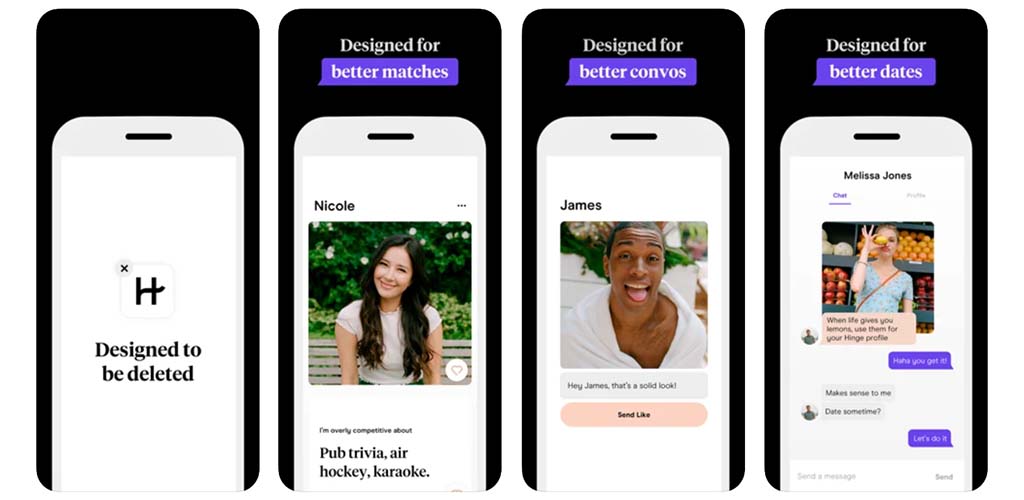 #5 - Hinge helps people get to know each other (Android; iOS)
Hinge is a great dating app for people looking to make genuine connections. Many dating apps focus too heavily on pictures or detailed profiles, but Hinge has the perfect mix of both. Users need to upload six pictures and answer a few conversation prompts. To then match with someone, you must like or comment on a specific picture or conversation prompt.
Hinge is designed to get users to slow down and look at every profile instead of aimlessly swiping on everyone they see. It is thus a great dating app for people looking for genuine connections.
Why we love Hinge
Hinge profiles include a great mix of pictures and personal facts
"Most compatible" matches are sent out daily
Hinge is free to use with optional paid features
Why Hinge might not be for you
You are limited to ten likes a day with the free version
No personality tests, so daily matches may not be compatible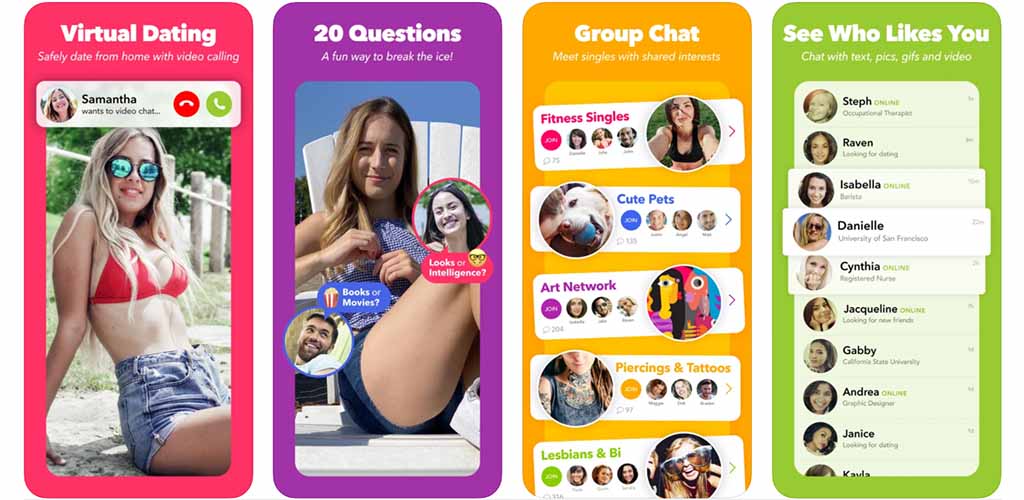 #6 - Clover a fun dating app that's worth a shot (Android; iOS)
Clover is another great, entertaining dating app. It is one of the most feature-heavy dating apps available as it offers virtual mixers, blind dates and games like 20 questions. Simply using the app is a fun experience even if you don't end up meeting someone.
Matching is similar to Tinder as you swipe right or left on profiles if you like them. Clover profiles, however, are a bit more detailed so the app is not as appearance-based as Tinder. Utilizing the app's virtual mixers is a great way to get to know multiple people at once in a safe environment.
Why Clover is one of the best dating apps in Miami
Members can stay engaged on the app thanks to all the unique gestures
You can enter detailed search criteria to find the perfect matches
Profiles can include a lot of detail if you want them to
Why Clover may not be the best
There is no photo verification so fake profiles may be prevalent
The free version has limited features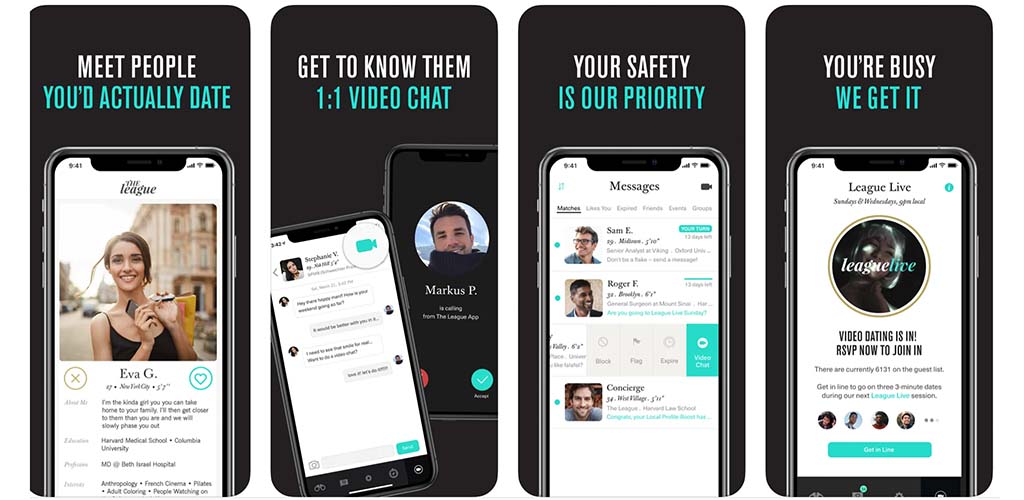 #7 - The League is for the elite crowd in Miami (Android; iOS)
The League is a dating app for the booming rich community in Miami. While many rich people enjoy being sugar daddies or mommies, many others want to just date other rich people. The League can help make that happen!
Users must go through an extensive approval process by sending in six pictures and their social media links. The League's team will then decide if you are a good fit or not. Paying for a membership ahead of time can help expedite your time on the waitlist, but it does not guarantee you a spot on the app. Either way, it's still one of the best dating apps in Miami if you make over six figures a year.
Why The League is the great for high-profile singles
All users are verified
Each user gets a personal concierge to help optimize their profile
You receive three curated match recommendations a day
What we don't like about it
The application process takes a while as it is extremely thorough
No one knows exactly what you need to get approved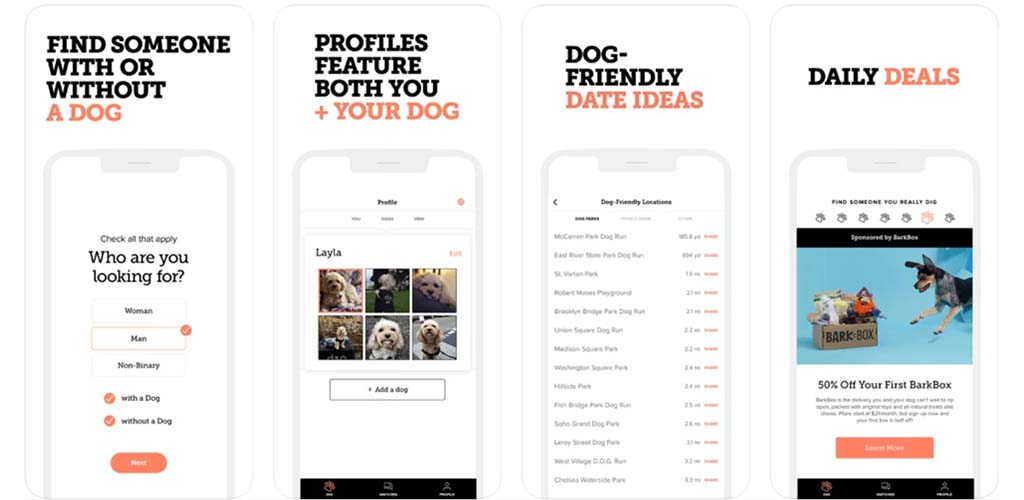 #8 - Dig is for dog lovers (Android; iOS)
Dig is one of the best dating apps in Miami for dog lovers. Having a dog or a deep love of them then finding out the person you're dating doesn't like dogs can be heartbreaking. Using Dig eliminates this fear as it only attracts singles who like dogs.
Users must "dig" each other to match and get to talking. The app also offers dog-friendly date suggestions in Miami that you can take advantage of and bring your pooch along for the ride.
Why Dig is the best Miami dating app for dog lovers
Users receive five match recommendations every day
You can go on dates with your dogs as the app has dog-friendly date ideas in Miami
The founders are part of the Pledge 1% movement
What we don't like about it
The Android version of Dig has limited features
The dating pool is still small as Dig is relatively new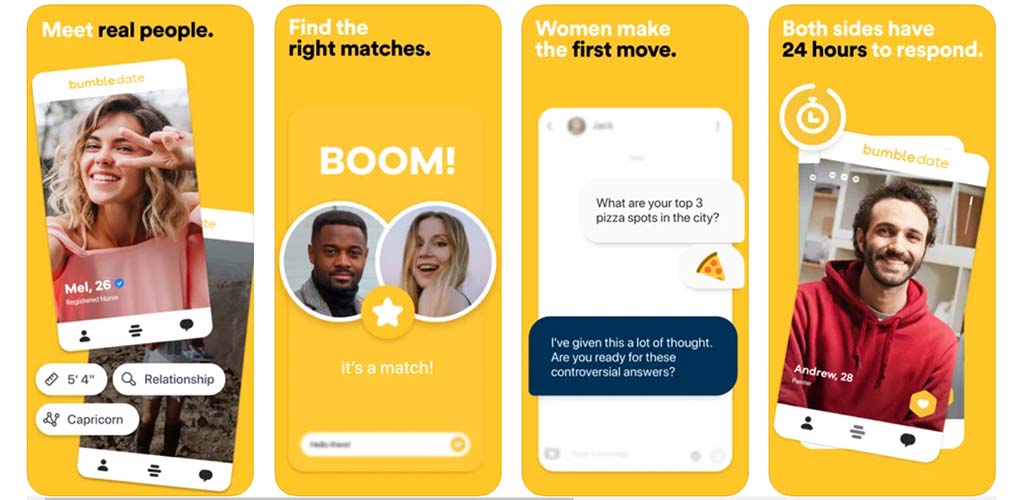 #9 - Bumble is one of the best Miami dating apps for guys who don't know how to message first (Android; iOS)
Bumble is one of the best dating apps for women. Many women are hesitant to try online dating because it can open them up to harassment. Bumble helps limit this as the women must message the man first.
Once users both like each other, the woman has to message the man within 24 hours or the match will disappear. This helps take the pressure of making the first move off of men and gives women more control of their dating lives.
Why we recommend Bumble
Women have total control over who messages them
Bumble is very easy to use
The dating pool is made up of users in their 20s and 30s
What we don't like about it
Those looking for same-sex relationships will find that Bumble functions the same as typical dating apps
Women new to Bumble may have a hard time making the first move
If you are looking for more great guides to finding the right dating apps check these out: