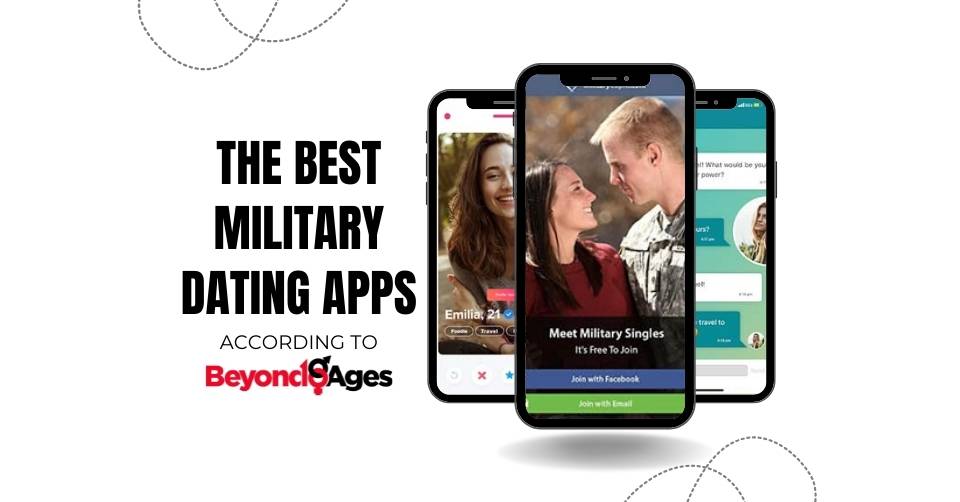 Are you currently an enlisted service member or a former military? If so, you probably know that dating as a soldier has many challenges. It can be extremely difficult to find someone who understands what the reality of the military is actually like, nor do most people have the same schedule and priorities in life. Plus, finding people in person can be hit or miss, especially when dealing with deployment. That's why finding a military dating app is a game changer.
By design, a military dating app provides the best way to vet potential matches, talk in a safe environment from the convenience of your computer/phone, and eventually set up dates to find the type of relationship you deserve. In this article, we'll look at the top military dating apps that are worth using, considerations you should keep in mind when choosing the right app, and a couple of helpful tips that'll give you a competitive advantage.
How we ranked the best military dating apps
To find out which are the best military dating apps, we started with a handful of options. Some are niche dating apps that focus entirely on helping military personnel meet each other, while others are more general dating apps that seem popular among the military.
We tested these dating apps over the course of several weeks to see which ones have an active userbase, which ones have great features, and which ones actually helped us find a date. We also tried out the paid memberships to see if paying will increase our odds of meeting someone.
Afterwards, we narrowed down our list to 5 military dating apps that we think are worth your time.
The Top Two Military Dating Apps Right Now: Military Cupid and eHarmony
Finding a partner while serving in the military isn't easy, but with the help of these two apps it's no longer as challenging!
Overall

Our team rates each site objectively based on many hours of independent research, the features each site offers, and how it compares with other sites. The ratings are the opinion of our editors and their extensive experience.

7
9.5
Quality of Women

Our opinion of how attractive the typical woman is that uses this site and how easy they are to connect with compared to other sites.

8
9
Popular

How many people are using this site to actually meet people compared to other sites.

6
9
Usability

How easy is this site to use and how quickly can an average person begin meeting people compared to other sites.

8
10
Privacy & Safety

Does this site take proper precautions to safeguard its members, their identity, and their data.

8
10
Effective

Our opinion of how easily an average person will be able to achieve their dating goals with this site compared to other sites.

7
9
Value

Will the time and money spent using this site pay off for an average person based on the opinions and experience of our editors.

7
10
Our Recommendation
Military Cupid is one of the best dating apps for this niche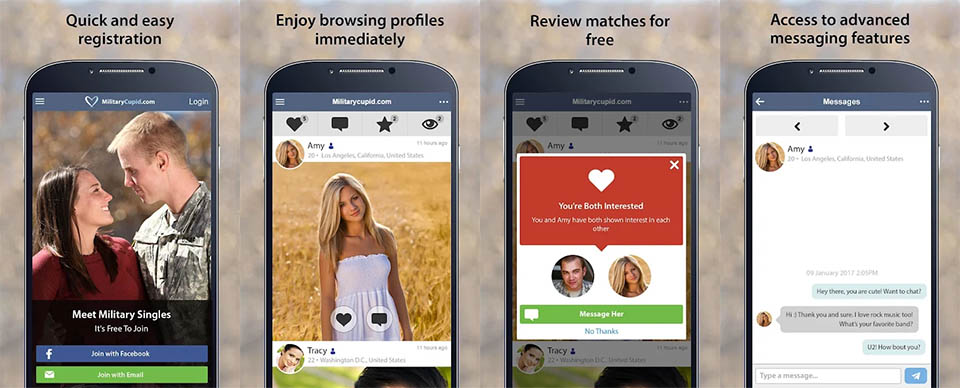 Military Cupid is a popular military dating app that's aimed at helping single service members find love. Since 2006, millions of users have chosen Military Cupid for its huge user base (~1 million worldwide), customizable user profiles, and a reasonably-priced membership feature if you sign up for 12 months.
The downsides of Military Cupid are mostly tied to its paid structure, where you can only contact others via messaging if you pay for a membership. It's also not currently available on the App Store, so Apple users are out of luck.
Try eHarmony for long-lasting love while serving your country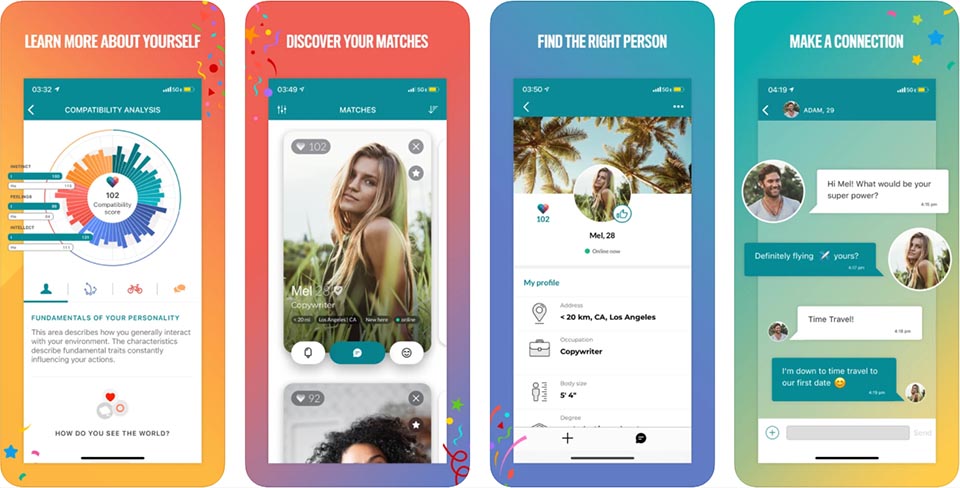 eHarmony is the perfect app for military members that may have gotten mixed results elsewhere. With a 70% success rating for meeting your future spouse within one year, eHarmony is straight to the point and cuts out the endless messaging, ghosting, and other negative behaviors on other apps.
How does eHarmony work? First, you'll start with a fairly lengthy questionnaire that's designed to help you match with the most compatible people, reveal what you're actually looking for in a partner, and screen out those who aren't serious about dating. Second, eHarmony does the matchmaking for you, choosing a pool of partners from their large user base instead of giving you unlimited access – which means you won't have to deal with other users who are "playing the numbers" or endless scammers. Try eHarmony today for free with a paid trial, but you'll see the best results by signing up for a paid membership.
The Other Top Dating Sites for Service Members Worth Considering
Beyond the Top 2 dating apps for military members listed above, we have three (3) other options that can work for you if you want to use multiple apps. Here are our other top choices: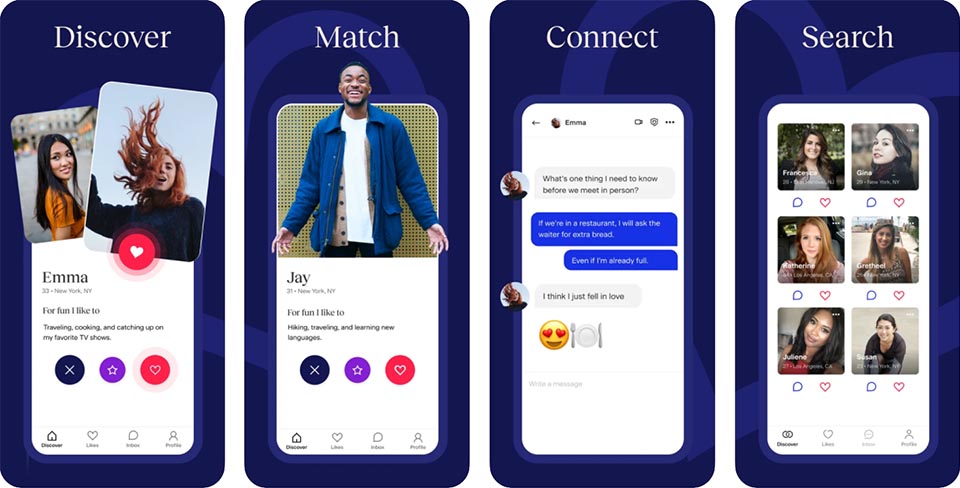 Match is undoubtedly one of the biggest names in the dating app world, and for a good reason! With a huge userbase and functionality that's almost unrivaled, Match is able to connect people who are looking for each other. By specifying that you're only interested in dating someone from the military, Match is able to find potential matches for you.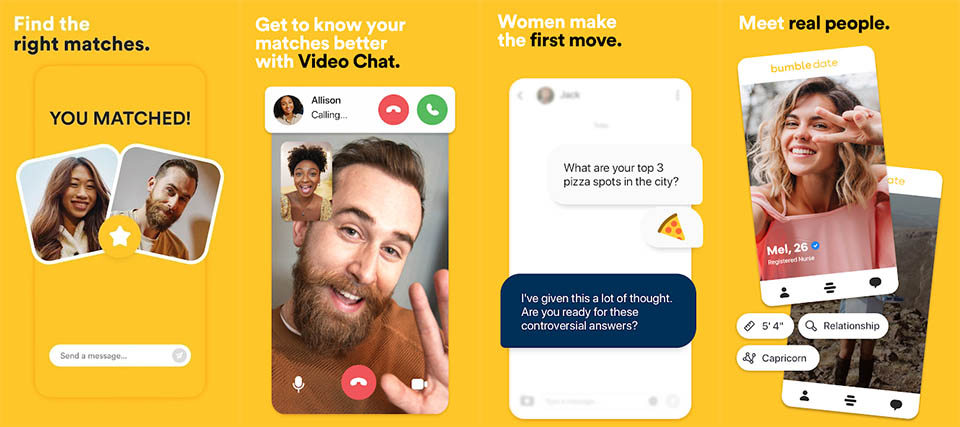 Tired of spending your limited time trying to find a woman? If so, then Bumble offers a better setup where women are required to make the first move. Simply swipe right on a number of attractive profiles and wait for women to match when they swipe right on your profile. Once there's a match, the woman has 24 hours to send the first message. This means that you'll save time and have an active engagement from users. Remember that free trials don't hide your profile from the public, so officers and those in high-ranking positions may be compromised (which is why Bumble didn't make our Top 2).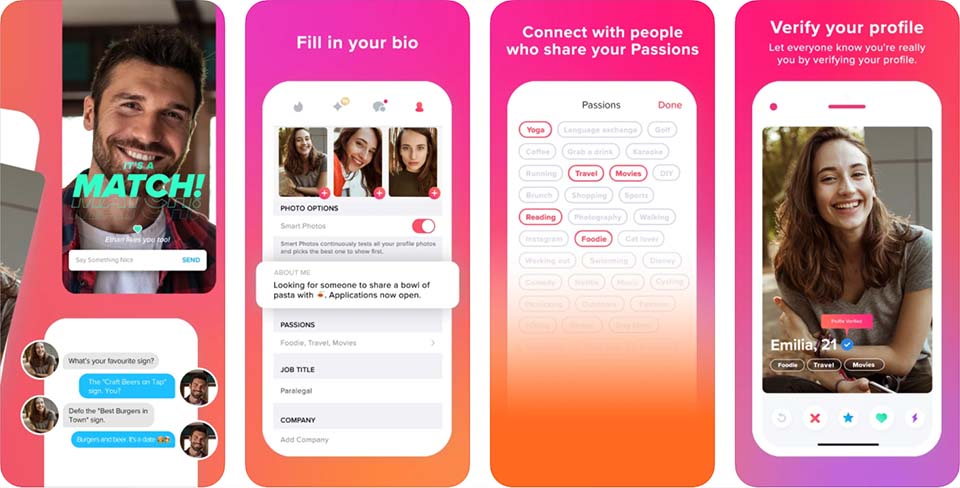 Tinder is a hookup app that's great for military service members on the go. Whether you're stationed at a base near home or deployed abroad, Tinder makes it simple to arrange a rendezvous without the endless back-and-forth you'll experience on other apps. Simply upload a few pictures, add a few words on your profile, and you'll see results almost immediately.
That being said, Tinder didn't make it into Beyond Ages' top 2 military dating apps because you may run into some anti-military individuals on the platform from time to time.
The Most Important Considerations when Choosing a Good Military Dating App
Determining which military dating app is the best choice requires a fair amount of research and forethought before deciding if it's worth your time, money, and effort. To help you find what works for your dating life, verify the five (5) following criteria to make the best choice.
Consideration #1 – Research how many people actually use the app to determine if it's worth using.
An app is only as good as the number of people using it. Be sure to verify how many people are actively using the app. Vice versa, you may want to stay away from apps that appeal to the largest audience, as you may accidentally cross paths with those who prey on service members.
Consideration #2 – Consider dating people outside of the military.
Being in the military is often a full-time job with a demanding lifestyle, so trying to line up your schedule with another service member can be a challenge. There are plenty of professions that offer more flexible hours that can accommodate your schedule, as well as civilians who live nearby that are familiar with the military lifestyle.
Consideration #3 – Does the app protect your privacy by hiding your profile?
When it comes to dating apps for the military, you don't want others to find out that you're in the market for a partner (nor do you want to get catfished by others!). Look for dating apps that enable you to hide your profile until you've made the choice to vet a potential match, which is usually among the higher-tier paid options offered.
Consideration #4 – Will this app be construed as fraternizing?
If you work in the military, you know that there's a clear distinction between who you can socially engage with. It's important to understand that interacting with others on a non-professional basis can be grounds for dismissal or severe reprimanding. While there's a gray area of where the line is drawn regarding dating apps by each branch of the military, it's better to avoid apps like Tinder where you might "run into" someone with a higher or lower rank.
Consideration #5 – What type of relationship is the app geared towards?
You'll need to be clear about which safe dating site fits the type of relationship you're looking for. If it's a hookup site like Tinder or AFF, you'll run into challenges when looking for long-term love; vice versa, eHarmony may not be the best choice for a spontaneous hookup on short notice.
5 Key Tips to Get Great Results Using Military Dating Apps and Meeting Other Service Members
When using military dating apps, the following tips will save you a lot of time, money, and disappointment. Remember that these tips are designed to help you get the best results and avoid the most common hassles – as well as how to game the system!
Tip #1 – When possible, play the numbers
While you may hit it off with the first couple of people that you match with, understand that there are plenty of active military personnel to choose from. Even if you get some near-instant matches that seem legitimate, the sad reality of dating apps is that some users may ghost you, lose interest, or hit you with a scam once you're invested in actually meeting up with them.
Play the field by matching with as many people as possible (easier with paid memberships on most apps), narrow down those who meet your dating requirements, and unmatch those who don't seem legitimate. Those that drop off are just part of the process. Also, keep in mind that users that match with a higher number of users tend to get a boost in the rankings, so you'll actually get more matches if you swipe right and like profiles more often than not.
Tip #2 – Always take your time
Online dating to meet someone in the armed forces may actually be slower than meeting someone in-person. Take your time to get to know a person and see if you have things in common. Those who press for a quick date are often poor matches who swipe on every profile, often leading to poor results.
Tip #3 – Always pay for a membership/subscription
Military dating apps are designed according to a profitable business model, so they're incentivized to give better results to users who are willing to invest in their love life versus those who won't pay.
Because you're paying for exclusive access, a membership gives you a competitive advantage with better search features, and a noticeable bump in the search algorithm, and serves as a way to sort out the riff-raff.
Tip #4 – Fill out your entire profile completely
Signed up for a military dating app, uploaded a few pictures, and still have to add more info to your profile? To be blunt, that's simply not enough effort to impact the highly competitive online dating world. You'll want to complete your entire profile, add as many photos as possible, and answer survey questions from time to time to make a better impression on potential matches.
Tip #5 – Frequently engage with the app
Use your military dating app(s) as frequently as possible. Enable push notifications from the app if available and respond immediately (or have your email set up to give you a notification). Timing is important to strike while the iron is hot, but using apps that show that you're currently using the app gets more responses.
This active engagement also boosts your ranking in most search algorithms, as user engagement is an important metric for determining who are priority users versus casual users.
Frequently Asked Questions About Military Dating Apps
Everyone wants to know about military dating apps – and BeyondAges has the answers you need for dating success. Browse the most frequently asked questions about military dating apps that most current and former military personnel want to know before using them.
What are military dating sites?
A military dating app is exactly as you might suspect: smartphone- and desktop-based websites and applications that enable those in the armed forces to find other active personnel, retired military, and civilians that are part of the military lifestyle.
As you read in the five major considerations we listed previously, the dating world for military personnel is often difficult because of the demanding hours and unique lifestyle that is best served by someone who understands. Military dating apps are therefore designed to accommodate those in the armed forces.
Are military dating sites legit?
For the most part, military dating sites are legitimate and used by plenty of singles in the armed forces around the world.
However, your mileage will vary when it comes to which apps actually get results versus those that only offer premium subscription memberships for exclusive access to their user base (which includes most dating apps). The truth is most military dating apps come and go based on their popularity, success rating, and other factors. Those that worked in the past may not work anymore; vice versa, apps that have been rebranded may see a resurgence when other similar apps "jump the shark".
Are military dating sites safe?
In all honesty, there will always be a degree of risk when putting your personal information online. Most popular military apps have top-tier security and privacy options, while you may find that some of the less popular and newer apps may not be able to handle the sophisticated hacking attempts of criminals, scammers, and other bad actors.
As with dating in general, it helps to properly choose who you intend to meet up with and date. While you can screen for serious red flags among people that you've met in person by using your intuition, online dating for the military requires a more intensive screening of each match you have through texting conversations, details on their profile, and any other information they give you.
Catfishing has become a nuisance for online dating, so always avoid dangerous situations when meeting up or choosing to give out your personal information unless you're aware of the risk. Be prepared to block someone or report their behavior if they cross your personal boundaries.
Last, some military organizations ban dating apps due to their effects on operational security, spying, and morale. One military branch in the United States that bans dating apps is the Marines.
What are military dating site alternatives?
There are more dating apps for service members out there than just those geared towards those who served or are serving their country. In fact, you may find more success on "regular" dating apps. To this end, BeyondAges has compiled an extensive list of dating sites and apps that have been proven to provide success and a great user experience. Use our list as a general guide for success and experiment to see the best results.
How do military dating sites work?
Most military dating apps help you find a match first by verifying your status as a current or former service member. Once verified, you'll swipe, like, and/or message another user's profile based on whether they're attractive (some apps also give you recommendations for someone that's compatible). The visibility of these profiles is based on algorithms that pair you with compatible matches and/or the criteria you set in your searches, such as distance, the branch of service, hobbies/interests, relationship type desired, and so forth. Once both people match, the conversation starts through texting. Text well, and you can set up a date with a fellow military.