Everyone has a different goal for dating. For some, it's all about finding true love, that ride-or-die partner for life. For others, it's just about the novelty of meeting new people. And, of course, some of you are just on the prowl for casual sex. No matter your intentions, the best dating apps in New York City can make your dreams come true.
So, which are the best, you ask. That's easy enough to answer; they're all below. In this article, you'll read about the apps and sites that make dating in New York fun, interesting and rewarding. Tired of riding the A train just to find the newest Bed-Stuy hipster bar in hopes of meeting someone cute? Stop wasting your precious time and go digital.
No matter your age, sexual preference or income level, these NYC dating apps and sites will get results. Read on and let us know which one(s) you like most.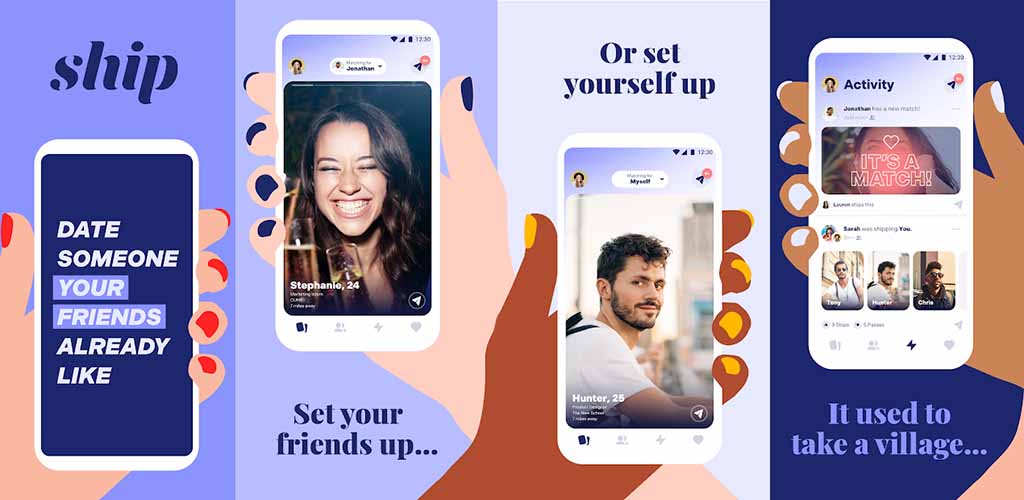 #1 - Ship (Android, iOS) is one of the best dating apps in New York if you trust the wisdom of the crowd
Dating apps are, by and large, solitary pursuits, designed for you to use while you're bored and on your own. But people often find a way to bring their friends into the equation, showcasing potential matches and seeking advice. Ship is the app that understands, more often than not, your friends know you better than you know yourself.
What makes this app unique is that it lets your friends match you up with other users. Ship is for anyone who has ever screencapped a profile for a buddy or had a friend write a reply. In a digital world that increasingly creates seclusion, Ship is here to put the social back in "social media." Do you trust your friends more than you trust yourself? Then Ship will be among the best dating apps in New York City.
The best reasons to try Ship
Allows you to get that all-important second opinion
You can still search for matches on your own, so you aren't completely reliant on recommendations
Even if you aren't looking for yourself, you can sign up for an account to help a friend
What you might not like about it
Not everybody wants their friends to know so much about their dating life
The free version is very limited, so you'll get frustrated with your matches unless you upgrade to premium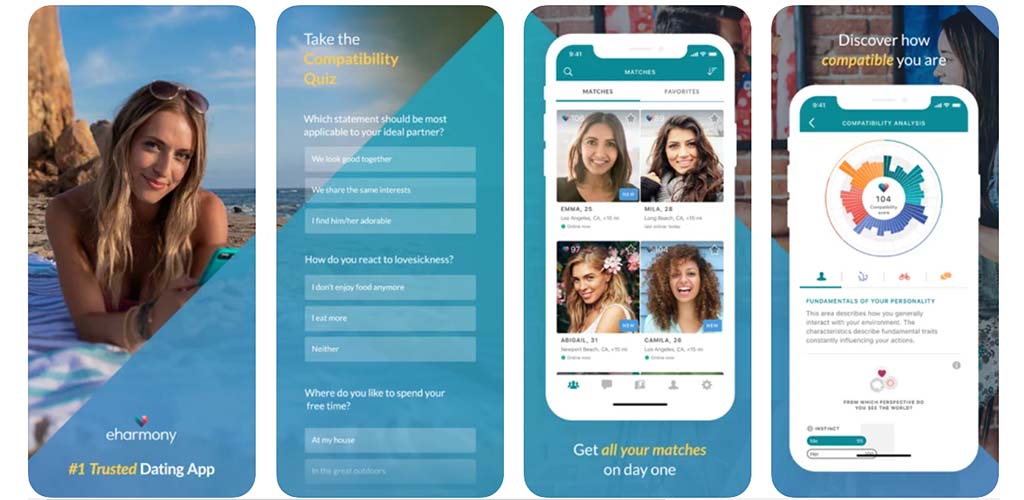 #2 - eHarmony (Android; iOS) can't be beaten for long-term relationships
eHarmony is extremely popular here and has an amazing track record of helping New York City locals find long-term partners by using matching algorithms. This app does the best job of matching you up with compatible potential mates that we've seen.
You don't have to scroll for hours. The app does all of the tough work for you. Of course, you might not make a perfect connection outside of the algorithms. Usually, it works like magic. The toughest part is answering all of the questions. It's important because this is how they match you with other single people. You can build chemistry before you even meet.
If you're serious about finding long-term partners this is the site for you.

Why eHarmony is one of the best dating sites in New York City
The best success rate out there for long-term relationships
70% of users find their future spouse within a year
Makes it pretty easy to form connections
What we don't like about it
It definitely takes more time than most to get started
Not super popular with those 18-22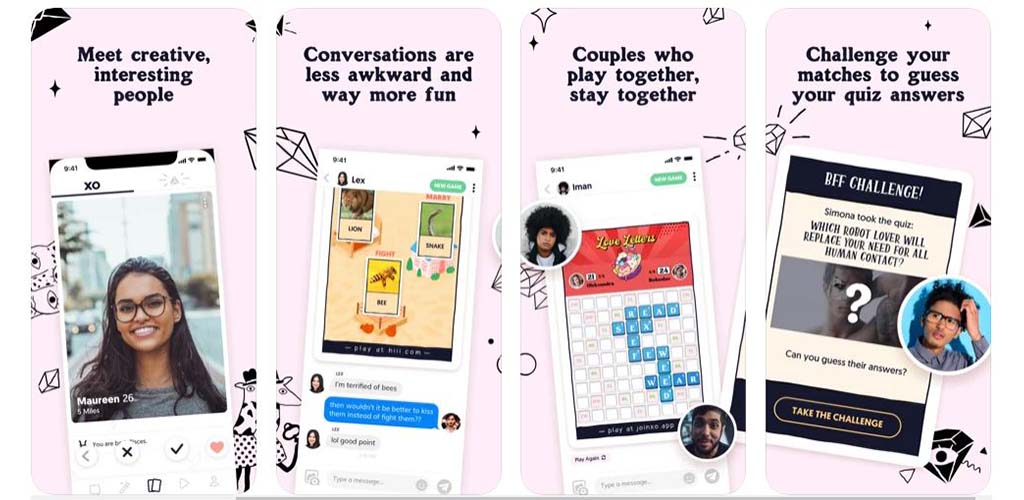 #3 - XO (Android; iOS) is adding fun back into dating
XO lays it out simply: they are "the dating app with games." It truly isn't any more complicated than that, but it's novel enough to help the app stand out. There are dating apps that match you to other users based on hobbies and astrological signs and personality tests. XO helps you connect through the magic of play.
On XO, you can match with someone through a mutual association or find them randomly. You can even do a "blind date" through the app. Once you match with someone, you play an online game together. It not only provides an icebreaker, but it will also help you show off your creativity and personality. If you're someone who's gotten bored with online dating, add a little fun to the process.
Why XO is so much fun
The "Blind Date" mode lets two people get to know each other before they see each other's photos
The icebreaker games are a great way to initiate a conversation with a complete stranger
Try the "Random" feature to be connected with someone anywhere in the world
Why you should skip it
Not the app to use if you're just looking for quick and casual sex
Combining the addictive nature of dating apps and online games can be a real time-drain

#4 - AFF is the easiest way to find a fling
AFF should be your first choice when you're not looking for a relationship but still want some fun in the bedroom. We've tried a lot of different apps for this (most are awful) and only a couple have proven to work over and over. Tinder is great if you're under 25 but once you get beyond that AFF has shown the best results out of any dating site in New York we've tried, especially for guys.
One of the things we've really liked about this app is that they do a really good job of helping you find EXACTLY what you're looking for. Everyone on this site is looking for the same thing so you can save a LOT of time that you would waste on other sites. If you're 25+ and want to take someone home this is your app.
Why you should try AFF
They have a massive number of users on their app (over 50 million)
We've seen guys have the best success using it, especially those who aren't super good looking and didn't do well on Tinder
It's very straightforward and easy to use
What we don't like about it
Many users can only access via web app
The app is a little dated and not as polished as some others
Sometimes people are a little TOO upfront with what they want
You Can Try AFF Free!
If you're just looking for a fling or more short-term fun you need to
try out AFF's free trial
. We've spent months and months testing out the alternatives (more than 100 other sites) and haven't found anything that gives most guys more options and better results. Give it a shot!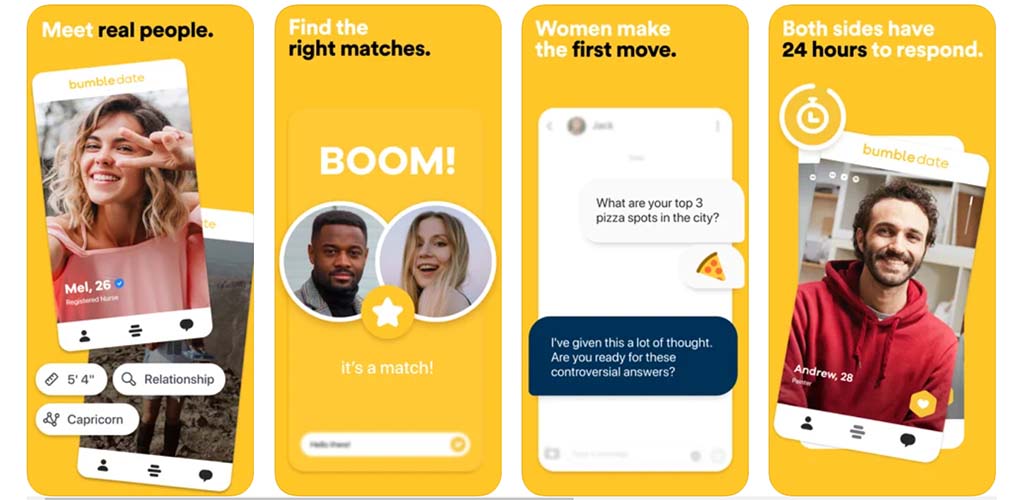 #5 - Bumble (Android; iOS) helps New York City women calm the storm
For many women, dating in NYC is both one of the most exhilarating and exhausting experiences in life. Options are abundant and there is no end to the types of dates you can go on. However, the dating scene can also be unbelievably daunting, especially online, with a non-stop stream of potential suitors. Bumble knows the struggle. It was created to bring some calm into its users' lives.
The app requires women to be the first to send a message. This cuts down on those inboxes full of messages from strangers; especially those, shall we say, more forward messages. Despite being a slight tweak to the standard Tinder-formula, it makes a big difference. When women feel like they have more time to breathe, dating is better all around. For everyone involved.
Why Bumble is among the best dating apps in New York City
Ladies get more say over who they talk to and when they talk to them
Guys don't feel obligated to make the first move because they can't
The quality of users on the site is quite high, both in terms of looks and personality
What we would improve
You have to find a way to stand out, and that's still predominantly done with an attractive picture
The friend-finder app is a nice gesture, but a complete waste of time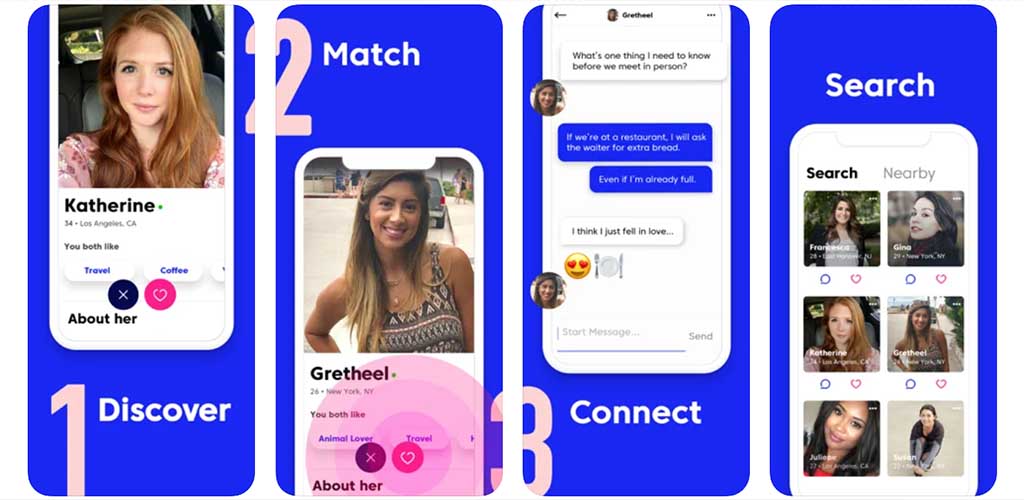 #6 - Match (Android; iOS) remains one of the best dating sites in New York City
Match has been around so long, it can rent a car in the state of New York. And it won't even have to pay the extra surcharge. In its quarter-century of existence, Match has consistently been one of the best dating sites in NYC. Due to it being one of the first such sites, it has a ginormous user base and unparalleled name recognition. Who hasn't heard of Match.com?
Of course, historic popularity doesn't always equate to current success. Many of the older sites have rested on their laurels; not Match. Every year, it releases new features to make the site more dynamic and user friendly. The app still needs some more work, but if you prefer using browsers, you'll enjoy this site. Whatever you're into, whatever your preference, someone on Match will fit the bill.
Why Match still rules the dating scene
Possesses one of the largest user bases of any dating site, especially for older daters
Allows users to provide full, detailed bios, not just a couple pithy lines
New features like "Vibe Check" and "Date Check-in" make for a more enjoyable and safe dating experience
Why it might disappoint you
Popularity breeds problems: there are a lot of fake accounts on the site
The app definitely feels like an afterthought compared to the website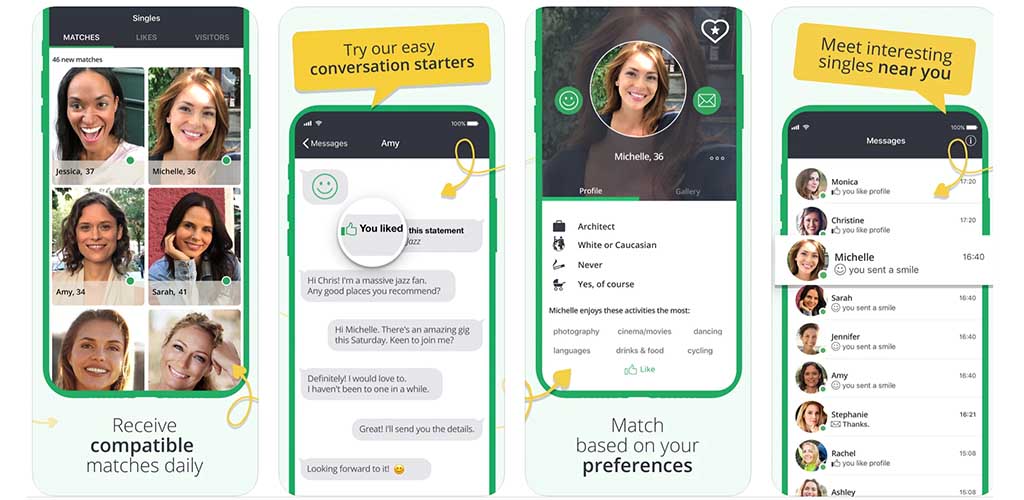 #7 - Elite Singles (Android, iOS) will put your college education to good use
If you're college-educated and focused on your career, chances are your ideal match is someone similarly serious about life. The casual encounters and one-night stands may be fun for a bit, but eventually, you'll want the real deal. When you've reached that point in your dating life, it's time to turn to Elite Singles. It's the New York City dating app for people with ambition and dedication.
Elite Singles is the app you join when you've exited your wild 20s and start considering your future. The app has one of the largest userbases between the ages of 30 and 50. Plus, these users tend to be well-educated and uninterested in dumb games. It helps that the membership has a hefty price tag, all but ensuring nobody is there just to waste time.
Why we like Elite Singles
For relationship-minded singles over 30, there are few better options for online dating
The profiles have a good amount of detail so you're not just blind swiping
The app is well designed to showcase both photos and bios
Why you should skip it
If you don't want to pay for a membership, you won't get many features
No video chat option, which is quickly becoming standard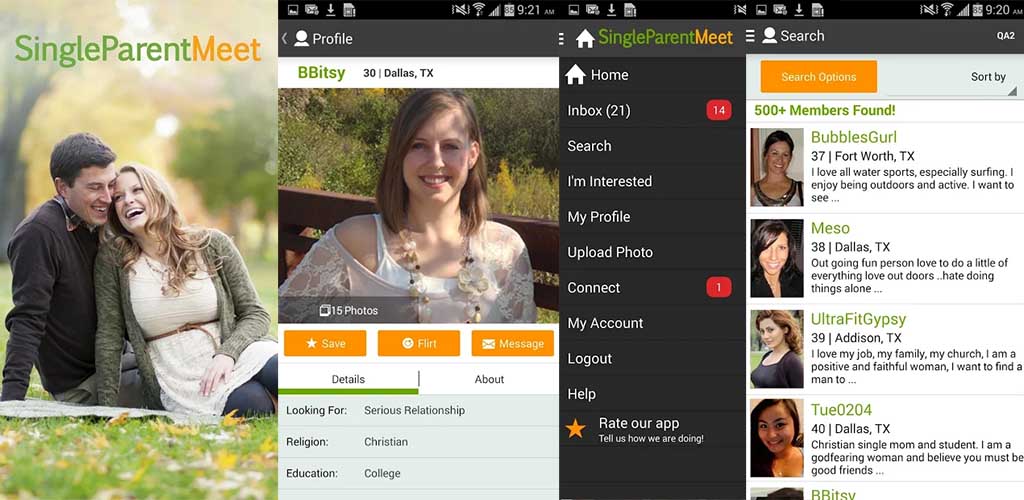 #8 – SingleParentMeet (Android; iOS) can help you get back on the scene
Let's just say it: being a single parent adds an extra level of difficulty to dating. We wish it didn't, but anybody who's ever gone on a date with a kid at home knows it's true. Between scheduling issues and worrying about how the other person may react, dating as a single parent is a gantlet. SingleParentMeet wants to help you run it.
Created with single parents in mind, this site helps you reclaim your dating life. There's no feeling bad about putting your children first or worrying about on which date you should admit they exist. Your potential partners get it, and they won't make you feel guilty for prioritizing your family. Struggling to balance children and romance? Then SingleParentMeet may be one of the best New York City dating apps.
Why SingleParentMeet is worth trying
You don't have to deny or ignore the most important part of your life
It's nice to date people who understand the challenges – and joys – of parenthood
The personality questions offer an entertaining way to express yourself in a little more depth
What we don't like about it
Like most sites with an older userbase, the free version doesn't let you do much
Single parents like casual sex too, which this site definitely isn't designed for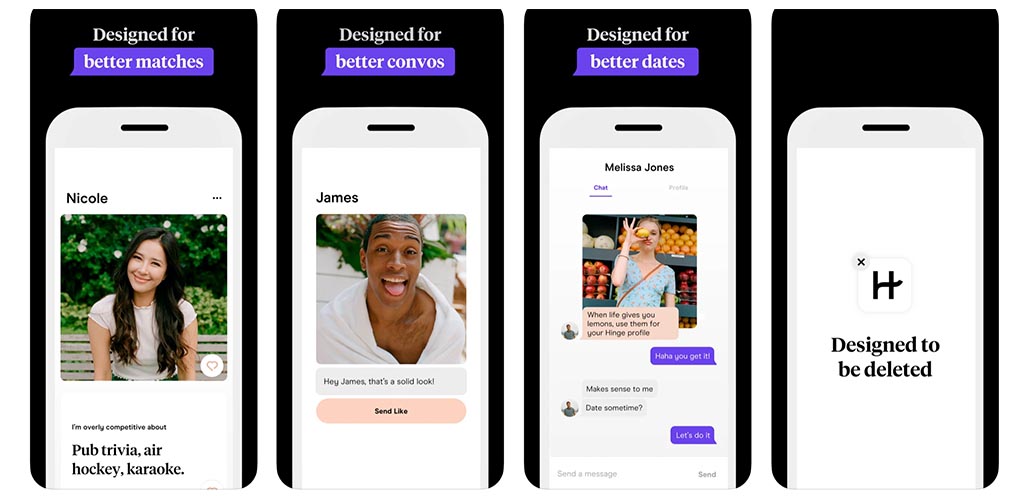 #9 - Hinge (Android; iOS) is one of the best New York City dating apps relationship-minded guys
Hinge calls itself, "The dating app designed to be deleted." This is the app for guys who want to find meaningful love but struggle to make a good first impression. So much of online dating is focused on the one-and-done encounter that guys often lack deeper communication skills. As a result, even if you sincerely want a relationship, you can struggle to express your intentions well.
Hinge helps guys out with icebreaker questions and photo prompts. When looking through profiles, you get a far better sense of a match's personality than you do with other apps. It's easier to start a genuine conversation instead of just sending a random comment about a photo. It's that focus on facilitating better communication that makes Hinge one of the best dating apps in New York City.
Why Hinge is one of the best New York City dating apps
For guys who draw a blank when writing a message, the prompts provide crucial assistance
The profiles are an excellent balance between Tinder playfulness and eHarmony depth
The icebreaker questions and photo prompts keep things light-hearted
Why you might not be a fan
No browser version and the focus on internet lingo means older users may feel out of place
If you're looking for a bunch of quick hits, this probably isn't for you
If you are looking for more great guides to finding the right dating apps check these out: