Online dating is a great way to meet women. And it can be fun, with the right attitude and the right website. According to the Pew Research Center (nothing to snub your nose at), "The share of 18- to 24-year-olds who use online dating has roughly tripled from 10% in 2013 to 27% today."
That's a lot of other people looking for love. But it's not just young people. The same study found that 21% of 35-44-year-olds were also using online dating. That's a ton of older women looking for love.
But we also know that online dating can be awkward and confusing. Setting up a profile, making contact, sealing in a date. None of that comes naturally. But the first step is, of course, to make sure you are on the right site. Because if you aren't, then you are sure to fail.
That's why we have gone through the trouble of reviewing all top hookup sites out there for meeting interested woman out there to figure out which ones are legit, and which ones are just trying to take your money. Today, we want to talk about Free2Cheat.
A Complete Free2Cheat Review
A Scandalous Beginning with Free2Cheat.com
The first page that loads when I navigate to Free 2 Cheat has a background full of scantily clad women. It says, "Women You Know Are Looking for Secret Affairs!" in big letters. That's quite a claim. And it's a smart way to lure people in. Everyone has that secret crush on a coworker or friend, and wouldn't it be a pleasant surprise to find them on a dating site, looking to hookup with a guy like you?
I continued onto the site, where they prompted me to make a profile. It had a few basic questions, like "Have you ever had an affair" and "Are you looking for a discreet encounters?" I answered these (no and yes) and then I was taken to a pop up screen that, in all caps, "BASED ON YOUR ANSWERS, THERE ARE 1,000+ FEMALE MEMBERS FROM YOUR AREA."
Wow, that's a lot of women looking for discreet encounters in my area. Perhaps it's too many, I thought. Sometimes, when things seem too good to be true, they are. If there is one thing we learned in reviewing dozens and dozens of sites in our comprehensive review of the best cougar dating sites it is that a lot of fake sites love to make huge promises.
I had one more hurdle before I could log on. I had to agree to their 'rules', which include a reminder to wear protection during adult encounters and be discreet with the information you find out. These rules make me feel like I am part of some secret mission, being entrusted with classified information. I'll admit, it was even kind of exciting.
Now, we are going to help you out here and save some time. You can skip the rest of this review and use your time more wisely on our list of the top hookup apps and sites. These are the sites that can actually get you laid.
If you are tired of wasting your time use Adult FriendFinder
Some people never give up on a site once they start using it. We are not those guys. When we determine that a site (like free2cheat.com) is a big waste of time we kick it to the curb. We recommend that you do the same and try out Adult FriendFinder instead.
We do annual reviews of all the top hookup sites and Adult FriendFinder has been at the top for years now. You won't see Free2Cheat even on the list (they weren't worth mentioning).
AFF is everything the Free 2 Cheat wants to be, they have a huge number of users (over fifty million) and have been extremely popular since they launched in 2006. You don't keep that many members around for that long without helping them find a lot of hookups.
Try Adult FriendFinder For Free!
If you're just looking for a hookup or more short-term fun you need to
try out Adult FriendFinder's free trial
. We've spent months and months testing out the alternatives (more than 100 other sites) and haven't found anything that gives most guys more options and better results. Give it a shot!
Is It Really So Free2Cheat?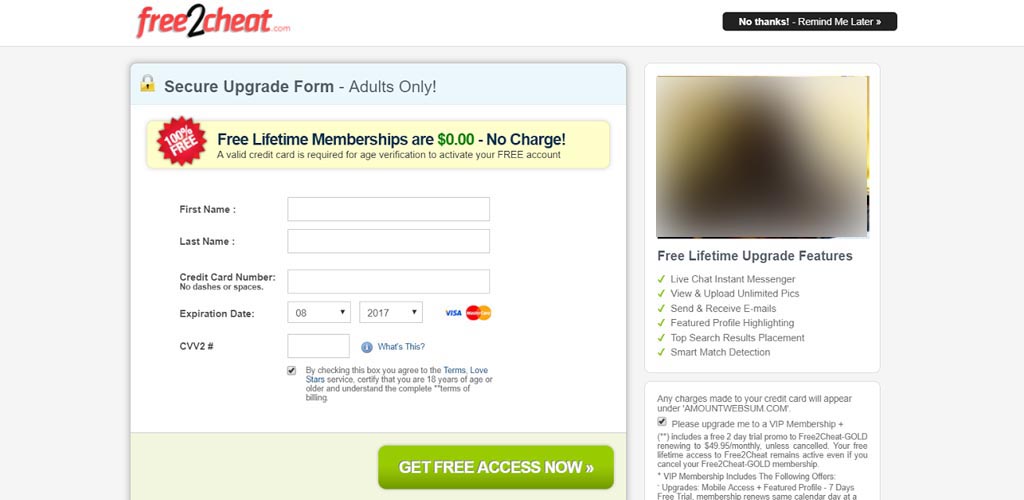 I agreed to those 'rules' and then I was taken to a page that was labeled "secure ugrade form." I don't want to upgrade my membership, I thought. Why would they take me to an upgrade page that I didn't ask for? It took me a minute to figure out how to get past the page without paying (hint: you have to unclick a little box on the bottom right of the page, and then click a little black 'continue' button on the top right of the page).
But no, they weren't done trying to get me to pay yet! After I got through that page I was taken to another. This one said, I kid you not, "ARE YOU F****** NUTS? 100% FREE LIFETIME ACCESS is only available for a limited time!" Well, that's one way to make your sales pitch I guess. Of course, the more popup windows they sent my way, the less I wanted to sign up.
Finally, after clicking away from that page I was able to enter the site.
Yellow, Never Trust Yellow with Free 2 Cheat
The first thing I noticed about this site's homepage was a huge, bright yellow bar on the top. According to a site dedicated to the psychology of colors, "Yellow can also create feelings of frustration and anger. While it is considered a cheerful color, people are more likely to lose their tempers in yellow rooms." This is exactly what I felt when I logged onto Free2Cheat.com: frustration and anger. Here's a tip for all the dating site creators: avoid the bright, fluorescent yellows.
But that's not the only problem with the site design. The logo looks like it was made on an old Paint program. The red and black font looks like it's trying to be shocking and scandalous. Trying, and failing. The rest of the site is simultaneously blank and crammed. There is a ton of white space on the sides, and then in the middle is a ton of menu bars and profile pictures. It's the sort of layout one expects from a 90s blog, not a modern dating site.
Too Good to Be True
As I said above, when something seems too good to be true, it usually is. So, when I got a bunch of messages from beautiful women right after logging in, before I had even filled out my profile, I knew something was suspect. These are the messages I got:
"K4trinaLuv: good god!"
"K4trinaLuv: someone new!"
"K4trinaLuv: do you want to see my selfie?"
I tried to respond right away, even though I was suspicious. I sent a mundane message back. Or, at least I tried to. But it wouldn't let me. I had to 'upgrade' before I could even send a message. And I found this was true about a lot of services on the site. I tried to read the other messages I was getting, but I got a notice that "To read this mail need to upgrade." Any dating site that wants you to pay just to do basic things like chat is not to be trusted.
You Can't Date Fake People on Free2Cheat
Whenever a site makes you pay to even talk to women, you know that there is something else going on. Often times, the women who are trying to get you to chat aren't real people at all, but just bots set up to reel you in. So, I took a deeper look at Free 2 Cheat to see what was going on with the women.
A bunch of them had very NSFW profile pictures that seemed a little bit forward for a dating site. Who puts an adult picture of themselves up on a public site? This was red flag number one.
When I looked at profiles I also saw that a lot of them had the same basic characteristics. They were caucasian, Christian, around 5'6", slim. Then I noticed that a bunch of them even had the same things posted to their walls from the same other accounts. Things like "Let's have a romantic dinner and I'll eat you for dessert." I mean, It's not impossible that some sleazy guy left the same note on a few profiles, but all of them? Not likely.
It's All in the Fine Print
In an effort to give a full Free2Cheat review, I looked into the user agreement and privacy policy to find out more about the site's practices. That's where I caught them red-handed, so to speak. It says in plain English: "You understand, acknowledge, and agree that some of the user profiles posted on this site may be fictitious or models or bots related to our 'Love Stars' program." Aha! So that's what is going on with those weird profiles and messages. They are just 'Love Stars' (what a strange name...).
These fake profiles are there to encourage users to sign up for upgrades and send expensive digital 'gifts'. They also tell members to post photos and other personal information to the site. But don't fall for it! Your information isn't secure with them.
The fine print also says that by posting any content to the site you grant "Free2Cheat an irrevocable, perpetual, non-exclusive, fully paid, worldwide license to use, copy, perform, display, and distribute such information and content and to prepare derivative works of, or incorporate into other works, such information and content, and to grant and authorize sublicenses of the foregoing." That means they can photoshop your profile pic, use it in an advertisement, and not even tell you about it. Scary!
Third Party Ads and Other Adult Garbage
Really, it shouldn't be any surprise that this site uses fake profiles and tries to steal your information. The signs are all there. They have menu options like 'XXX Videos' and 'Live Cams'. They have advertisements on their site for male 'enlargement'. They have automatic chat windows that pop up with explicit content.
They are, in short, very sleazy right from the get go.
Sites that advertise for camera shows and other adult content are almost always in that same industry, rather than in the dating industry. If they really wanted you to find a date, then why would they be trying to distract you with dirty pictures and videos?
I tried to find more information about Free 2 Cheat by searching for their social media accounts. But they don't have any. This is always a bad sign. Why wouldn't they want to engage with their members on Facebook? Maybe because they don't have real members, just those who have fallen for the scam and a bunch of robot profiles.
I also couldn't find any member counts for the site. Any legit dating site will boast the number of members they have because it shows that there are a bunch of people looking to date. While the site did say I had 1000+ local matches, it's clear that they say that to everyone who signs up!
It should be clear to you from this Free2Cheat review that the site is a total sham. It's just a glorified adult site that tries to lure you in with fake profiles and dirty pictures. It's not free at all. In fact, in this case, cheating could cost you a lot.