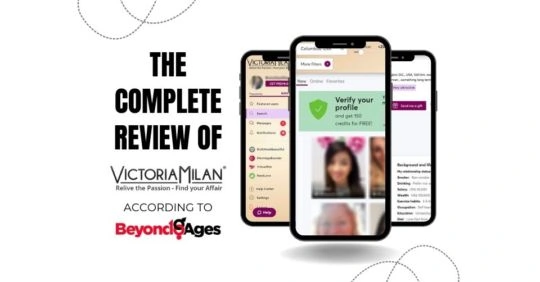 Internet dating is great, but it can also be kind of overwhelming. Especially with so many websites out there making big promises — are there actually thousands of singles in your area waiting to meet you? Or is this yet another hollow shell of a website that can't back up its claims with actual results? That's what we wanted to find out, and it's why we've spent the past month working on our Victoria Milan review.
The site seems pretty flashy from the outside, but that isn't always the most reliable indicator, and we wanted you to be able to make an informed decision before you start handing over your credit card details and other personal information.
If we've learned anything over the past few years of dealing with social distancing it's that online dating has become increasingly important. So many relationships are starting online now that you just can't avoid it if you want good results.
How we reviewed Victoria Milan
The only way to properly review a site is to actually use it, so that's exactly what we do.
First, I set up a completely blank profile and see how many spam messages I get.
These are generally from bots rather than actually women and are a big warning sign.
After a day or two, I'll fill out a profile by adding some photos and a bio. I'll then spend a few weeks testing out the site for free before moving on to a paid account. I'll use it the same way I would my own account and since it's a dating site, my aim is to set up as many dates as possible.
While I'm using the site, I'm spending time evaluating the paid and free features, trying to get a feel for how everything works and whether it's worth paying for. The end goal is to be able to give an informed recommendation, so you have all the information you need before deciding whether to sign up.
The Full Victoria Milan Review
First, we'll start with a high-level overview. In my experience, AFF (which you can try for free here) is the most legit hookup website out there, with a huge and responsive user base, so it makes a good baseline for comparison when we're reviewing new sites. Being able to quickly see how Victoria Milan compares vs. AFF is very useful:
Overall

Our team rates each site objectively based on many hours of independent research, the features each site offers, and how it compares with other sites. The ratings are the opinion of our editors and their extensive experience.

2
9.5
Quality of Women

Our opinion of how attractive the typical woman is that uses this site and how easy they are to connect with compared to other sites.

2
9
Popular

How many people are using this site to actually meet people compared to other sites.

5
9
Usability

How easy is this site to use and how quickly can an average person begin meeting people compared to other sites.

3
10
Privacy & Safety

Does this site take proper precautions to safeguard its members, their identity, and their data.

8
10
Effective

Our opinion of how easily an average person will be able to achieve their dating goals with this site compared to other sites.

4
9
Value

Will the time and money spent using this site pay off for an average person based on the opinions and experience of our editors.

4
10
Our Recommendation
Victoria Milan is firmly targeted at married and engaged men. After spending months trying it out it's hard to believe that many guys are actually having success using it. While the site itself looks very nice the actual quality of the service leaves a lot to be desired. Based on our experiences with competitive sites we have to recommend that you give this one a pass.
Keep reading for the full details!
Well, after spending a month here, I'm still not sure how to answer that — mostly because I'm not entirely convinced I actually met any real women.
The hard sell
Victoria Milan really, really wants you to know that it's okay to cheat. In fact, they'd like you to believe that using their website could even save your marriage. The front page is filled with reassurances that "you deserve to be happy," and that, by engaging in an affair, "you'll experience newfound happiness, excitement and passion which will improve your marriage."
I'm asked to imagine a secret rendezvous with a new, exciting mistress every day of the week. Luckily, my imagination is pretty good because after spending months messaging well over 50 women, I've still yet to land even a single coffee date.
Victoria Milan keeps you anonymous
To give credit where credit's due, their privacy features do seem fairly comprehensive. You have the option to blue your profile photos or to literally "mask" your identity with a clever filter.
Other features include the option to let messages automatically expire after a certain time, an idle recognition system that automatically logs you out after a period of inactivity, and even a panic button that'll redirect you to an innocuous website in case you nearly get caught.
They claim to have major media coverage
An official-looking banner on the front page features the logos of major news providers like CNN, BBC and CBS. These logos aren't clickable links, and a cursory search unearthed absolutely no evidence of any reputable articles or news segments. I did find one article on Victoria Milan by BBC — that is, Preston's Business Breakfast Club. Hardly world-renowned for it's hard-hitting journalism.
Get ready to be bombarded
I let my profile sit empty for a few days after signing up for the site, as a bit of a litmus test. Without any photos, interests, or information, my profile garnered 20 messages, a handful of winks and favorites, and several requests for more information, which is never a good sign. To add insult to injury, I was unable to view any of these without upgrading to a paid account.
I was also hit with a series of popups asking me to "rate my experience" before I could even create a profile; a little difficult when I hadn't had time to experience anything yet. Suffice it to say, my opinion of the site was low then, and I haven't experienced anything in the meantime that's caused me to change my mind.
Oh, and in case you're wondering what really matters here: Most of the profile options, including appearance, personality, and relationship status, are optional. The only ones that aren't? Wealth and salary.
Conclusion
Even if I could get past my (admittedly negative) first impressions, my month-long experience using Victoria Milan was endlessly disappointing. I carefully scoured through profiles to weed out obvious fakes, messaged dozens of attractive but real-looking women, and replied to everyone who favorited me, and got exactly nowhere.
Of the 50+ messages I sent, I had maybe two or three actual conversations, all of whom would dodge the question or stop responding outright when I suggested meeting up. Several women asked to take the conversation to other platforms, which is a pretty common scam.
Out of curiosity, I did give out a burner number to a few women who asked, and was pretty quickly inundated with a whole lot of spam texts.
I did have a couple of enjoyable conversations, which makes me reluctant to call the whole thing a scam. On the other hand, there were some laughably fake profiles, and the low rate and quality of responses overall, as well as the inability to access any meaningful features for free, make this an easy recommendation: Save your time and money, and just don't bother with Victoria Milan.
There are better options out there like AFF
There are far too many legit hookup sites out there, like AFF, for me to recommend that anyone spend their time wading through a sea of fake profiles to find the one or two that may end up being worthwhile.
For one, AFF is full of users from all over the world, so can easily meet new people no matter where you are. Second, AFF isn't targeted towards just one type of sexual experience. You can find women, men, couples and groups who are open about their wild side. No need to limit yourself to women who just want to be a side chick!
Best of all, AFF has a free trial that you can use right now.
Pros and Cons of our Victoriamilan.com review
Here is a summary of what we loved and hated about this site.
Search parameters are easy to set
Simple messaging system
Privacy filters on photos
Lots of fake profiles and messages
A constant stream of messages in your inbox
Home page cluttered with out-of-state and international profiles
Can't access most features as a free user
What are the members like?
There are a lot of profiles on Victoria Milan, of some seemingly very attractive women. Clicking on a profile at random, though, you're more likely than not to come across one that's obviously a fake. I don't mean "way too attractive to be real" fake — I mean the profiles of women claiming to be 6'7″ tall and weigh 72 pounds, or the ones with photos of pale blondes listing their hair color and ethnicity as black. This doesn't lend much credence to their claim that "all photos and profiles are verified."
If you can get past the obvious fakes, most of the photos aren't too bad — attractive, but not overly glossy. Even so, you should be aware that the site will auto-populate photos for users who haven't uploaded any; I noticed that I already had a profile photo days before I got around to uploading one for real. Victoria Milan promises "real profiles by real members," but I remain skeptical.
Legit Hookup Apps Normal Guys Actually Do Well On According To Dating Coaches
You need to skip Victoria Milan and spend your time where it will actually benefit you. That means trying out one of the apps that dating coaches are actually seeing regular guys do really well on. Try these first if you actually want to meet girls:
Site
Our Experience
Our Rating
Free Trial Link

Best Hookup Site Right Now

Experience Highlights

Top option for local hookups by far
Best results for regular guys
Over 60 million active members
The design needs an update

Try AFF For Free

Great If You're Handsome

Tinder Highlights

Great if you're pretty good looking
Very popular, especially if you're 18-22
Really focused on photos
Becoming more of a dating than hookup app

Try Tinder

2nd Best For Most Guys

Experience Highlights

2nd best option to find hookups
Attracts an older crowd than most hookup apps
Pretty popular
Solid free trial

Try Passion
The site has a nice, modern design
The site design is pretty slick from the outside. There's a constantly-ticking member counter, as if new women are signing up every second, as well as a few strategically-placed infographics.
Once you're logged in, the landing page is pretty familiar. A little busy, but easy to navigate, with search filters at the top of the page and a main sidebar on the left where you can navigate through messages and notifications. Another sidebar on the right shows a preview of your recent messages and links to Victoria Milan on social media.
Be prepared for a few "review this site" popups, especially when you first sign up. If you're actively using the site when someone is browsing your profile or sends you a message, you'll get a popup notification about that, too.
How was the communication during our Victoria Milan review
The messaging system is very familiar and works the same as any other live chat. There's an option to sort contacts by who's online, search for a specific contact and to mass delete messages; overall, I found it easy to use.
The more difficult part was sorting out whether I was talking to a real person — which, for the most part, was a big no. Some fake messages were pretty easy to spot simply because they didn't make sense; several times, my questions would be met with a response like "good," or "thanks," or I'd repeatedly be asked the same question by the same user.
I did manage to carry on a real conversation with a couple of women, but these were in the minority. Most of the messages I sent went ignored, even by users who'd added me to their favorites before I messaged them. And if you want to maximize your chances by messaging in bulk, be prepared to fork over extra cash — even with a paid subscription, you're limited to initiating 20 conversations per day.
What can you do with a free Victoria Milan membership?
Honestly, not a whole lot. The search function is available to free members, but if you find someone you like, you have limited options for what to do next. As a free member, you can send a "wink" or add users to your favorites, which lets them know you're interested, but you can't send messages. You can also receive messages, which means you're likely to get a lot of email alerts, but you won't be able to read any of these messages until you pay for a subscription.
Even as a paid user, your actions come with restrictions. You can send a maximum of 20 new messages a day unless you pay for extra contacts. You'll also have to pay more for other features, like the ability to send virtual "gifts" — like a diamond, a rose or a pair of handcuffs — to users you really like.
Ads on the site
Paid ads are usually a bad sign on dating websites — as in, legit websites don't have any. Victoria Milan doesn't have external ads, but they do feature ads for other sites within their network — Rich Meets Beautiful, Marriage Booster, Virtuaffair and Next Love — in banner ads and in links on the sidebar.
Site pricing
With very little to do on VictoriaMilan.com for free, if you want to use the site, you'll need to pay. Standard membership periods are three, six or twelve months, so you're looking at a big commitment upfront. They do claim to offer "trial memberships" of two days or one month, but these aren't listed on their subscription page, so you'll have to go digging if you want to chase those options.
Three months $14.75/week ($177)
Six months $12.25/week ($294)
12 months $9.75/week ($468)
Victoria Milan Review: Frequently Asked Questions
In case you're not yet sure about what to think of Victoria Milan, here are some FAQs to answer your questions.
What is Victoria Milan?
Victoria Milan is a hookup site aimed at married and attached men. Despite claiming to have over 7 million members, there was little evidence of other genuine users on the site.
Who actually owns VictoriaMilan?
VictoriaMilan is operated by PaySec USA LLC if you are located in the United States, Canada, Brazil, Mexico, Peru or Argentina, and Digisec Media Ltd., if you are located in Europe or elsewhere.
How can I contact VictoriaMilan.com?
You can email them at [email protected]
Is Victoria Milan fake or real?
Yes, Victoria Milan is a real site. However, it looks like the site may use some sneaky tactics to get you to pay for an account.
Is VictoriaMilan legit?
All signs point to "no." I had a few conversations that might have been with real women on VictoriaMilan, but the majority were obviously fake profiles and scripted conversations that made little sense.
Is VictoriaMilan.com a scam or fake?
VictoriaMilan.com may not be a blatant scam, like quite a few of the shadier websites out there, but they do seem pretty happy to take your money and not offer much in return. You need a paid account to send messages, and even if you do pay, you're limited to 20 conversations a day.
Is Victoria Milan safe?
While we didn't encounter anything outright scammy on Victoria Milan, we don't think the site is safe or effective.
What are VictoriaMilan alternatives?
For some legit alternatives to Victoria Milan, check out our review of the best hookup apps and websites.
How does VictoriaMilan.com work?
VictoriaMilan.com, despite being an app specifically for affairs, works much like your typical dating site. You can create a free account and look at profiles. However, when it comes to sending messages, you'll need a paid account. You're also limited to 20 conversations a day even with a paid account.
Is there a Victoria Milan app?
Yes, Victoria Milan has an app on Android and iOS.
How much does VictoriaMilan cost?
Below are the payment plans to get Victoria Milan credits:
Three months $14.75/week ($177)
Six months $12.25/week ($294)
12 months $9.75/week ($468)
How can you use VictoriaMilan.com for free?
There's not much you can do on VictoriaMilan.com with a free account. You'll be able to browse user profiles and receive messages, but you can't read or respond to messages until you pay.
Can you send messages for free on Victoria Milan?
No. You need a paid Victoria Milan account to send messages.
How do you cancel your VictoriaMilan account?
Canceling your VictoriaMilan membership isn't difficult, but it does involve a few more steps than other sites:
Log in to your account
Select "Settings"
Go to "My Membership"
Click "Edit"
Scroll down to "Membership Expires On"
Click on the date of expiry
In the new window that pops up, click on the date again
Select "Turn Off"
How do you delete your VictoriaMilan.com account?
Scroll down further under "My Membership" and click "Deactivate Profile."
Deleting your Victoria Milan profile is a two-step process. You need to fill out a contact form, wait for an automated email, and then follow the instructions in the email.